These Thai Green Curry Chicken Vermicelli Bowls are a delicious, spicy noodle soup – flavoured with peanut butter and coconut milk, you'll love this elevated weeknight dinner idea!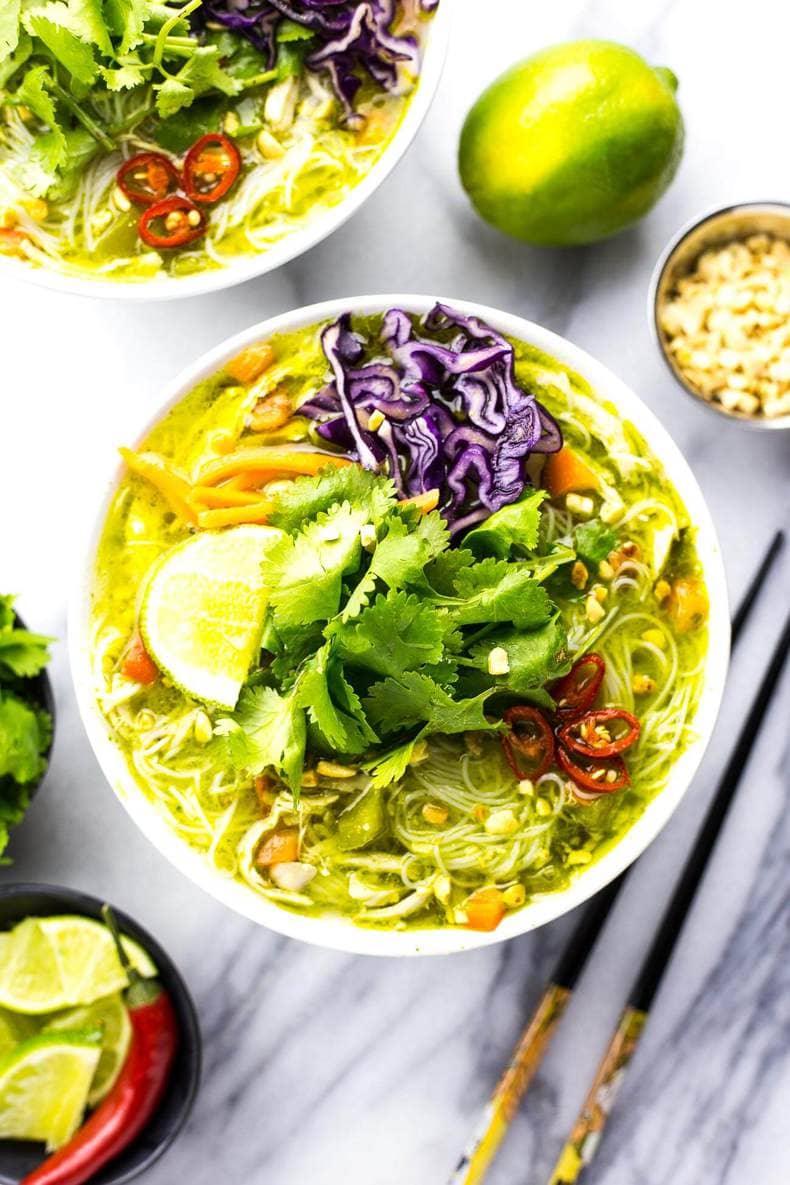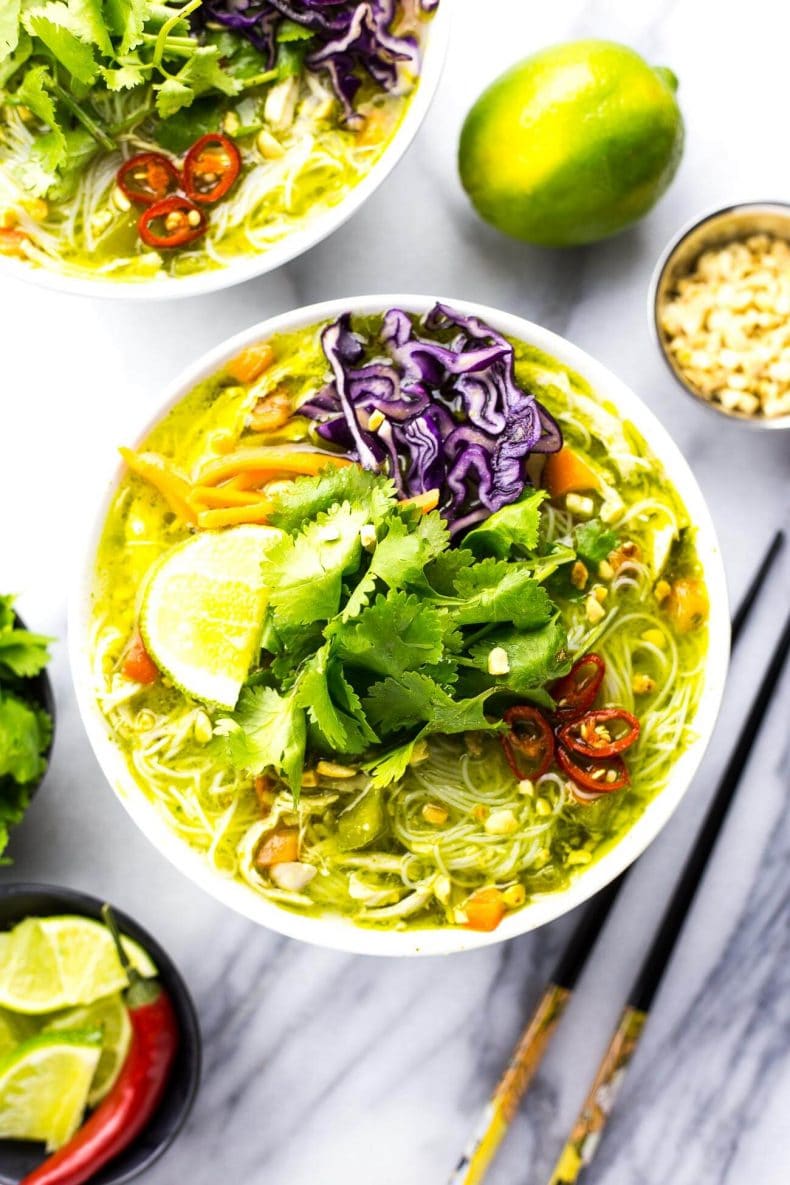 This post is sponsored by The Peanut Bureau of Canada. Thanks for supporting the brands I love – they help keep my blog up and running!
Oh Thai curries, how I love you.
I had never really experienced Thai cuisine growing up. Whenever my family and I got takeout, it was usually a mix of pizza, Chinese or the odd trip over to the Burger King down the street. Oh, how sheltered I was as a child. When I moved to Toronto, I literally went bananas over the number of options I had at my disposal, and I'd like to think I went a little food crazy.
I mean, some university students out on their own for the first time go crazy in terms of going out to the bar all the time or drinking too much, or getting into all kinds of other trouble, but me? I went crazy for the food. Saturdays were my takeout and chill night, pre-Netflix.
I know.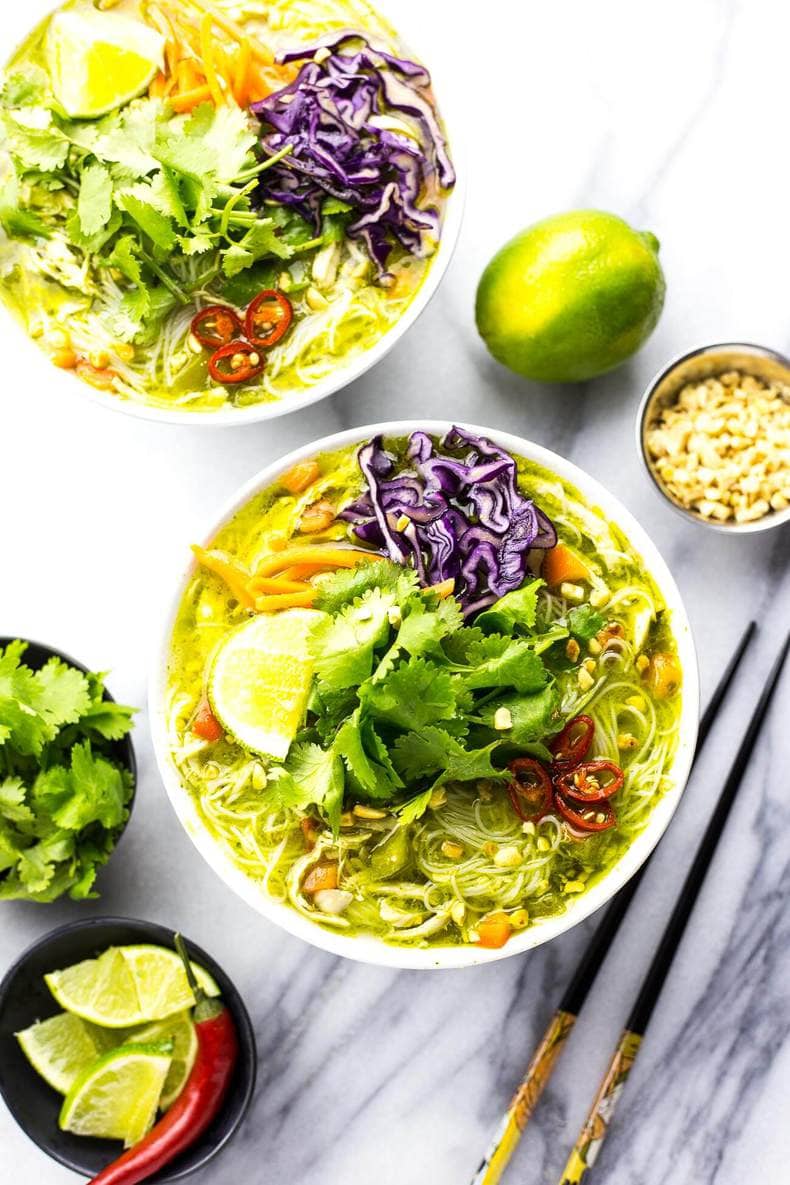 Well, long story short and about 20lbs + two years later, I found myself wanting to make some of my favourite meals at home on a budget. Not even just for my waistline or my wallet either ;). Cooking has always been a super fun activity and one of my favourite ways to spend quality time with friends and family, so I knew I had to find a way to make some of my favourite international dishes at home. It took a bit of time, some screw-ups in the kitchen and realizing that not all curry pastes are made the same, but I eventually started to nail some staple flavours in cuisines that I love.
For instance, lemongrass and Thai chilies. They're ingredients that are easily found at your local grocery store, but I feel like too many people think from-scratch curry pastes are too complicated and difficult to make. Not true!!!
In fact, curries (any kind, really) are by far one of the easiest internationally-inspired dishes to make at home, and did you know that adding peanut butter to the mix undercuts the spice in the richest, most delicious way?
Well, if you're anything like me and obsessed with trying new cuisines, you'll want to devour one of these Thai Green Curry Chicken Vermicelli Bowls nearly every week – and they're perfect for packing in your lunch in a mason jar. Just warm up at work with no mess, no fuss.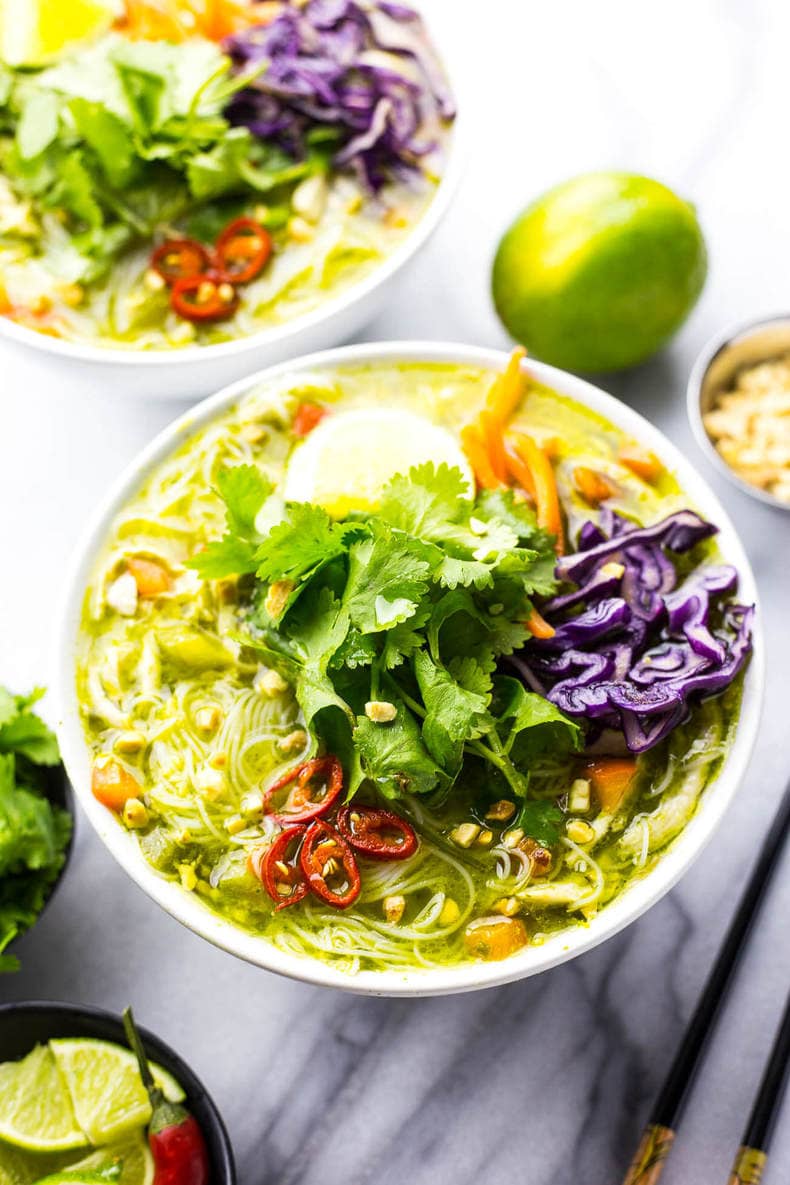 The key to these mouth-watering Thai Green Curry Chicken Vermicelli Bowls is using lots of coconut milk, a little bit of peanut butter, some chicken broth, an easy homemade or store-bought curry paste (the choice is up to you: I've listed both versions in the recipe below!) and adding in vermicelli noodles and lots of veggies for a healthy one pot meal that is half soup, half noodle bowl. Sort of like a Thai curry chicken noodle soup?
Whatever you wanna call it, I can assure you it's mouth-watering and irrisistable.
Adding leftover shredded chicken like I've done here speeds up the process and adds a bit more protein to the meal, and you can rest easy knowing how comforting and healthy this elevated dinner idea really is. I mean, you don't want to come home from work and spend hours whipping something up right?
Nope, neither do I.
Did you know that peanuts are actually considered legumes and not nuts? They've got more protein than any other kind of nut, and I've become a big fan of using peanut butter in my day-to-day cooking to spice things up. No, peanuts are not just for baking or dessert, and I'm actually a bigger fan of savoury recipes with peanuts and peanut butter because each bring a new textural element to the table, whether it's the smooth, creamy addition to curry, or a crunchy, nutty taste in stir fry.
I'm a particular fan of peanut butter in Thai-inspired recipes, but there's no reason to stop at just my Green Curry Chicken Vermicelli Bowls alone! Try a new salad dressing using peanut butter, or add peanuts to some stir fry bowls.
There are so many ways you can get creative and add a bit of extra protein and fibre to your diet!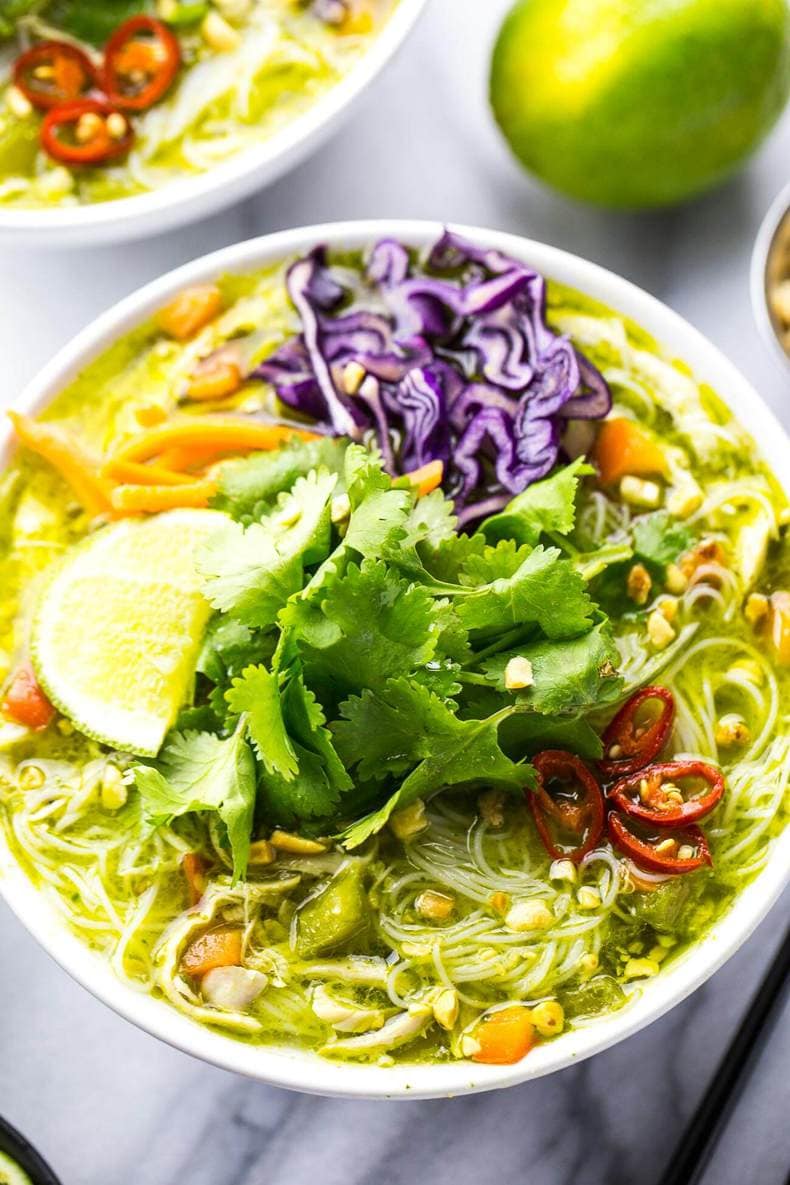 Just look at these big bowls of deliciousness and tell me you're still tempted to get takeout.
Thai Green Curry Chicken Vermicelli Bowls (and jars!) for the win!
Will you be making these Thai Green Curry Chicken Vermicelli Bowls?
What are some of your favourite ways to cook with peanut butter? I'd love to hear about some of your fave savoury recipes!
If you try any of my recipes be sure to let me know on Instagram, Twitter, Facebook or in the comments – I'd love to see what you cook up 🙂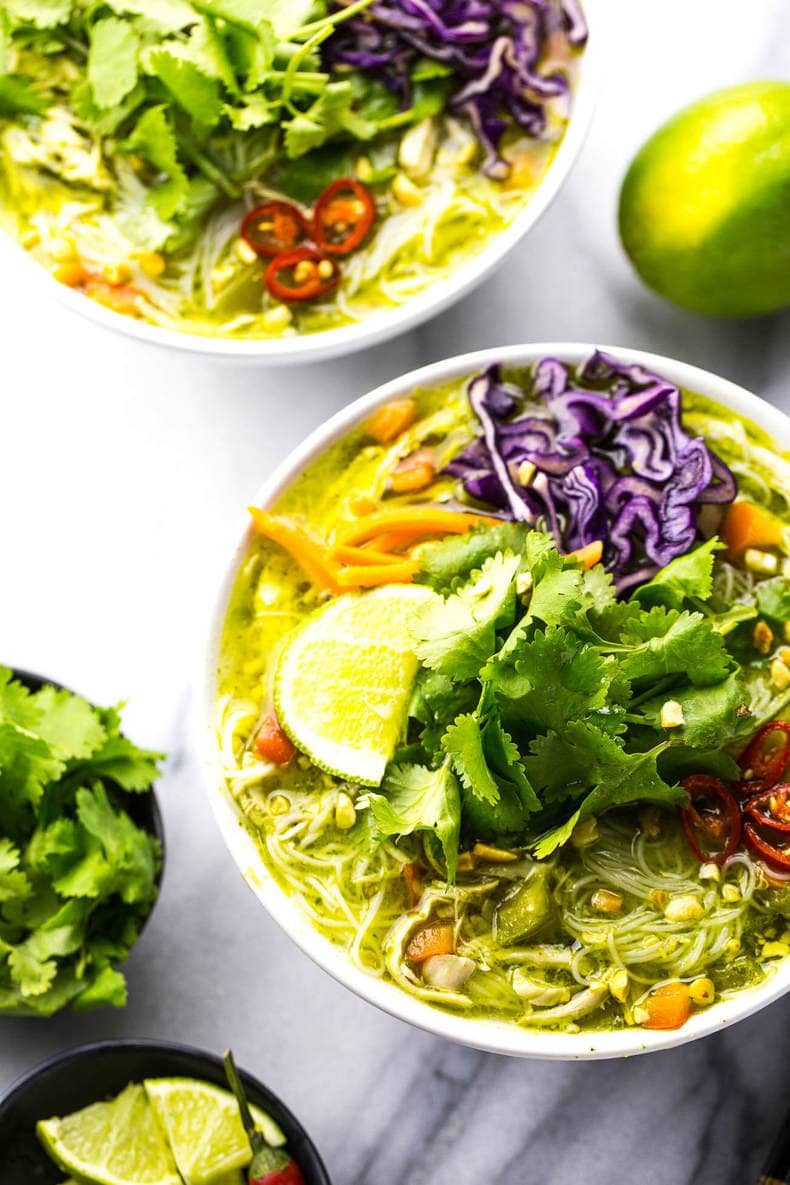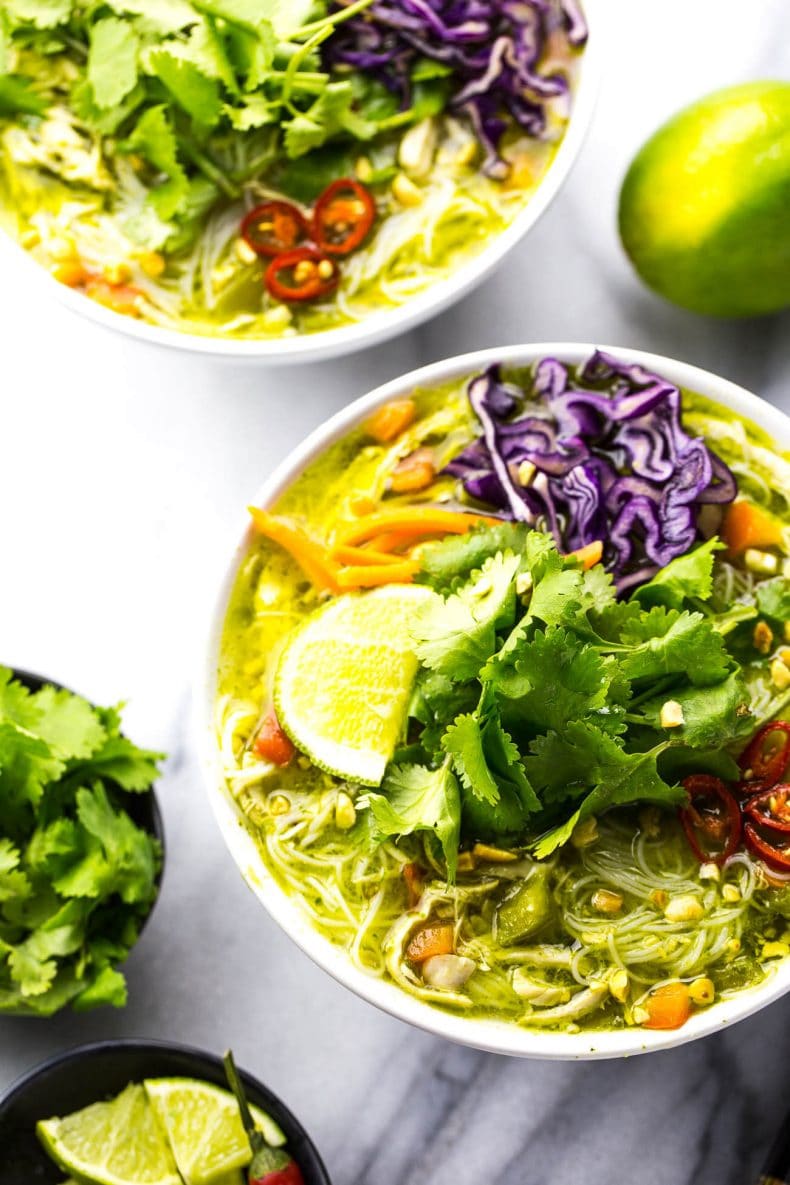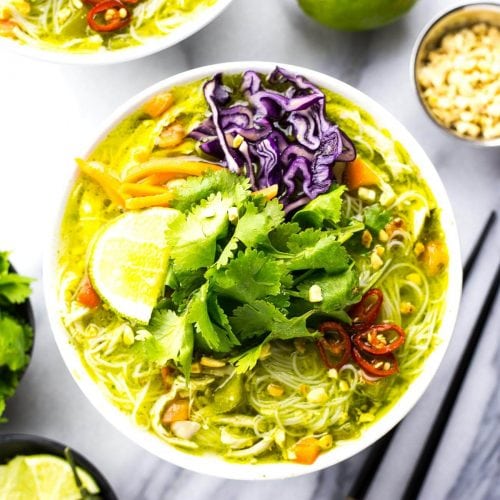 Thai Green Curry Chicken Vermicelli Bowls
These Thai Green Curry Chicken Vermicelli Bowls are a delicious, spicy noodle soup - flavoured with peanut butter and coconut milk, you'll love this elevated weeknight dinner idea!
Print
Pin
Rate
Ingredients
2

chicken breasts, shredded or diced

2

cloves

garlic minced

1

inch

piece of ginger, minced

3

tbsp

homemade or storebought green curry paste (optional recipe follows for homemade)

2

tbsp

peanut butter

2

cans

coconut milk

4

cups

chicken broth

1

tsp

lime juice

3/4

tsp

salt

1/2

cup

matchstick carrots

1

red pepper, diced

2

cups

cooked vermicelli noodles

1/2

cup

red cabbage, thinly sliced

1/2

cup

chopped peanuts

1/2

cup

cilantro, finely chopped

2

red chilies, thinly sliced
Homemade Green Curry Paste
1

tsp

cumin

1/4

tsp

nutmeg

2

tsp

coriander

1/3

cup

fresh green chilies, sliced

5

garlic cloves, minced

1

inch

piece ginger, minced

4

shallots, sliced

1

tsp

lime juice

1/2

stalk

lemongrass, sliced

2

tbsp

olive oil or coconut oil

1/4

cup

cilantro

1/4

cup

basil
Instructions
Cook vermicelli noodles according to package directions in a large pot of boiling water. Drain, remove vermicelli and set aside.

Meanwhile, add all ingredients under the homemade curry paste heading to a blender, food processor or Magic Bullet and combine until smooth.

In the same pot, heat olive oil over med-high heat. Add chicken (whether fresh or leftover shredded) and saute for 2-3 minutes. Add garlic, ginger, curry paste and peanut butter. Saute another 1-2 minutes. Add coconut milk and chicken broth, bringing mixture to a boil and then simmering for 10 minutes.

Add lime juice, salt, carrots and red pepper. Cook for 2 min. Add vermicelli noodles and mix well. Serve in large bowls, then top with shredded red cabbage, chopped peanuts, cilantro and red chilies. Serve and enjoy! This recipe can also be packed as leftovers in large mason jars - they'll be good up to 3 days in the fridge!