Soba Noodle Broth Bowls: Panera Bread Copycat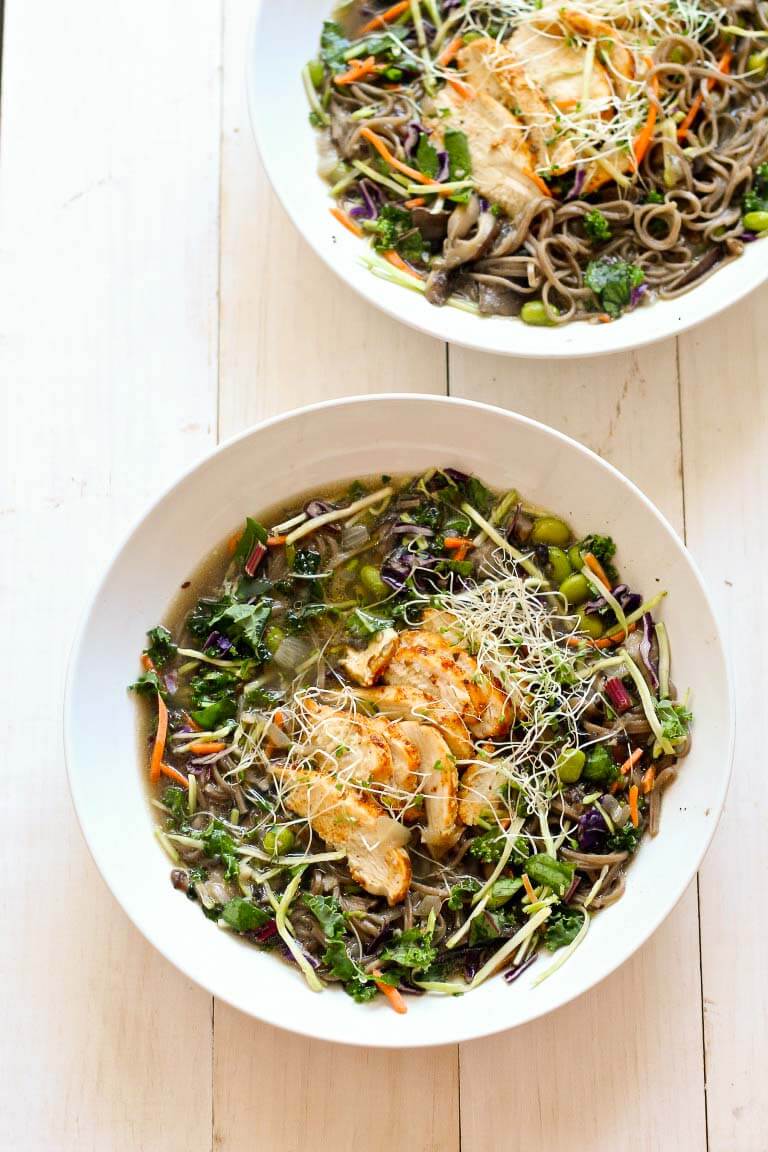 The first really chilly fall day in Toronto was yesterday, and automatically had me craving something warm and comforting. These Soba Noodle Broth Bowls are a loosely related Panera Bread Copycat, in a lower-sodium, rich mushroom broth instead of a soy-miso based soup broth.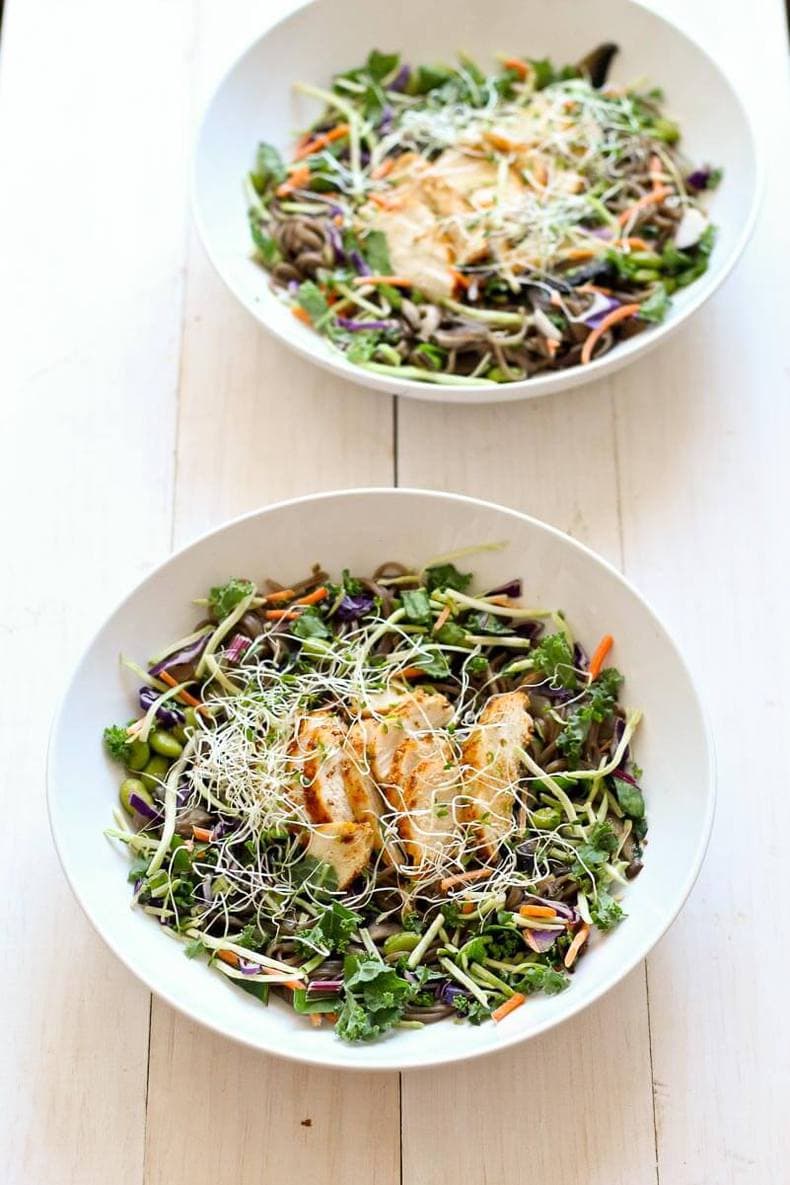 I cooked the chicken breast in the oven in a simple marinade of olive oil, lemon and chili powder for a bit of kick (I can't stand plain chicken!), and this is relatively low maintenance while you focus on the veggies and the broth. I love a mushroom broth, so I used a trio of wild mushrooms in combination with beef broth to get that same umami, salty taste without too much soy sauce.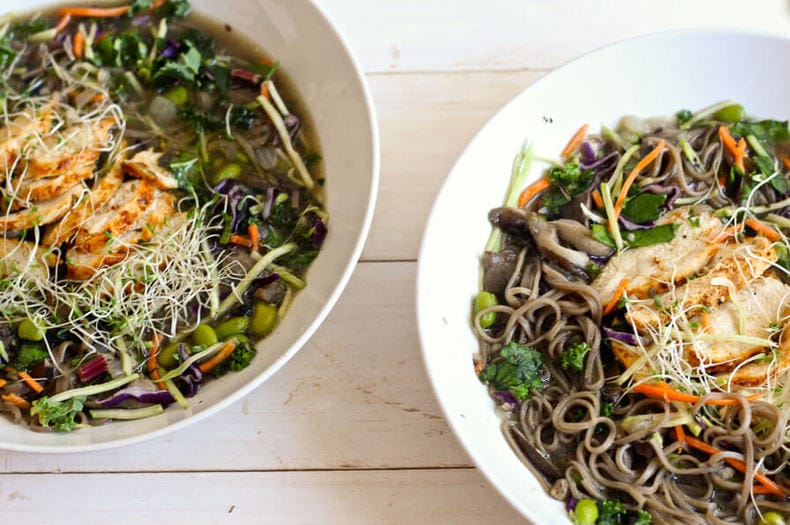 I used a blend of red cabbage, carrot matchsticks, broccoli slaw, and red Swiss chard alongside alfalfa sprouts as my vegetable garnish for this dish. It was one of those veggie blend packages from the grocery store, so super easy to add. Feel free to pick out your own blend here. That's one of the great things about these Broth Bowls-you can just add what you already have on hand in your fridge!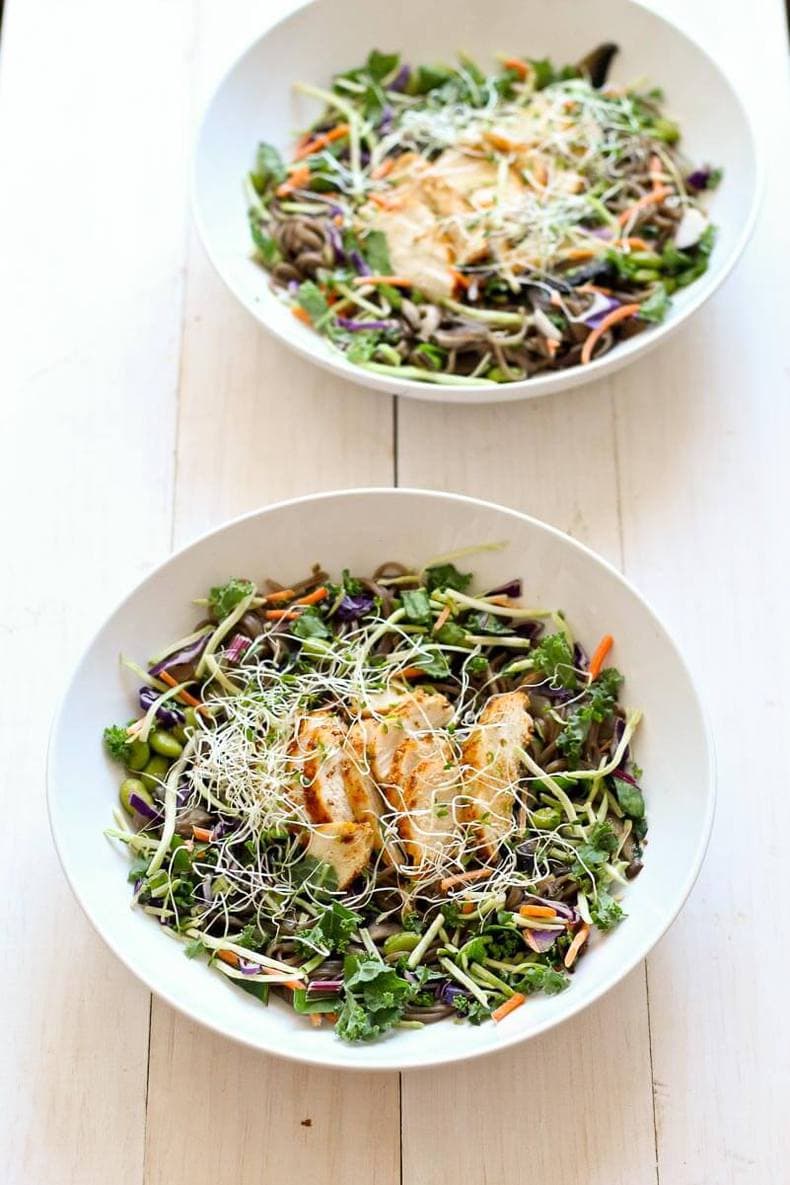 These Broth Bowls just spell fall, and the fresh ingredients and vegetables are a great source of nutrients to get you through shorter days and longer nights. Basically, they are like a healthier version of your fave Mr. Noodles-with less sodium, fat and processed ingredients. Can't you just see yourself curled up in a blanket on the couch with one of these watching a movie?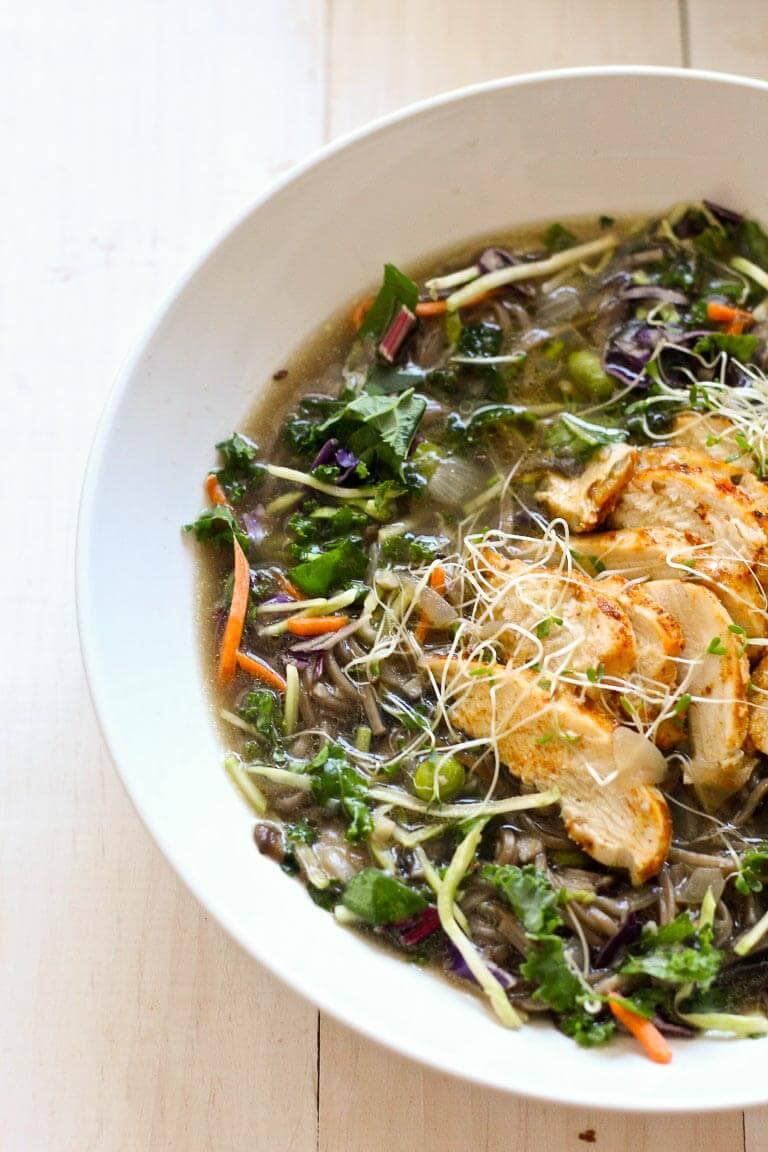 Will you be trying our Soba Noodle Broth Bowls, Panera Bread style? We promise you these are better than the real thing, and filled with nutrients!
Print Recipe
Soba Noodle Broth Bowls Panera Bread Copycat
Ingredients
2

cups

soba noodles

cooked

1

chicken breast

1

tbsp

olive oil

1

tsp

lemon juice

2

tsp

chili powder

1

tsp

salt

1/2

cup

shelled edamame

1

cup

red cabbage

carrot matchsticks and chopped kale mix

1

package alfalfa sprouts
Mushroom broth
1

tbsp

olive oil

1

tbsp

butter

1/4

cup

chopped shittake mushrooms

1/4

cup

chopped oyster mushrooms

1

portobello mushroom

chopped

1

yellow onion

diced

2

cloves

garlic

minced

4

cups

beef broth

1

tbsp

soy sauce
Instructions
Preheat oven to 425 degrees.

To make mushroom broth: heat olive oil on med-high heat in large saucepan, and add butter. When butter is melted, add mix of chopped mushrooms, onions and garlic and sauté until fragrant.

Meanwhile, toss chicken with olive oil, lemon juice, chili powder and salt. Cook in oven for 30-32 min depending on size of breast until fully cooked.

When mushrooms start to release juices, add beef broth and bring to a boil. Cover and simmer for 15 min, and then add edamame. Cook for another 2 min, then add soba noodles. Be careful not to overcook them as they will stay in the broth and not be drained.

In large soup or pasta bowls, use a ladle to place noodle mixture in each bowl. Add chicken and veggies (the cabbage blend should be fresh! The broth will do the cooking), and then ladle the broth overtop. I like less broth but I know many people will want this dish to be more of a soup, so it's up to you!

Enjoy before it gets cold!