Try this free Summer Meal Prep Plan – these light dinners come together super quickly since you can prep the ingredients ahead of time!
Summer Meals
As soon as the weather gets warmer and the sun starts to shine, I want to spend as much time as possible outside! No one wants to be cooped up in the kitchen when they could be enjoying their favourite activities. Meal prep is key when it comes to making the most of your summer – you'll save tons of time and money.
To help you get inspired, I rounded up an easy meal plan of my favourite summer recipes. With the right ingredient prep at the beginning of the week, you'll be able to spend less time cooking and more time doing your favourite summer activities. I even put together a handy grocery list at the bottom that you can use so you have everything you need!
Want even more summer meals? Get my 4-Week Summer Meal Plan Bundle here! Don't forget to check out my free spring meal prep plan, fall meal prep plan or winter meal prep plan, too!
Watch how to make these recipes
The meal plan
Monday night
45 minutes
This Hasselback Fajita Stuffed Chicken recipe is filled with bell peppers, taco seasoning and Tex Mex cheese – it's a healthy dinner idea!
Make this recipe
Calories: 484kcal | Carbohydrates: 25g | Protein: 54g | Fat: 18g | Saturated Fat: 5g | Cholesterol: 159mg | Sodium: 1010mg | Potassium: 1290mg | Fiber: 4g | Sugar: 6g | Vitamin A: 15008IU | Vitamin C: 7mg | Calcium: 156mg | Iron: 2mg
Tuesday night
35 minutes
These Street Corn Cajun Chicken Tacos use the best summer produce for a spectacular twist on taco night!
Make this recipe
Calories: 564kcal | Carbohydrates: 62g | Protein: 35g | Fat: 22g | Saturated Fat: 7g | Polyunsaturated Fat: 3g | Monounsaturated Fat: 9g | Trans Fat: 1g | Cholesterol: 96mg | Sodium: 962mg | Potassium: 1201mg | Fiber: 10g | Sugar: 11g | Vitamin A: 2899IU | Vitamin C: 51mg | Calcium: 185mg | Iron: 4mg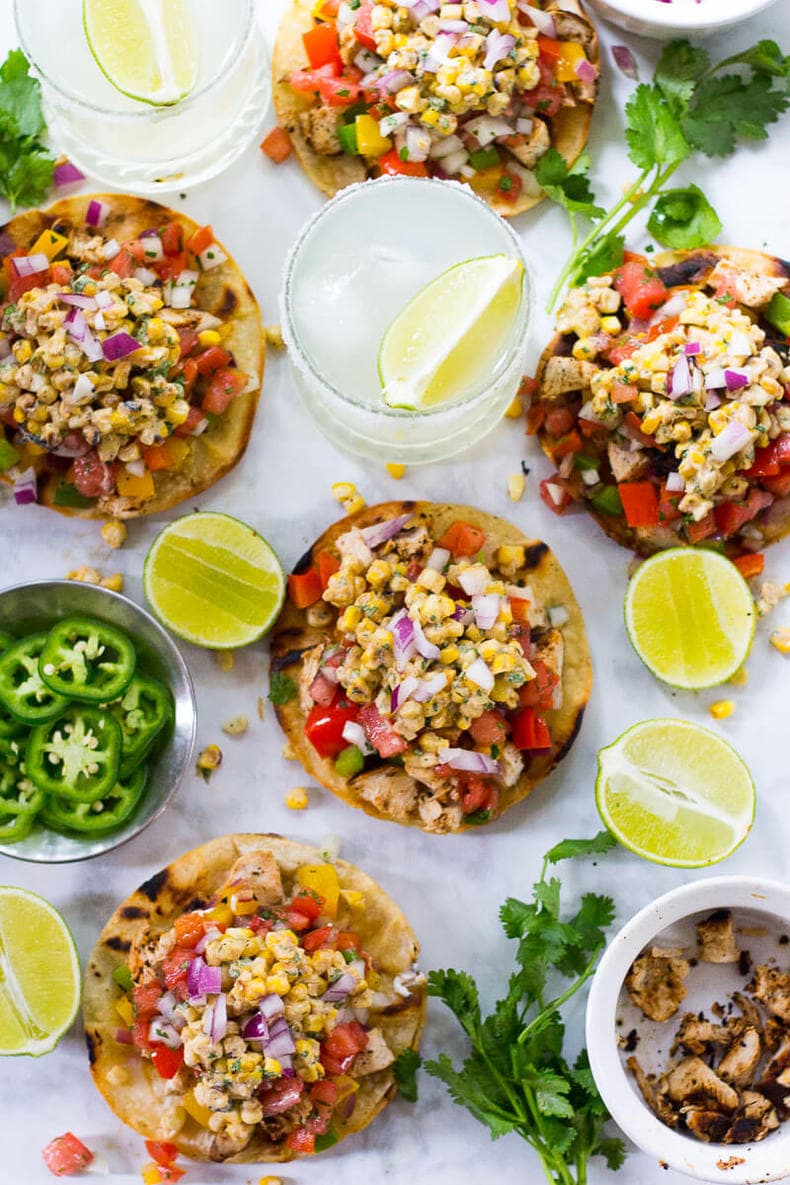 Wednesday night
40 minutes
This Chimichurri Chicken can be made in a skillet, the oven or on the grill. The parsley-based sauce is a taste of summer all year long!
Make this recipe
Calories: 452kcal | Carbohydrates: 20g | Protein: 46g | Fat: 20g | Saturated Fat: 4g | Cholesterol: 215mg | Sodium: 220mg | Potassium: 1099mg | Fiber: 4g | Sugar: 3g | Vitamin A: 2802IU | Vitamin C: 77mg | Calcium: 59mg | Iron: 4mg
Thursday night
40 minutes
These Meal Prep Chicken Souvlaki Bowls with quinoa and grilled veggies are a delicious and easy lunch or dinner idea you'll want to eat all week!
Make this recipe
Calories: 550kcal | Carbohydrates: 24g | Protein: 53g | Fat: 27g | Saturated Fat: 4g | Trans Fat: 1g | Cholesterol: 145mg | Sodium: 1703mg | Potassium: 1395mg | Fiber: 5g | Sugar: 7g | Vitamin A: 1238IU | Vitamin C: 77mg | Calcium: 86mg | Iron: 3mg
Friday night – add arugula and store bought garlic bread to cook on the grill as sides
30 minutes
This is the Best Ever Shrimp Marinade, perfect for the grill and equally delicious sautéed. You'll want to make this lemony garlic shrimp over and over!
Make this recipe
Calories: 150kcal | Carbohydrates: 1g | Protein: 23g | Fat: 5g | Saturated Fat: 1g | Cholesterol: 286mg | Sodium: 1495mg | Potassium: 91mg | Fiber: 1g | Sugar: 1g | Vitamin A: 74IU | Vitamin C: 8mg | Calcium: 167mg | Iron: 3mg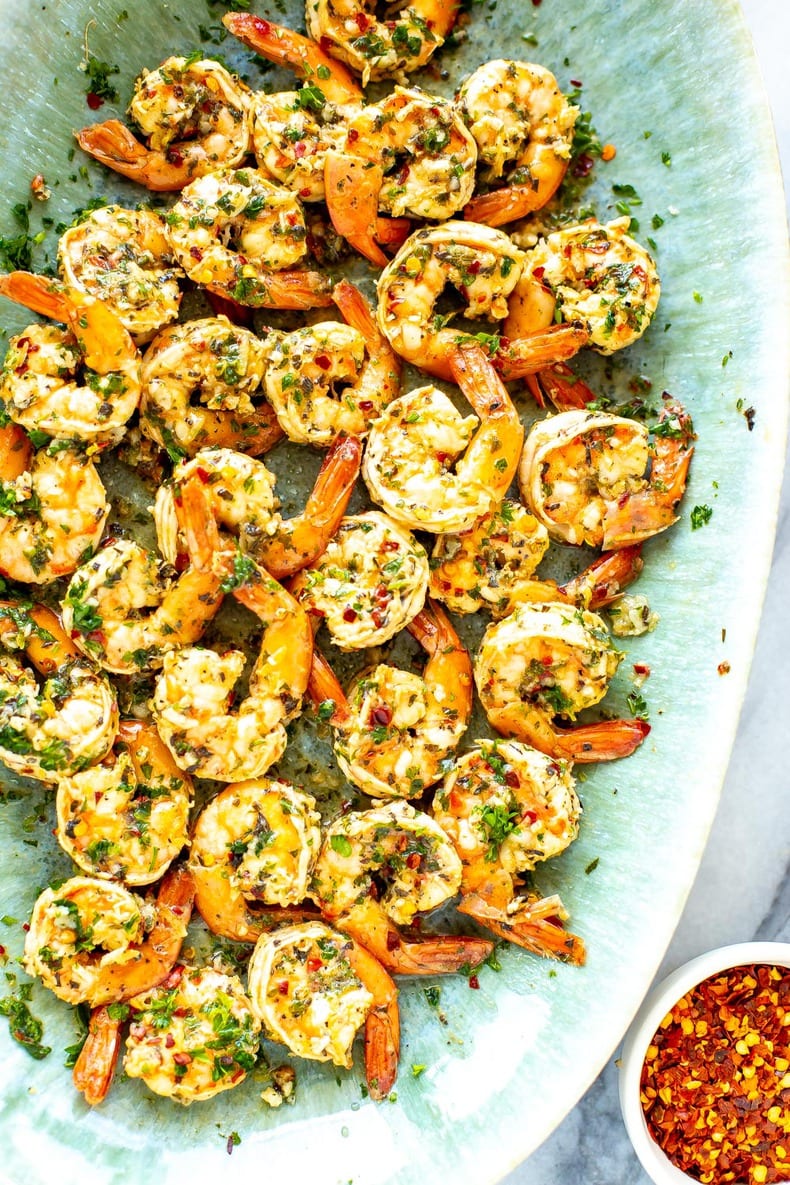 If you're enjoying this meal prep plan and want more, get a 4-week summer meal plan bundle here.
What containers you need
I recommend getting an assortment of containers of different sizes with lids like this Anchor Hocking set. You may want to purchase two sets, including one with smaller containers. You can also use plastic or silicone freezer bags, or mason jars of different sizes.
Wanna Learn How To Meal Prep?
My meal planning service, Dinner Prep Pro, removes the guesswork and helps you get dinner on the table in 15-20 minutes each night. My meal prep checklists only take 1 hour each week!
The meal prep plan
Follow this prep ahead plan on Sunday in the order in which everything is listed (eg the rice gets prepped first, then veggies, sauces, cheeses and proteins last). You will then pull your prepped ingredients out for each night's recipe and cook the recipe fresh. This will cut your nightly cooking time in half!
Grains
Make the quinoa for the chicken souvlaki bowls by mixing together 1 cup quinoa, 2 cups water and a pinch of salt in a rice cooker or pot on the stove. Cook until the liquid has absorbed.
Proteins
Create horizontal slits across 4 chicken breasts, then rub all with a bit of olive oil and chili powder before stuffing with sliced bell peppers and red onion. Store in a glass baking dish covered with foil until ready to cook on Monday night.
Produce
Make the street corn for the tacos. Soak 4 cobs of corn for 15 minutes, then brush corn with olive oil and grill or bake in a 425 F oven for 10-12 min. Remove and let cool, then cut all the corn off the cob and place into a large bowl. Toss with 1/2 cup sour cream, 1/4 cup feta cheese, 1 tbsp lime juice, 1 tbsp chili powder, 2 cloves minced garlic, 2 tbsp chopped cilantro, 1/2 tsp salt and 1/4 tsp pepper.
Chop up 1 zucchini, 1/2 a red pepper, 1/2 a yellow pepper and 1 red onion. Store in a large container with a lid for the souvlaki bowls.
Peel and chop 3 sweet potatoes into 1 inch pieces.
Thinly slice 1/2 yellow, red and green peppers along with 1 small red onion to stuff the Fajita chicken with.
Slice 2 cups of baby potatoes in half then store in a medium-sized bowl in water with a lid. Slice 1 red pepper and 1 red onion for the chimichurri chicken side dish then store in a medium-sized container with a lid.
Sauces
Mix 2 tbsp olive oil, 2 tbsp lemon juice, 2 cloves of minced garlic, 1 tbsp oregano, 1 tsp salt and 1/2 tsp pepper for the souvlaki marinade and store in a small bowl with a lid.
Mix together 1 tbsp olive oil, 2 tbsp lemon juice, 4 cloves minced garlic, 1 tsp dried parsley, 2 tsp dijon mustard, 1 tsp lemon zest, 1 tsp salt, 1/2 tsp pepper, 1/2 tsp chili flakes and 1/2 tsp dried basil for the shrimp marinade and store in a small bowl with a lid.
Add 1 bunch washed parsley, 1 bunch washed cilantro, 1/4 cup olive oil, 1 tbsp red wine vinegar, 2 cloves minced garlic and a pinch each of salt and pepper to a blender to make the chimichurri. Blend until smooth, then store in a medium container with a lid.
Grocery list
Here is your grocery list. What I recommend you do is copy and paste this list into a Word doc and then erase the items you already have on hand. I know it looks like a long list but I've included everything except for salt and pepper.
If you have a well-stocked kitchen, then you will be able to strike most pantry staples off the list, such as the spices, oils, broth and condiments; possibly even butter, eggs, onions and milk as well!
garlic bread
arugula
1 lb shrimp
8 boneless, skinless chicken thighs
8 chicken breasts
1 bunch parsley
2 bunches cilantro
10 cloves garlic
2 cups golden baby potatoes
3 sweet potatoes
4 cobs of corn
2 red pepper
2 yellow pepper
1 green pepper
2 red onion
1 zucchini, sliced
1/2 cup cherry tomatoes
1/2 cup cucumber
1 lemon
5 tbsp lemon juice
1 tbsp lime juice
3 tsp paprika
3 tsp garlic powder
4 tbsp chili powder
1 tbsp Cajun seasoning
1 tbsp oregano
1/2 tsp chili flakes
1/2 tsp dried basil
1 tsp dried parsley
2 tsp dijon mustard
3/4 cup olive oil
1 tbsp red wine vinegar
1 cup dry quinoa
1/2 cup kalamata olives
1/2 cup shredded cheese (I use the pre-shredded tex mex kind)
Salsa and sour cream (optional, for serving)
1/2 cup sour cream
1/4 cup crumbled feta or cotija cheese
1/2 cup tzatziki
Get 4 Weeks of Summer Meal Plans!
Liked this meal plan? You'll love my 4-Week Summer Meal Plan Bundle!
What you'll get:
Instructions on how to use the meal plan
4 weeks of healthy summer meal plans with breakfast, lunch and dinner recipes
A prep ahead checklist for each week
Nutritional information
Separate instructions for individuals, couples or larger households
It'll help you eliminate decision fatigue and simplify meal prep so you can enjoy delicious healthy meals all summer long!
Join The Girl on Bloor Premium!
ZERO ADS!
Weekly Meal Prep Checklists
Bonus eBooks