These Mexican Street Corn Tacos with Cajun Chicken use the best end of summer produce for a spectacular twist on taco night!
These Mexican Street Corn Tacos with Cajun Chicken are the perfect dinner to cure those back to work blues after a long weekend full of fun.
I mean, how perfect was the Labour Day weekend? I ate and ate and ate, then did way too much relaxing. Nothing too crazy or out there, but sometimes after a hectic few weekends it's nice to just chill.
Honestly, I'm like an old person nowadays. I rotate going out each weekend because I can't handle staying up late anymore. I guess it's not so much not being able to handle it as I love having the whole day each weekend to do something fun, get up to a new adventure. What every long weekend should be, right?
But let's talk some more about the DELICIOUS food available at the end of summer. Right now I'm all about harvest eats. I'm consuming zucchini, peaches, corn and tomatoes like mad (have you seen this Southwest Steak Salad with grilled romaine yet?!), and I can't get enough of all the local produce. And don't even get me started on my mom or her giant blueberry baskets for homemade jam!
But, since we're also coming off a long weekend, I'm loving super easy recipes like this Roasted Red Pepper Slow Cooker Chicken Cacciatore or this Butternut Squash Dal with Red Lentils. Slow cookers are my jam these days, especially as we head into fall and winter.
When I shared my Homemade Fudgesicles recipe, I mentioned that September always feels like an ushering in of new beginnings – back to school, the beginning of a new season…
Have I mentioned that I'm like every other stereotypical white girl out there? Fall is my FAVOURITE season of all time. It might just be because of all the delicious food and drink about to come, but there's something breathtaking about the crisp fall air and the first hints of smokey winter popping in.
And speaking of that magical fall feeling, I've gotta mention that I've got something in the works that is SUPER exciting and I can't wait to share it all with you. Be on the lookout for a crazy exciting Friendsgiving giveaway with Vitamix and a few of my other favourite Canadian food bloggers soon!
But, before we start celebrating too much and getting our fill of Pumpkin Spice Lattes, I want to take a few more moments to really savour summer as much as we still can. So gimme ALL the Mexican Street corn.
All you're missing now are these Pineapple Margaritas!
Will you be making these Mexican Street Corn Tacos with Cajun Chicken? If you try any of my recipes be sure to let me know on Instagram, Twitter or Facebook!
Ingredients
12

corn tortillas

1/2

red pepper

diced

1/2

green pepper

diced

2

tomatoes

seeded and diced

1/2

small red onion

diced
Cajun Chicken
2

boneless skinless chicken breasts

1

tbsp

olive oil

2

tsp

chili powder

2

tsp

lime juice

2

tsp

paprika

1

tsp

cumin

1

tsp

garlic powder

1/2

tsp

salt

1/4

tsp

pepper
Mexican Street Corn
4

cobs of corn

cooked and cut off cob

1

tbsp

olive oil

3/4

cup

sour cream

1/4

cup

crumbled feta or cotija cheese

1

tbsp

lime juice

2

tsp

chili powder

1

clove

garlic

minced

1/3

cup

chopped cilantro

1/2

tsp

salt

1/4

tsp

pepper
Garnishes
Cilantro

Limes

Jalapeno

Salsa

Sour cream
Instructions
Preheat BBQ to med-high heat.

Marinate chicken in olive oil and seasonings for 10 min. Add to grill once preheated and cook for 20 min until chicken is fully cooked.

Meanwhile, prepare other veggies and toppings. Brush corn with olive oil and grill for 8-10 min. Remove and let cool, then cut all the corn off the cob and place into a large bowl. Toss with sour ceam, feta, lime juice, chili powder, garlic, cilantro, salt and pepper.

Brush corn tortillas with olive oil then grill for 5-7 min until soft or crispy, depending on what you want (I would say 3-4 min for soft, 5-7 min for crispy).

Add chicken, bell peppers, Mexican street corn and red onion to tortillas in that order. Garnish with toppings of your choice and enjoy!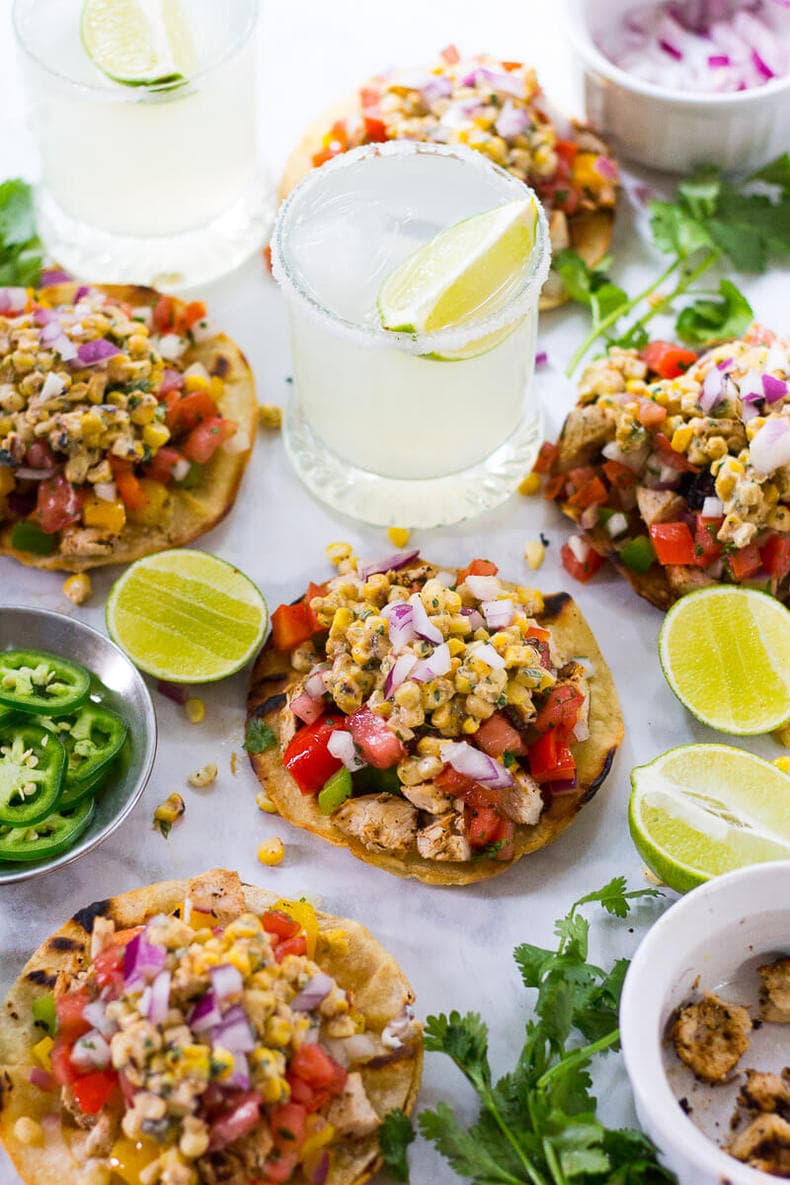 Mexican Street Corn for everyone!