This Strawberry Spinach Salad With Chicken is a super easy protein-packed meal complete with fresh strawberries and a 4-ingredient dressing.

Ingredients and substitutions
Olive oil – any neutral oil like sunflower or avocado oil will work.
Chicken cutlets – you can also use chicken breast cut thinly in half.
Salt & pepper – to taste.
Baby spinach – romaine lettuce, baby kale or mixed greens will also work in this recipe.
Strawberries – blackberries, figs and mandarin oranges would also be delicious in this salad.
Red onion – if you're not a fan of red onions, feel free to use shallots or leave them out entirely.
Feta – goat cheese is a great alternative.
Almonds – walnuts, pecans, sunflower seeds, pine nuts, roasted chickpeas or popped lentils can also be used in place of almonds.
Dressing
Olive oil – see substitution notes above.
Red wine vinegar – balsamic or apple cider vinegar can be used in place of red wine vinegar.
Honey – agave syrup or maple syrup will also work in this dressing.
Dijon mustard – stone-ground mustard will provide a similar (but milder) flavour.
Salt & pepper – to taste.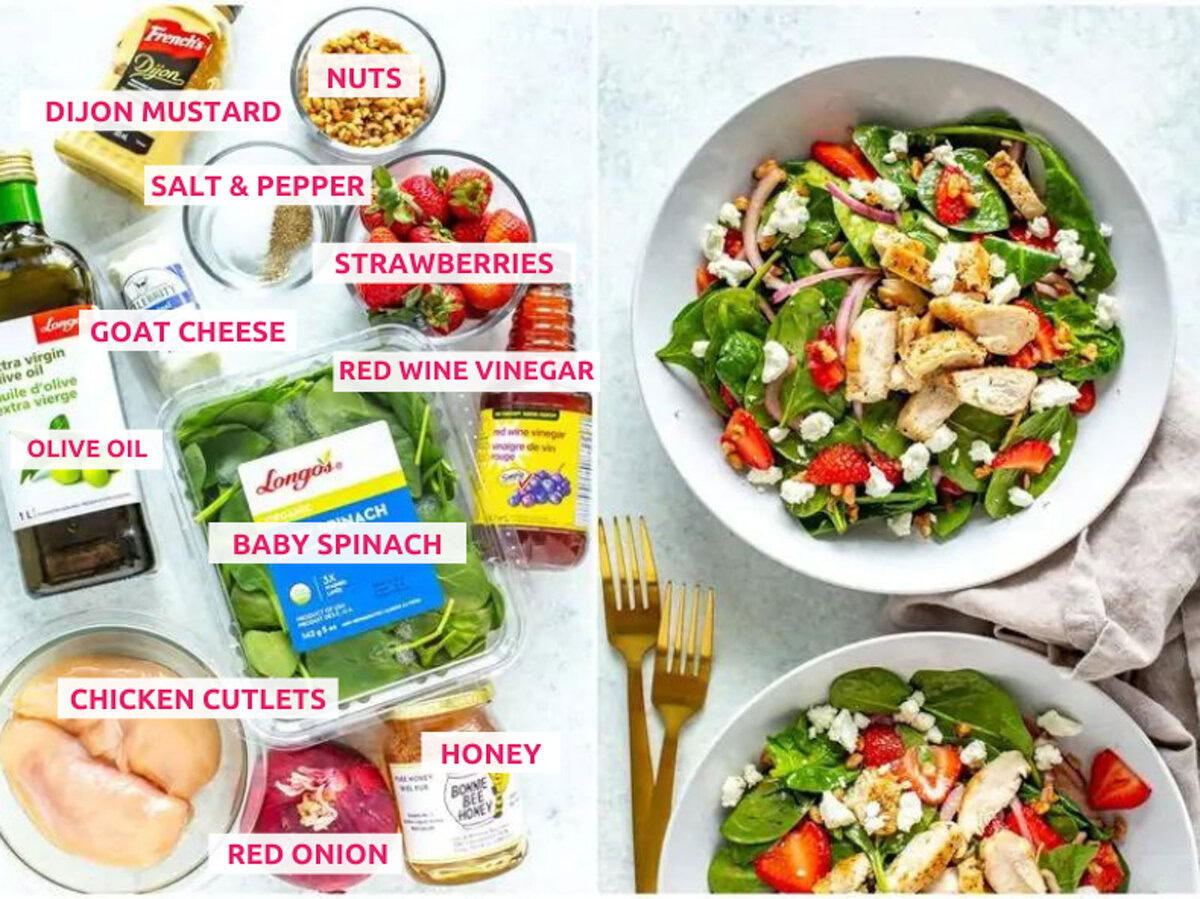 How to make a strawberry spinach salad
Step 1: Cook the chicken.
Sauté the chicken in a skillet or grill it on the BBQ, then slice it into pieces.
Step 2: Make the dressing.
Mix together the olive oil, red wine vinegar, honey, Dijon mustard and salt and pepper.
Step 3: Add everything to a large bowl.
Thinly slice strawberries and red onion. Add to a large bowl along with spinach, nuts, goat cheese and chicken.
Step 4: Store for later or top with dressing and serve!
If you're meal prepping the salad, don't dress it and instead store it in a mason jar.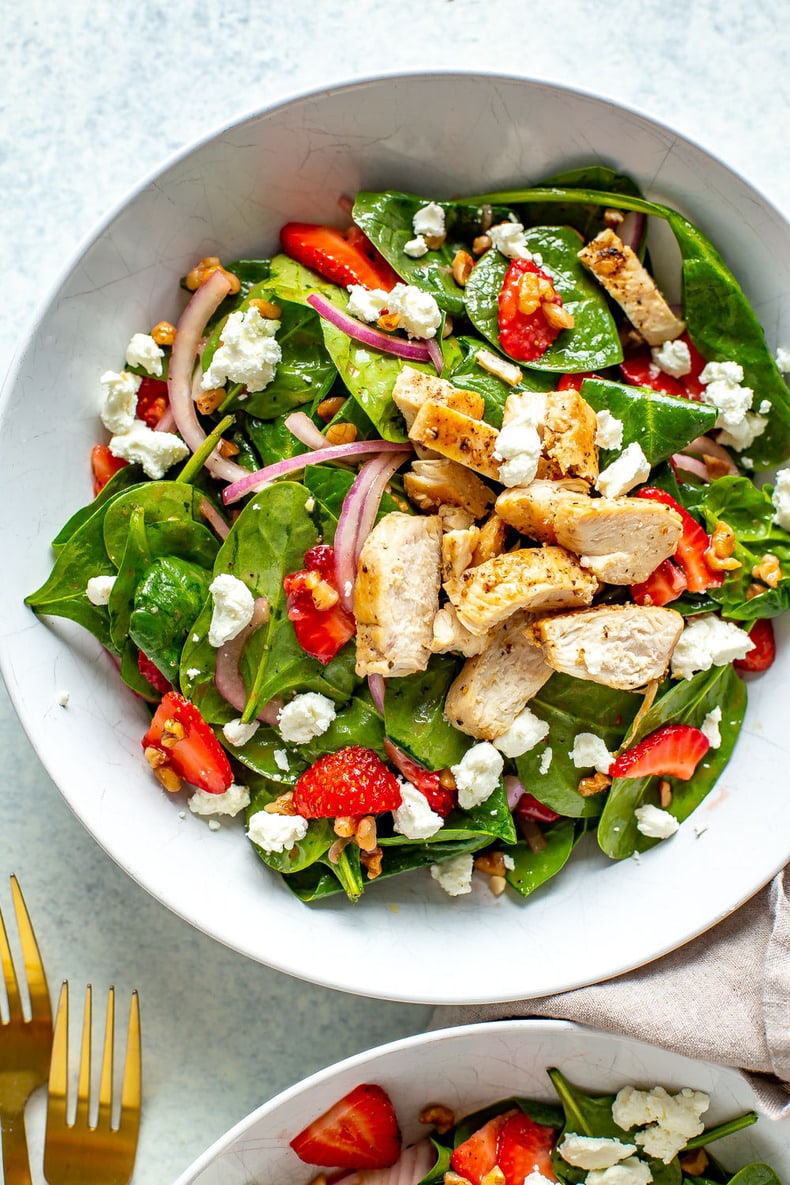 What dressing goes with strawberry spinach salad?
Summer salads like this chicken strawberry salad pair so well with vinaigrettes. Vinaigrette dressings are a combination of oils, vinegars, herbs and other flavours and are known to be a lighter dressing option. The acidic palette pairs really well with the greens used in salads and are a lighter dressing option compared to creamy dressings.
If you're looking for more dressing options for this salad besides the red wine vinaigrette dressing suggested, try one of these options: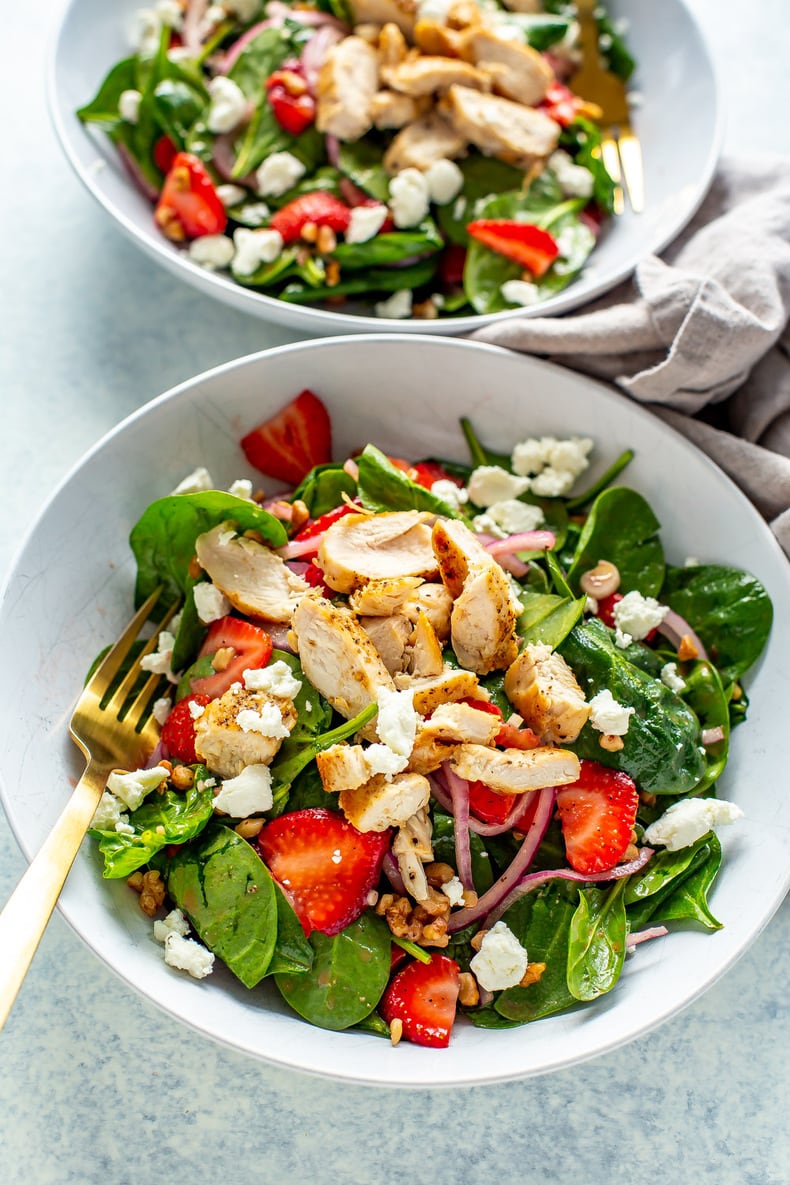 Frequently Asked Questions
What do you put in a strawberry spinach salad?
Aside from strawberries and spinach, the toppings options are completely up to you for this strawberry chicken spinach salad. I love adding on some grilled chicken and almonds for protein in addition to feta or goat cheese and red onions for flavour.
How many calories are in this salad?
This healthy spinach chicken strawberry salad has 455 calories per serving. If you want to cut back on the calories even more, you can leave out the cheese.
Should the chicken be hot or cold?
Whether or not you serve your chicken strawberry salad hot or cold is completely up to you! I personally preferring having the chicken warm, but it still tastes good cold.
Can you make this salad ahead of time?
My favourite way to make this salad ahead of time is in mason jars – it's a great option for work or school lunches throughout the week. If you're making this salad to bring to a party or a potluck, I'd recommend prepping all the ingredients ahead of time and storing them in separate containers. Then, right before serving, toss everything together, add on the dressing and serve.

Meal prepping this salad
If you've tried out any of my other salad recipes, you already know that my favourite way to store salads is in a mason jar. Storing your salads in a mason jar allows you to fully assemble the ingredients, dressing included, in advance while the ingredients remain fresh and crispy for up to 5 days in the fridge! Trust me, once you start storing your salads in mason jars, you won't go back.
When you're ready to enjoy your chicken strawberry salad, shake up the mason jar so all of the ingredients are combined and then serve it into a bowl to enjoy. You will want to add it to a bowl before eating because it may be a little difficult to enjoy out of the mason jar but if you're on the move, you can probably make eating directly out of the mason jar work.
Freezing the chicken
If you're looking to keep the chicken on hand for future salads, you can freeze the chicken after it's been cooked for up to 3 months. Make sure the chicken has cooled down completely, then store it in a freezer bag or glass meal prep container. Place the container of frozen chicken in your refrigerator to thaw the night before you want to use it.
It's perfectly safe to eat the chicken cold on top of your strawberry chicken spinach salad but it does taste better warmed up. To warm up your chicken, heat it in the oven at 350° Fahrenheit for 20-25 minutes. You can also sauté it in a pan on the stove for a few minutes or microwave it on medium power, just make sure to sprinkle some water over top so it doesn't dry out.

Wanna Learn How To Meal Prep?
My meal planning service, Dinner Prep Pro, removes the guesswork and helps you get dinner on the table in 15-20 minutes each night. My meal prep checklists only take 1 hour each week!
More delicious salad recipes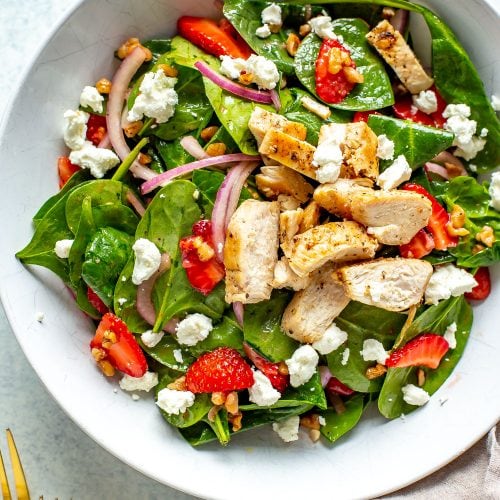 Strawberry Spinach Salad with Chicken
This Strawberry Spinach Salad With Chicken is a super easy protein-packed meal complete with fresh strawberries and a 4-ingredient dressing.
Print
Pin
Rate
IN A CYCLE OF EATING POORLY?We've got you covered with our free Routine Revamp mini course! You'll receive 8 lessons and free coaching with us! Register👇
Join Routine Revamp!
Servings: 4 servings
Calories: 455kcal
Ingredients
1 tbsp olive oil
4 chicken cutlets or 2 chicken breasts sliced in half lengthwise
Salt & pepper, to taste
5 oz container baby spinach about 6 cups
1/2 lb strawberries, thinly sliced
1/2 red onion, thinly sliced
1/2 cup feta or goat cheese, crumbled
1/4 cup sliced almonds or walnuts
Dressing
2 tbsp olive oil
2 tbsp red wine vinegar balsamic also works
1 tbsp honey
1 tsp dijon mustard
1 pinch each salt & pepper
Instructions
Heat olive oil in a large skillet over med-high heat. Alternatively, preheat the BBQ to 425 F. Season chicken with salt & pepper, then add to the pan, sauteeing for 6-7 minutes per side. If grilling, grill for 5 minutes per side. Remove from heat and set aside.

Mix together ingredients under the dressing heading. Once chicken has rested for 5 minutes, slice chicken up against the grain.

Add spinach to a large bowl, along with strawberries, red onion and nuts.

When salad is ready to serve, toss with dressing, then divide among 4 salad bowls. Top with sliced chicken and goat cheese. Serve and enjoy!
Video
Notes
If you can't find chicken cutlets, slice two chicken breasts thinly in half lengthwise. Swap out the dressing for another acidic vinaigrette. Meal prep this salad using mason jars with the dressing on the bottom. Freeze any leftover chicken for up to 3 months. Thaw in the fridge overnight then add to your salads cold or warmed up.
Nutrition
Calories: 455kcal (23%)Carbohydrates: 11g (4%)Protein: 45g (90%)Fat: 26g (40%)Saturated Fat: 7g (44%)Trans Fat: 1gCholesterol: 122mg (41%)Sodium: 346mg (15%)Potassium: 1010mg (29%)Fiber: 3g (13%)Sugar: 6g (7%)Vitamin A: 3675IU (74%)Vitamin C: 46mg (56%)Calcium: 121mg (12%)Iron: 3mg (17%)
Don't wait until January to eat healthy!Sign up for our free Routine Revamp mini course!
Join Routine Revamp!