These Spiralized Pad Thai Chicken Meal Prep Bowls are a healthier, low-carb version of Thai takeout with spiralized zucchini, matchstick carrots, red cabbage and an easy Pad Thai sauce!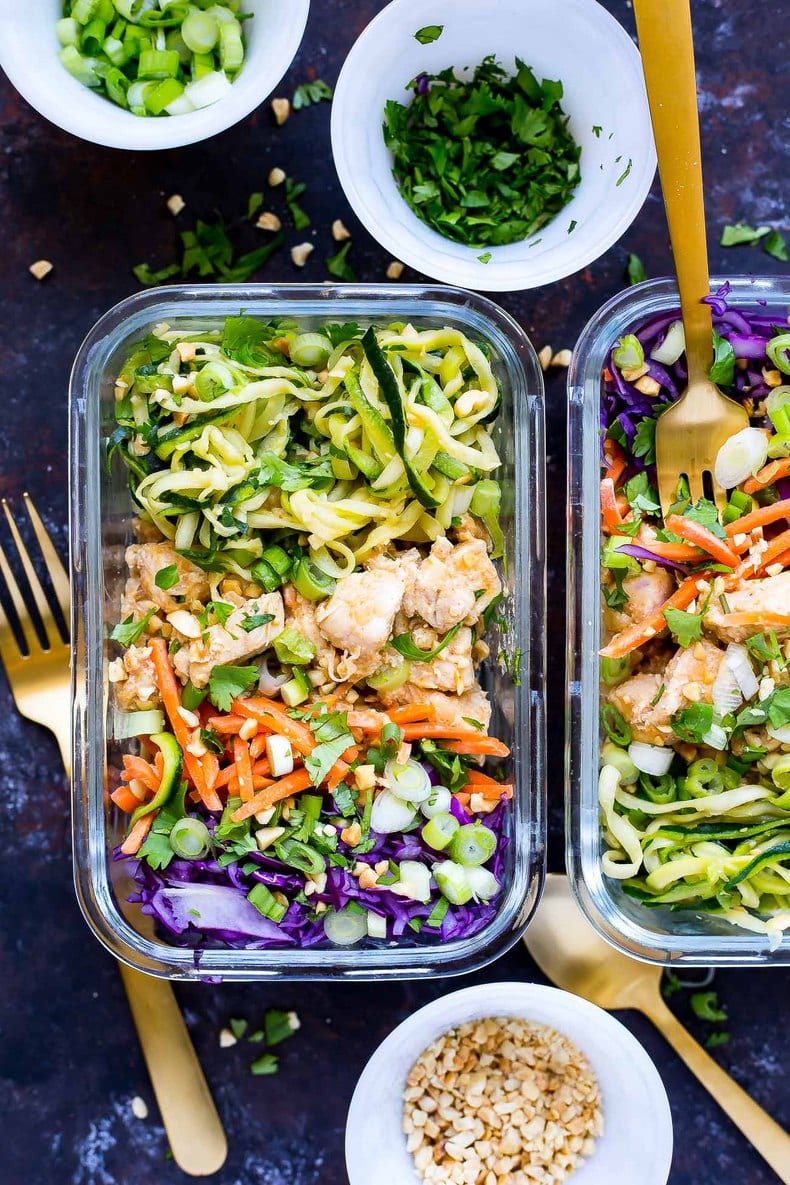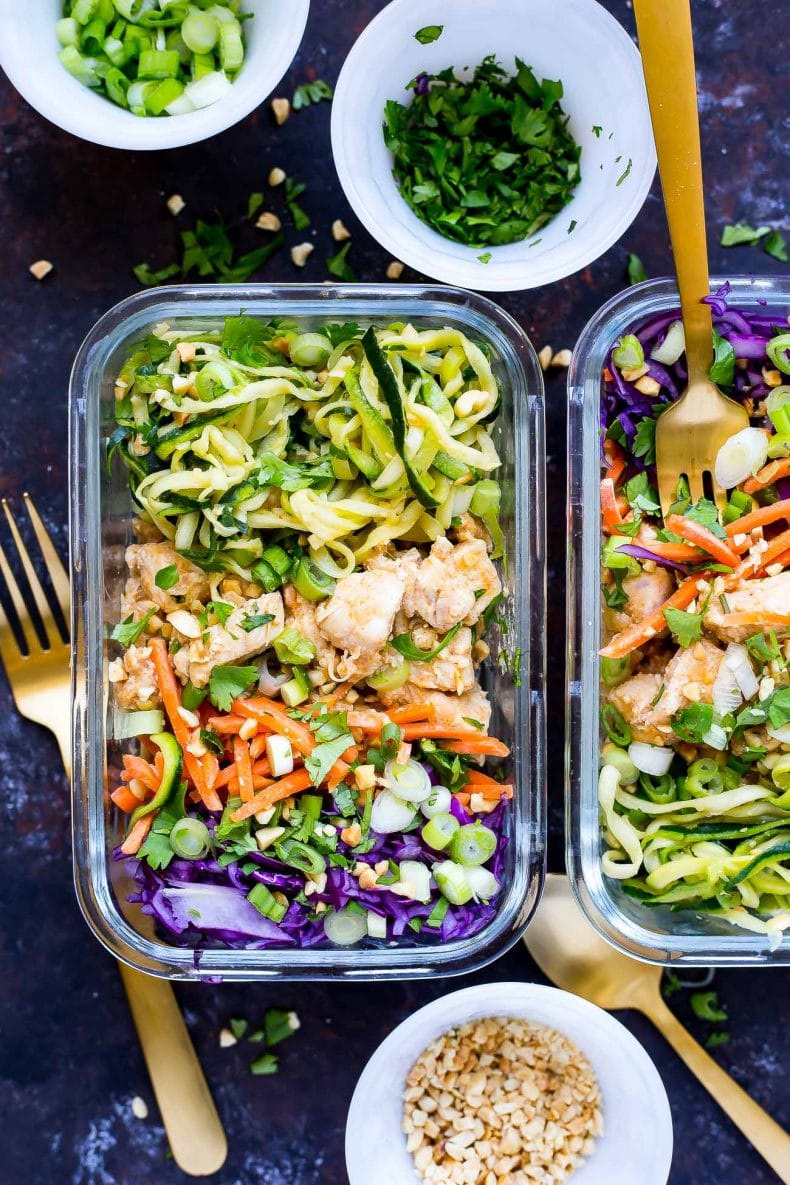 Be prepared to take lunch to the next level.???
These Spiralized Pad Thai Chicken Meal Prep Bowls are all I wanna eat these days.
A ton of fresh veggies, a low-carb bowl, plus a super-easy and authentic-tasting Pad Thai sauce all combined with a protein-heavy chicken base…basically, everyone will be wanting your lunch whatever week you decide to make these.
Welcome to the next generation of chicken meal prep bowls. You're welcome!!!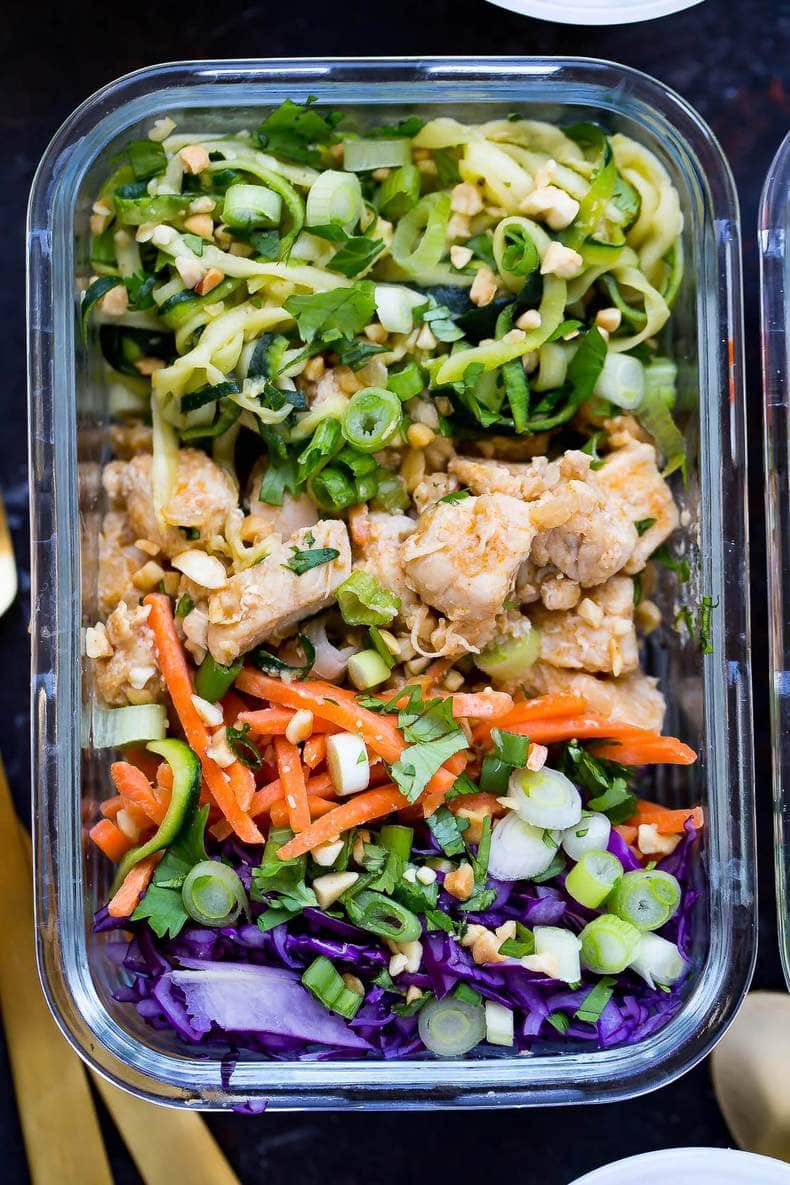 We all know my love of Pad Thai, and for some reason I never thought to turn it into a delicious, healthy lunch bowl before. I'm so used to the versions that have a bunch of a noodles, but sometimes skimp out on the veggies. To me, an amazing Pad Thai is all about the sauce and the sheer variety of fillings.
I mean, think about it: you've got Pad Thai noodles filled with different kinds of proteins (tofu, shrimp, chicken, egg), and all kinds of toppings (peanuts, scallions, cilantro, chili peppers), but when it comes to the veggies, some Pad Thai dishes can leave me with a desire for more.
The solution? (especially with bikini season around the corner…)
Skip the noodles, pile in ALL THE VEGGIES for a Raw Pad Thai experience! It's just as delicious as the real deal and it's perfect for a lighter midday meal. Save the carbs for some couch-surfing at night why don't ya!!!
Now raw Pad Thai recipes are nothing new. I've seen them on plenty of hipstery, vegan restaurant menus in downtown Toronto, all of which are pretty good.?? Many have this deliciously light and peanutty sauce covering oodles and oodles of zucchini, carrot and squash spirals. I was initially tempted on an impromptu cafe date with a friend a few years ago – what was initially supposed to be coffee easily turned into a fun adventure trying a glorified $10 salad and that's when I realized that most raw Pad Thai dishes are missing something. You know – protein?
Well, the stir-fried chicken in my Thai Chicken Meal Prep Bowls is the necessary component to take raw Pad Thai from salad status to hearty, filling lunch status.
You could still sneak in some noodles if your heart desires, but maybe cut the serving in half to make it lower-carb and get in more veg. I sometimes add rice noodles myself when I'm serving this for dinner because it makes the meal a little more substantial. I like whatever I cook to be flexible and customizable, and these Spiralized Pad Thai Bowls certainly are that!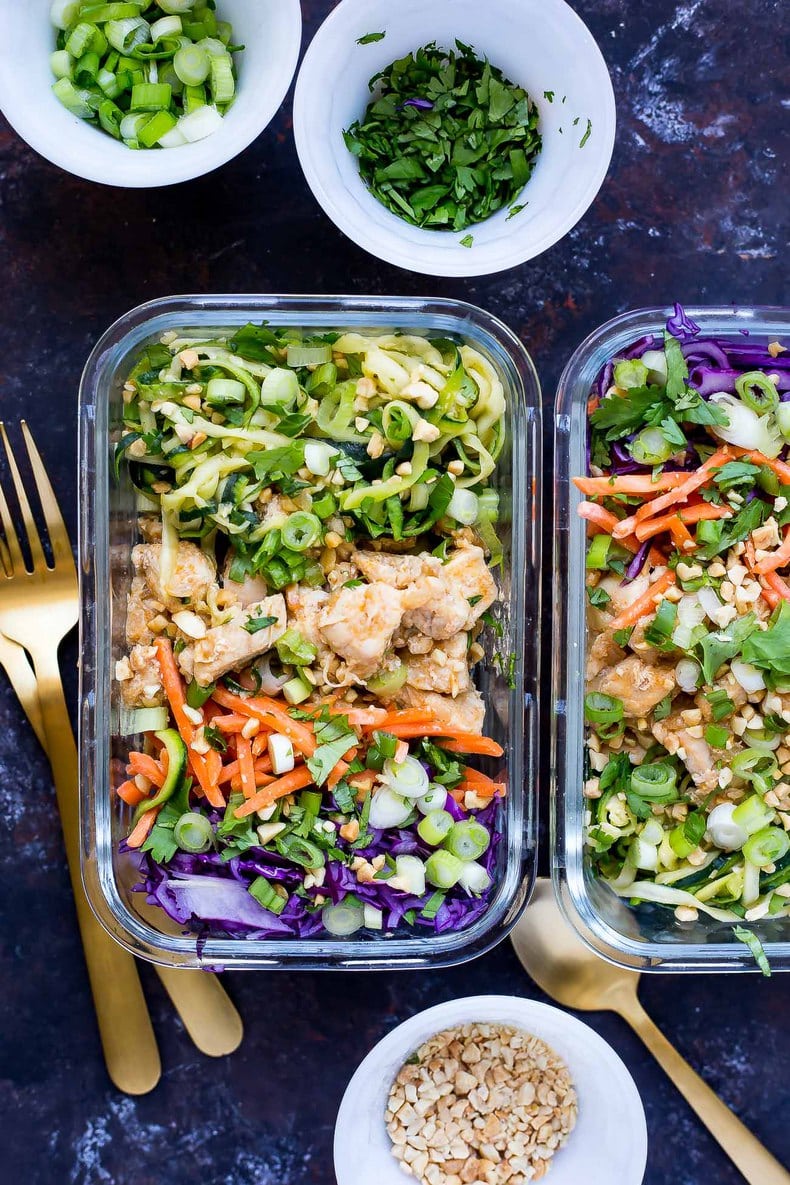 With all this talk about meal prep, I really should say that it doesn't have to be hard. Spend a little time on Saturday or Sunday and whip up a bunch of lunch bowls together at the same time.
This is what I consider to be the perfect formula for a chicken meal prep bowl:
Diced chicken breast – it can get pricey eating so much meat and poultry throughout the week but I find a $3 chicken breast is worth it compared to when you leave yourself without a lunch and have to run out and buy a comparable $10-15 salad somewhere (just sayin'?)
A light grain option like quinoa, brown rice, rice noodles, corn tortillas, etc.
Substantial, hearty veggies like kale, red cabbage, carrots, bell peppers, etc.
Fun, fancy toppings! Think wonton strips, crunchy peanuts, fresh herbs, scallions,
A healthy, low-calorie sauce (or two!) – Pad Thai style, Chipotle, Salsa, Avocado Caesar…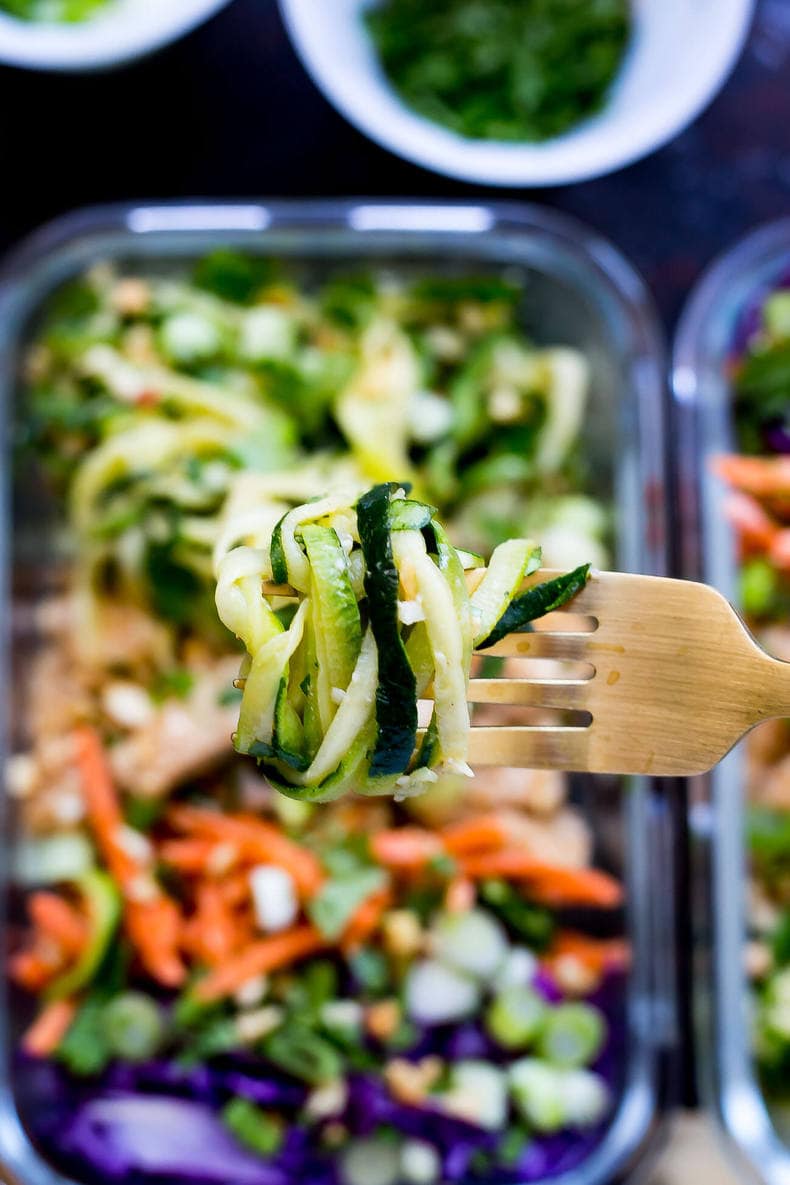 The other thing I haven't really mentioned about these bowls is that you can have your lunches for the week ready in just over half an hour. ??I don't typically hop on the spiralizer trend but having one on hand is a great way to add in some extra veggies to any lunch bowl in a pinch.
I love spiralized zucchini because it takes the place of the noodles while not being particularly strong in taste. In this case, it takes on much of the flavour of the Pad Thai sauce and blends beautifully with the rest of the veggies in these Spiralized Pad Thai Chicken Meal Prep Bowls.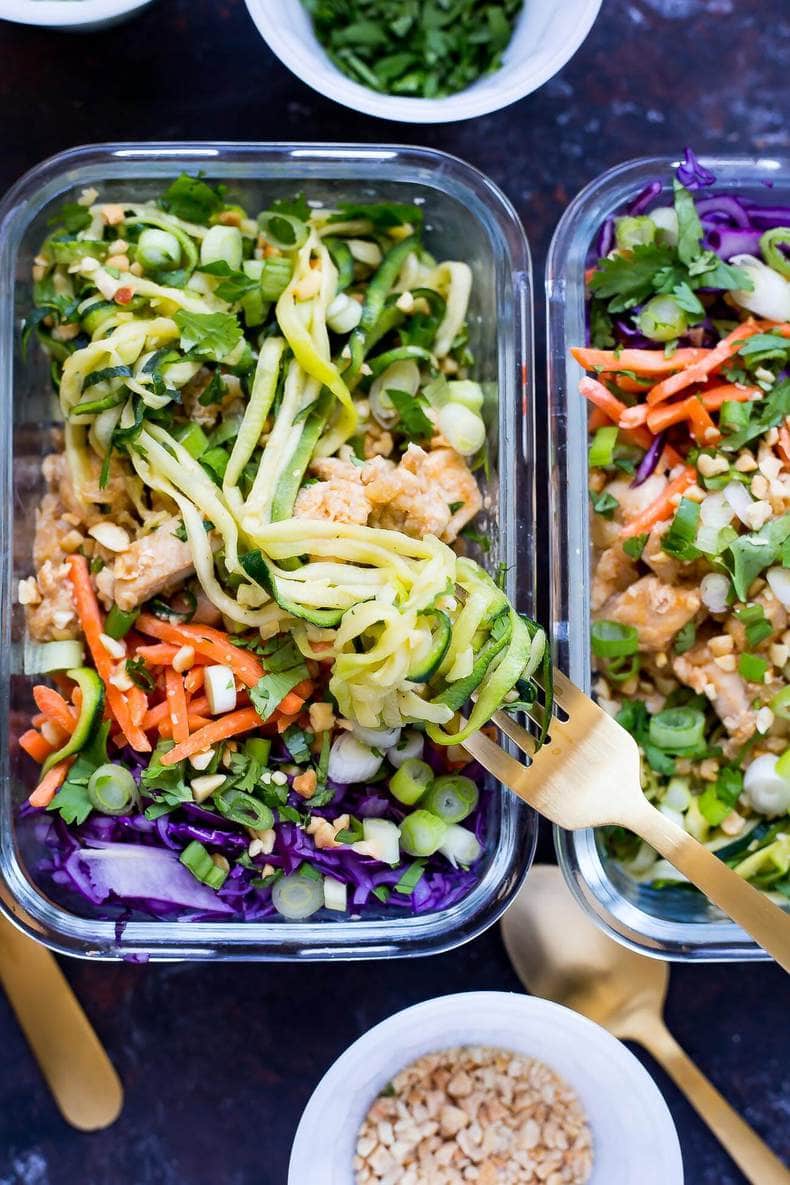 Now the sauce!
It's much, much easier than it looks. I swear.
The trick to Pad Thai sauce is that you really have to use tamarind paste, and you can usually find it in the Asian sauces section at your local grocery store. I think I've been to like four different different stores so far that have all had it – it's in with the curry pastes and ready-made sauces. There are some really awful white-people versions of Pad Thai sauce that I've seen online that advocate for using ketchup in place of the tamarind paste because most people already have that in their fridge, but honestly it's not worth it.
DO NOT TRY IT PEOPLE.  Go out and get the real deal. You'll likely already have to go out and buy fish sauce anyways!?
I mean, there are also ready-made Pad Thai sauces that you can buy instead of making the actual sauce from scratch, but what fun would that be? If you're super short on time and insist on doing it that way though, I should mention that Thai Kitchen's Pad Thai sauce is my fave when I'm in a pinch. It's probably the closest thing you'll get to authentic in a jar (and no, this ain't a sponsored post for them LOL)
Will you be making these Spiralized Pad Thai Chicken Meal Prep Bowls?
If you're looking for more healthy chicken meal prep ideas, these bowls have to be on your to-do list at some point. You really don't get much healthier than this – especially as a takeout copy-cat idea.
If you try any of my recipes be sure to let me know on Instagram, Twitter, Facebook or in the comments – I'd love to see what you come up with!???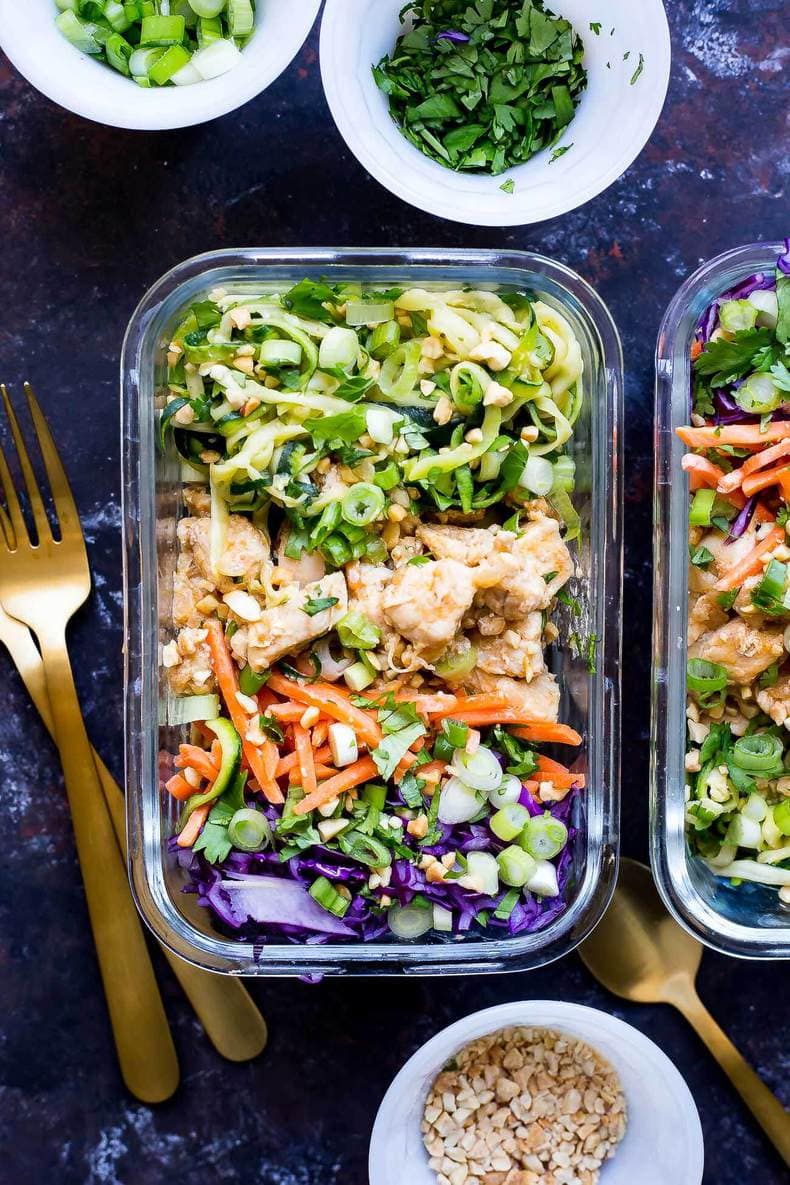 Get your square glass meal prep bowls here!
When I want to cook this recipe a bit faster and cheat on the sauce, I buy this Pad Thai sauce.
This is the brand of tamari I like, and I love this low-sodium soy sauce!
And of course I get all my free-range chicken breasts from Butcher Box!
Spiralized Pad Thai Chicken Meal Prep Bowls
These Spiralized Pad Thai Chicken Meal Prep Bowls are a healthier, low-carb version of Thai takeout with spiralized zucchini, matchstick carrots, red cabbage and an easy Pad Thai sauce!
Print
Pin
Rate
Ingredients
1

tbsp

olive or coconut oil

1

small yellow onion, diced

4

chicken breasts

4

zucchinis, spiralized or cut into matchsticks

1

package

Carrot matchsticks

1/2

red cabbage, thinly chopped

2-3

scallions, sliced

1/4

cup

chopped peanuts

1/3

cup

finely chopped cilantro
Pad Thai Sauce
1/4

cup

tamarind paste

1

tbsp

low-sodium soy sauce or tamari

1

tbsp

peanut butter

2

cloves

garlic minced

2

tsp

fish sauce

2

tsp

lime juice
Instructions
Whisk ingredients for Pad Thai sauce together in a medium-sized glass bowl.

Heat olive oil on med-high heat. Add onions, sauteeing for 2-3 min until softened. Add chicken and 3/4 of the Pad Thai Sauce, stirring to combine and cooking for 8-10 min until chicken is fully cooked.

Remove from heat and add zucchini noodles, sauteeing for 30 seconds with remaining Pad Thai sauce. Remove from heat immediately and add to glass meal prep bowls (I got mine from IKEA!)

Add chicken, carrots and red cabbage to each bowl, garnishing with scallions, peanuts and cilantro. Refrigerate up to 4-5 days and take for work!
Nutrition
Calories:
382
kcal
|
Carbohydrates:
26
g
|
Protein:
30
g
|
Fat:
19
g
|
Saturated Fat:
3
g
|
Polyunsaturated Fat:
2
g
|
Monounsaturated Fat:
6
g
|
Cholesterol:
62
mg
|
Sodium:
532
mg
|
Potassium:
751
mg
|
Fiber:
6
g
|
Sugar:
14
g
|
Vitamin A:
1050
IU
|
Vitamin C:
66.8
mg
|
Calcium:
80
mg
|
Iron:
2.3
mg