This Sheet Pan Sriracha Ranch Chicken is a super easy and healthy 30-minute dinner and doubles as your weekly lunch prep – just add dry ranch seasoning, your favourite veggies and some hot sauce!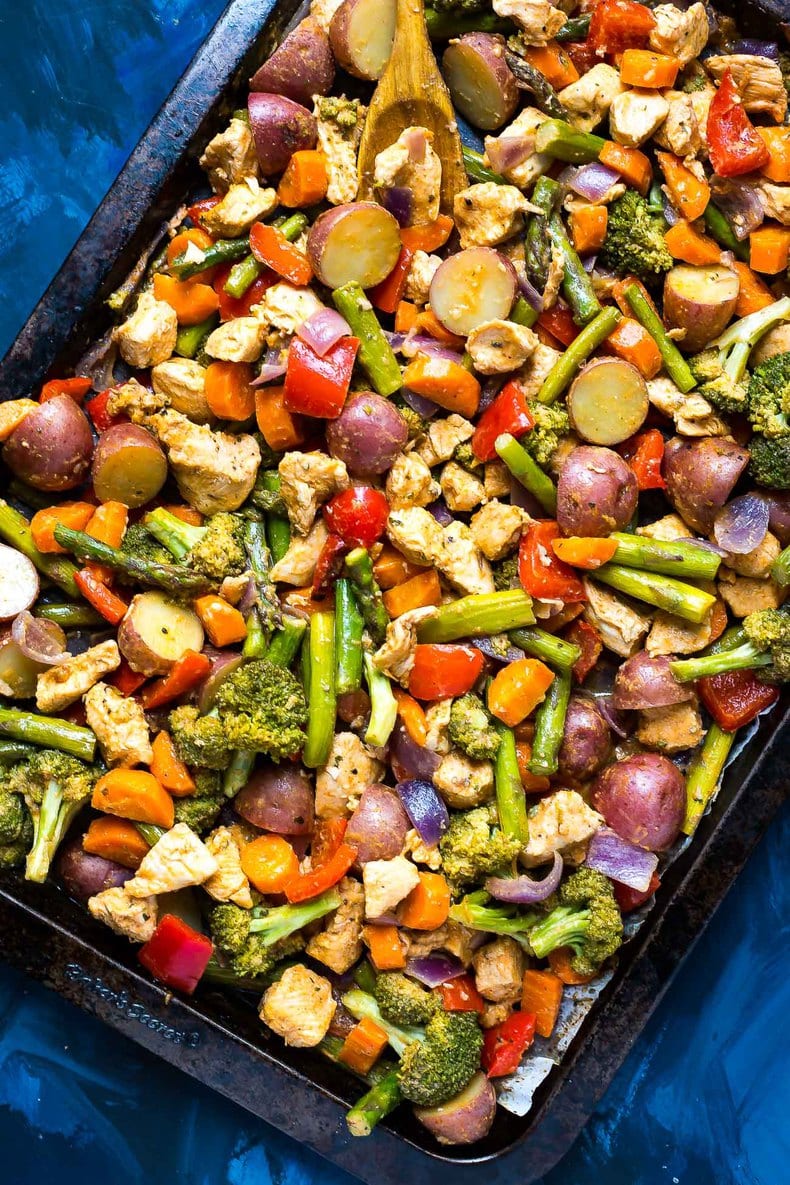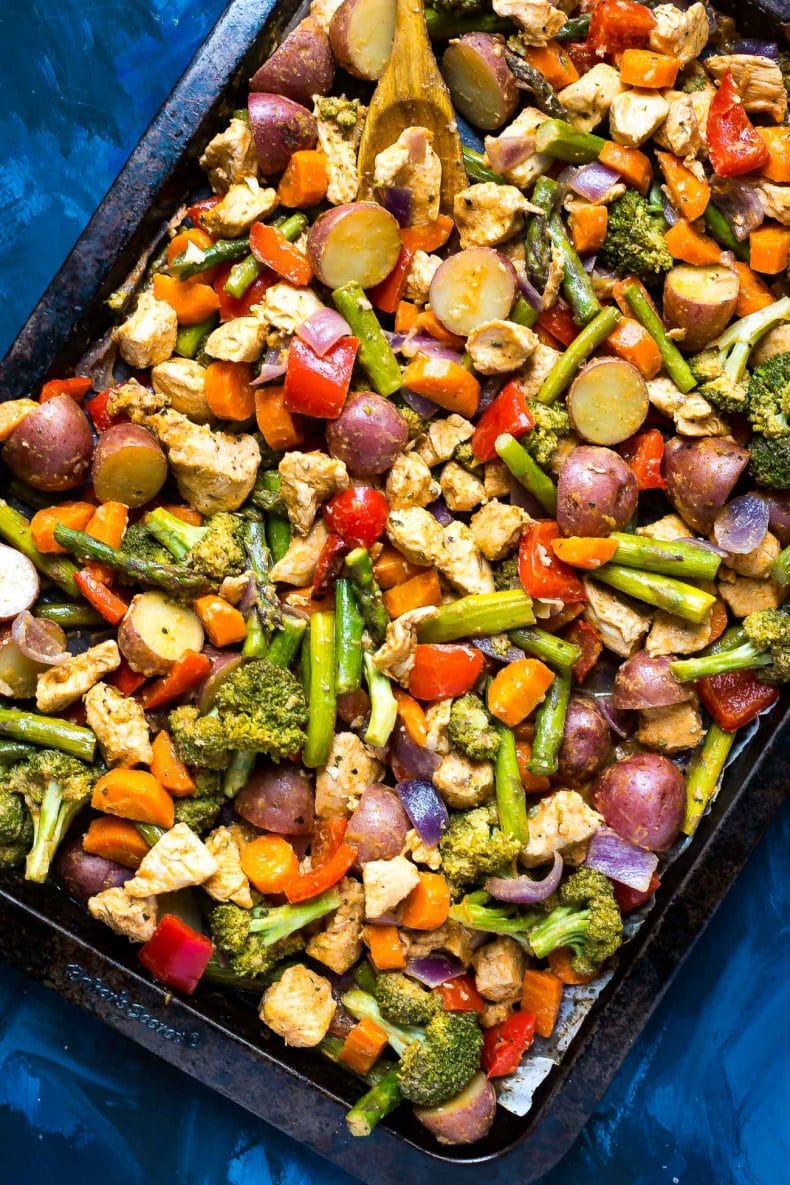 Let me tell you about the next best thing in the weeknight dinner world.
Sheet Pan Sriracha Ranch Chicken.??????
Yes, it's also my fave new meal prep recipe, mostly because it's just so damn convenient. Say hi to four lunches ready in just 30 minutes, made in one pan. Who the hell do you know that would turn that down?
This has made-specifically-for-busy-people written all over it.
I myself am so busy these days that I can barely see straight.? I swear, I'm not sure how there are there even 24 hours in a day? I feel like I try waking up early to get more done (because working late has me daydreaming and wasting time on Facebook as opposed to actually being efficient) but it still seems as though I'm facing the same fight everytime, and it's the fact that there just isn't enough time to get everything done sometimes.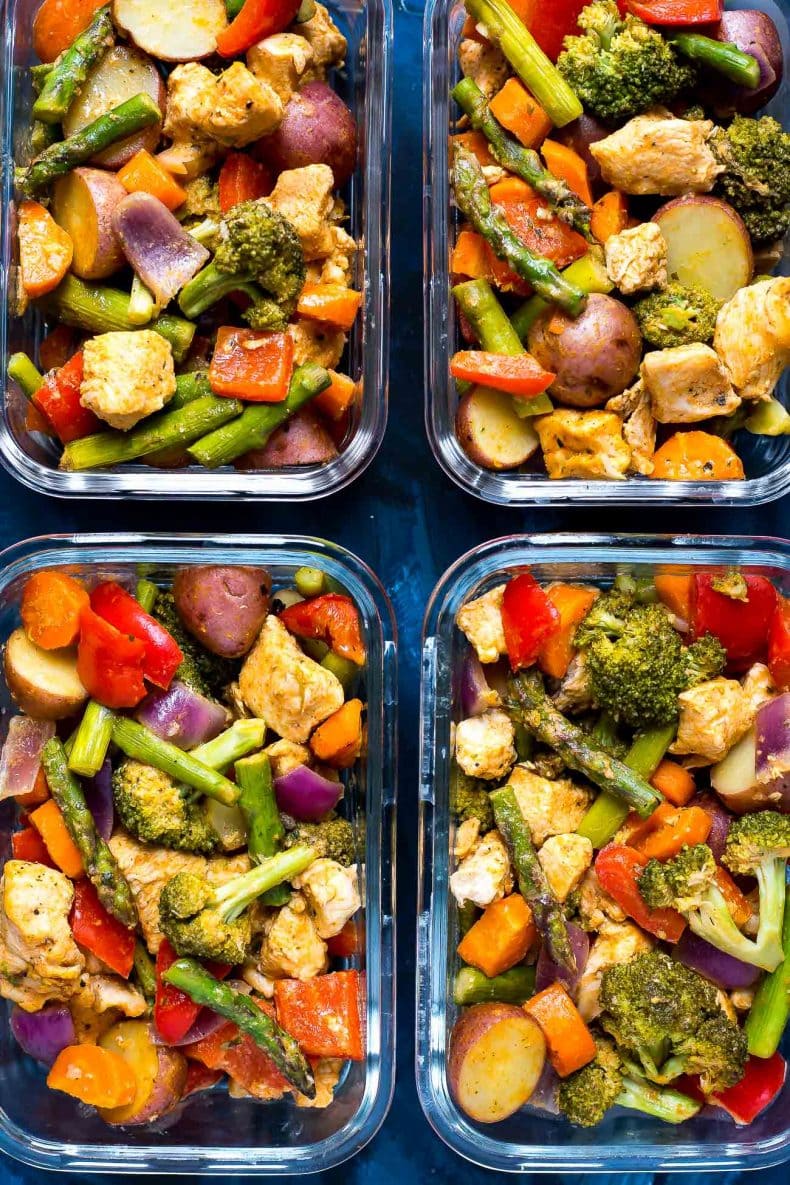 I don't know about you, but I fall into this trap sometimes where I'm working all the time, and then stressing out about the other normal human activities I should be doing, like shopping for groceries or picking up that pesky bottle of shampoo that I've been running low on for the past few days, or making plans with my friends to, you know, actually have some fun every once in a while.?
A true workaholic, I'm seeming to forget lately that I have the rest of my life to work. Hanging with friends and family should probably take a little more priority, right?
Of course I say all of this as I'm rushing to get all my work done before the Easter long weekend. I'm telling you, the self-employed life ain't always a fun one. You get to be employee and boss all rolled into one…
Well, thank God for dinners that you don't have to even really have to think about then right? I am so late to the trend, I know. But I promise, this Sheet Pan Sriracha Ranch Chicken will have you checking off all the boxes on cheap, delicious, healthy, quick and easy.
There was a time even very recently that I used to sometimes get stressed out about cooking, because I thought you had to spend this crazy ass amount of time in the kitchen whipping up something gourmet and mouth-watering everytime.
Dinner is just one of those meals I really look forward to, so I tend to spend a lot of time dreaming up recipe ideas that are over the top, have delicious homemade sauces and are just super extravagant. Dinner is comfort at the end of the day, and I swear it's why most people grab takeout. Not just because they're tired, but also because they want to reward themselves for a job well-done after a long day. Well, newsflash for you. The simplest recipe can also be delicious – and rewarding for your wallet.
Of course, as I started to cook more for my food photography work, I realized that I couldn't throw together the most exquisite meal in existence each and every time.? In fact, the recipes I most enjoyed developing were the ones that were super easy to cook and shoot. The ones that required only 5 or 6 ingredients, or the ones that required minimal clean-up, like one pot chicken stir fry bowls or slow cooker curries.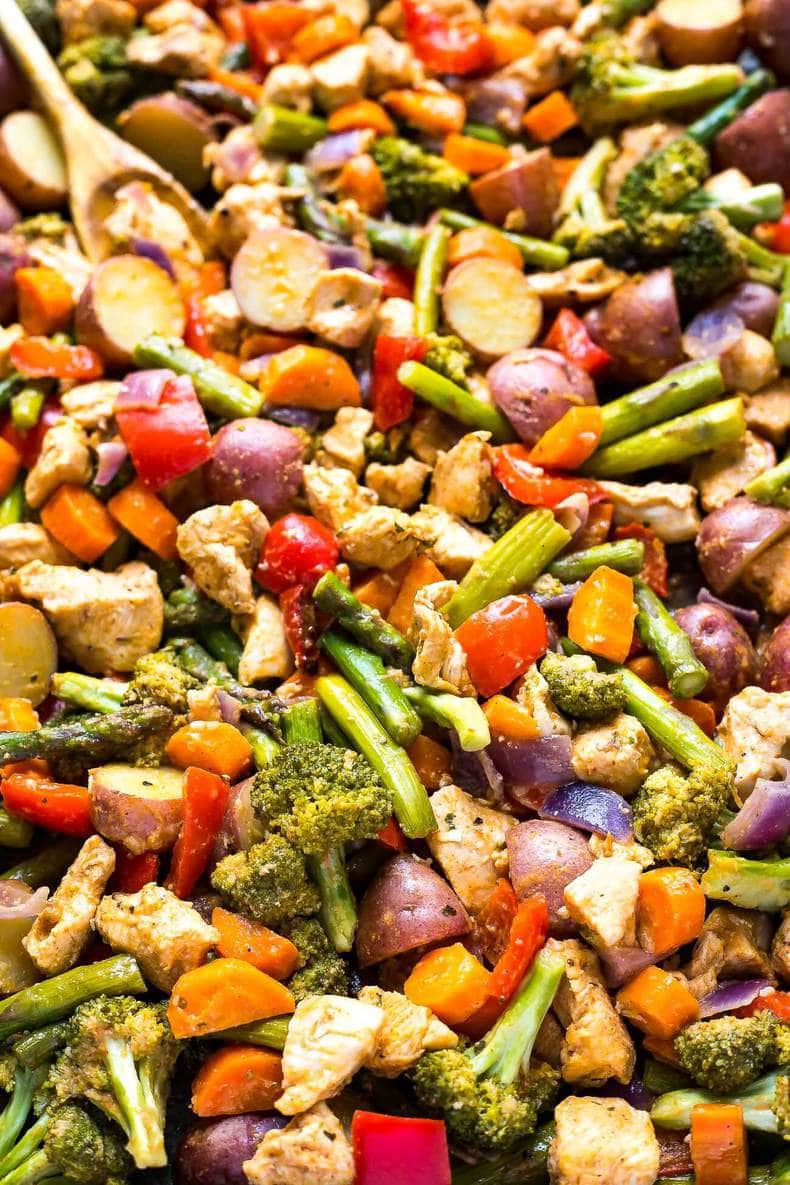 Don't get me wrong: there's definitely a time and place to get creative and cook up a gourmet meal – especially when you have the time to actually enjoy the process. I'm talking Saturday night, you've got a glass of wine in hand?, there's music playing in the background? and you're with someone you love?, whether it's your partner, some friends or your family. At that point, yes. Go all Top Chef on me and bust out the steak and fancy butter compotes, etc.
But for busy weeknights after you've worked 10 hours and gone to the gym and grabbed that bottle of shampoo on your way home from work?
Gimme Sheet Pan Sriracha Ranch Chicken. That's more my speed.??
The great thing about sheet pan dinners is that you can customize them any way you want – I've done a sriracha ranch version here but you could easily switch it up according to season. I already have green beans and balsamic chicken planned, along with a fajita version that will very closely mimic my favourite Fiesta Chicken Rice Bowls.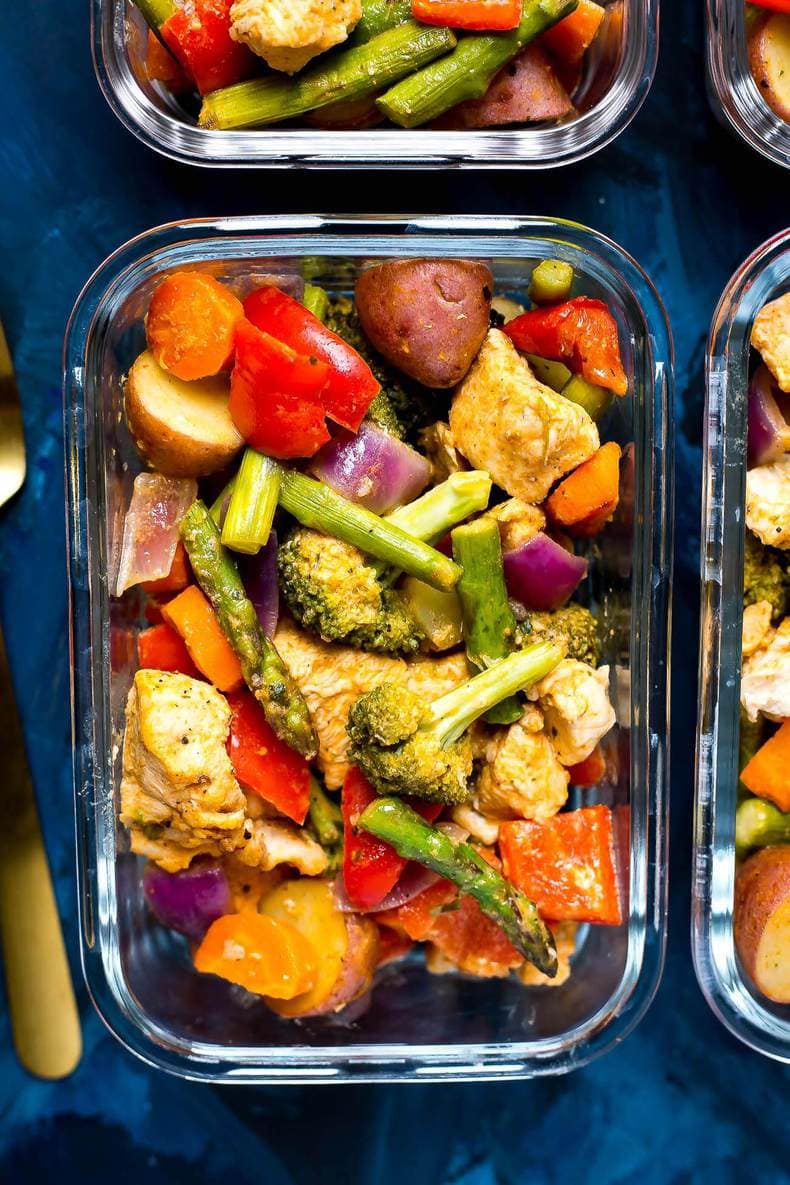 Don't like some of the veggies I've included in this recipe? Swap one or two of 'em out! Here are some other great veggie options that work well in sheet pan dinners like this:
Cauliflower
Sweet potato
Bell peppers
Green beans
Scallions (cut into large pieces, not finely chopped as you're used to doing)
Zucchini
Parsnips
Cherry tomatoes
Mushrooms
And loads and loads of garlic of course. Besides all the drinks and desserts, I'm pretty sure that almost every single one of the recipes on my blog has garlic. Anybode else a die-hard fan? Supposedly it's really good for you.
I'll go with it.?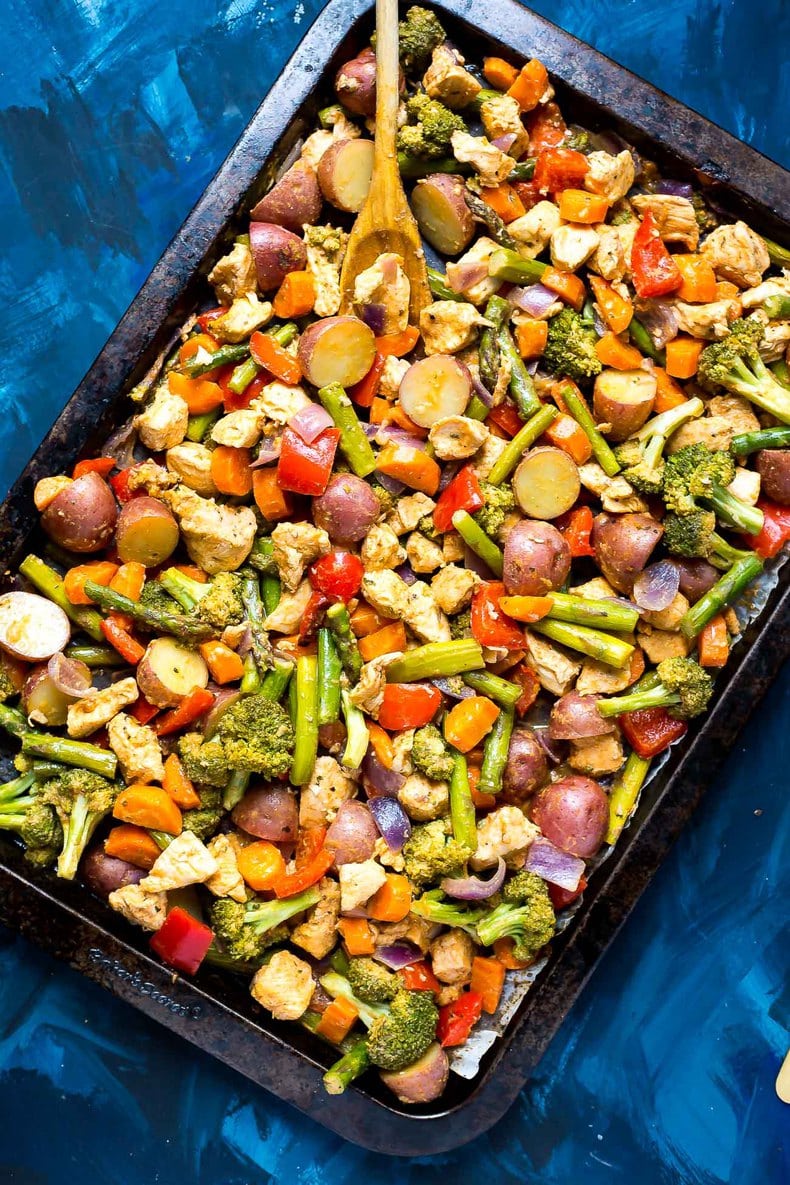 I love one pot meals and all, but I think sheet pan dinners are going to become my next go-to anytime I don't know what I'm having for dinner. Or when I have veggies about to go bad in the fridge and need to be turned into something delicious.
I'll take just about any excuse to whip this Sheet Pan Sriracha Ranch Chicken up. Hopefully sheet pan dinners will tide me over until BBQ season hits.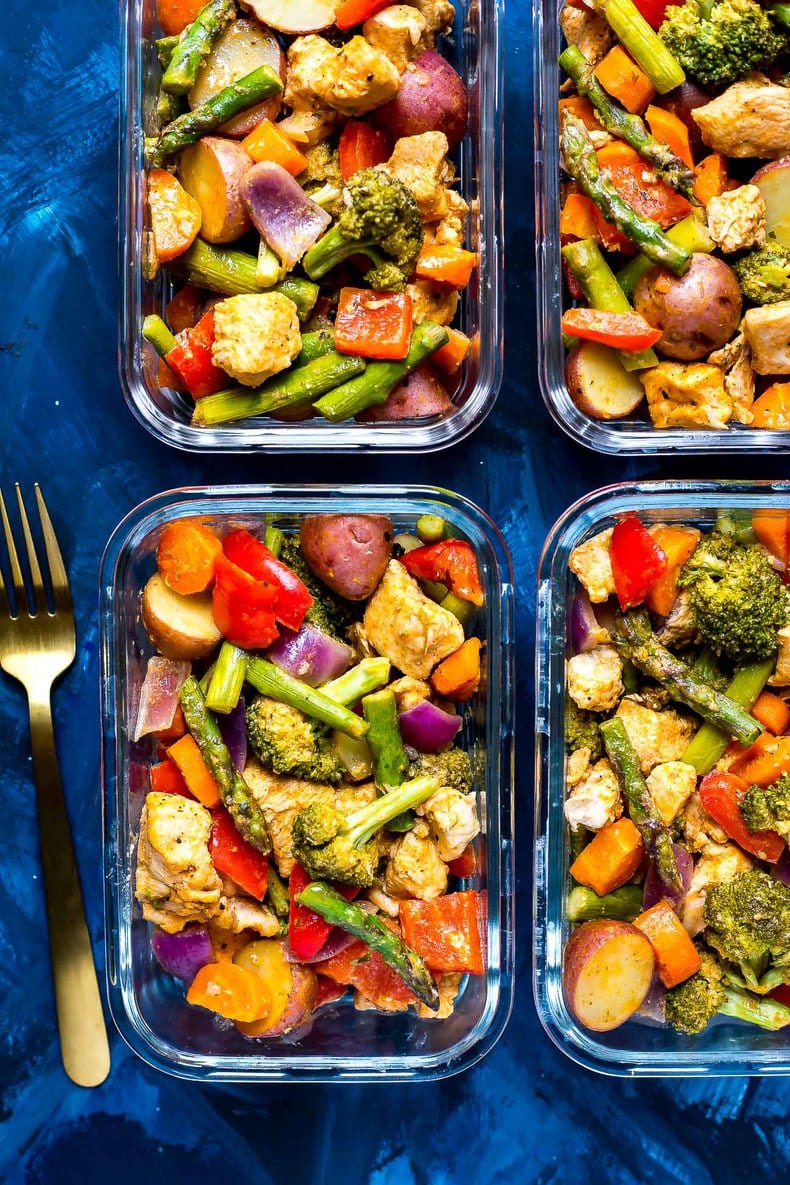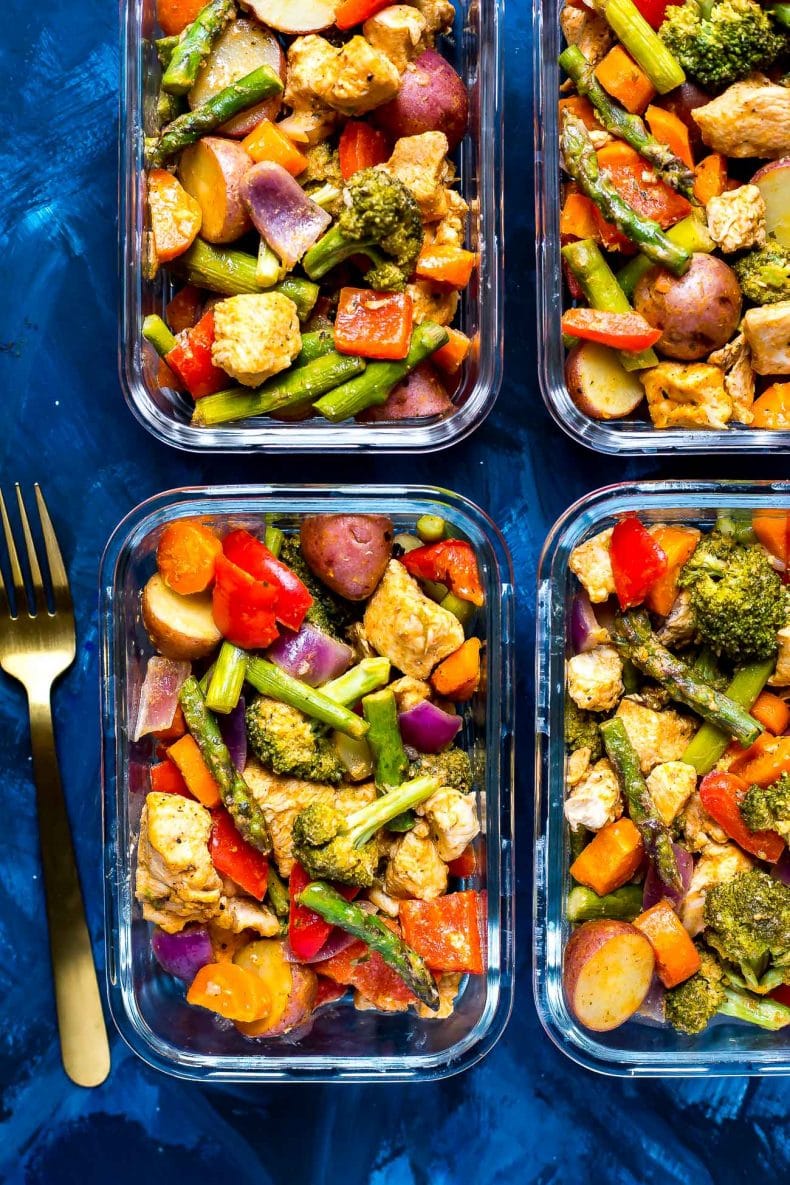 Will you be making this Sheet Pan Sriracha Ranch Chicken? 
What are some of your go-to meals after a long and busy workday? I'd love to hear some other strategies you have to eat well and get shit done. After being out of school for about a year, nobody ever told me how hard it was to work full time and still take care of yourself. Basic bitch over here, I know LOL
As usual, if you try any of my recipes be sure to let me know on Instagram, Twitter, Facebook or in the comments – I'd love to see what you come up with!???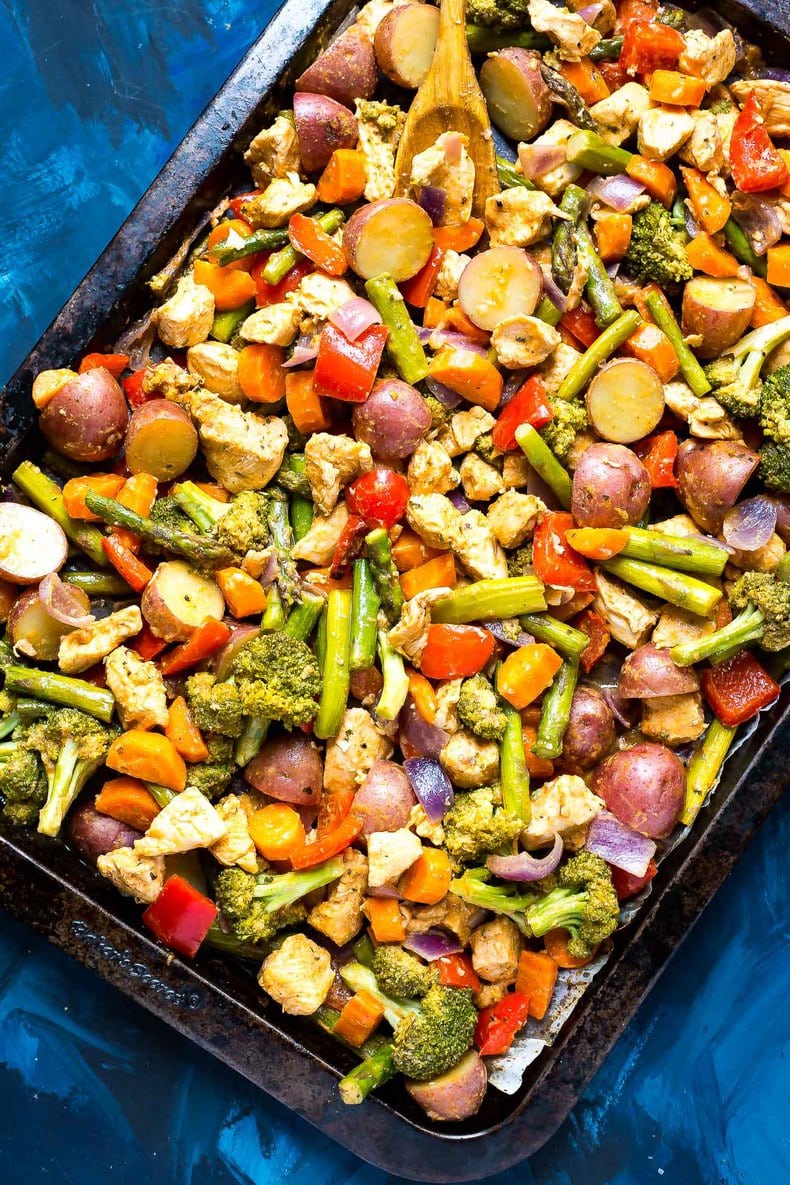 Sheet Pan Sriracha Ranch Chicken
This Sheet Pan Sriracha Ranch Chicken is a super easy and healthy 30-minute dinner and doubles as your weekly lunch prep - just add dry ranch seasoning, your favourite veggies and some hot sauce!
Print
Pin
Rate
Ingredients
1

tbsp

olive oil

3

chicken breasts, diced

1

head

broccoli, chopped

1

red pepper, chopped

1

carrot, sliced

1

bunch

asparagus, chopped

2

small

red onions, chopped

3/4

cup

baby potatoes, chopped

4

cloves

garlic minced

1

packet

dry ranch seasoning

1

tbsp

Sriracha

1

tsp

salt

1/2

tsp

pepper

1

tsp

dried basil (optional)

1

tsp

dried oregano (optional)

1

tsp

dried thyme (optional)
Instructions
Preheat oven to 400 F. Toss all ingredients together in a large bowl. Add everything to a large parchment-lined baking sheet and roast for 25-30 minutes, depending on how tender you want the veggies. Serve and enjoy!

Note: the dry spices are optional but add a lot of flavour to this recipe - you likely already have them in your pantry!
Nutrition
Calories:
324
kcal
|
Carbohydrates:
30
g
|
Protein:
24
g
|
Fat:
10
g
|
Saturated Fat:
2
g
|
Polyunsaturated Fat:
2
g
|
Monounsaturated Fat:
5
g
|
Cholesterol:
62
mg
|
Sodium:
2014
mg
|
Potassium:
331
mg
|
Fiber:
5
g
|
Sugar:
5
g
|
Vitamin A:
1250
IU
|
Vitamin C:
99.8
mg
|
Calcium:
30
mg
|
Iron:
1.4
mg