These Southwest Chicken Foil Packets with Veggies are a tasty 30-minute dinner idea cooked on the BBQ. Throw everything together in a foil packet and say goodbye to dirty dishes!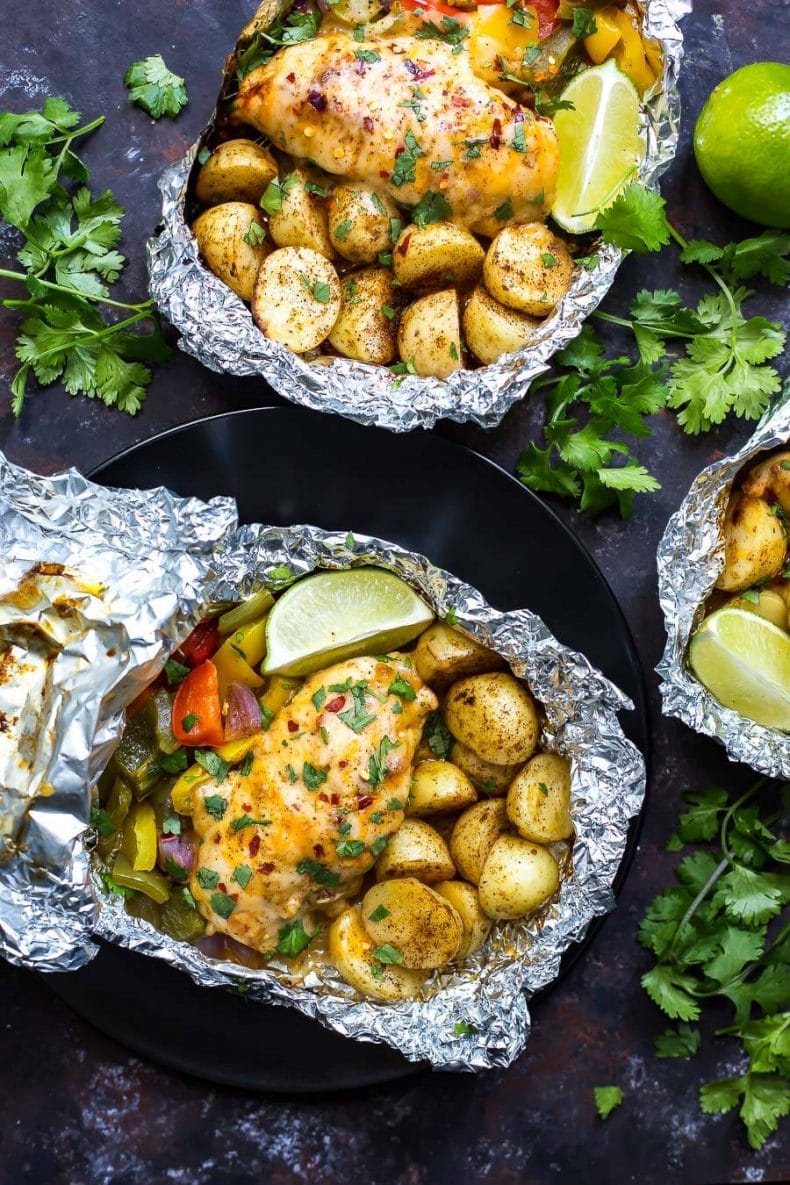 This post is sponsored by PC Black Label – thanks for supporting the brands that help keep my blog up and running!
Ahhh, BBQ season and Southwest Chicken Foil Packets, how I adore you!
I honestly can't believe we are halfway through the year already. It seemed like just yesterday I was staring out the window waiting for the snow to clear up and somehow we've already stumbled mid-way into June. It's funny how time works.
Speaking of funny, I'm seeing all the graduation pics of my remaining friends finishing up school, and each year it really reminds me of how much I have grown. I finally finished my Master's degree about a year ago and have been working on this little blog full-time since then, and it's crazy how much I've learned.
And not even just about photography, but cooking in general! Here I was starting a food blog a couple years ago thinking I had it all figured out. I knew how to get the perfect sear on scallops (one of my first ever published recipes was this Superfood Pesto Orzo with Scallops recipe – yes, original photos and all!) and I knew that I could sub in avocado and olive oil for butter in my favourite Zucchini Chocolate Muffins for a lower-calorie, healthier breakfast.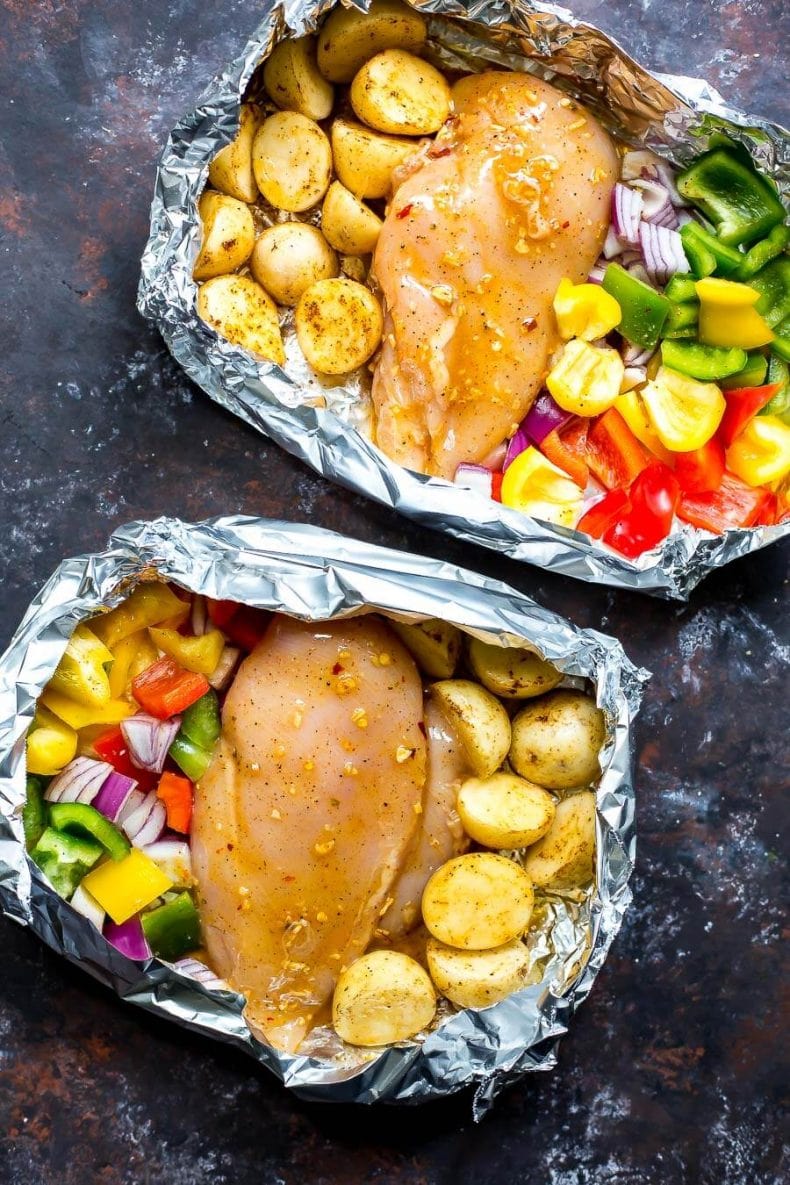 I thought I was jst on the cusp of foodie trends back then, and that I was really experimenting in the kitchen by adding kale to my basil pesto recipe (it's really good by the way, you should try it sometime!)
Well, since I love discovering new ways to combine flavours, this is the perfect opportunity to fill you in on my adventures in the kitchen with my PC Black Label black boxes! Each month, the brand sends me a black box filled with a couple secret ingredients that I have to develop a recipe around. This month, I chose to create these Southwest Chicken Foil Packets with the PC Black Label Passion Fruit Condiment! Say hello to one delicious summer marinade! I also received a jar of Toasted Sesame Caramel Sauce that I can't wait to serve on top of some ice cream or even alongside some fresh fruit.
Now let me fill you in a little more on these Southwest Chicken Foil Packets.
If you haven't already made foil packets on the BBQ, you're seriously missing out on one quick and easy meal idea. I'm telling you, all you have to do is marinate the chicken for 10 minutes, slice up some baby potatoes and throw in whatever veggies you have on hand with a little bit of spice (I mainly use seasoning salt, garlic and chili powder or an Italian spice blend, depending on my mood).
I love that you can increase or decrease serving sizes so easily as well. Just you eating solo? No problem! Pull out one chicken breast, add in a few veggies and grill for 25 minutes! Dinner is ready in no time.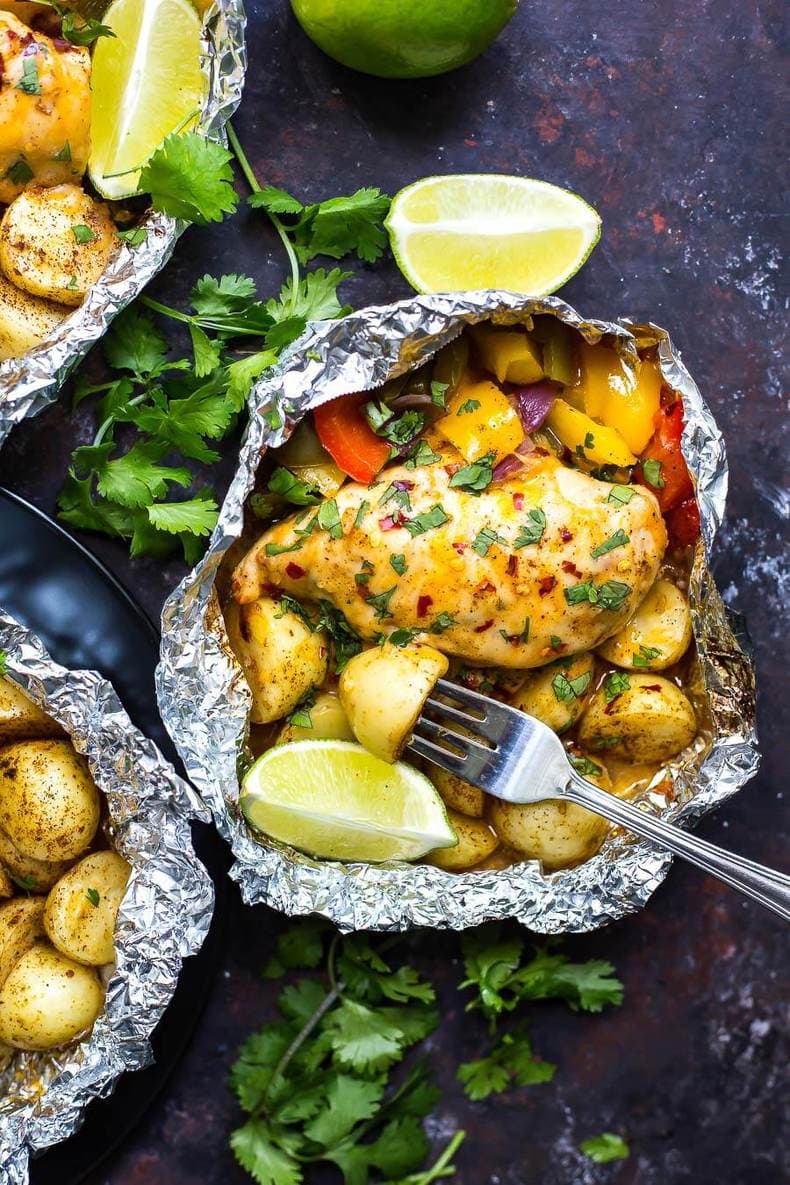 When I worked a construction job a few years ago (my work history is very storied, I know! LOL), I practically lived on foil packet dinners like these. They're just so easy and low maintenance, there's really no excuse not to try them! You can also sub in sweet potatoes for a lower carb alternative to this recipe, and you can pretty much use any veggies you have lying around. I often used a bagged blend of veggies when I worked that construction job because it made things easier, but I love using up food that's about to go bad so feel free to get creative here on the veggie side.
The marinade is a simple blend of the Passion Fruit condiment, mixed with some olive oil, honey and taco seasoning. Top with some cheese and cilantro once everything's cooked (and maybe a bit of salsa if you're really feeling crazy) and you've got yourself one tasty, easy weeknight dinner!
Anyway, enough about my love of these Southwest Chicken Foil Packets…
I have loved experimenting with new flavours through my own #PlayWithYourFood journey so this month, I'm going to #PlayItForward by giving you a chance to win a PC Black Label black box of your own! The box comes with two surprise products and a $50 PC gift card so you can get your foodie game on this summer!
All you have to do to enter is comment on this recipe, tweet about the contest or like the PC Black Label and The Girl on Bloor Facebook pages and tell us what YOU would create with the Passion Fruit Condiment. Be sure to include the product name, #PlayWithYourFood and #PCBlackLabel in your entry.
Will you be making these Southwest Chicken Foil Packets with Veggies? 
I'm seriously all for efficiency when it comes to summer dinners. I'm trying to get outside more, spend less time in the kitchen and still enjoy every moment of the season while eating some delicious, healthy food! Changing it up every once in a while with a different chicken marinade definitely helps! 😉
If you try any of my recipes – specifically the PC Black Label ones! – be sure to let us know on Instagram, Twitter, Facebook or in the comments by using the hashtag #PlayWithYourFood – and visit pc.ca/blacklabel!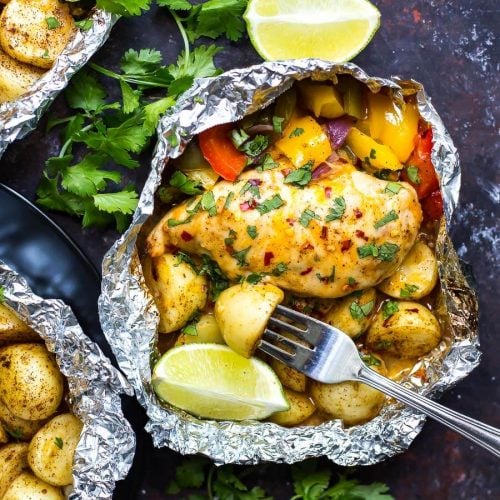 Southwest Foil Chicken Packets
These Southwest Chicken Foil Packets with Veggies are a tasty 30-minute dinner idea cooked on the BBQ. Throw everything together in a foil packet and say goodbye to dirty dishes!
Print
Pin
Rate
Ingredients
1

tbsp

olive oil

2

tsp

chili powder

1

tsp

garlic powder

1

tsp

seasoning salt

1

package

baby potatoes, sliced in half

1/2

each

red, yellow and green pepper, diced

1/2

cup

shredded cheddar cheese

Cilantro, salsa and sour cream to serve
Chicken marinade
1/4

cup

olive oil

1/4

cup

PC Black Label Passion Fruit Condiment

2

tbsp

honey

1

tbsp

taco seasoning

1

tsp

salt
Instructions
Preheat BBQ to med-high heat. Mix together ingredients for chicken and let marinade for 10 min. Meanwhile, toss veggies and potatoes with olive oil, chili powder, garlic powder and seasoning salt.

Create four foil packets and add veggies and chicken to each, spooning a bit of marinade over the chicken. Create foil covers for each foil packet, then cook on BBQ for 20-25 minutes until chicken is fully cooked. Remove from heat and remove foil cover, then top chicken with cheese. Place cover back on gently and let sit for 3-4 min until cheese is melted. Serve with chopped cilantro, salsa and sour cream. Enjoy!