These Grilled Chicken Satay Meal Prep Bowls are super delicious and come together really fast on the BBQ – they're a great lunch option!
Ingredients and substitutions
Red pepper – feel free to swap out red pepper for whichever colour bell pepper is your favourite!
Zucchini – I recommend zucchini but if you're not a fan of zucchini, you can leave it out or switch it out for pineapple if you prefer a sweeter taste.
Red onion – white onions are a great alternative.
Olive oil – you can swap this out for vegetable oil or sunflower oil.
Skewers – thin and long are best.
Red chili – serrano peppers provide a similar flavour or you can leave this out if you don't like spice.
Cilantro – leave this out altogether or swap for parsley.
Salt & pepper – to taste.
Satay marinade
Chicken breasts – chicken breasts are a leaner option, but feel free to use chicken thighs instead.
Coconut milk – coconut milk will give a Southeast Asian-inspired taste but heavy cream or any non-dairy milk will work if you're in a pinch.
Lime juice – bottled or fresh lime juice will both work.
Soy sauce – tamari or coconut aminos are the best substitutes here.
Garlic – fresh garlic is best but jarred minced garlic will work in a pinch.
Ginger – If you don't have fresh ginger, you can use dried ginger.
Turmeric – try using saffron instead.
Chili powder – make your own using a blender of paprika, cumin, garlic powder, onion powder, oregano and cayenne.

How to make chicken satay
Make the satay marinade.
Marinate the chicken for 30 minutes.
Add veggies and chicken to the skewers.
Grill the skewers for 10 minutes.
Serve or add to meal prep bowls.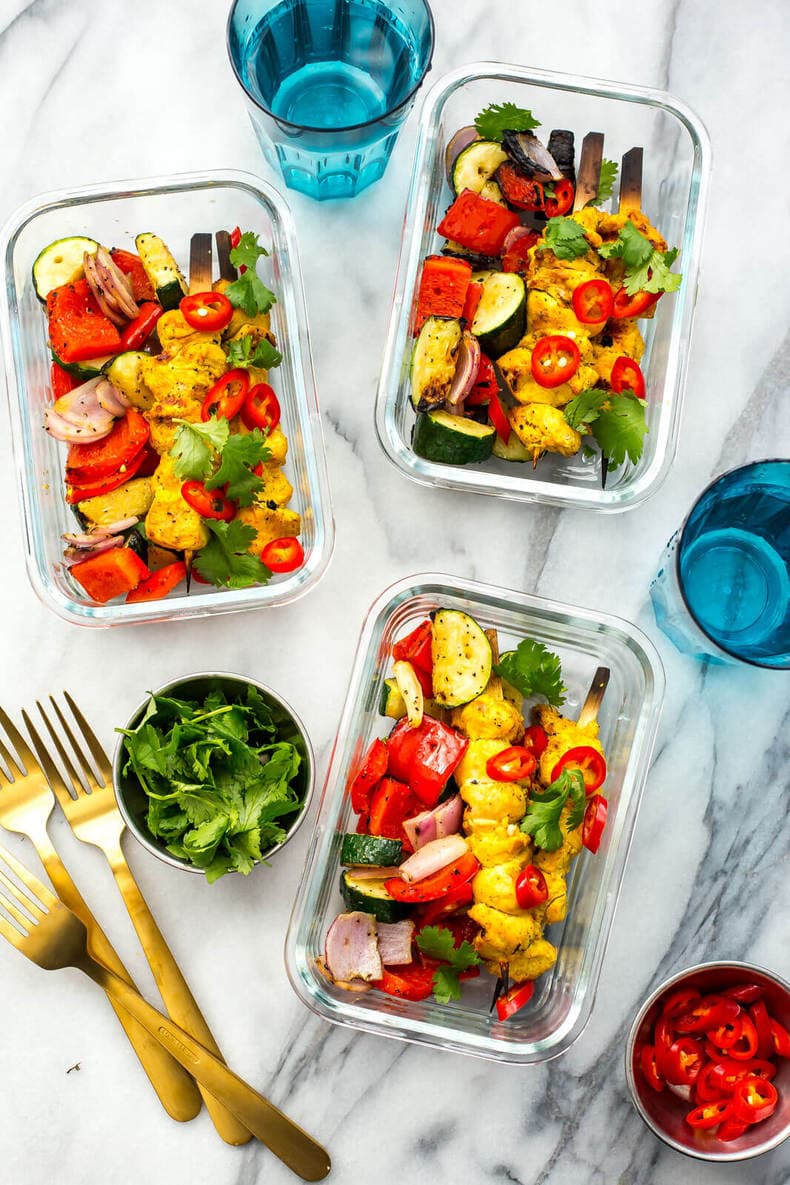 Skip the Ads and Get Right to the Recipes!
ZERO ADS on over 600 recipes!
Weekly Meal Plans, Grocery & Prep Lists
Bonus eBooks
What does chicken satay taste like?
The taste of chicken satay is unbeatable and once you've tried it, I know you'll be hooked! The meat is cooked in a marinade filled with flavours that taste amazing but also make the chicken taste tender and juicy.
The flavours are also accompanied by great aromas of chili and citrus that make eating satay a true experience of the senses. My version is a much more simplified one inspired by variations of the dish – it is not authentic but it sure is tasty!

Frequently Asked Questions
What is chicken satay?
Chicken satay is a popular dish in Southeast Asia, primarily Malaysia and Indonesia. It's basically a seasoned and skewered meat.
What should I serve with this dish?
You can eat the chicken satay and grilled veggies on their own for a low-carb option or serve with rice or quinoa.
What is satay sauce made of?
Satay sauce traditionally includes peanut butter but this version is peanut-free and uses coconut milk, olive oil, lime juice, soy sauce, garlic, ginger, turmeric and chili powder.

Storing and reheating
I love meal prepping this chicken satay as lunches for the week. Store the chicken and veggies in individual glass meal prep containers – they'll last really well for up to 5 days. When you're ready to enjoy, sprinkle some water over top of the chicken and microwave for 1-2 minutes until heated through.
Freezing this recipe
The chicken satay freezes beautifully. Once the chicken has cooled down to room temperature, store it in airtight glass containers or freezer-safe Ziploc bags for up to 3 months. If you're freezing raw chicken, it'll last in the freezer for up to 9 months. Let it thaw in the fridge overnight then reheat or cook as normal.
Wanna Learn How To Meal Prep?
My meal planning service, Dinner Prep Pro, removes the guesswork and helps you get dinner on the table in 15-20 minutes each night. My meal prep checklists only take 1 hour each week!
More easy meal prep chicken recipes
Meal prep tools for this recipe
Grab some glass meal prep bowls if you plan on turning this chicken satay into your weekly lunches.
I get all my chicken from Butcher Box, conveniently delivered to me frozen so I always have chicken on hand!
Grilled Chicken Satay Meal Prep Bowls
These Grilled Chicken Satay Meal Prep Bowls are super delicious and come together really fast on the BBQ – they're a great lunch option!
Print
Pin
Rate
Click Here to Remove Ads
Servings: 4 meal prep bowls
Calories: 303kcal
Ingredients
1 red pepper, chopped
1 zucchini, sliced
2 small red onions, chopped
1 tbsp olive oil
1/2 tsp each Salt & pepper
Skewers (thin and long)
Red chilies, sliced (optional)
Cilantro (optional)
Satay marinade
3 chicken breasts, diced
2 tbsp coconut milk
2 tbsp olive oil
2 tbsp lime juice
2 tbsp soy sauce
4 cloves garlic, minced or tamari if gluten-free
1 tbsp minced fresh ginger (sub 1 tsp dried ginger)
1 tsp turmeric
1 tsp chili powder
Instructions
Preheat BBQ to high heat (mine usually heats to 500 F).

Mix together ingredients for chicken satay and let chicken marinate for 30 minutes or so. Meanwhile, toss veggies with olive oil and salt/pepper in a large bowl, then add to long skewers.

Add chicken to smaller skewers (use large if you don't have any). Grill chicken and veggies together for 10 minutes, flipping once halfway through.

Remove from grill, add to meal prep bowls and top with red chilies and cilantro. Serve along with rice or quinoa if desired. Leftovers will last in fridge up to 5 days.
Video
Notes
Let the chicken marinate in the satay sauce for at least 30 minutes. Store any leftovers in the fridge for up to 5 days. Sprinkle some water over top then reheat in the microwave for 1-2 minutes. Freeze the raw chicken for up to 9 months or the cooked chicken for up to 3 months.
Nutrition
Calories: 303kcal (15%)Carbohydrates: 8g (3%)Protein: 30g (60%)Fat: 16g (25%)Saturated Fat: 4g (25%)Polyunsaturated Fat: 3gMonounsaturated Fat: 8gCholesterol: 83mg (28%)Sodium: 402mg (17%)Potassium: 391mg (11%)Fiber: 2g (8%)Sugar: 4g (4%)Vitamin A: 1250IU (25%)Vitamin C: 85mg (103%)Calcium: 20mg (2%)Iron: 1.4mg (8%)
Join The Girl on Bloor Premium!
ZERO ADS!
Weekly Meal Prep Checklists
Bonus eBooks