This Sheet Pan Honey Dijon Chicken with butternut squash is a delicious meal that comes together in just about 30 minutes – use it as your weekly lunch prep or as a quick after-work dinner! 
Ahh, the sheet pan dinner. It's the one that constantly saves me time after time when I've got a busy schedule, but the problem is that I get sick and tired of the same old combos. I mean, I've got this yummy sriracha ranch chicken dinner in rotation from time to time, and of course there's always my absolute favourite coconut-crusted chicken, but other than that I have a hard time getting creative when it comes to one pan meals.
And that's a shame because they are the ultimate time saver if you're looking to whip together a meal in no time. You don't even really need to go shopping: just look at what veggies you've got lying around in your fridge, then whatever protein you've got on hand in the freezer.
I don't know about you but a well-stocked freezer full of meat is key for me surviving the work week. If there's ever a time where I just don't have the time to fill out a weekly meal planner or strategically make my grocery list, at least I know I can always count on a chicken breast or two being in the freezer.
If you're looking to get serious about meal prepping and make more delicious recipes like these, you HAVE to sign up for my free 5-day challenge below! 
So of course, this Sheet Pan Honey Dijon Chicken meal really is full of flavour and will let you kind of put together a last minute dinner on the fly if you're all over the place during the work week like I am sometimes.
And the secret sauce? SUPER SIMPLE. Olive oil, honey, dijon mustard, some garlic and a little bit of salt and pepper. Mix it all together, coat your chicken in it, add your veggies to a parchment-covered baking sheet then pop it all in the oven for about 15 minutes.
Seriously, there's just 15 minutes of cook time between you and this dinner. What a badass way to win back some more of your time after work so you can spend it, well, relaxing or going to the gym, or meeting up with friends…or whatever your after work routine is!
With a work trip that's just passed and going back and forth from my parents' place in Hamilton to do my photoshoots as I navigate this new schedule I have, I am honestly always looking for quick and easy weeknight wins. Heck, even weekend wins.
I don't wanna sit here and pretend that I eat every single meal in though because moving back to Toronto has really tempted me to grab food from all my favourite restaurants, seriously. It's been hard moving back for that very reason: too much temptation!
The good thing is that more than ever there are so many healthy options to eat out on the go (especially near my gym!) so I'm loving just experimenting more than ever in the world of food and just eating non-stop.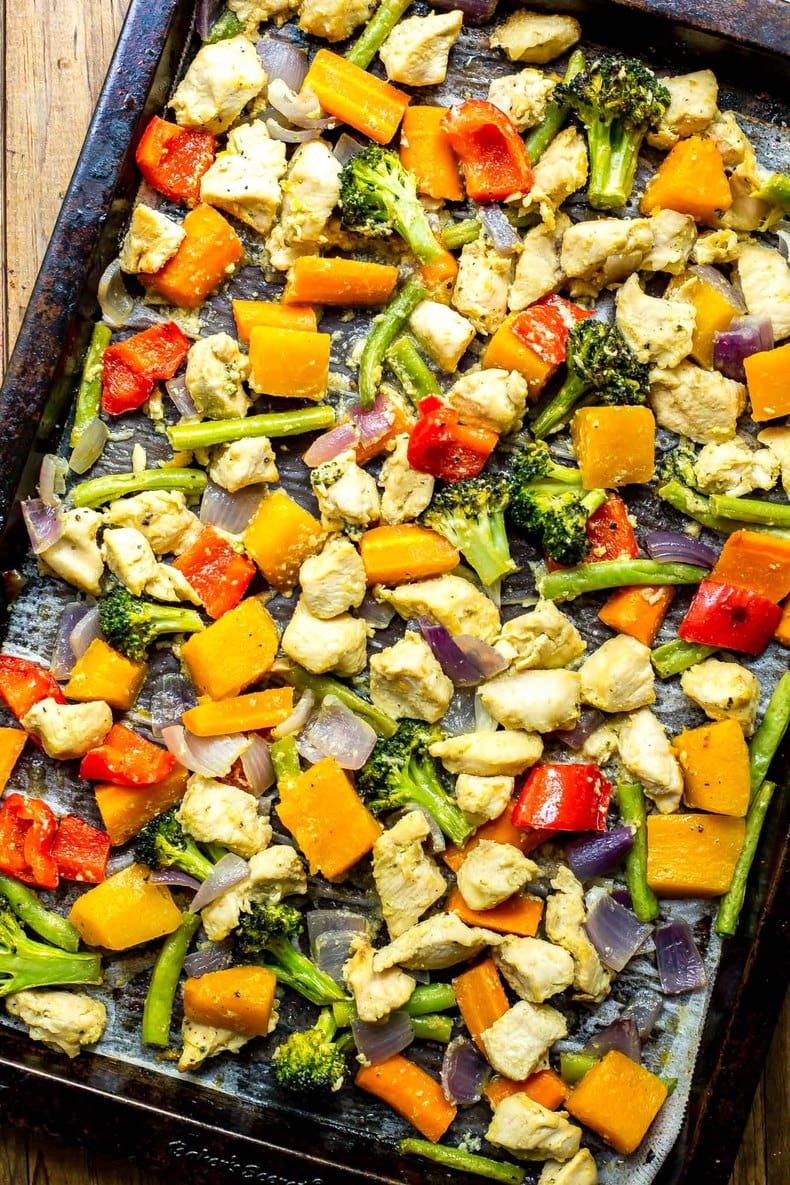 Am I the only one who seriously just lives to eat by the way?
I feel like my whole day just surrounds around food, and not because I'm a full-time food blogger LOL.
Honestly, I feel like as soon as I finish eating one meal, I'm already thinking about the next, and how it can be turned into a super gourmet, delicious, healthy option.
Maybe I have a problem. Or maybe I just enjoy the simple things in like like eating and cooking, okay?
Will you be making this Sheet Pan Honey Dijon Chicken? 
I love quick and easy sheet pan meals. They seriously make me wonder why anyone would ever skip meal prep day? Literally just dump all your fave veggies on a baking sheet, add chicken and in 15 minutes you've got lunch covered from Monday to Thursday (okay, I'll let you go out for lunch on Friday hehe)
If you try any of my recipes be sure to let me know on Instagram, Twitter, Facebook or in the comments – I'd love to see what you come up with!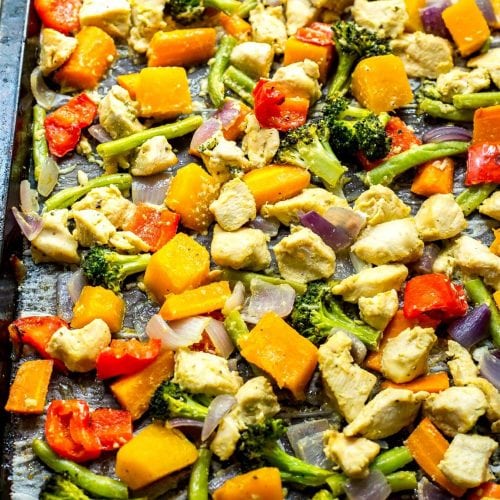 Sheet Pan Honey Dijon Chicken
This Sheet Pan Honey Dijon Chicken with butternut squash is a delicious meal that comes together in just about 30 minutes - use it as your weekly lunch prep or as a quick after-work dinner! 
Print
Pin
Rate
Ingredients
3

chicken breasts, diced

1/2

head

broccoli, cut into florets

1/2

small

butternut squash, cut into chunks (I use the store-bought pre-cut stuff)

1

small

red onion, chopped

1/2

red pepper, chopped

1

large

carrot, chopped

1/2

cup

green beans

2

tsp

olive oil

1/2

tsp

pepper

1/4

cup

parsley, chopped

2-3

tbsp

extra honey dijon mustard (equal parts honey and dijon mixed together)
Sauce
2

tsp

olive oil

2

cloves

garlic minced

2

tbsp

dijon mustard

2

tbsp

honey

1/2

tsp

salt
Instructions
Preheat oven to 450 F. In a small bowl, mix together sauce ingredients, then pour over diced chicken. Let marinate for 10 minutes.

Meanwhile, chop and prepare veggies, adding to a large parchment-covered baking sheet and tossing in olive oil, salt and pepper. Add chicken and toss altogether, then bake for 15 minutes.

Remove from oven, garnish with parsley and drizzle with extra honey dijon. Serve and enjoy!
Nutrition
Calories:
267
kcal
|
Carbohydrates:
31
g
|
Protein:
20
g
|
Fat:
10
g
|
Saturated Fat:
2
g
|
Polyunsaturated Fat:
2
g
|
Monounsaturated Fat:
6
g
|
Cholesterol:
37
mg
|
Sodium:
318
mg
|
Potassium:
774
mg
|
Fiber:
6
g
|
Sugar:
16
g
|
Vitamin A:
11250
IU
|
Vitamin C:
175.7
mg
|
Calcium:
90
mg
|
Iron:
2.2
mg