This Sheet Pan Honey Dijon Chicken with butternut squash is a delicious meal that comes together in 30 minutes – it's great for meal prep.
Ingredients and substitutions
Chicken – I use boneless skinless chicken breasts for this dinner recipe, but you can also make it with chicken thighs.
Broccoli – Roasting broccoli is easier to do (and more delicious!) when you use fresh broccoli florets. You can use frozen broccoli, but you won't have the same results. This is because frozen broccoli has too much moisture in it to crisp up in the oven.
Butternut squash – To save yourself some prep time, look in the produce section of your grocery store for the peeled, ready to use squash. If you want to use another variety, acorn squash would be a good option.
Red onion – White or yellow onion make great substitutes for the red onion in this recipe.
Bell peppers – I like to use red bell pepper, but any type will work.
Carrots – This recipe is really versatile so feel free to use any type of root vegetables that you like. Parsnips and rutabaga are delicious options.
How to make honey Dijon chicken
Make the honey Dijon sauce.
Marinate the chicken.
Add the chicken and veggies to a sheet pan.
Bake for 15 minutes.
Drizzle with extra sauce.
Serve and enjoy!
Making it on the stovetop
You can make this as a skillet dinner but because the vegetables have different cook times, there are a few extra steps involved.
It's also important to cut the chicken breasts, squash and carrots into small bite-sized pieces. This ensures that they cook completely.
Add olive oil to a skillet over medium heat and sear the chicken for about 4 minutes per side. Transfer the seared chicken to a plate.
Place the broccoli florets, squash and carrots into the pan and sauté until slightly tender, about 8 minutes. When they're tender, set them aside with the chicken.
Add the onion and green beans to the skillet and cook until the onion is translucent.
Pour 1/2 cup of broth or water, chicken, and vegetables back to the skillet. Cook ingredients for about 5 more minutes, until chicken is heated through.
For the sauce, whisk the ingredients together in a small bowl and add to the pan for the last minute of cooking time.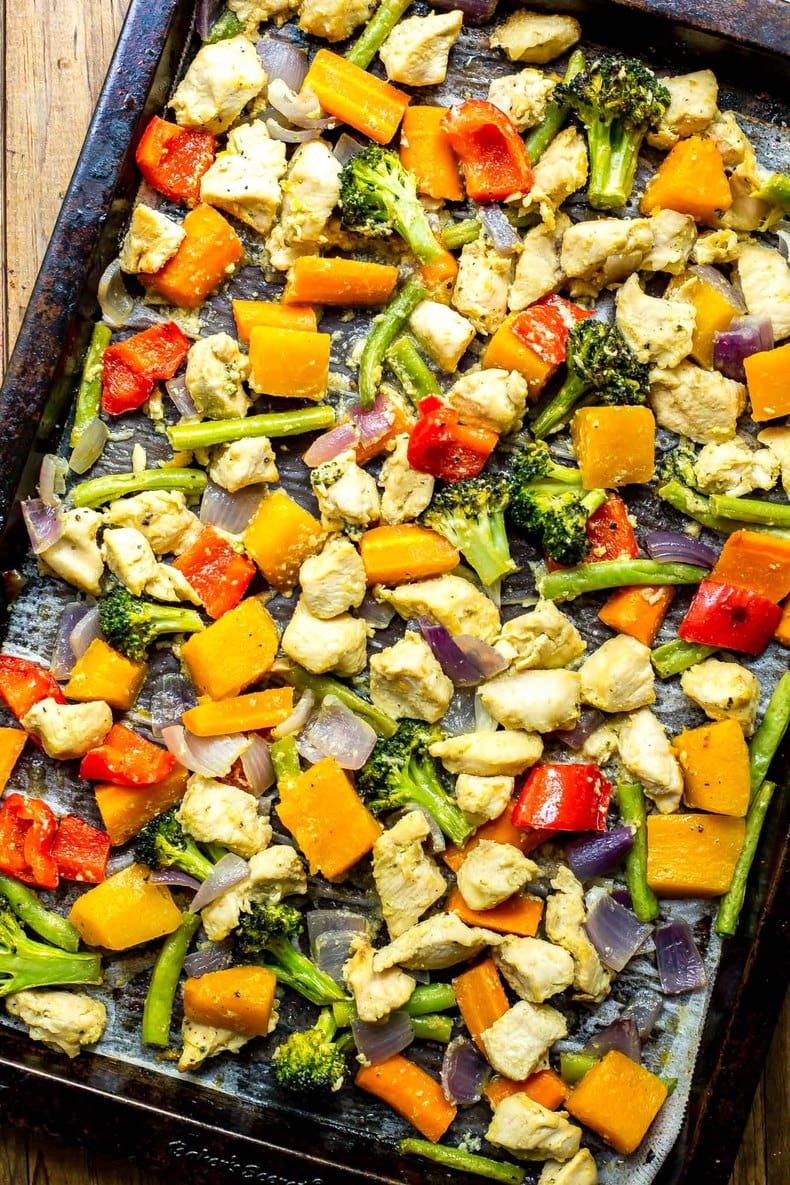 Frequently Asked Questions
What should I serve on the side?
This sheet pan dinner has plenty of protein and healthy vegetables in it. The only thing missing from the meal is a healthy grain. Healthy side dish options include baked potatoes, quinoa, rice pilaf, risotto or couscous.
What can you use if you don't have Dijon mustard?
Good substitutes for Dijon mustard are honey mustard, brown mustard or yellow mustard in a pinch. If you're feeling adventurous, you can even make homemade Dijon mustard! There are tons of great recipes on Google.
How long does it take to cook chicken on a sheet pan?
It only takes 15 minutes to cook this sheet pan recipe! It's ready in a flash which makes it a great option for those busy weeknights where you need something quick and delicious.
Storing and reheating
One of the great things about this honey Dijon chicken is that it stores well for up to 5 days in the refrigerator, making it a great meal prep recipe!
When you're ready to enjoy, you can reheat in the microwave – although keep in mind that microwaving chicken can make it rubbery. Make sure to sprinkle some water over top to avoid this.
For best results, I suggest reheating the chicken on a sheet pan covered in aluminum foil for 15-20 minutes at 400° Fahrenheit. After 15 minutes, take off the foil and continuing cooking until the chicken reaches an internal temperature of 165° Fahrenheit.
Freezing this recipe
You can totally freeze this recipe! Let it cool completely before transferring to airtight glass containers or freezer-safe Ziploc bags and freeze for up to 3 months.
When you're ready to eat, let it thaw in the fridge overnight then follow the reheating instructions above. You can also thaw the chicken raw in the honey Dijon marinade for up to 3 months.
Wanna Learn How To Meal Prep?
My meal planning service, Dinner Prep Pro, removes the guesswork and helps you get dinner on the table in 15-20 minutes each night. My meal prep checklists only take 1 hour each week!
More chicken sheet pan recipes
Meal prep tools for this recipe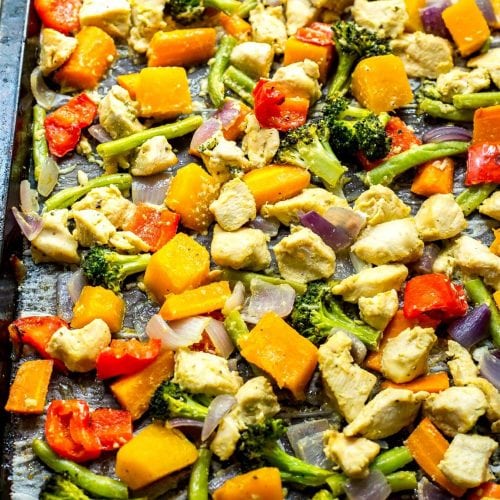 Sheet Pan Honey Dijon Chicken
This Sheet Pan Honey Dijon Chicken with butternut squash is a delicious meal that comes together in 30 minutes – it's great for meal prep.
Print
Pin
Rate
FEELING BURNED OUT?We've got you covered with a December self care plan! Sign up for weekly habit audits, 3 weeks of meal prep plans, weekly goal setting printables + live calls!👇
Join our December ✨Feel Good✨ Challenge!
Servings: 4 servings
Calories: 267kcal
Ingredients
1 lb chicken breasts, diced
1/2 head broccoli, cut into florets
1/2 small butternut squash, cut into chunks (I use the store-bought pre-cut stuff)
1 small red onion, chopped
1/2 red pepper, chopped
1 large carrot, chopped
1/2 cup green beans
2 tsp olive oil
1/2 tsp pepper
1/4 cup parsley, chopped
2-3 tbsp extra honey dijon mustard (equal parts honey and dijon mixed together)
Sauce
2 tsp olive oil
2 cloves garlic minced
2 tbsp dijon mustard
2 tbsp honey
1/2 tsp salt
Instructions
Preheat oven to 450 F. In a small bowl, mix together sauce ingredients, then pour over diced chicken. Let marinate for 10 minutes.

Meanwhile, chop and prepare veggies, adding to a large parchment-covered baking sheet and tossing in olive oil, salt and pepper. Add chicken and toss altogether, then bake for 15 minutes.

Remove from oven, garnish with parsley and drizzle with extra honey dijon. Serve and enjoy!
Video
Notes
Mix together equal parts honey and Dijon for a simple honey Dijon sauce. You can also make this recipe on the stovetop, just make sure to cut the chicken and veggies into small pieces so they cook evenly. Serve this recipe with some extra honey Dijon on the side. Store any leftovers in the fridge for up to 5 days. Reheat in the microwave or on a sheet pan covered in foil for 15-20 minutes at 400° Fahrenheit. Freeze the chicken marinated raw or cooked for up to 3 months.
Nutrition
Calories: 267kcal (13%)Carbohydrates: 31g (10%)Protein: 20g (40%)Fat: 10g (15%)Saturated Fat: 2g (13%)Polyunsaturated Fat: 2gMonounsaturated Fat: 6gCholesterol: 37mg (12%)Sodium: 318mg (14%)Potassium: 774mg (22%)Fiber: 6g (25%)Sugar: 16g (18%)Vitamin A: 11250IU (225%)Vitamin C: 175.7mg (213%)Calcium: 90mg (9%)Iron: 2.2mg (12%)