These Shrimp Dynamite Sushi Bowls are a healthy 20-minute dinner idea and a play on your favourite sushi roll with homemade spicy mayo.
Ingredients and substitutions
Sushi rice – sushi rice is best but jasmine rice or another white rice may work in a pinch. A different type of rice may change the cook time.
Rice vinegar – white wine vinegar is a great alternative to rice vinegar.
Sugar – use a sugar substitute like stevia. The sugar helps to balance the acidity so it's recommended.
Mayo – any variety of mayo (light, vegan, etc.) will work.
Sriracha – any chili pepper sauce can be used as a substitution. The closest substitution is sambal oelek.
Shrimp – dynamite rolls are made with shrimp, but any sushi-grade salmon or tuna may work in place of shrimp.
Cucumber – replace with a veggie of choice or leave out altogether.
Avocado – replace with a veggie of choice or leave out altogether.
Picked ginger – if you're in a pinch, leave this out altogether.
Nori sheets – roasted nori seaweed snack sheets or large nori sheets cut up will work well for this recipe.
Soy sauce – coconut aminos or tamari can be used in place of soy sauce.
Scallions – to garnish.
Sesame seeds – to garnish.
Skip the Ads and Get Right to the Recipes!
ZERO ADS on over 600 recipes!
Weekly Meal Plans, Grocery & Prep Lists
Bonus eBooks
How to make sushi bowls
Cook the sushi rice.
Assemble your toppings.
Make the spicy mayo.
Divide the ingredients among the bowls.
Pour soy sauce and spicy mayo over top.
Serve and enjoy!
How to make sushi rice
Making the sushi rice is easy – all it takes is 10-15 minutes in the rice cooker. I definitely recommend using a rice cooker because it makes meal prep so much easier. You just dump all the ingredients in and press a button! No burning and no overcooking. This is the rice cooker I use.
After your sushi rice has finished cooking, stir in some rice vinegar and sugar to get that traditional flavour of sushi rice. If you didn't add salt while making the sushi rice, you will want to add up to 1 tsp of salt to the rice along with the vinegar and sugar. Fluff the rice slightly and you're ready to make your bowls!

Frequently Asked Questions
What is a dynamite roll made of?
A dynamite roll is typically made of shrimp tempura, avocado, cucumber and mayonnaise. This version is a bit lighter since it uses cooked shrimp instead of shrimp tempura.
What's the difference between a poke bowl and a sushi bowl?
The main difference is that a poke bowl is Hawaiian and a sushi bowl is Japanese. Other than that, they have the same components – rice, some kind of seafood, a variety of vegetables and soy sauce or spicy mayo drizzled over top.
Are sushi bowls healthy?
Yes! Each sushi bowl has just 345 calories per serving, so it's a filling and low-calorie meal option. It's healthier than your traditional dynamite sushi roll, which uses battered shrimp tempura. If you want to make this bowl even healthier, you can use low-fat or vegan mayo to make the spicy mayo.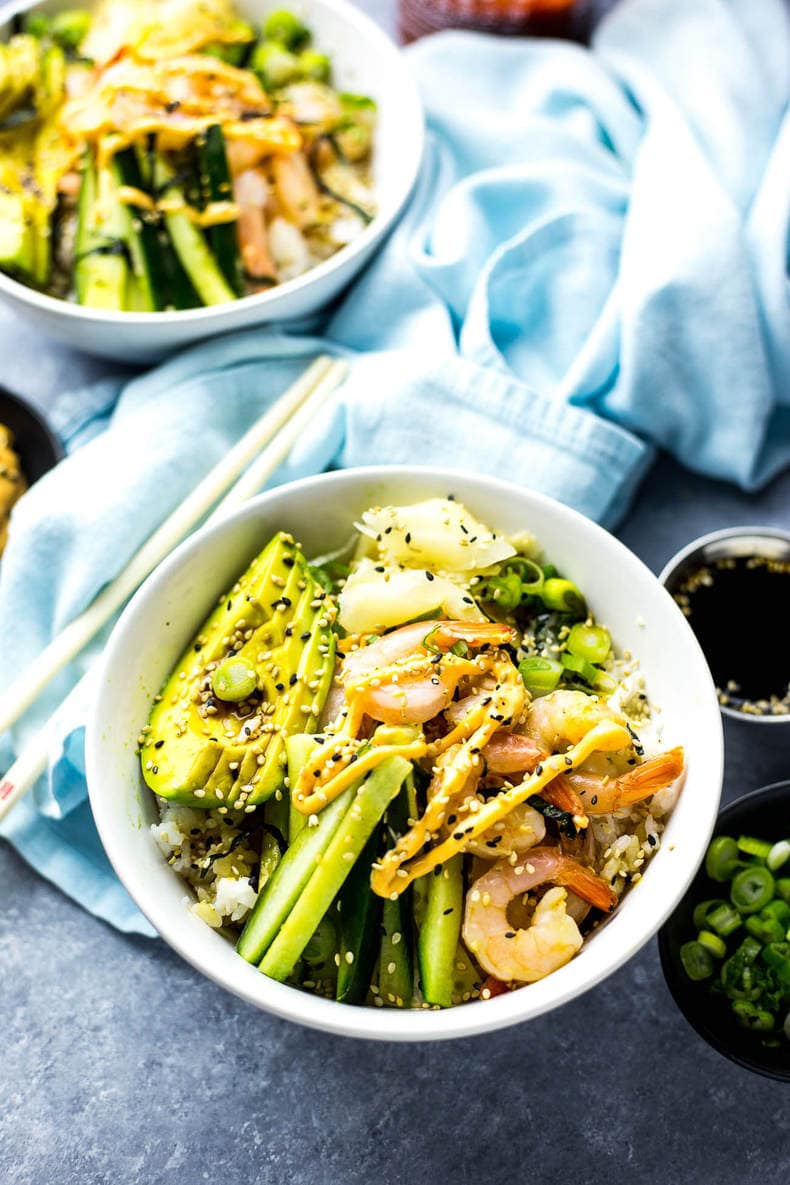 Storing and reheating
You can store these bowls in the fridge for up to 5 days in airtight meal prep containers. These sushi bowls are definitely a low-maintenance meal prep dish because you don't have to reheat them!
Since you won't be reheating them, store them in the containers fully prepped. When you're ready to enjoy your bowl, eat them cold, similar to sushi!
Freezing components of this recipe
While you can't freeze these sushi bowls, you can freeze components of the recipe. The cooked shrimp and sushi rice will both freeze beautifully in their own airtight glass containers or freezer-safe Ziploc bags. All you have to do is stick them in the fridge overnight to let them thaw then assemble your sushi bowls fresh!
Wanna Learn How To Meal Prep?
My meal planning service, Dinner Prep Pro, removes the guesswork and helps you get dinner on the table in 15-20 minutes each night. My meal prep checklists only take 1 hour each week!
More shrimp sushi recipes
Meal prep tools for this recipe
Shrimp Dynamite Sushi Bowls
These Shrimp Dynamite Sushi Bowls are a healthy 20-minute dinner idea and a play on your favourite sushi roll with homemade spicy mayo.
Print
Pin
Rate
Click Here to Remove Ads
Servings: 4 bowls
Calories: 345kcal
Ingredients
2 cups cooked sushi rice
2 tbsp rice vinegar
2 tbsp sugar
1/3 cup mayo
1 tbsp Sriracha
1 lb cooked shrimp, defrosted
1/2 cucumber, cut into matchsticks
1 avocado, thinly sliced
2 tbsp pickled ginger
1 sheet nori, cut into thin strips
4 scallions, thinly sliced
Sesame seeds for garnish
Soy sauce to taste
Instructions
Cook sushi rice according to package directions either on the stovetop or in a rice cooker.

Meanwhile, prepare ingredients so all you have to do is assemble your bowls once the sushi rice is done cooking. Mix sriracha and mayo together to make spicy mayo then spoon into a plastic bag and cut a tiny hole at the bottom for drizzling.

Once sushi rice is done cooking, mix it with rice vinegar and sugar, stirring well to combine. Add 1/2 cup rice to each bowl and sprinkle with sesame seeds, then divide shrimp, cucumber, avocado, pickled ginger, nori and scallions among bowls.

Pour soy sauce overtop to taste, and garnish with more sesame seeds. Drizzle a bit of spicy mayo overtop and serve!
Video
Notes
Shrimp is traditionally used in dynamite rolls but you can swap it out for sushi-grade salmon or tuna. Cook the sushi rice in a rice cooker then stir in some rice vinegar and sugar. Assemble these bowls and store them in glass meal prep containers for up to 5 days then eat cold. Freeze the cooked shrimp and sushi rice for up to 3 months. Let them thaw in the fridge overnight then assemble your fresh bowls.
Nutrition
Calories: 345kcal (17%)Carbohydrates: 33g (11%)Protein: 26g (52%)Fat: 12g (18%)Saturated Fat: 2g (13%)Polyunsaturated Fat: 4gMonounsaturated Fat: 6gTrans Fat: 1gCholesterol: 186mg (62%)Sodium: 372mg (16%)Potassium: 680mg (19%)Fiber: 5g (21%)Sugar: 8g (9%)Vitamin A: 271IU (5%)Vitamin C: 12mg (15%)Calcium: 98mg (10%)Iron: 1mg (6%)
Join The Girl on Bloor Premium!
ZERO ADS!
Weekly Meal Prep Checklists
Bonus eBooks