These vegan Summer Buddha Bowls with Turmeric Chickpeas, marinated tofu and quinoa are just as delicious as they are nutritious!
Ingredients and substitutions
Olive oil – any neutral oil such as canola or sunflower oil will work here.
Corn – I recommend corn on the cob but you can use canned corn kernels in a pinch.
Quinoa – rice or any other type of grain will work in this recipe, or you can just leave it out altogether and add another veggie to the sheet pan.
Arugula – any other leafy green would be good like kale or baby spinach.
Cherry tomatoes – you can also use plum or grape tomatoes.
Zucchini – sub in another vegetable of your choice.
Avocado – you can leave this out if you don't have any on hand.
Sunflower sprouts – use bean sprouts or mung bean sprouts instead or leave this out altogether.
Dressing/tofu marinade
Extra-firm tofu – medium tofu can also be used but it won't be as firm. Tempeh or soy beans can also be used as a plant-based protein source.
Olive oil – see substitution notes above.
Apple cider vinegar – white vinegar could also be used.
Soy sauce – coconut aminos or tamari are the best substitutes for soy sauce.
Water – you only need a little amount, but if you have leftover vegetable broth, that can also be used for a bit more flavour.
Garlic – fresh or jarred minced garlic is preferred but garlic powder can be used in a pinch.
Turmeric chickpeas
Chickpeas – any canned legume will work here, such as canned lentils, kidney beans, black beans, etc.
Olive oil – see substitution notes above.
Lemon juice – use fresh or bottled lemon juice. If you're in a pinch, feel free to use white wine vinegar or apple cider vinegar to add the acidic touch.
Turmeric – use dried turmeric for this recipe. If you don't have turmeric, curry powder is the best substitute (although it will change the flavour).
Garlic powder – fresh or jarred minced garlic will also work but garlic powder is preferred.
Paprika – cayenne pepper or chili powder provide a similar flavour.
Salt – to taste.
How to make a buddha bowl
Drain and marinate the tofu.
Cook the quinoa.
Grill the corn on the cob.
Make the turmeric chickpeas.
Assemble your bowls.
Add on the dressing.
Serve and dig in!
What is a buddha bowl?
Buddha bowls are traditionally vegetarian bowls that combine various healthy foods and delicious flavours. Basically, you want to try to cram as many healthy "superfoods" as possible into one bowl. There is no one right or wrong way to make a Buddha bowl so get creative and mix and match flavours to your preferences. Though Buddha bowls are traditionally vegetarian, you can add meat as a source of protein, if you prefer to do so.
Frequently Asked Questions
What's in a buddha bowl?
A buddha bowl is typically made up of a grain like quinoa or rice, a plant-based protein like tofu or beans, and a range of vegetables. There's a small serving of each component of the bowl served together for one delicious combination!
Why are they so healthy?
Buddha bowls are generally super healthy because they're packed full of nutritious ingredients like vegetables, beans/legumes and plant-based protein. This version is even healthier because it's homemade – oftentimes, when you get a buddha bowl from a chain, the sauces can be full of preservatives and tons of salt.
What's the difference between a poke bowl and a buddha bowl?
Although the concept of poke and buddha bowls are similar, poke bowls have a fish or seafood base (like salmon, tuna, etc.) while buddha bowls are often vegetarian or vegan. If buddha bowls do include animal-based protein, it's typically chicken.
Wanna Learn How To Meal Prep?
My meal planning service, Dinner Prep Pro, removes the guesswork and helps you get dinner on the table in 15-20 minutes each night. My meal prep checklists only take 1 hour each week!
Storing and reheating
You can store any leftover Buddha bowls (already assembled) in the fridge for up to 5 days. Store the dressing separately to ensure that the ingredients remain fresh and the arugula doesn't get soggy. For any sliced or open avocado, I recommend adding a bit of lemon juice to prevent it from browning. Try to only use the amount of avocado you need to preserve it longer.
Freezing the leftover quinoa
Unfortunately, this Buddha bowl isn't a freezer-friendly meal. However, if you made extra quinoa, you can freeze the leftover cooked quinoa for another time. Store in glass containers for up to 3 months. Defrost in the fridge the night before you're ready to cook with it.

More buddha bowl recipes
Meal prep tools for this recipe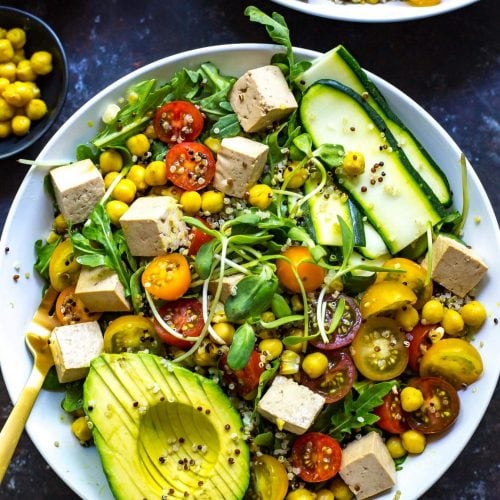 Summer Buddha Bowls with Turmeric Chickpeas
These vegan Summer Buddha Bowls with Turmeric Chickpeas, marinated tofu and quinoa are just as delicious as they are nutritious!
Print
Pin
Rate
IN A CYCLE OF EATING POORLY?We've got you covered with our free Routine Revamp mini course! You'll receive 8 lessons and free coaching with us! Register👇
Join Routine Revamp!
Servings: 6 servings
Calories: 533kcal
Ingredients
1 tbsp olive oil
2 cobs of Corn
2 cups cooked multi-coloured quinoa (usually 1 cup dry & 2 cups water cooked in a rice cooker or pot on the stove)
2 cups Arugula
1 cup cherry tomatoes, sliced in half
1 zucchini, sliced
1 avocado, sliced
1 cup sunflower sprouts
Dressing/Tofu marinade
1 package extra-firm tofu
1 tbsp olive oil
1/2 cup apple cider vinegar
3/4 cup soy sauce or tamari
1/4 cup water
2 cloves garlic minced
Turmeric Chickpeas
1 can chickpeas, rinsed and drained
1 tbsp olive oil
1 tbsp lemon juice
2 tsp dried turmeric
1/2 tsp garlic powder
1/2 tsp paprika
1/2 tsp salt
Instructions
Remove tofu from package and squeeze out excess liquid with a clean towel. Chop into 1-inch cubes. Mix together marinade ingredients and add tofu cubes, submerging in liquid and marinating for at least 20 minutes. Meanwhile, cook quinoa according to package directions and preheat BBQ to high heat.

Slather cobs of corn with a bit of olive oil and season with salt and pepper. Cook on grill for 8-10 minutes until charred a bit on the outsides. Remove from grill and let cool.

Mix together ingredients under the turmeric chickpeas heading. Let sit 5 minutes while you prepare the rest of the veggies.

Divide quinoa among bowls, followed by the rest of the veggies. Slice corn off cobs and add to bowls. Remove tofu cubes from marinade and add to bowls along with chickpeas, reserving tofu marinade as dressing for each bowl. Use as much dressing as you'd like for each bowl (you don't need much) and serve!
Notes
If you don't like tofu, tempeh and soy beans are great sources of plant-based protein. Swap out the quinoa for brown rice or leave the grains out altogether for a low-carb option. Get creative with your buddha bowl and add in any other veggies or toppings of your choice. Store any leftovers in the fridge for up to 5 days. Make sure to keep the dressing separate. Freeze any extra quinoa for up to 3 months.
Nutrition
Calories: 533kcal (27%)Carbohydrates: 70g (23%)Protein: 24g (48%)Fat: 21g (32%)Saturated Fat: 3g (19%)Sodium: 796mg (35%)Potassium: 1051mg (30%)Fiber: 14g (58%)Sugar: 7g (8%)Vitamin A: 509IU (10%)Vitamin C: 18mg (22%)Calcium: 120mg (12%)Iron: 9mg (50%)
Don't wait until January to eat healthy!Sign up for our free Routine Revamp mini course!
Join Routine Revamp!