Lemongrass Chicken Noodle Bowls
These Lemongrass Chicken Noodle Bowls are a delicious, gluten-free healthy lunch or dinner idea and made with rice noodles, grilled chicken and tons of veggies!
Have I ever got the best lunch recipe right here! I'm dying! Lemongrass Chicken Noodle Bowls are going to become your next fave stir fry – and the best part is that you can whip up a GIANT batch of this stuff all at once and you're covered for the whole week.
No lie, when I first made these I intended to make just enough servings for two or three days. I can't necessarily meal prep like normal anymore because I'm doing so much recipe development and literally spend half my days in the kitchen. I gotta account for the fact that there's only so much one little 5 foot nothing girl can eat in a week, so I often end up making smaller portions so I get to try everything a couple times and reduce my food waste.
MY LATEST VIDEOS
Right now, I've luckily got my little brother to help me eat half the stuff I cook (who am I kidding, HE'S the lucky one getting free work lunches and shit!!!), but in all seriousness, we both could barely finish these noodle bowls. SO. MUCH. FOOD.
And when I say so much food, I mean it in the best possible way. These Lemongrass Chicken Noodle Bowls are so filling, and relatively wholesome too. I pretty much stole the chicken marinade from these amazing Chicken Satay Lettuce Wraps and then threw some rice noodles tossed in soy sauce and sweet chili sauce underneath.
The next key to this recipe?
Lots and lots of fresh herbs and veggies!
I may have mentioned it before, but I have fallen in love with this fast casual restaurant called Basil Box in Toronto.
I don't even really like fast food that much, honestly. But this place is special. Everything is so fresh, they use real proteins like real grilled chicken, real steak – none of the stuff that tastes kind of rubbery and unrecognizable. Nah, this place is PROPER.
You may have even recognized these Lemongrass Steak Noodle Bowls I made back in November.
I know, I know, I'm repeating myself.
But I think it's worth posting a similar recipe because first of all, chicken is leaner and much more in line with the way I'm eating these days. I'm telling you, gym life is life right now. I'm all into fitness, it's kinda funny.
When I was younger you could barely get me to keep my hand out of a bag of chips and off the couch away from the TV. I always had hobbies and remained a pretty skinny kid, but that lifestyle caught up with me in my university years. Throughout my early 20s I slightly struggled with my weight and energy levels, and it's only been in the past two years that I've really gone hard with the meal prep and fitness routine.
So needless to say, any other fit foodie will tell you that you can't have too much red meat. I mean, gimme steak. Just not necessarily everyday for lunch.
So a redo of these lemongrass noodle bowls with my fave grilled chicken was totally necessary.
Basically, you want to get your hands on a couple stalks of lemongrass in the produce aisle. They aren't hard to find, and I don't know why people don't cook with it more often. It's widely used as a herb in many different kinds of Asian cuisine and if you're wondering, YES, it is a type of grass! Well, it's in the grass family anyway.
See wikipedia for more info if you're really fascinated by it.
All I need to tell you is that it brings this incomparable flavour to meats and marinades, and I LOVE LOVE LOVE to use it in just about everything come summer time. And then in the fall? I put it in ALL the curries!
Once you have the lemongrass, you want to dice it up fine and put half in the chicken marinade, and stir fry the rest alongside the rice noodles, bell peppers, matchstick cut carrots, peanuts, soy sauce and sweet chili sauce. Add some sriracha for good luck, and you're eating GOOD the rest of the week. And possibly into the weekend…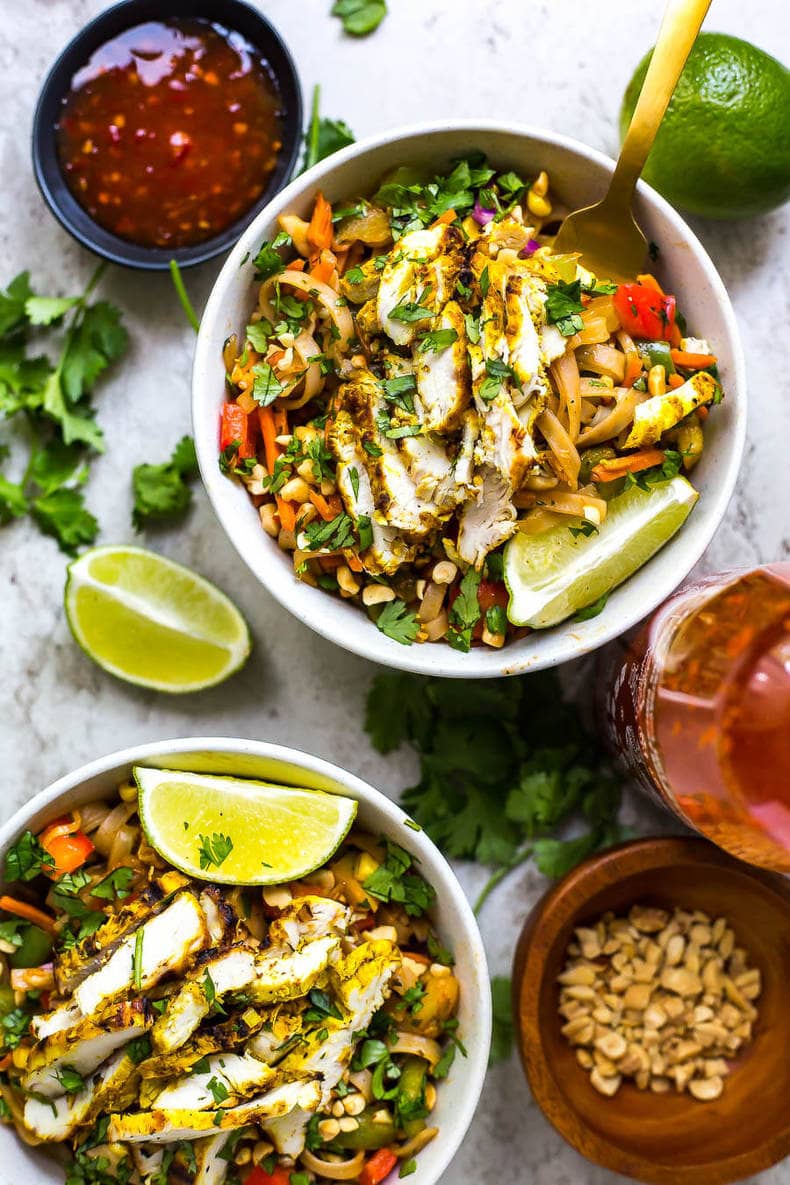 Will you be making these Lemongrass Chicken Noodle Bowls? 
I'm telling you, once you try these big bowls of deliciousness you'll be hooked! No need to even fly over to Toronto to visit Basil Box either… LOL!
If you try any of my recipes be sure to let me know on Instagram, Twitter, Facebook or in the comments – I'd love to see what you come up with!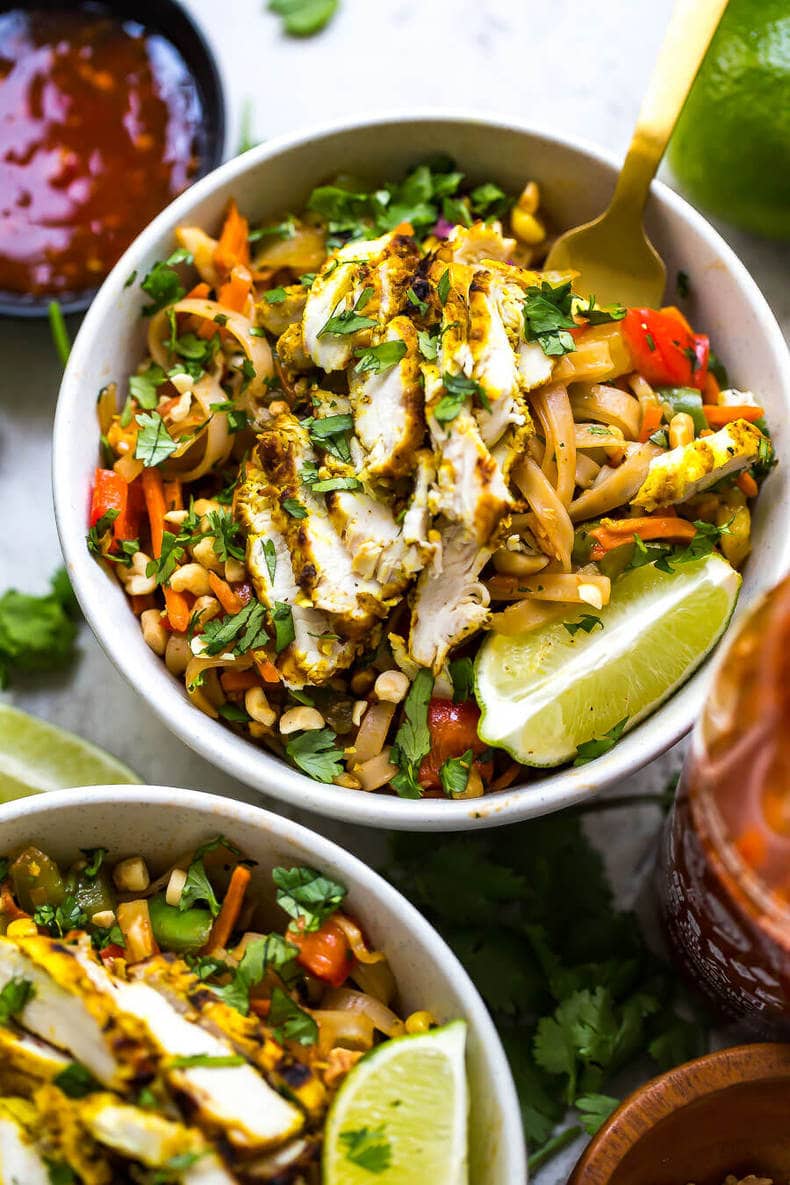 Print Recipe
Lemongrass Chicken Noodle Bowls
Yum
These Lemongrass Chicken Noodle Bowls are a delicious, gluten-free healthy lunch or dinner idea and made with rice noodles, grilled chicken and tons of veggies!
| | |
| --- | --- |
| | |
Preheat BBQ to high heat. Slice chicken in half lengthwise. Mix together marinade ingredients then marinade chicken for 15-20 min before cooking on the grill for 4-5 minutes per side. Remove from heat, let cool and then slice chicken thinly. Set aside.

Meanwhile, cook rice noodles according to package directions (should only take 1-2 min in boiling water). Heat olive oil in a large frying pan on high heat. Add lemongrass, garlic, carrots and bell peppers, sauteeing for 3-4 minutes until veggies are tender. Add rice noodles, sweet chili sauce, soy sauce, sriracha and peanuts, cooking until veggies are softened and noodles have absorbed sauce. Remove from heat, stir in chicken and cilantro and serve!