Sweet Potato Poutine with Vegetarian Gravy
This Sweet Potato Poutine with Vegetarian Gravy is a healthier, more wholesome alternative to traditional poutine – just top with cheese curds!  Jump to Recipe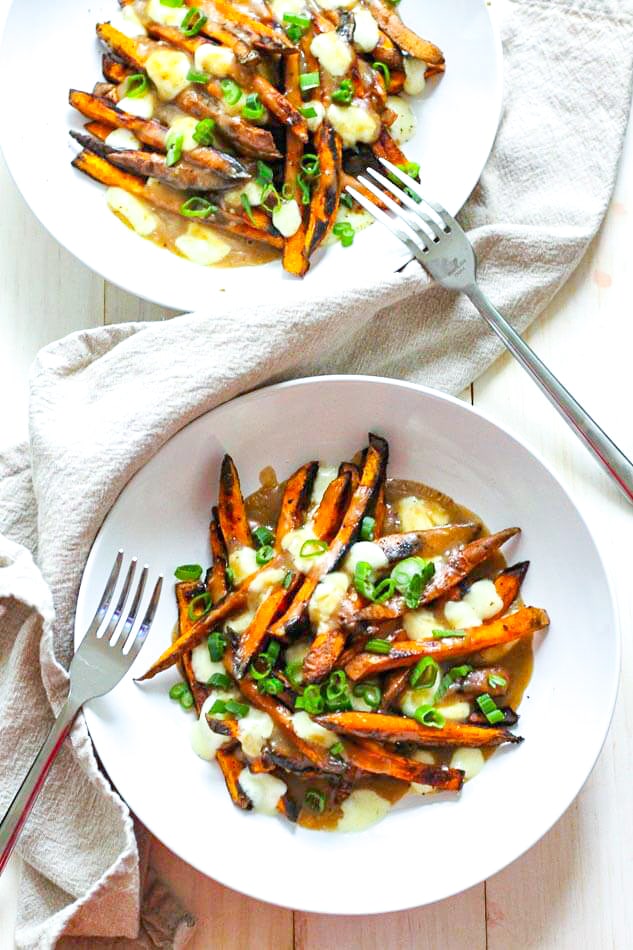 Ingredients in sweet potato poutine
This sweet potato poutine is far healthier than your traditional poutine – for one thing, the fries are cooked in the oven. For another, they are sweet potato fries, which means they are more nutritious than plain old potatoes and they bring a new level of flavour to this dish that you just HAVE to try!
Here's what you need to make them below:
sweet potatoes
spices from your pantry
butter
mushrooms
onion
garlic
vegetable broth
red wine
Cheese curds
Green onions
How to make sweet potato poutine
While this recipe involves a few more steps than my average meal prep recipe, this meal idea is the perfect comfort food and well worth the effort! Here's how to make sweet potato poutine:
Cut sweet potatoes into fries, then toss with olive oil, salt, pepper and cayenne pepper. Roast in the oven for 30 minutes, flipping halfway through.
While the fries are cooking, make the gravy (instructions below)
Add cooked fries to a plate, then sprinkle with cheese curds and ladle gravy overtop. Garnish with green onions, then serve and enjoy!
Making the vegetarian gravy
You can make the vegetarian gravy for many more recipes than this one – it's SO good and is extra comforting even if there are no meat drippings. Here's how to make it:
Melt butter in a saucepan, then saute mushrooms and onion until mushrooms release juices.
Add garlic and flour, stirring well until combined.
Slowly pour in vegetable broth and red wine, stirring well, then bring to a boil. Simmer for 10-15 min until thickened.
You can serve the gravy as is, or make it even more thick and creamy by blending it with an immersion blender. This will blend up the mushrooms and onions and give the gravy a smooth texture.
Ingredient substitutions
This recipe is fairly versatile and you can change things up if you need to. Here are some ingredient substitutions and notes for you to be aware of.
Sweet potato fries – For best results, you're better off making the sweet potato fries from scratch. However, you can use frozen sweet potato fries too! I like the McCain or Alexia brand, both of which can be found among the frozen fries at your local grocery store. This will save you a ton of prep time!
Gravy – You can also use a store bought gravy mix, or your own leftover homemade gravy – these fries could be a perfect way to help you use up holiday leftovers! I do recommend trying my gravy at some point though, especially if you want a vegetarian version.
Cheese – Cheese curds are the traditional choice for poutine, but you can use shredded mozzarella, Swiss or cheddar…really, any cheese your heart desires will work here! Even the pre-shredded kind.
Green onions – Aka scallions, you can just leave them off if you'd like, or garnish with fresh parsley for a pop of green.
Toppings – I highly encourage you to add other toppings as you see fit! Bacon or leftover turkey or rotisserie chicken would be a great way to get some protein in, and you can use any vegetables or other condiments such as hot peppers.
Storing and reheating
Though I doubt you'll have any leftovers (LOL), these sweet potato fries store just fine in the fridge – you've got 3-4 days to eat the leftovers. To reheat, simply place on a parchment-lined baking sheet and bake in a 375 F oven for 10-15 minutes. You can also microwave the fries (they reheat better than regular potato fries), but just know that they will be a bit soggy and not at all the same texture.
Freezing the gravy
You can't freeze the fries or the entire dish unfortunately, but you can freeze any leftover gravy to save for another time! Freeze in a small glass container with a lid up to 3 months. You can defrost in the fridge overnight then heat up in the microwave or on the stovetop, or you can reheat from frozen. Just microwave for 6-7 minutes, stirring the gravy halfway through. You won't even know you're using leftover gravy as long as you make the fries fresh!
More sweet potato recipes
If you're looking for more sweet potato recipes, I've got you covered!
Meal prep tools for this recipe
Meal prep challenge
If you'd like some more help with meal planning, then you'll love my free 5-day meal prep challenge! It's basically a free course that will teach you how to meal prep and cook healthy meals at home with some PDF bonus materials. Sign up for free below:
Print Recipe
Sweet Potato Poutine with Vegetarian Gravy
This Sweet Potato Poutine with Vegetarian Gravy is a healthier, more wholesome alternative to traditional poutine!
Ingredients
Fries
2

sweet potatoes

1

tbsp

olive oil

1/2

tsp

salt

1/2

tsp

pepper

1/4

tsp

cayenne pepper
Gravy
2

tbsp

butter

2

cups

mushrooms

sliced

1

large yellow onion

diced

2

cloves

garlic

minced

1

tbsp

flour

3

cups

vegetable broth

2

tbsp

red wine

optional - this is just for added flavour
Toppings
1

cup

Cheese curds

4

Green onions

sliced
Instructions
Cut sweet potatoes into 1/2 inch thick fries, then immerse in cold water to get rid of starch. Dry fries with clean towel and place in large bowl.

Toss fries with olive oil, salt, pepper and cayenne pepper then transfer to parchment-lined baking sheets (you will probably need one sheet per potato). Roast in the oven on the middle oven rack for 15 minutes, then flip and cook for another 12-15 minutes.

Meanwhile, while fries are cooking, make your gravy. In medium saucepan on med-high heat, add butter. Add mushrooms and onion to pan, sautéing for about 6-7 min, stirring often. Add garlic and flour, stirring well, then add vegetable broth and red wine, bringing mixture to a boil. Simmer for 10-15 min. For a creamy and smooth consistency, blend gravy using an immersion blender.

Fries should be finished around this time, so pull them out of the oven and transfer them to a pasta bowl or plate. Sprinkle with cheese curds, then ladle gravy overtop. Garnish with green onions, then serve and enjoy!
Nutrition
Calories:
291
kcal
|
Carbohydrates:
21
g
|
Protein:
10
g
|
Fat:
19
g
|
Saturated Fat:
9
g
|
Cholesterol:
45
mg
|
Sodium:
1269
mg
|
Potassium:
454
mg
|
Fiber:
3
g
|
Sugar:
7
g
|
Vitamin A:
9944
IU
|
Vitamin C:
7
mg
|
Calcium:
236
mg
|
Iron:
1
mg