This Sweet Potato Poutine with Vegetarian Gravy is a healthier alternative to traditional poutine topped with yummy cheese curds!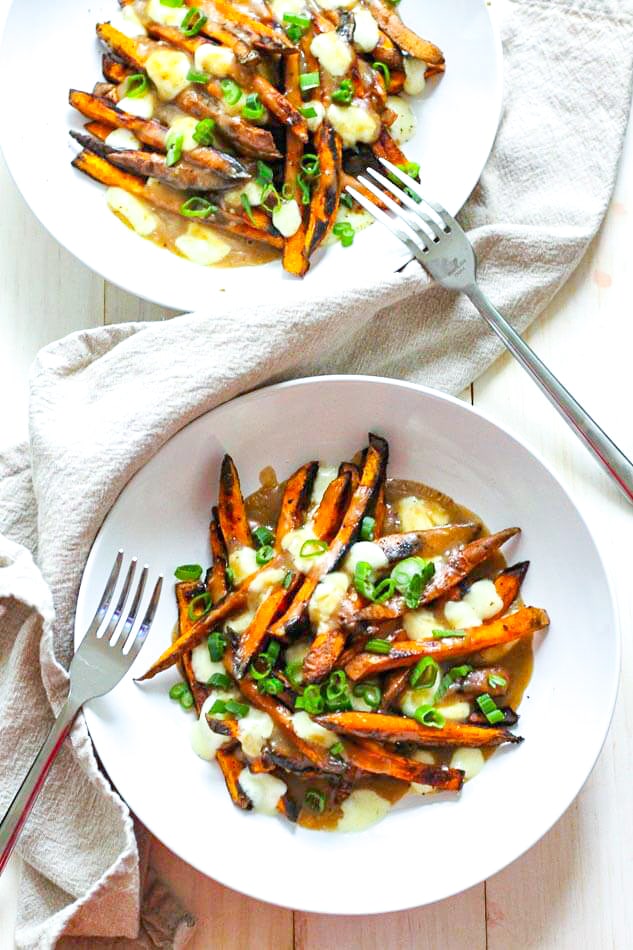 Ingredients and substitutions
Fries
Sweet potatoes – cut down on prep time by using frozen sweet potato fries instead.
Olive oil – substitute for another neutral cooking oil such as avocado oil.
Salt & pepper – to taste.
Cayenne pepper – paprika would also be good and will give your fries a bit of kick.
Gravy
Butter – swap out for your favourite dairy-free butter substitute.
Mushrooms – use any variety of mushrooms of your choice.
Yellow onion – white onion or shallots would be the best substitutes here.
Garlic – I prefer freshly minced garlic but jarred minced garlic will work in a pinch.
Flour – cornstarch will work if you're looking for a gluten-free option.
Vegetable broth – you can use chicken broth instead, but then the gravy won't be vegetarian.
Red wine – leave this out if need be.
Toppings
Cheese curds – these are classic to poutine. You can use grated mozzarella, Swiss or cheddar instead, but your poutine won't taste as authentic.
Green onions – garnish with fresh parsley instead or leave this off altogether.
Skip the Ads and Get Right to the Recipes!
ZERO ADS on over 600 recipes!
Weekly Meal Plans, Grocery & Prep Lists
Bonus eBooks
How to make sweet potato poutine
Cook the sweet potato fries.
Combine the gravy ingredients.
Blend the gravy.
Top the fries with cheese curds.
Ladle the gravy over top and dig in!
What to add to your poutine
Poutine doesn't have to be limited to gravy and cheese – add any other toppings as you see fit! Bacon, leftover turkey and rotisserie chicken are all great ways to get some protein in, and you can add on some veggies or garnishes like hot pepper.
If you're serving this poutine at a party, you can even create a poutine bar. Lay out a variety of topping options and let guests add on their faves.
Here are some great poutine topping options:
Shredded mozzarella, Swiss or cheddar
Bacon crumbles
Chili
Sour cream
Pulled pork
Shredded lobster meat
Sauteed veggies
Frequently Asked Questions
What is poutine?
Poutine is a classic Canadian dish! It consists of fries (in this case sweet potato fries) that are topped with creamy gravy, cheese curds and a variety of toppings. I made this poutine a bit healthier by using sweet potato fries and vegetarian gravy.
What is the gravy made of?
The vegetarian gravy for this recipe is made of butter, mushrooms, yellow onion, garlic, flour, vegetable broth and red wine. You can use a store-bought gravy if you'd like, but the homemade version is so easy to make. I suggest blending it using an immersion blender to get that perfect creamy texture.
What are the three main components of poutine?
The three main components of poutine are fries, gravy and cheese curds. As long as you have those three main components, you can add on whatever additional toppings you like.
Storing and reheating
Though I doubt you'll have any leftovers (LOL), these sweet potato fries can be stored in the fridge for about 3 to 5 days. To reheat, simply place the fries on a parchment-lined baking sheet and bake them in the oven for 10-15 minutes at 375° Fahrenheit. You can also microwave the fries (they reheat better than regular potato fries), but just know that they will be a bit soggy and won't have the same texture.
Freezing the gravy
Unfortunately, you can't freeze the poutine or the fries, but you can freeze the gravy! Freeze it in a small glass container for up to 3 months.
You can defrost it in the fridge overnight then heat it up in the microwave or on the stovetop. You can also reheat from frozen – just microwave it for 6-7 minutes, stirring halfway through. You won't even know you're using leftover gravy as long as you make the fries fresh!
Wanna Learn How To Meal Prep?
My meal planning service, Dinner Prep Pro, removes the guesswork and helps you get dinner on the table in 15-20 minutes each night. My meal prep checklists only take 1 hour each week!
More sweet potato recipes
Meal prep tools for this recipe
Sweet Potato Poutine with Vegetarian Gravy
This Sweet Potato Poutine with Vegetarian Gravy is a healthier alternative to traditional poutine topped with yummy cheese curds!  
Print
Pin
Rate
Click Here to Remove Ads
Servings: 4 people
Calories: 291kcal
Ingredients
Fries
2 sweet potatoes
1 tbsp olive oil
1/2 tsp salt
1/2 tsp pepper
1/4 tsp cayenne pepper
Gravy
2 tbsp butter
2 cups mushrooms sliced
1 large yellow onion diced
2 cloves garlic minced
1 tbsp flour
3 cups vegetable broth
2 tbsp red wine optional – this is just for added flavour
Toppings
1 cup Cheese curds
4 Green onions sliced
Instructions
Preheat oven to 475 F.

Cut sweet potatoes into 1/2 inch thick fries, then immerse in cold water to get rid of starch. Dry fries with clean towel and place in large bowl.

Toss fries with olive oil, salt, pepper and cayenne pepper then transfer to parchment-lined baking sheets (you will probably need one sheet per potato). Roast in the oven on the middle oven rack for 15 minutes, then flip and cook for another 12-15 minutes.

Meanwhile, while fries are cooking, make your gravy. In medium saucepan on med-high heat, add butter. Add mushrooms and onion to pan, sautéing for about 6-7 min, stirring often. Add garlic and flour, stirring well, then add vegetable broth and red wine, bringing mixture to a boil. Simmer for 10-15 min. For a creamy and smooth consistency, blend gravy using an immersion blender.

Fries should be finished around this time, so pull them out of the oven and transfer them to a pasta bowl or plate. Sprinkle with cheese curds, then ladle gravy overtop. Garnish with green onions, then serve and enjoy!
Notes
Cut down on prep time by using frozen sweet potato fries instead of homemade fries. Store the fries in the fridge for 3-5 days then reheat in the oven for 10-15 minutes at 375 F. Freeze the gravy for up to 3 months. Defrost in the fridge overnight then reheat on the stovetop or reheat in the microwave from frozen.
Nutrition
Calories: 291kcal (15%)Carbohydrates: 21g (7%)Protein: 10g (20%)Fat: 19g (29%)Saturated Fat: 9g (56%)Cholesterol: 45mg (15%)Sodium: 1269mg (55%)Potassium: 454mg (13%)Fiber: 3g (13%)Sugar: 7g (8%)Vitamin A: 9944IU (199%)Vitamin C: 7mg (8%)Calcium: 236mg (24%)Iron: 1mg (6%)
Join The Girl on Bloor Premium!
ZERO ADS!
Weekly Meal Prep Checklists
Bonus eBooks