This Healthy Scallop Spaghetti Squash Carbonara is made with turkey bacon, peppers and mushrooms with a delicious cream sauce.
Ingredients and substitutions
Olive oil – any neutral oil like canola oil, peanut oil or avocado oil can be used in place of olive oil.
Spaghetti squash – spaghetti squash has the texture of spaghetti noodles so it's the best alternative to noodles. If you wish to make this carbonara recipe with pasta, feel free to do so. Or, use the ingredients to stuff another squash like butternut squash, acorn squash, etc.
Carbonara sauce
Olive oil – see substitution notes above.
Turkey bacon – turkey bacon is a leaner meat but feel free to use regular bacon in place of turkey bacon.
Garlic – fresh or jarred minced garlic can both be used.
Mushrooms – you can use any mushrooms of choice but cremini will be best. If you're not a fan, leave them out altogether or replace with another veggie of choice.
Green pepper – any bell pepper colour can be used in place of green peppers. You can also replace altogether with poblano peppers or another veggie of your choice.
Red onion – shallots, yellow onions or white onions would also be good.
Flour – potato starch or corn starch can be used to thicken the sauce.
Chicken broth – veggie broth is a great alternative.
Heavy cream – half and half, whole milk or another milk of your choice can be used.
Salt & pepper – to taste.
Parmesan cheese – fresh grated parmesan cheese is recommended.
Scallops – this recipe will also work well with shrimp if you'd like an alternative seafood option.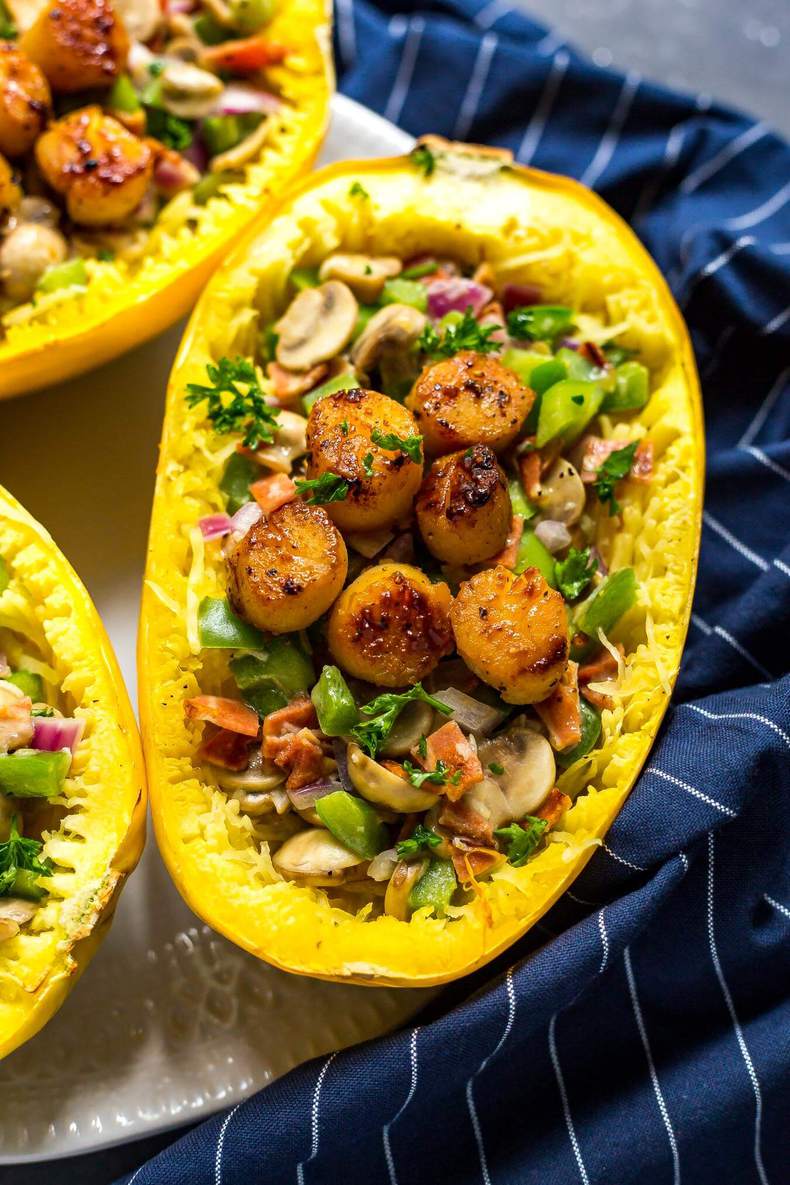 Skip the Ads and Get Right to the Recipes!
ZERO ADS on over 600 recipes!
Weekly Meal Plans, Grocery & Prep Lists
Bonus eBooks
How to make spaghetti squash carbonara
Cut and bake the spaghetti squash.
Cook the turkey bacon.
Make the sauce.
Scrape the spaghetti squash.
Toss the spaghetti squash with the sauce.
Cook the scallops.
Top the squash with the sauce and scallops.
Serve and enjoy!
How to avoid mushy spaghetti squash
Spaghetti squash, like other squashes, is known to have a stiff exterior that is hard to cut. To make prepping this dish easier, pierce the squash with a fork and microwave for two minutes to soften it. Allow the squash to cool and then cut it in half. Drizzle olive oil over the halves and bake it in the oven until the inside of the squash has softened. Scrape the inside with a fork for spaghetti-like strands.
To ensure the spaghetti squash doesn't turn out mushy, you will need to make sure that there is no excess moisture in the squash when cooking.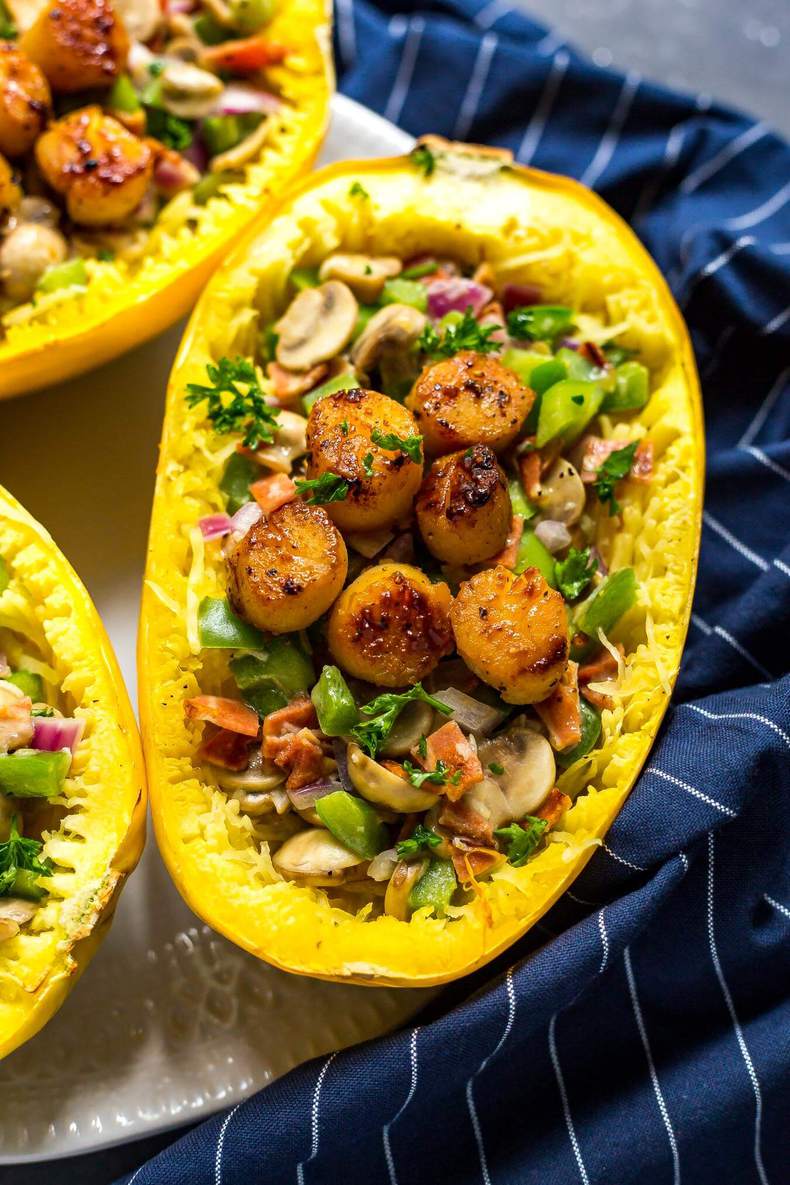 Frequently Asked Questions
What is carbonara sauce made of?
Carbonara sauce is typically made with bacon, a little olive oil and parmesan. I made this sauce a bit creamier by adding in a bit of heavy cream, flour and chicken broth.
Is spaghetti squash actually good?
Yes! Spaghetti squash is a delicious and healthy alternative to traditional noodles. It has a slightly sweet and mild nutty flavour, which makes it a great option for pasta dishes.
How many carbs are in this recipe?
This spaghetti squash carbonara recipe has 21 grams of carbs per serving.
Wanna Learn How To Meal Prep?
My meal planning service, Dinner Prep Pro, removes the guesswork and helps you get dinner on the table in 15-20 minutes each night. My meal prep checklists only take 1 hour each week!
Storing and reheating
To store any leftovers, place the room temperature spaghetti squash dish into an airtight container. Since this recipe includes scallops, you will not want to store it for any longer than 3 days. If you want to ensure your dish is as fresh as possible, store the spaghetti squash without any scallops and make them fresh the day of.
When you're ready to enjoy the leftovers, reheat the spaghetti squash in the oven at 350° Fahrenheit until warmed through.
Can you freeze spaghetti squash?
Stuffed spaghetti squash is unfortunately not freezer friendly. However, spaghetti squash on its own can be frozen for a later time.
To freeze the spaghetti squash, cook the squash and use a fork to create the noodles. Remove all the noodles from the shell and store them in an airtight container or bag. Allow the spaghetti squash noodles to be drained of any extra moisture for longevity. Once frozen, spaghetti squash noodles will last in the freezer for 8 months.
To enjoy the spaghetti squash, allow it to thaw in the fridge overnight before consuming. Once it has thawed, use it as instructed above.

More spaghetti squash recipes
Meal prep tools for this recipe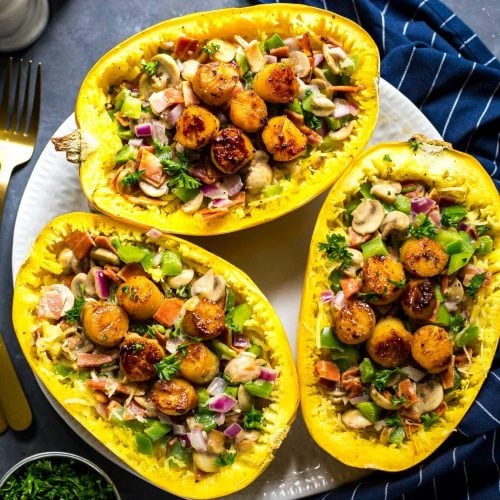 Healthy Scallop Spaghetti Squash Carbonara
This Healthy Scallop Spaghetti Squash Carbonara is made with turkey bacon, peppers and mushrooms with a delicious cream sauce.
Print
Pin
Rate
Click Here to Remove Ads
Servings: 4 servings
Calories: 399kcal
Ingredients
1 tbsp olive oil
2 spaghetti squash
Carbonara sauce
1 tsp olive oil
4 slices turkey bacon
1 tbsp olive oil
2 cloves garlic minced
8 mushrooms thinly sliced
1/2 cup green pepper diced
1/2 cup red onion, diced
1 tbsp flour
1/2 cup chicken broth
2 tbsp heavy cream
1/4 tsp salt
1/4 tsp pepper
1/4 cup Parmesan cheese
1 lb Scallops
Instructions
Preheat oven to 450 F.

Cut spaghetti squash in half. If they are too hard, you can microwave them whole for 1-2 minutes to soften them until they are easier to cut.

On a baking sheet lined with parchment paper, place spaghetti squash face down after covering them with olive oil. Season with salt and pepper and cook in the oven for 30 minutes.

Meanwhile, heat olive oil in a large frying pan on med-high heat. Cook turkey bacon for 4-5 minutes until slightly crispy. Remove from heat.

Without wiping pan clean, add more olive oil. Add garlic, sautéing for 30 seconds until fragrant. Add mushrooms and cook for another 5 minutes until liquid has released. Add red onion and green peppers plus salt and pepper and cook for another 1-2 minutes.

Add flour and toss veggies to coat. Add broth, cream and parmesan cheese, cooking and stirring often for 2 minutes until sauce slightly thickens, then stir bacon back in.

Remove spaghetti squash from the oven and when cool, scrape out with a fork. Pour sauce mixture overtop of spaghetti squash, stirring to combine.

Meanwhile, heat olive oil in large skillet over high heat. When oil starts to smoke, add scallops and cook for 1 minute per side. Remove from heat to a paper towel-lined plate.

Top spaghetti squash halves with carbonara sauce and 6-8 scallops. Serve and enjoy!
Video
Notes
Instead of scallops, feel free to use shrimp instead. Store the leftovers in the fridge for up to 3 days then reheat in the oven at 350 F. Freeze the spaghetti squash noodles for up to 8 months. Defrost in the fridge overnight then reheat or cook as normal.
Nutrition
Calories: 399kcal (20%)Carbohydrates: 21g (7%)Protein: 22g (44%)Fat: 20g (31%)Saturated Fat: 9g (56%)Polyunsaturated Fat: 5gMonounsaturated Fat: 13gCholesterol: 56mg (19%)Sodium: 1303mg (57%)Potassium: 525mg (15%)Fiber: 3g (13%)Sugar: 6g (7%)Vitamin A: 650IU (13%)Vitamin C: 44.6mg (54%)Calcium: 250mg (25%)Iron: 1.8mg (10%)
Join The Girl on Bloor Premium!
ZERO ADS!
Weekly Meal Prep Checklists
Bonus eBooks