These Healthy Double Stacked Turkey Tacos are so fun! The hard taco shell is wrapped inside a tortilla between a layer of homemade guac.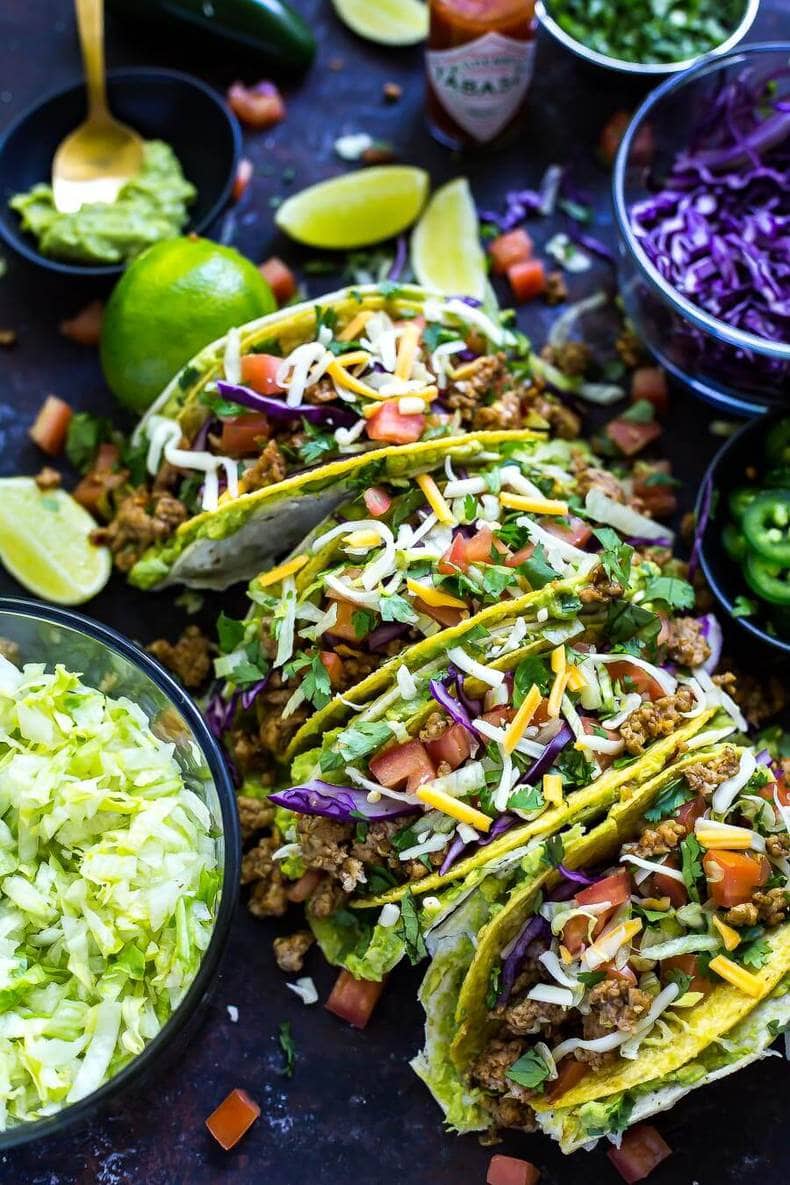 Ingredients and substitutions
Corn tortillas – you can also use flour tortillas.
Taco shells – if you're in a pinch, feel free to leave out the taco shells and just create a single-layer soft taco.
Turkey
Olive oil – or another neutral oil such as avocado oil, sunflower oil or vegetable oil.
Ground turkey – ground chicken or extra-lean ground beef can also be used in this recipe.
Taco seasoning – you can use store-bought or homemade taco seasoning.
Salt – to taste.
Guacamole
Avocados – you could also use a premade guacamole instead of making your own.
Lime juice – fresh lime juice or bottled lime juice will both work.
Garlic – freshly minced garlic is best, but jarred minced garlic will work in a pinch.
Salt – to taste.
Topping ideas
Red cabbage – Napa cabbage or a coleslaw mix can also be used.
Diced tomatoes – diced fresh plum tomatoes are the best option here, but you can swap out for another tomato of your choice.
Iceberg lettuce – romaine lettuce or mixed greens would be good too.
Cilantro – if you don't like cilantro, feel free to leave this out entirely.
Shredded cheese – use another cheese blend of your choice like Tex Mex or cheddar.
Jalapeños – fresh sliced jalapeños are recommended, but you can use jarred pickled jalapeños for a tangier taste.
Salsa – bottled salsa or a homemade pico de gallo are both great options for this recipe.

How to make ground turkey tacos
Cook the turkey.
Make the guacamole.
Layer the taco shells and tortillas.
Assemble your tacos and enjoy!
Skip the Ads and Get Right to the Recipes!
ZERO ADS on over 600 recipes!
Weekly Meal Plans, Grocery & Prep Lists
Bonus eBooks
What to serve on the side
Looking for side dish ideas to serve with your turkey tacos? While these healthy tacos are pretty much a full meal on their own, here are some of my favourite ideas for side dishes:
Cowboy caviar with tortilla chips
Mexican coleslaw or mango slaw
Corn on the cob
Spanish rice
Black beans or refried beans
Frequently Asked Questions
Are turkey tacos healthy?
As long as you don't go overboard with the toppings, these turkey tacos are fairly healthy. Since you're using ground turkey instead of ground beef, you're getting a leaner cut of meat with fewer calories and less fat.
What is a double-stacked taco?
A double-stacked taco is a hard taco shell wrapped in a soft tortilla! While a lot of places use melted cheese to hold the two shells together, for this recipe I used guacamole to make things a bit healthier.
How many calories are in this recipe?
This recipe has 321 calories per serving, but the total calorie count will vary based on what toppings you add on.
Can you substitute the ground turkey for ground beef?
Yes! If you're not a fan of ground turkey, you can swap it out for ground beef, but I suggest using an extra-lean cut of ground beef. This will ensure that the calorie count still says low.
Storing and reheating
You can't store these tacos pre-made, but you can keep all the components separately in the fridge for up to 5 days. Follow the instructions below for the best results.
Keep your taco shells and tortillas separately. The taco shells may need to be stored in a cool, dry place while the tortillas can be stored in the fridge.
Store your toppings in separate glass containers already prepped and ready for easy assembly.
Keep your cooked meat in a separate container. This is helpful for reheating the meat without getting any of your toppings soggy – because who would want that?
When you're ready to enjoy your tacos, warm up the meat in the microwave for 1-2 minutes then assemble your tacos.
Freezing the ground turkey
When making this recipe, you have the option to double up on the portion of ground turkey and keep any leftover cooked meat in the freezer for up to 3 months.
When you're ready to recreate this dish or use the ground turkey for another meal, let it defrost in the fridge overnight then warm it up in the microwave or in a pan on the stovetop.
Wanna Learn How To Meal Prep?
My meal planning service, Dinner Prep Pro, removes the guesswork and helps you get dinner on the table in 15-20 minutes each night. My meal prep checklists only take 1 hour each week!
More taco recipes
Meal prep tools for this recipe
I get all my free-range chicken from Butcher Box, conveniently delivered to me frozen.
Freeze any leftover chicken in glass meal prep bowls for up to 3 months.
Get these metal taco holders for easy assembly – they can be used to heat tacos into the oven too!
Healthy Double Stacked Turkey Tacos
These Healthy Double Stacked Turkey Tacos are so fun! The hard taco shell is wrapped inside a tortilla between a layer of homemade guac.
Print
Pin
Rate
Click Here to Remove Ads
Servings: 8 tacos
Calories: 321kcal
Ingredients
8 corn tortillas
8 taco shells
Turkey
1 tbsp olive oil
1 lb ground turkey or chicken (you could even do beef too if you wanted!)
2 tbsp taco seasoning
1/2 tsp salt
Guacamole
2 avocados, mashed
1 tbsp lime juice
1 clove garlic minced
1 tsp salt
Topping ideas
Red cabbage, shredded
Diced plum tomatoes
Iceberg lettuce, shredded
cilantro, chopped
Shredded cheese
Sliced jalapeños
Salsa, sour cream, hot sauce, etc
Instructions
Heat olive oil in a large skillet over med-high heat. Add turkey, taco seasoning and salt, cooking for 10-12 minutes or until turkey is cooked through.

Meanwhile, mash avocados and mix with lime juice, garlic and salt. To make these tacos come together even faster, you can also use storebought guacamole. Spread evenly overtop of corn tortillas, then add taco shells to each tortilla and wrap around.

Add cooked turkey, followed by toppings of your choice. I used red cabbage, plum tomatoes, iceberg lettuce, cilantro, cheese and jalapeños. Serve and enjoy!
Video
Notes
Cut down on prep time by using store-bought guacamole instead of making your own. Swap out the ground turkey for extra-lean ground beef if you're not a fan of turkey. Store all the components of this recipe separately in the fridge for up to 5 days. Reheat the turkey mixture then assemble your fresh tacos. Freeze the ground turkey for up to 3 months. Defrost in the fridge overnight then reheat in the microwave or in a pan on the stovetop.
Nutrition
Calories: 321kcal (16%)Carbohydrates: 25g (8%)Protein: 20g (40%)Fat: 17g (26%)Saturated Fat: 4g (25%)Trans Fat: 1gCholesterol: 42mg (14%)Sodium: 651mg (28%)Potassium: 529mg (15%)Fiber: 6g (25%)Sugar: 1g (1%)Vitamin A: 368IU (7%)Vitamin C: 12mg (15%)Calcium: 117mg (12%)Iron: 1mg (6%)
Join The Girl on Bloor Premium!
ZERO ADS!
Weekly Meal Prep Checklists
Bonus eBooks