Instant Pot Butternut Squash Mac and Cheese
This Freezer-Friendly Instant Pot Butternut Squash Mac and Cheese is a delicious, fall-inspired twist on everyone's favourite comfort food – just add butternut squash puree, cheese and pasta! 
This post is sponsored by PC Black Label – thanks for supporting the brands that help keep my blog up and running!
Ahhh, butternut squash mac and cheese how I love you.
MY LATEST VIDEOS
As a kid, I actually didn't really used to go crazy for mac and cheese if you can believe it! My mom made this baked version with breadcrumbs on top and I honestly don't know if it was the lack of creaminess (sorry Mom!) or if it was the breadcrumbs throwing off the texture for me but mac and cheese wasn't my thing.
And I'm still picky about it to this day!
Believe it or not, I don't really care for mac and cheese unless it's made with butternut squash puree – call me crazy but it adds a delicious, creamy element that you just can't get with a traditional mac and cheese recipe. And of course the added bonus of blending in some butternut squash is that you get in some extra nutrients and veggies, but you are also able to reduce the amount of cheese you put it in so you're making a calorie-friendly version of mac and cheese.
Genius, I know.
Butternut squash mac and cheese is not necessarily a new concept or anything, but today I'm bringing you a twist on it that's going to make your life easier AND incorporates one of my favourite brands to boot!
Instead of using traditional butternut squash puree in this Instant Pot Butternut Squash Mac and Cheese, I've used PC Black Label's Butternut Squash Pasta Sauce as the creamy base! It's SO convenient and made up of whole food ingredients so if you don't have time to roast up some squash you can still enjoy the deliciousness that is butternut squash mac and cheese.
I've been working with PC Black Label over the past two years to bring you some tasty recipes inspired by their high-quality products, which are inspired by busy foodies who love to cook! The #PlayWithYourFood campaign has been so fun to be apart of because it really speaks to my inner home chef, and their products make it easy to whip up delicious gourmet meals in a flash.
Each month I receive a black box filled with ingredients to experiment with and I immediately knew I was using the Butternut Squash Pasta sauce to put a healthy spin on a classic comfort food dish. This month, I also received PC Black Label Fig Cabernet Wine Jelly and PC Black Label Madagascar Bourbon Vanilla Bean in my PC Black Label black box, and I can't wait to put those to good use as well!
Sit down with a bunch of this and a glass of wine and you've pretty much got the best weekend plans in the world. Or a little mid-week indulgence. Really, it's up to you.
I just know that this mac and cheese comes together relatively easy if you follow all the steps correctly. Basically, you wanna roast the squash, onions and garlic together, then cook the pasta while that's all roasting. Throw all the roasted veggies in a blender with some milk and puree.
From there, it's just a matter of tossing the pasta with some melted butter then adding the squash puree and your cheeses. Pretty quick and easy, and if you use the one big pot you'll have little clean up as well!
Now for me, a good mac and cheese really depends on the cheeses used, even with this Butternut Squash Mac & Cheese.
Swiss is key for creating that melty, ooey gooey texture and has more of a milder taste, while aged cheddar adds that familiar mac and cheese flavour that most people go crazy for. In a pinch you could use mozzarella instead of the cheddar though – that's what I have on hand more frequently for things like pizza and other recipes. Fresh grated parmesan cheese and even a smoked cheddar would taste AMAZING with this recipe too so it's up to you to make it your own!
One of the best parts about this recipe is you can break it down into different sections of meal prep.
I personally like to make the butternut squash sauce ahead of time and either freeze it or keep it in the fridge up to 3 days, so you could roast the veggies and puree them on a Sunday and grate the cheese then pull everything out to make fresh a few days into the work week. Just boil the pasta, toss with the sauce, heat up on the stove and stir in the cheese. Easy 30-minute dinner when you have just a couple simple things ready ahead of time.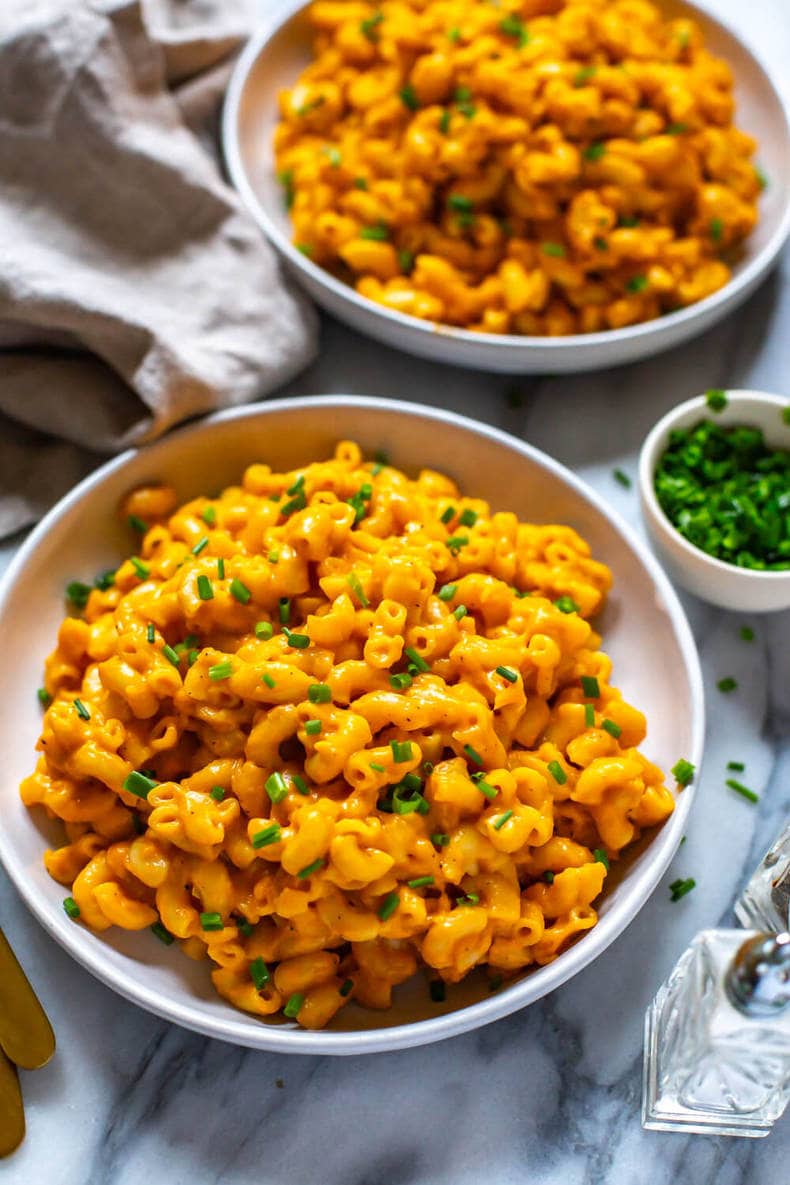 That's the thing with meal prep: it doesn't have to be super complicated. Prepping just a few elements of a recipe at a time on a weekend really helps you get dinner on the table so much quicker during the week.
As a food photographer and stylist I've been finding it easier to shoot when I have everything chopped and some elements of a dish cooked/pureed/blended ahead of time because from there it's just a matter of mixing everything together and it shaves so much time off the actual cooking process. It's actually insane and I don't know if I could go back to the same way of cooking.
Anyway, my little meal prep tip of the day for you 😉
Will you be making this Butternut Squash Mac & Cheese? 
I think I'm going to start making all my freezer meals as delicious as this. Less food waste and more dinner deliciousness for the win!
For more inspiration and for the full collection of products, visit pc.ca/blacklabel!
Print Recipe
Freezer-Friendly Butternut Squash Mac & Cheese
Yum
This Freezer-Friendly Butternut Squash Mac & Cheese is a delicious, fall-inspired twist on everyone's favourite comfort food - it's made with roasted veggies for extra nutritional value!
| | |
| --- | --- |
| | |
Add olive oil, onions, garlic, salt & pepper, broth and pasta to Instant Pot in that order. Cook on high pressure for 3 minutes then do a quick release of pressure.

Meanwhile, heat jar of PC Black Label Butternut Squash Pasta Sauce in the microwave for 1-2 minutes until warm.

Open lid when safe to do so and stir in heated PC Black Label Butternut Squash Pasta Sauce (or warm puree) along with mozzarella and cheddar.

Serve in bowls and garnish with chives, sage or thyme. Serve and enjoy!

If making puree: peel and dice up 1 medium-sized butternut squash. Boil in 1 cup of chicken broth then puree with an immersion blender (or wait until slightly cooled and puree in a regular blender). Set aside 2 cups to use for the mac and cheese and freeze the rest.
There is no Nutrition Label for this recipe yet.