This Meal Prep Dynamite Shrimp Sushi Bowl is sushi deconstructed. The dynamite shrimp is just like the popular appetizer from PF Chang's!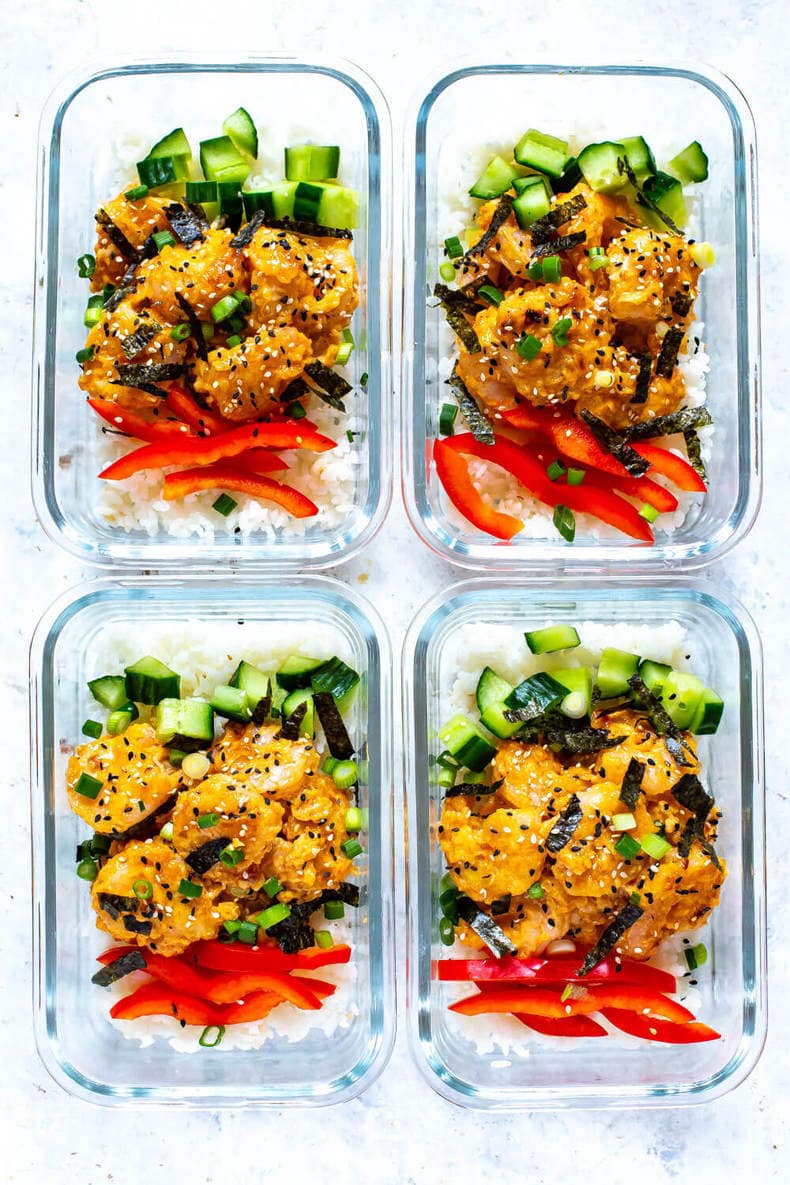 How do you make a Dynamite Shrimp sushi bowl?
This recipe is super easy to put together!
Cook and refrigerate the sushi rice. You can either cook the rice the day you make the bowls or make it ahead. To save time, cook the rice up to 24 hours before you make the bowls. Just be sure to refrigerate it until you need it.
Batter and then fry the shrimp. Because you will need to cook in batches, it will take about 15 minutes to cook all of the shrimp.
Mix up the spicy mayo sauce and add the shrimp to it. Toss to coat.
Layer everything into bowls or meal prep containers and serve or refrigerate. They'll last up to 5 days in the fridge!
What are Dynamite Shrimp?
If you've ever eaten at Applebee's or PF Chang's, you may already know what this delicious Japanese shrimp appetizer is. For those who haven't tasted them, you are in for a treat!
Dynamite shrimp are battered, crispy fried shrimp with a spicy Sriracha mayo coating. As an appetizer, they are delicious, but in a sushi bowl, they become extraordinarily good!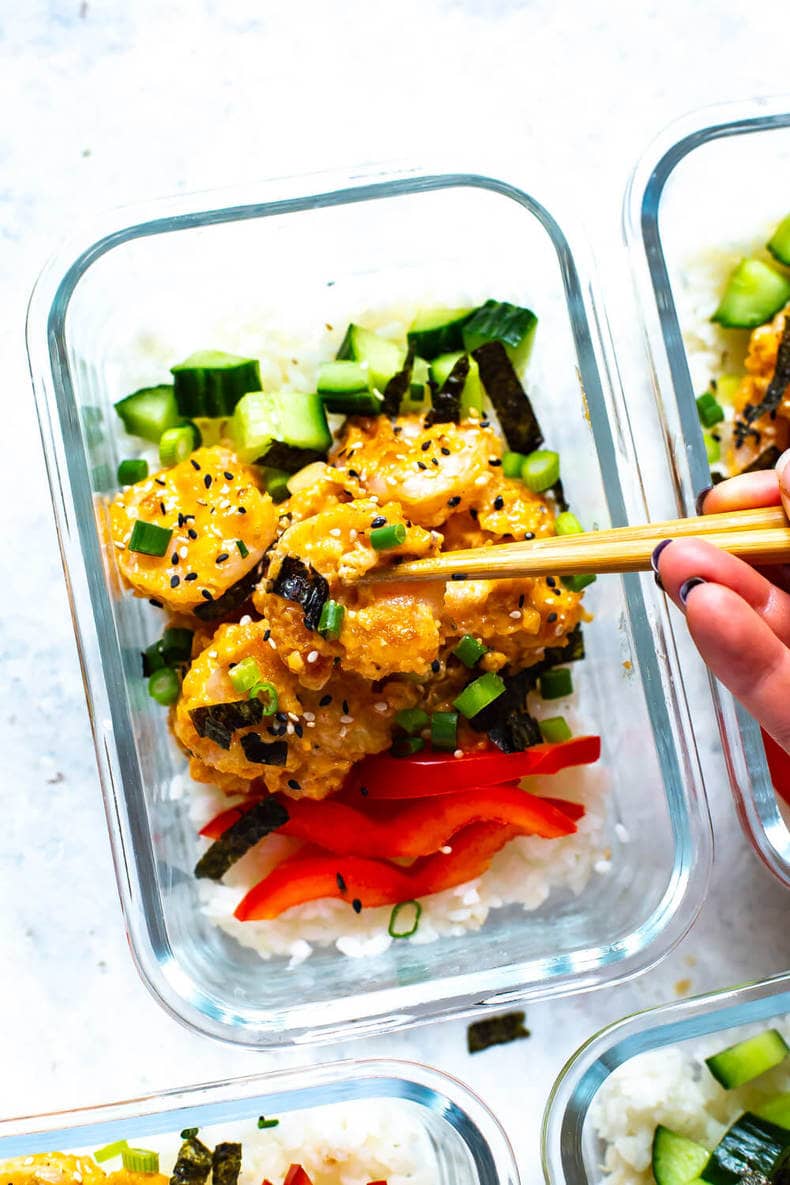 What can you put in a sushi bowl?
A sushi bowl is very much like deconstructed sushi. It has the components of your favorite sushi served in bowl form instead of a roll. Anything you might order from a sushi bar is an option to convert into a sushi bowl!
Ingredients and substitutions
olive oil – use any neutral flavoured oil such an sunflower or canola instead
shrimp – use raw, de-shelled shrimp t0 make this recipe as easy as possible; I use frozen shrimp and let it defrost before cooking
egg – you can use buttermilk in place of the egg, or egg whites
flour – you can use panko breadcrumbs instead; I haven't tested out any gluten free flours so just be aware of this before making any other substitutions
cucumber/red pepper – feel free to use whatever veggies you like. Red cabbage and broccoli are other good options
nori (seaweed paper) – you can use seaweed salad instead. Both ingredients should be found in the international aisle or in the sushi section of your local grocery store
green onions – feel free to use regular onion or just leave them out
light mayo – you can use sour cream instead, but the taste/texture will be slightly different
Sriracha hot sauce – sambal oelek also works
ketchup – you can leave this out if needed
paprika & garlic powder – you can also leave these seasonings out, or use onion powder instead of garlic
sushi rice – this is also sometimes known as sticky rice. I highly recommend you go with this because it'll make it taste like sushi, but you can use brown or plain white rice instead
What's the difference between a poke bowl and a sushi bowl?
"Poke" is a Hawaiian term, meaning "to cut or slice". It refers to the pieces of marinated raw fish in the popular Hawaiian salad.
Typically, a poke bowl has yellowfin tuna or ahi as the primary protein, with a soy sauce based dressing. Sushi bowls are similar to poke, but the seafood isn't always raw.
If you want to make poke bowls, try my recipes for Tuna Steak Poke Bowls or Creamy Sriracha Shrimp Poke Bowls!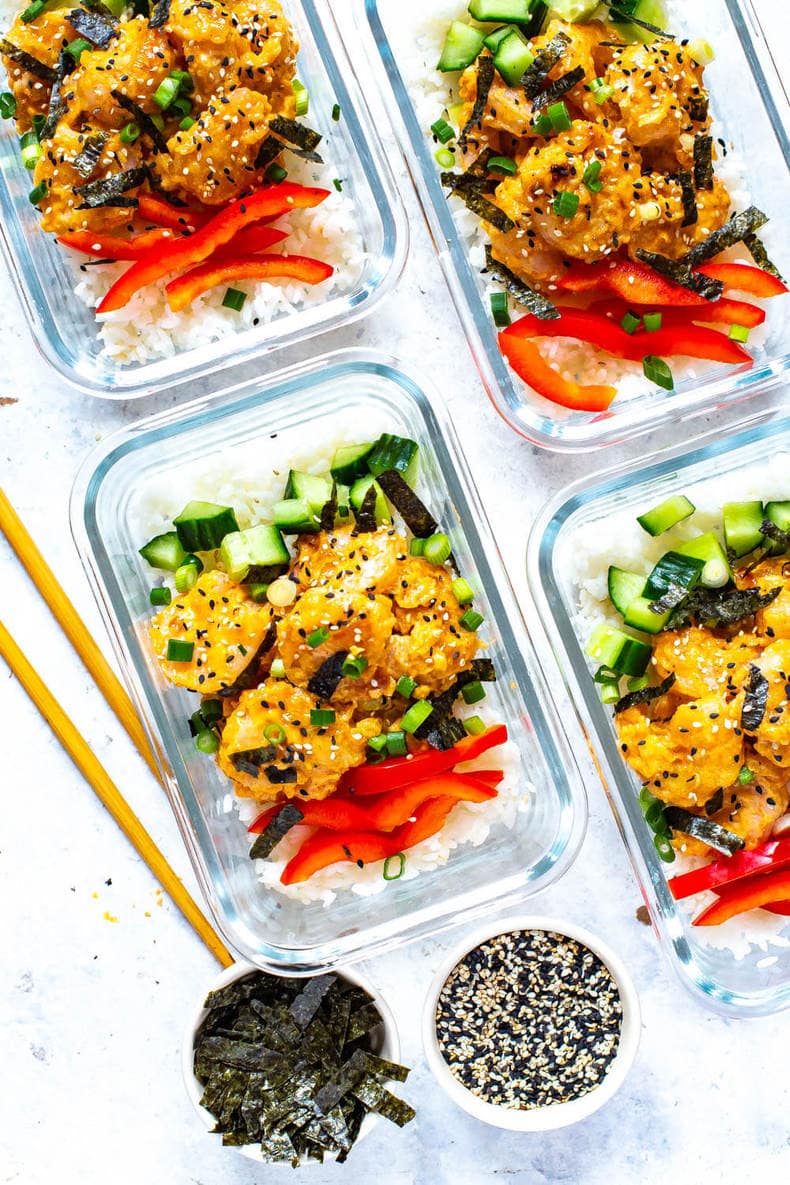 Storing for meal prep
There are two serving options for this delicious dish: in a small bowl or in meal prep containers.
For easier reheating and the ability to pack them as lunches, you should assemble them into meal prep containers or bento boxes with the shrimp stored separately so it can be reheated in the microwave while the rest of the ingredients remain cold.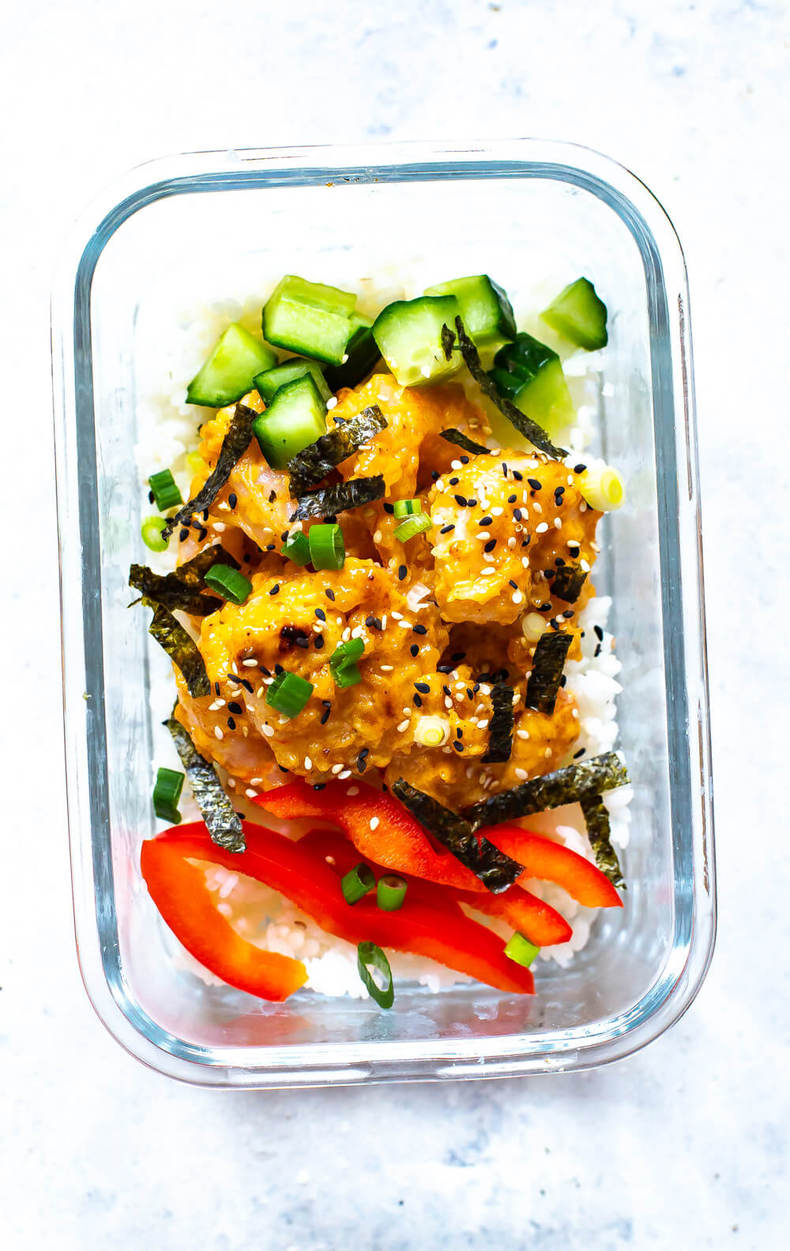 Want to Learn How to Meal Prep? Join Dinner Prep Pro!
Our meal planning service removes the guesswork and helps you get dinner on the table in 15-20 minutes each night thanks to our prep ahead checklists. It takes just one hour of ingredient prep on a Sunday!
More sushi recipes
Meal prep tools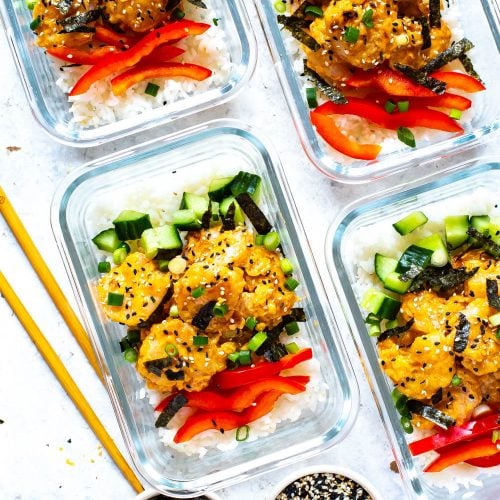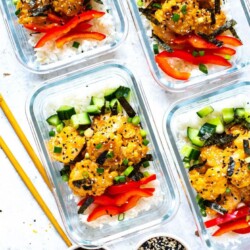 Meal Prep Dynamite Shrimp Sushi Bowl
This Meal Prep Dynamite Shrimp Sushi Bowl is a tasty way to enjoy all the flavours of your fave sushi roll – and the dynamite shrimp are just like the appetizer from PF Chang's!
Print
Pin
Rate
Servings: 4 servings
Calories: 393kcal
Ingredients
1 tbsp olive oil
1 lb shrimp
1 egg
1/2 cup flour
1/2 cucumber, diced
1/2 red pepper, julienned
1/2 sheet nori (seaweed paper), for garnish
2 green onions, sliced for garnish
Sesame seeds for garnish
Dynamite shrimp sauce
1/2 cup light mayo
2 tsp Sriracha hot sauce
2 tsp ketchup
1/2 tsp paprika
1/2 tsp garlic powder
1 pinch salt
Sushi Rice
1 cup sushi rice
1 1/2 cups water
1 tsp butter
2 tbsp sugar
2 tbsp rice vinegar
1/2 tsp salt
Instructions
Cook sushi rice, water and butter in a rice cooker (can be made up to 24 hours in advance and kept in the fridge). Once rice is cooked, stir in sugar, rice vinegar and salt and set aside.

Preheat olive oil in a large frying pan over med-high heat.

Add egg and flour to two small bowls. Toss shrimp in egg, then in flour in batches and add to frying pan, cooking for 1-2 minutes each side until crispy and shrimp are fully cooked. Transfer to a paper towel-lined plate and let cool 2-3 minutes.

Meanwhile, mix together ingredients for Dynamite shrimp sauce in a large bowl. Add shrimp and toss to coat.

Add rice, shrimp, veggies and garnishes to meal prep bowls and store in the fridge up to 5 days. Serve and enjoy!
Video
Nutrition
Calories: 393kcal (20%)Carbohydrates: 35g (12%)Protein: 25g (50%)Fat: 17g (26%)Saturated Fat: 3g (19%)Polyunsaturated Fat: 7gMonounsaturated Fat: 6gTrans Fat: 0.03gCholesterol: 178mg (59%)Sodium: 706mg (31%)Potassium: 295mg (8%)Fiber: 2g (8%)Sugar: 3g (3%)Vitamin A: 1100IU (22%)Vitamin C: 56.9mg (69%)Calcium: 70mg (7%)Iron: 3.8mg (21%)