These Chicken Ranch Kale & Quinoa Bowls are a delicious, gluten-free way to get your fill of summer veggies – and the low calorie homemade ranch dressing is super easy to make!
Say hello to a new, summery spin on the delicious, nutritioys kale and quinoa bowl!
Aka my fave type of grain bowl everrrrrrrrr.
I don't know about you, but even though this is the second year in a row that I've never had to go back to school, I find this time of year busy as hell and overwhelming.
Maybe it doesn't help that I'm moving in just five days and I have NOTHING packed (eek!) but there's just something in the air about September that has always sparked a sense of renewal and change in me. Like, summer's over and it's time to buckle back down and get to work.
That's where yummy dinners with some remaining taste of summer like these Chicken Ranch Kale & Quinoa Bowls come into play.
First of all, we need to talk about ranch dressing and why we've been settling with the crappy bottled stuff for so long.
I mean, I love a good ranch dip for chicken wings and veggies when out at a bar as much as the next person, but when it comes to putting that stuff on salad or using it for healthy bowls at home, it's pretty much off the table.
And I think you realize that bottled, room-temperature ranch just doesn't taste quite as good as it did when you had a couple beers, right?!
Well, my homemade version is where it's at. You'll never buy the crap from the store ever again when you discover how easy ranch dressing can be. Just mix together some sour cream, lemon juice and a mix of herbs with some freshly minced garlic. Water down with, well, water (or milk if you like it extra creamy) and you're done! How easy does that sound? Plus, it keeps in the fridge up to a week on top of that!
Really, when it comes down to it, these kale and quinoa bowls are barely a recipe. But, my favourite part of cooking during the week and meal prepping is putting together super simple bowl recipes that are also really versatile. I mean, the thing with grain bowls and buddha bowls is that they really are what you make 'em.
Don't have chicken on hand at home? Grill some shrimp, or fry up a steak, or even get creative with chickpeas and tofu. Quinoa's also a source of protein so you could even go straight up veggies only for these bowls if you're really feeling lazy.
I used sugar snap peas, heirloom cherry tomatoes and fresh grilled summer corn in these bowls alongside some fresh sliced avocado but you can really change these bowls up depending on your taste and cravings. I think for me, what's most important about these bowls and what keeps the prep time down is the fact that these Chicken Ranch Kale & Quinoa Bowls are kind of a hybrid between a salad and a stir fry.
You've got some cooked elements like the chicken and quinoa, but then you've also got veggies that just need to be chopped and sliced and added to the bowls to keep the cook time down. If you're in a pinch and need to use up some veggies that are about to go bad, don't hesitate to sautee them or throw them on the grill alongside the chicken.
I highly recommend veggie skewers to go along with the chicken btw. SUPER yummy!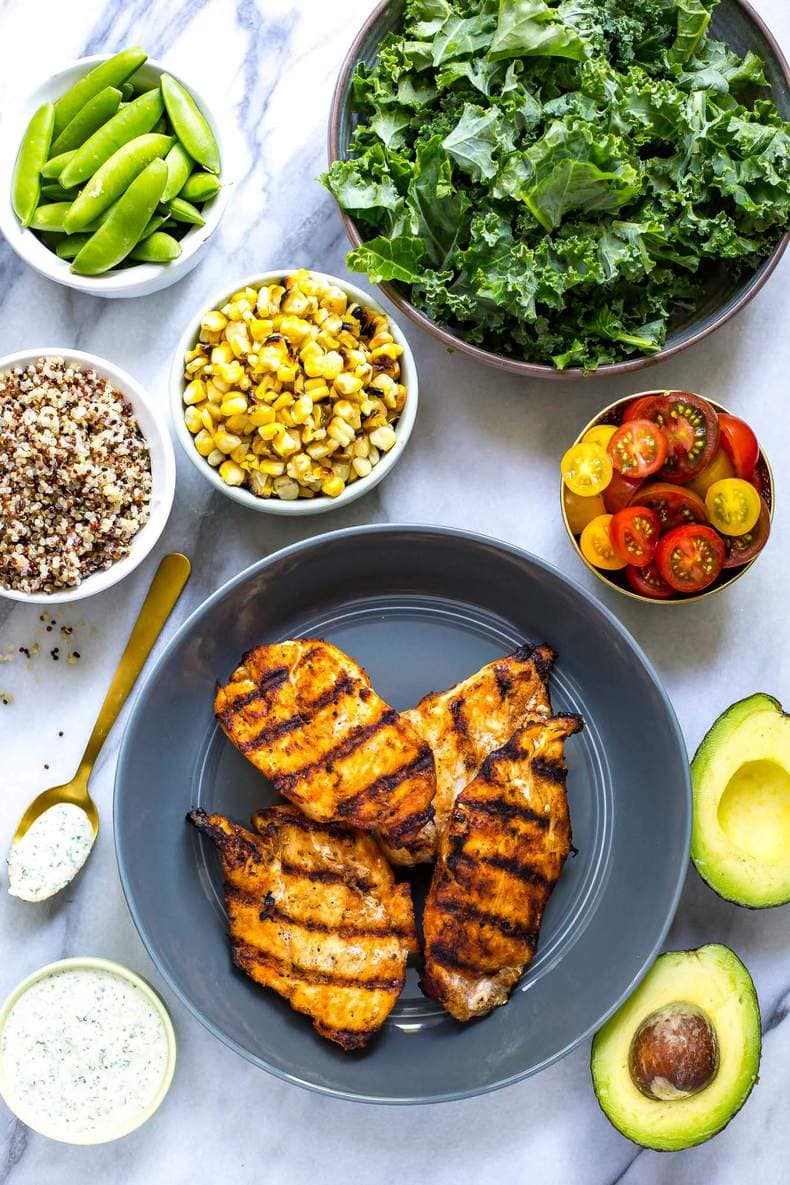 Will you be making these Chicken Ranch Kale & Quinoa Bowls? 
I know I'm going to be keeping this homemade ranch dip on hand constantly – I definitely jump at the chance to enjoy some of my fave foods and condiments with a lower calorie spin and this is no different!
If you try any of my recipes be sure to let me know on Instagram, Twitter, Facebook or in the comments – I'd love to see what you come up with!
Chicken Ranch Kale & Quinoa Bowls
These Chicken Ranch Kale & Quinoa Bowls are a delicious, gluten-free way to get your fill of summer veggies - and the low calorie homemade ranch dressing is super easy to make!
Print
Pin
Rate
Ingredients
1

tbsp

olive oil

2

chicken breasts, sliced in half lengthwise

2

tsp

paprika

2

tsp

garlic powder

1/2

tsp

salt

1

avocado, sliced

1

cup

Corn

1

cup

snap peas

1

cup

cherry tomatoes, sliced

2

cups

cooked quinoa

2

cups

finely chopped kale
Ranch dressing
1

cup

sour cream

1/4

cup

milk

2

tsp

lemon juice

1/4

cup

fresh parsley, chopped (or 2 tsp dried)

1

clove

minced garlic

1

tbsp

dried minced onion

1/2

tsp

salt

1/2

tsp

pepper
Instructions
Preheat BBQ to med-high heat. Alternatively, preheat oven to 400 F. Slice chicken in half lengthwise and drizzle with olive oil, then rub with paprika, garlic powder and salt. Grill/bake for 10 minutes, flipping once halfway though.

Meanwhile, cook quinoa according to package directions or in a rice cooker. Prepare veggies and blend ingredients for ranch dressing together in a blender, food processor or Magic Bullet.

Assemble bowls by mixing kale and quinoa together. Top with sliced, cooked chicken, cherry tomatoes, snap peas, corn and avocado, dividing all veggies evenly among four bowls. Drizzle with ranch dressing and serve!
Nutrition
Calories:
416
kcal
|
Carbohydrates:
63
g
|
Protein:
25
g
|
Fat:
13
g
|
Saturated Fat:
5
g
|
Polyunsaturated Fat:
2
g
|
Monounsaturated Fat:
4
g
|
Cholesterol:
21
mg
|
Sodium:
349
mg
|
Potassium:
1187
mg
|
Fiber:
8
g
|
Sugar:
9
g
|
Vitamin A:
19450
IU
|
Vitamin C:
229.4
mg
|
Calcium:
300
mg
|
Iron:
8.6
mg