These Carrot Cake Overnight Oats are a healthy way to enjoy the flavours of your favourite cake without any of the guilt!
Ingredients and substitutions
Rolled oats – large flake oats or steel cut oats will all work well for this recipe. Quick oats aren't ideal as they can make the dish pretty mushy.
Coconut milk – any other non-dairy milk can be used. If you decide to use 2% milk, be aware that the nutritional facts will vary.
Greek yogurt – plain Greek yogurt should be used in order to reduce any added sugars. If you want to keep the recipe dairy-free, leave this out altogether.
Vanilla extract – use maple syrup or honey instead. Keep in mind the flavour will be slightly different.
Carrot – carrot is the star of this recipe. You can also try using grated squash and mashed bananas.
Pineapple – frozen or canned pineapple will work well in this recipe. If you decide to use canned, feel free to rinse the pineapples to get rid of any added sugar.
Shredded coconut – sweetened or unsweetened shredded coconut can be used in this recipe.
Chopped walnuts (optional) – added nuts like walnuts and pecans are usually found in carrot cake and will add extra texture to the mix. If you're looking for other fixings that are nut-free but protein-packed and filling, add in flax seeds or pumpkin seeds.
Cinnamon – leave this out altogether if you don't have any cinnamon.
Nutmeg – leave this out altogether if you don't have any nutmeg.
Skip the Ads and Get Right to the Recipes!
ZERO ADS on over 600 recipes!
Weekly Meal Plans, Grocery & Prep Lists
Bonus eBooks
How to make carrot cake overnight oats
Assemble all of your ingredients.
Mix everything together in a large bowl.
Divide the mixture into four mason jars.
Chill overnight then serve and enjoy!
Making this recipe vegan
To make this recipe vegan, replace or leave out the Greek yogurt. The Greek yogurt is included to up the protein count, so feel free to leave it out altogether or swap for a non-dairy protein option like hemp hearts, chia seeds or vegan protein powder.
Frequently Asked Questions
Are overnight oats healthy?
Overnight oats are a healthy and easy breakfast. Since you're able to add in a variety of toppings and ingredients into the base of the oats, you can boost the nutritional ingredients to your liking. For example, you can add in ingredients like protein powder, Greek yogurt, chia seeds or hemp seeds into the base to add protein to your diet. Besides the nutritional add-ins, overnight oats on their own are high in fibre and filled with rich nutrients like magnesium and potassium.
Can I use steel cut oats?
Yes! You can use rolled oats, large flake oats or steel cut oats for this recipe – it all depends on preference. Steel cut oats will be chewier and have a slightly different flavour than rolled oats.
Do I eat them cold or heated up?
You can eat your overnight oats either cold or heated up. They're traditionally eaten cold, but if you want to warm them up, just stick them in the microwave for about a minute until heated through.
Storing and reheating
Since you will be separating your overnight oats into individual servings, storing your oats is easy! Place your mason jars in the fridge overnight, or for a minimum of two hours if you're ready to eat them immediately. Once you've made the oats, they'll last in the fridge for up to 5 days, making them a great breakfast meal prep option.
When you're ready to enjoy your oats, take your mason jar out of the fridge and enjoy cold. If you prefer your oats warm, place the mason jar in the microwave for 1 minute until warmed through, then enjoy straight from the mason jar.
Freezing this recipe
This recipe freezes really well! You can store the mason jars in the freezer for up to 3 months or make the overnight oats in individual glass containers. The night before you want to eat your overnight oats, put the container in the fridge so it can thaw then dig in the next day.
Wanna Learn How To Meal Prep?
My meal planning service, Dinner Prep Pro, removes the guesswork and helps you get dinner on the table in 15-20 minutes each night. My meal prep checklists only take 1 hour each week!
More oatmeal recipes
Meal prep tools for this recipe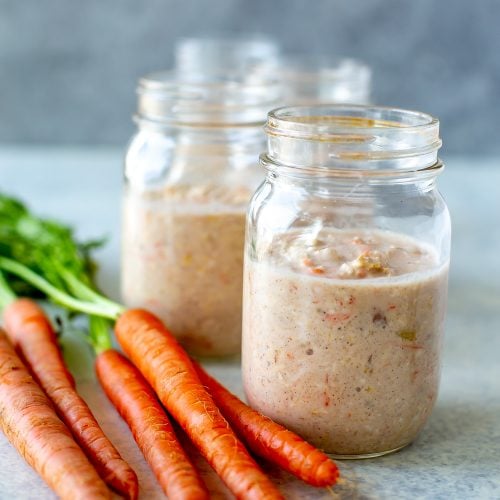 Carrot Cake Overnight Oats
These Carrot Cake Overnight Oats are a healthy way to enjoy the flavours of your favourite cake without any of the guilt!
Print
Pin
Rate
Click Here to Remove Ads
Servings: 4 servings
Calories: 344kcal
Ingredients
2 cups rolled oats
3 cups coconut milk
1 cup plain Greek yogurt
2 tsp vanilla extract
1 carrot, grated
1/4 cup pineapple, diced
1/4 cup sweetened shredded coconut
1/4 cup finely chopped walnuts (optional)
1 tsp cinnamon
1/2 tsp nutmeg
Instructions
Add all ingredients to a large bowl, mixing well to combine.

Divide mixture between four 16-oz mason jars. Let chill in the fridge for a minimum of 2 hours before enjoying, preferably overnight.

Serve and enjoy!
Video
Notes
Leave out the Greek yogurt to make this recipe vegan. Up the protein by adding in chia seeds, protein powder or hemp hearts. If you want to replicate the cream cheese frosting of carrot cake, swap out the Greek yogurt for 2 tbsp. of cream cheese. Store your mason jars in the fridge for up to 5 days then eat cold or microwave for 1 minute. Freeze your overnight oats for up to 3 months then thaw in the fridge overnight.
Nutrition
Calories: 344kcal (17%)Carbohydrates: 43g (14%)Protein: 12g (24%)Fat: 14g (22%)Saturated Fat: 6g (38%)Cholesterol: 3mg (1%)Sodium: 51mg (2%)Potassium: 264mg (8%)Fiber: 6g (25%)Sugar: 12g (13%)Vitamin A: 2590IU (52%)Vitamin C: 6mg (7%)Calcium: 181mg (18%)Iron: 2mg (11%)
Join The Girl on Bloor Premium!
ZERO ADS!
Weekly Meal Prep Checklists
Bonus eBooks