Cheesy Asiago Brussels Sprouts & Kale Dip (Video!)
This Cheesy Asiago Brussels Sprouts & Kale Dip is sure to be a winner this upcoming Thanksgiving – thank you to Vitamix for sponsoring this post & keep an eye out for an upcoming Friendsgiving giveaway with Vitamix and some of my favourite Canadian food bloggers!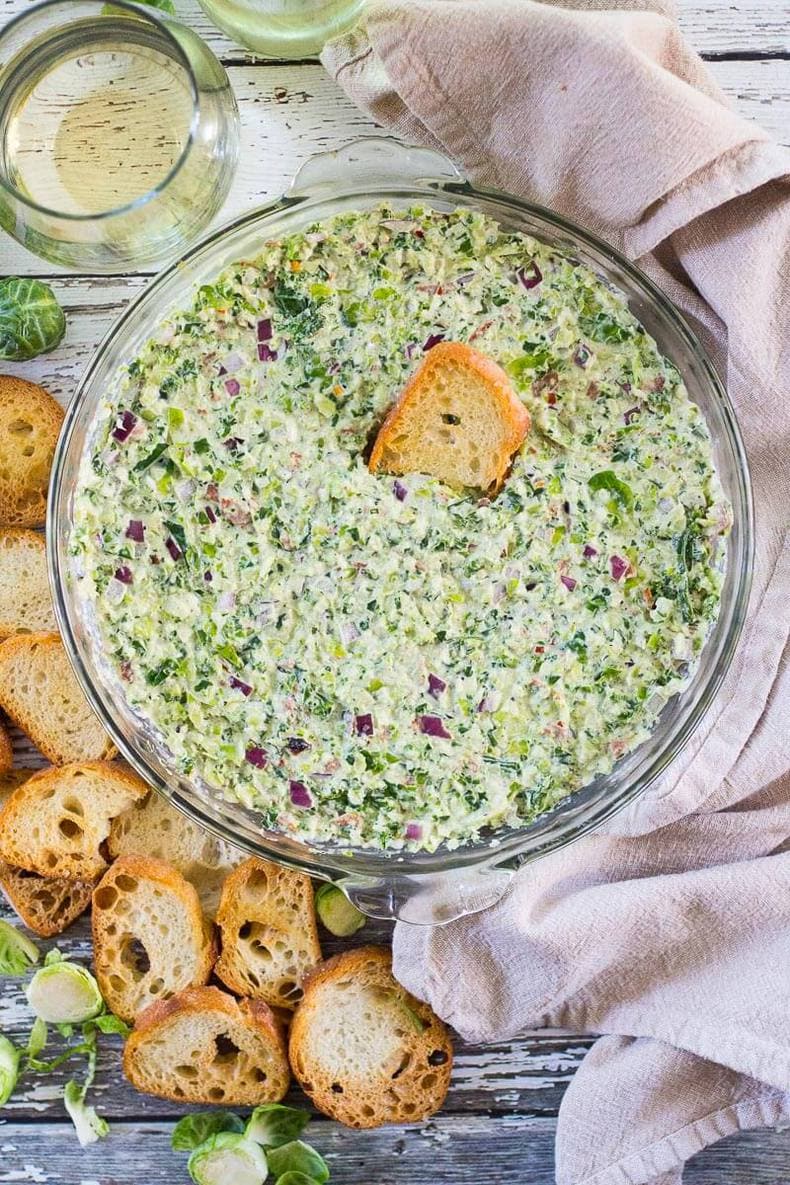 This Cheesy Asiago Brussels Sprouts & Kale Dip is going to become your next fave thing to eat on Thanksgiving.
I know, I'm saying this about brussels sprouts.
But seriously, with all the cheese and bacon, you won't even notice you're eating the greens that your mom had to practically shove down your throat when you were a kid.
Personally, I prefer to take the trick-you-into-eating them route. 😉
If you love the classic hot spinach and artichoke dip that you can order off the appetizer menu at practically any restaurant that specializes in pub food, then you're gonna LOVE this fall-themed version.
I know that brussels sprouts have got a bad rap due to the many times people have steamed the crap out of them or over-roasted them, but when slightly cooked and left with quite a bit of crunch they are by far one of my favourite fall vegetables.
I mean, have you even had them sliced up in a 'slaw? They're just mini cabbages you know!!
As always, I tend to have a bit of a problem with leftovers in my house with all the food I'm creating on a regular basis, but this dip flew off the table when reheated and served on two separate occasions. I think I've got a winner for my next Thanksgiving dinner with friends, aka "Friendsgiving".
But even beyond this amazing chance to fall in love with brussels sprouts and fall food again is that I'll be hosting a SUPER EXCITING Friendsgiving-themed giveaway later this week with Vitamix and some of my favourite Canadian blogger friends.
*Drumroll please*
You'll have a chance to win a Total Nutrition Center Vitamix blender of your own this Thursday, September 22 in celebration of the upcoming holiday.
Just promise me that the first thing you make will be this scrumptious, cheesy Brussels Sprouts & Kale Dip.
It's a no-brainer, really.
Vitamix started off my Friendsgiving preparations early by sending me a blender of my own and I really can't tell you how awesome it has been to make all of my fall favourites. It literally took just 5-10 seconds for me to blend this dip together – something my own blender would have taken a crazy amount of time and stopping and going to do. I really don't want to talk up this blender too much, but it certainly lives up to the hype and has made my cooking and blending that much more of a breeze!
And that's good news because I literally have too many soups and sauces to make in my meal prepping efforts this season!
Will you be trying this Cheesy Asiago Brussels Sprouts & Kale Dip? If you try any of my recipes be sure to let me know in the comments, on Instagram, Twitter or Facebook! I'd love to see what your plans are for Friendsgiving! 😉
Print Recipe
Cheesy Asiago Brussels Sprouts & Kale Dip
Ingredients
4

cups

brussels sprouts

2

cups

chopped kale

1

brick cream cheese

8oz

3/4

cup

asiago cheese

grated

3/4

cup

parmesan cheese

grated

1

tsp

garlic powder

1/2

tsp

hot chili flakes

1/2

tsp

salt

1/2

tsp

pepper

8

slices

turkey bacon

cooked and chopped (you could use 5pork bacon)

1/2

large red onion

finely diced
Serve with:
Artisan toast crisps

Tortilla chips

Crackers

Assorted veggies
Instructions
Bring a large pot of slightly salted water to a boil.

Remove the ends of brussels sprouts and chop each thinly until you have about 4 cups worth. Chop kale finely. Boil brussels sprouts and kale for 2-3 min then drain.

Meanwhile, cook bacon or turkey bacon and dice red onion.

Microwave cream cheese in a large glass bowl for 1 min. Add to Vitamix blender, along with 2 cups cooked brussels sprouts and 1 cup cooked kale. Add asiago and parmesan cheeses, garlic powder, hot chili flakes, salt and pepper. Blend for 10-15 seconds until just blended.

Add mixture to the large glass bowl used to microwave cream cheese in, then add the remaining 2 cups brussels sprouts and 1 cup kale and stir with a spatula. Add turkey bacon and red onion and stir, then microwave for 1-2 min until dip is hot.

Serve immediately with artisan crisps, tortilla chips, crackers and/or assorted veggies. Dip will last in fridge up to a week and reheats well in the microwave.
Now dig in – your Thanksgiving is now complete!