This colourful BBQ Tofu bowl is full of Caribbean-inspired flavour, along with a spice blend reminiscent of jerk seasoning and sliced avocado.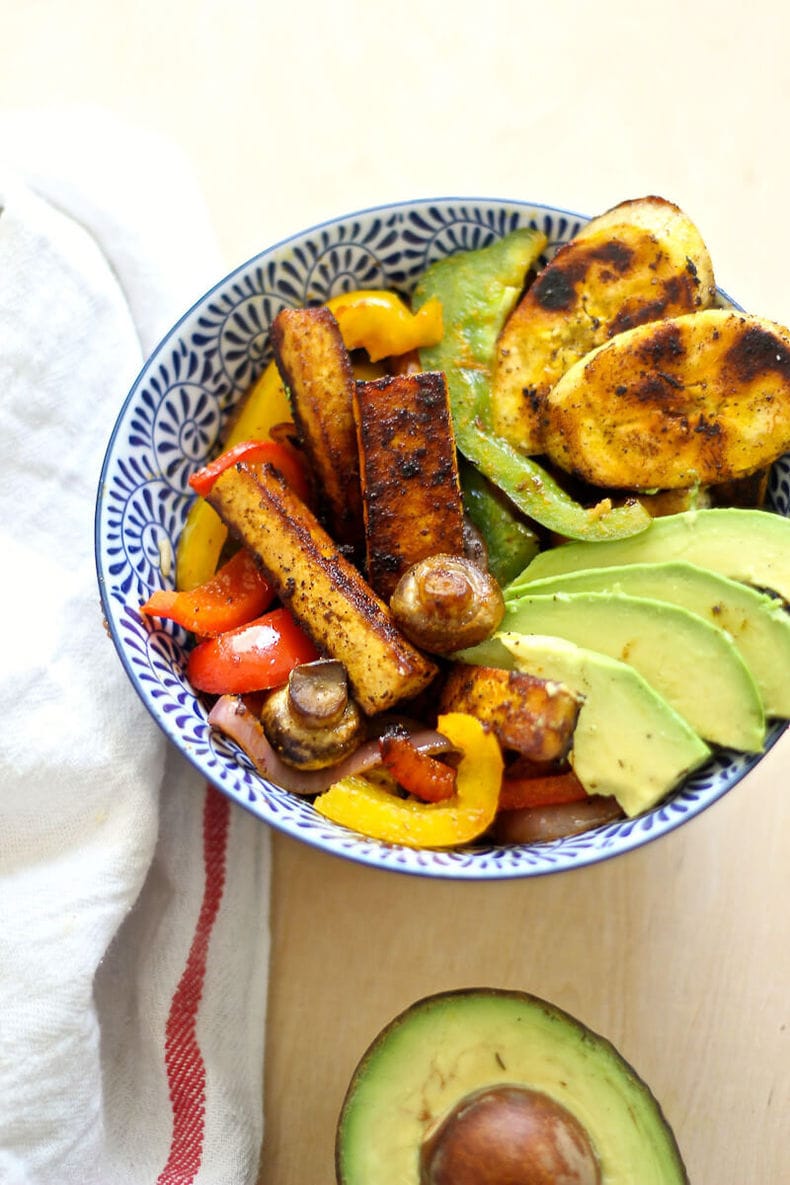 One of my favourite restaurants in Toronto is a small Caribbean takeout joint at Bathurst and Bloor called One Love Vegetarian with an all-vegan menu. Serving up delicious corn soup (that has been featured on the Food Network!) amongst giant chickpea roti wraps and meatless vegetable bowls, everything is absolutely bursting with flavour and a must try.
I fell in love with their BBQ Tofu bowl and had to try to replicate the flavours at home. Though Caribbean flavours aren't necessarily my specialty, I did some research and came up with a tasty marinade that is a close second to the one at One Love. With jerk-inspired flavours and sweet, smokey BBQ undertones, you'll definitely be wanting to make this unique dish again!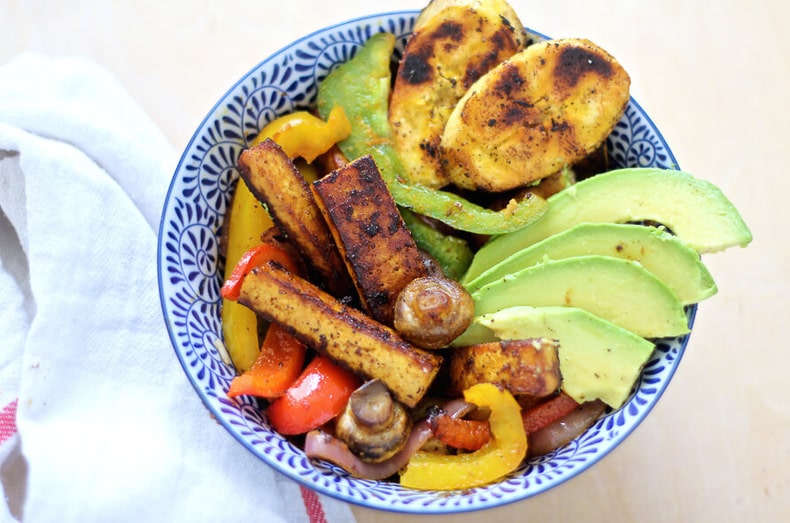 Though this recipe is vegetarian and uses tofu, you can easily substitute chicken or beef if you're turned off by tofu. The strong flavour profiles of each spice are overpowering enough to conquer anyone's fear of bland tofu, but they remain subtle enough to take on a protein. Allspice and nutmeg in particular are the secret ingredients that make the marinade shine, as well as liquifying the sweet onion.
Every once in a while, it's nice to use meat alternatives because they are cheaper and full of protein. You may not think that tofu can taste good, but when marinated correctly and for long enough, it can actually be quite delicious!
Plantains are for the most part readily available at many grocery stores, and should be eaten when overly ripe. Wait until they are a darker yellow with a bit of brown on them – think of them like a banana. When green, they are too starchy and not ready to eat. Even when yellow, they may be a bit too firm. Waiting until they are a tiny bit bruised looking ensures a proper cook and a beautiful sweetness.
Try out this BBQ Tofu bowl this weekend – I promise you won't be disappointed!
Ingredients
1

Package firm tofu

1/2

red pepper

yellow pepper and green pepper, sliced

1

red onion

sliced

1

cup

small button mushrooms

whole

1

plantain

slightly overripe and sliced

1

avocados

sliced
Jerk-BBQ Sauce
1/2

large sweet onion

aka vidalia onion

2

tsp

BBQ sauce

1

tsp

Worcestershire sauce

1

tbsp

lime juice

2

tbsp

olive oil

2

tbsp

soy sauce

2

cloves

garlic

1

inch

piece gingeroot

1

tsp

allspice

1/2

tsp

cinnamon

3/4

tsp

nutmeg

1/2

jalapeño

seeded

1

avocado
Brown rice
Black or pinto beans

coconut milk

1

tsp

butter
Instructions
Mix together ingredients for jerk-BBQ sauce in a Magic Bullet or blender. Pat tofu dry with paper towel squeezing out all excess liquid.

Cut into 1/2 inch thick strips and place in plastic bag with marinade, and let sit for 30 min-1 hour.

Meanwhile, cook brown rice according to instructions with butter and water, but sub half of water for coconut milk. Once finished cooking, add black beans.

Heat olive oil on high and sear tofu equally on all sides, working to flip each to create a constant sear on each. Fry for about 10 minutes.

Prepare vegetables and plantain and stir fry on high for 5-10 minutes.