These Sriracha Meatball Lettuce Wraps are a super easy dinner that come together in 30-minutes – plus the meatballs are freezer-friendly!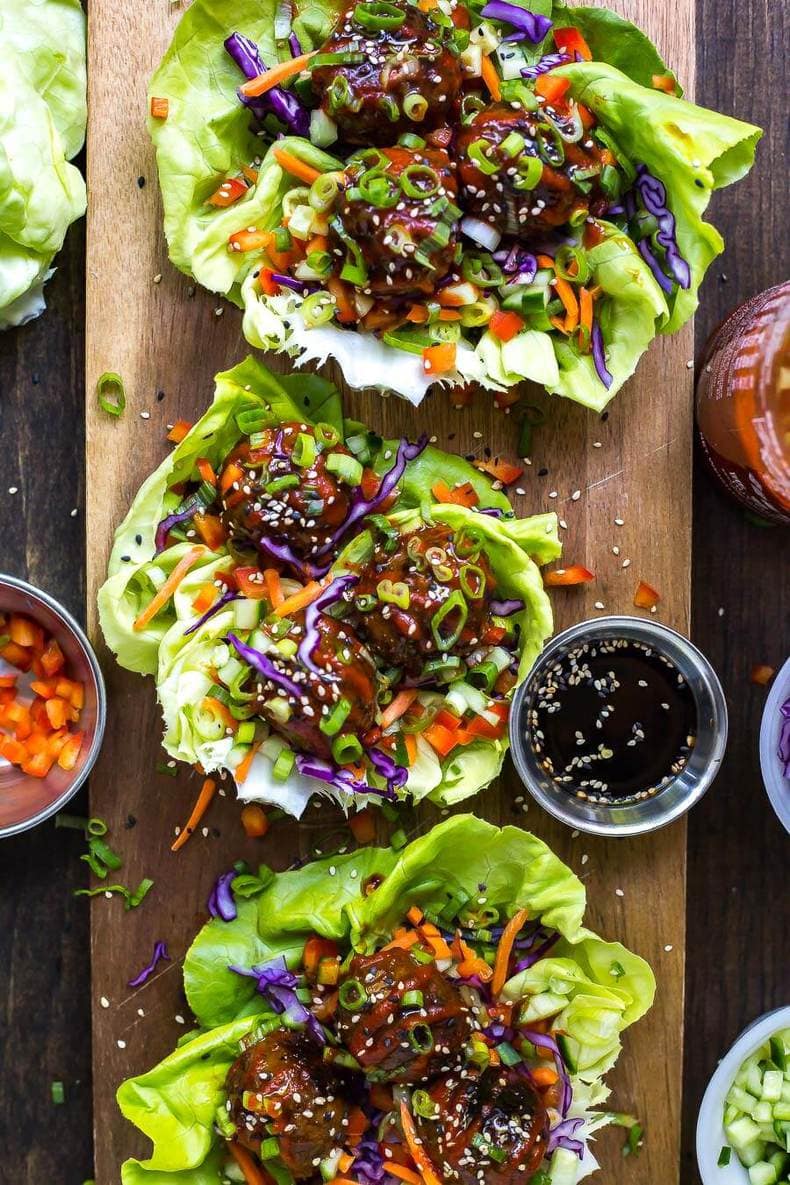 Ingredients and substitutions
Meatballs
Ground beef – ground chicken or ground turkey will give you a lean, healthier meatball.
Breadcrumbs – you can use soft bread crumbs, panko, cracker or pretzel crumbs or crushed unsweetened cornflakes instead.
Egg – plain yogurt or buttermilk can be used to bind the meatballs together.
Dried minced onion – fresh minced onion or onion powder can also work for this recipe.
Garlic powder – feel free to use equal amounts of freshly minced garlic in place of garlic powder.
Worcestershire sauce – mix soy sauce with ketchup or hoisin sauce to create an easy Worcestershire sauce substitute.
Ketchup – tomato paste on its own or mixed with vinegar and sugar can replace ketchup.
Dijon mustard – spicy brown mustard, Worcestershire sauce, honey mustard or yellow mustard would also be good here.
Salt & pepper – to taste.
Sticky Sriracha Sauce
Sriracha – use sambal oelek, or chili paste pepper instead.
Honey – agave, maple syrup or coconut nectar can be used in place of honey.
BBQ sauce – combine ketchup with mustard and brown sugar to make your own BBQ sauce.
Soy sauce – Tamari or coconut aminos are the best substitutes for soy sauce.
Toppings
Boston leaf lettuce – romaine hearts and iceberg lettuce are both great alternatives for lettuce wraps.
Red cabbage – coleslaw mix, green cabbage or Napa cabbage can be used in place of red cabbage or you can leave the cabbage out altogether.
Carrot – this topping is optional. Replace it with another topping listed, your preferred topping of choice or leave it out altogether.
Red pepper – See substitution notes for carrots.
Cucumber – See substitution notes for carrots.
Sesame seeds – to garnish.
Scallions – to garnish.
Cilantro – to garnish.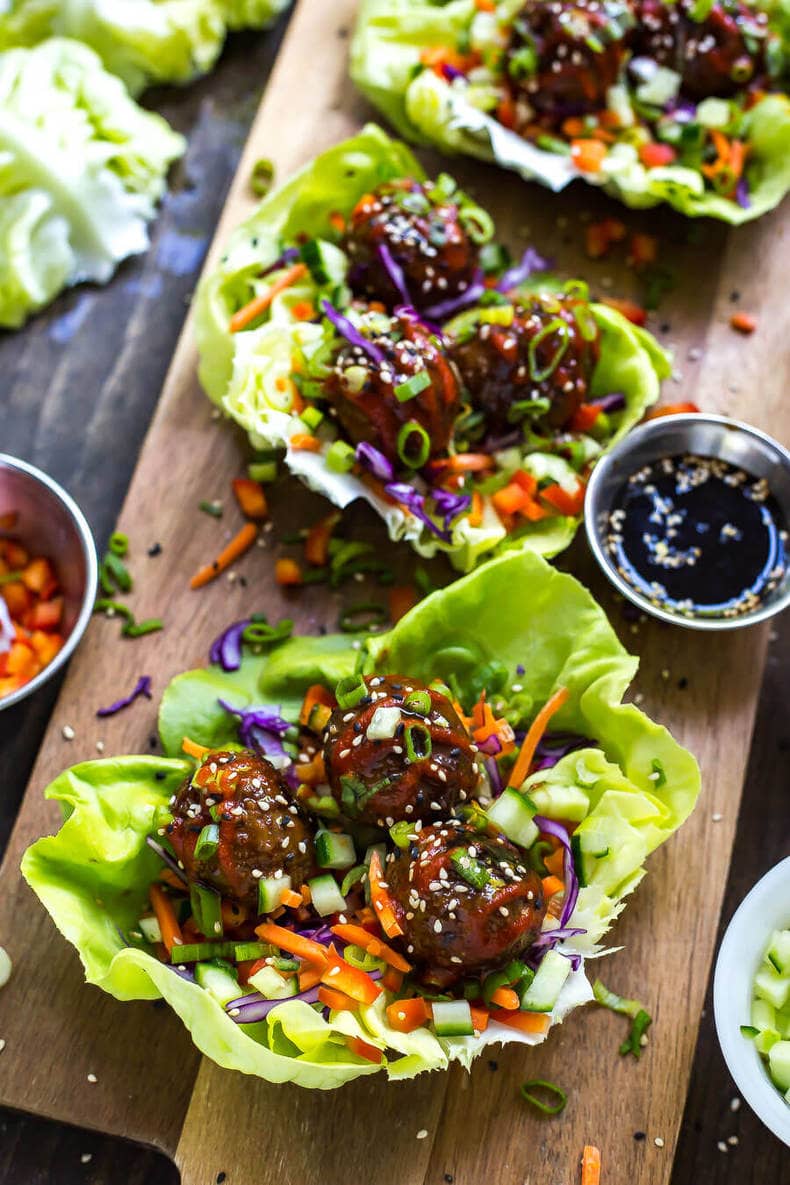 Skip the Ads and Get Right to the Recipes!
ZERO ADS on over 600 recipes!
Weekly Meal Plans, Grocery & Prep Lists
Bonus eBooks
How to make this recipe
Mix together the meatball ingredients.
Roll into 1-inch-sized balls.
Brown the meatballs.
Prepare the toppings and sauce.
Top the meatballs in the sauce.
Assemble your lettuce wraps.
Dig in!
What to serve with lettuce wraps
I personally like eating these lettuce wraps on their own for a low-carb meal – they're super filling! If you want to serve something on the side though, you can add some starch with some rice or noodles.
Frequently Asked Questions
What's the best lettuce for wraps?
I find that Boston leaf lettuce is best for lettuce wraps, but you could also try using romaine or iceberg lettuce.
Are lettuce wraps healthier than bread?
Yes! Lettuce is a healthier and low-carb alternative to bread or tortillas.
How do I keep them from falling apart?
Your lettuce wraps may be falling apart because they've gotten too soggy or you've over-stuffed them. To keep them from falling apart, I suggest assembling them fresh so the lettuce stays nice and crisp, and make sure you don't go overboard with the filling.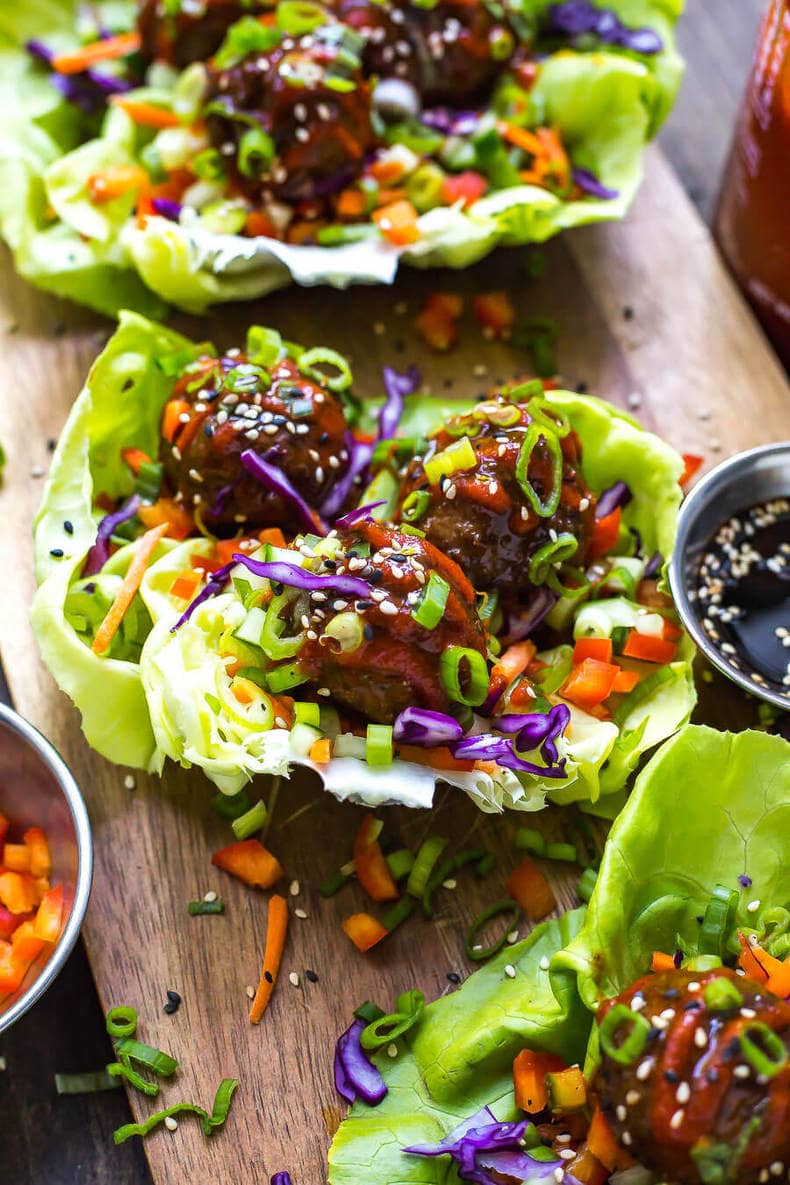 Storing and reheating
The leftovers from this recipe will last in the fridge for up to 5 days. I recommend storing the lettuce and the filling separately so that the lettuce doesn't get soggy.
You can also store the filling in an airtight container or a mason jar and store the lettuce in freezer bags or another airtight container to keep them fresh and crispy.
When you're ready to enjoy the dish, warm up your meatballs in the microwave and then assemble your lettuce wraps!
Freezing the meatballs
You can freeze the meatballs cooked or uncooked.
If you formed your meatballs and want to freeze them uncooked, put them on a tray in the freezer for about an hour so that they form their shape without sticking together or crumbling. Uncooked meatballs will last for 3 to 4 months in the freezer.
If you're freezing the meatballs after they've been cooked, let the meatballs cool completely then store them in the freezer for 2 to 3 months. When you're ready to enjoy your Sriracha meatballs, let them thaw in the refrigerator overnight before cooking.
Wanna Learn How To Meal Prep?
My meal planning service, Dinner Prep Pro, removes the guesswork and helps you get dinner on the table in 15-20 minutes each night. My meal prep checklists only take 1 hour each week!
More lettuce wrap recipes
Meal prep tools for this recipe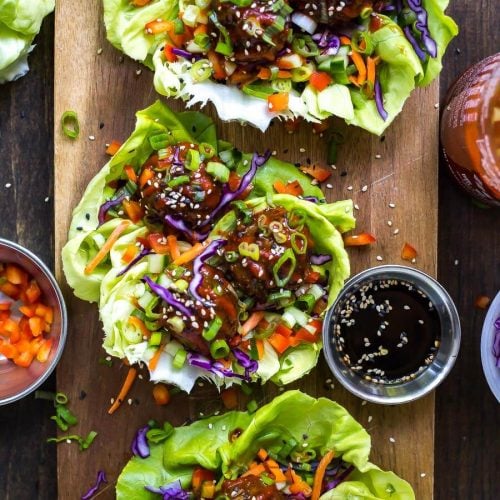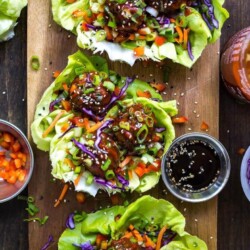 Sticky Sriracha Meatball Lettuce Wraps
These Sriracha Meatball Lettuce Wraps are a super easy dinner that come together in 30-minutes – plus the meatballs are freezer-friendly! 
Print
Pin
Rate
Click Here to Remove Ads
Servings: 4 servings
Calories: 289kcal
Ingredients
Meatballs
1 lb extra-lean ground beef
1/4 cup breadcrumbs
1 egg
1 tbsp dried minced onion
2 tsp garlic powder
1 tsp Worcestershire sauce
1 tsp ketchup
1 tsp dijon mustard
1 tsp salt
1/2 tsp pepper
Sticky Sriracha Sauce
2 tbsp honey
2 tbsp BBQ sauce
1 tbsp soy sauce
1 tbsp Sriracha
Toppings
1 head Boston leaf lettuce
1/2 cup sliced red cabbage
1/2 cup Carrot matchsticks
1/2 Diced red pepper
3 green onions, sliced
sesame seeds optional, for garnish
Instructions
In a large bowl, mix all ingredients together for meatballs and roll into 1-inch sized balls. Heat 1 tbsp olive oil in a large frying pan, then add meatballs and cook for 7-8 minutes until browned and fully cooked. Set aside or freeze for later, reheating for 2-3 min in the microwave as needed.

Meanwhile, prepare veggies, adding to lettuce leaves. If serving meatballs right away, mix together ingredients for sauce in a large bowl, then toss cooked meatballs in sauce. Top lettuce wraps with 2-3 meatballs each and serve with extra sriracha and soy sauce. Enjoy!
Notes
Boston leaf, romaine and iceberg lettuce are all best for lettuce wraps. Assemble your wraps fresh so the lettuce doesn't get soggy. Make and freeze the meatballs beforehand to save time on meal prep. Raw meatballs will freeze for 4 months and cooked meatballs for 3 months. Store any leftovers in the fridge for up to 4 days. Microwave the meatballs for a couple minutes then assemble the lettuce wraps fresh.
Nutrition
Calories: 289kcal (14%)Carbohydrates: 26g (9%)Protein: 29g (58%)Fat: 7g (11%)Saturated Fat: 3g (19%)Trans Fat: 1gCholesterol: 111mg (37%)Sodium: 1557mg (68%)Potassium: 733mg (21%)Fiber: 3g (13%)Sugar: 16g (18%)Vitamin A: 6625IU (133%)Vitamin C: 58mg (70%)Calcium: 62mg (6%)Iron: 4mg (22%)
Join The Girl on Bloor Premium!
ZERO ADS!
Weekly Meal Prep Checklists
Bonus eBooks