This Bacon Jalapeño Cheeseburger Casserole is cheesy, beefy comfort food with a spicy tomato sauce, made in one pot with burger toppings!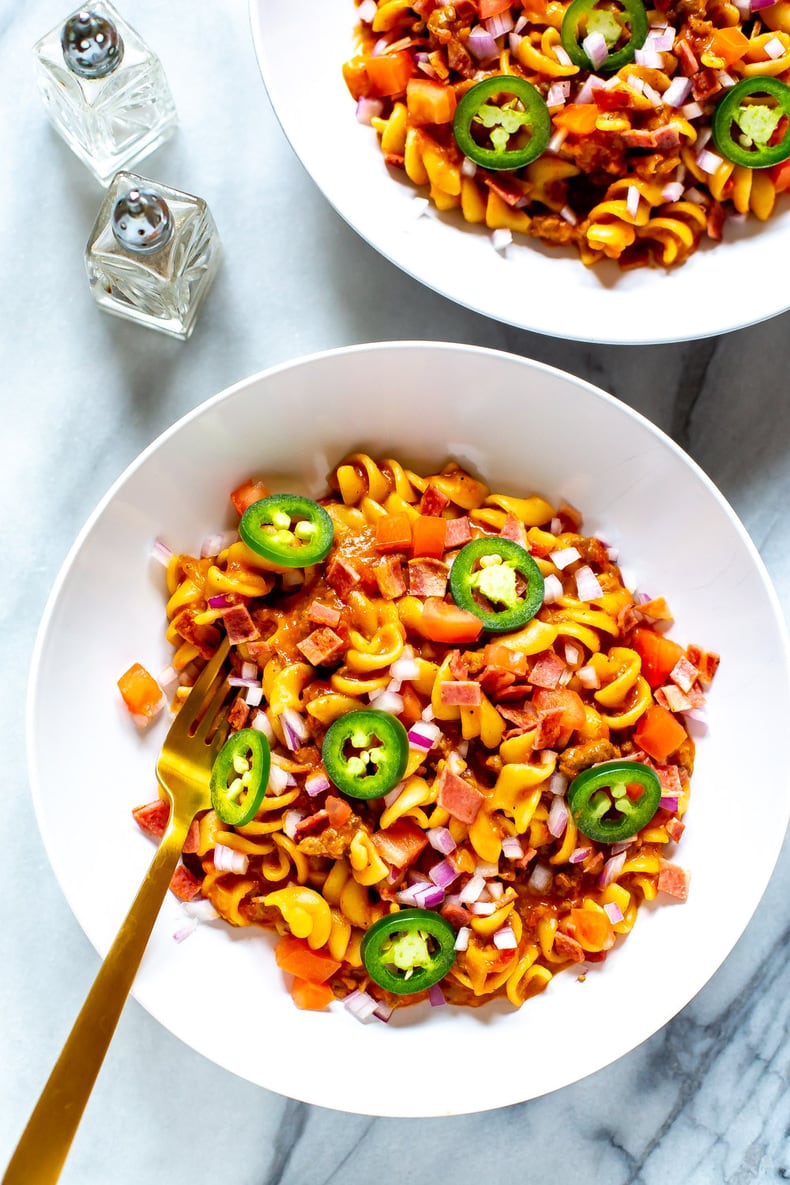 Ingredients in cheeseburger casserole
Cheeseburger casserole has all the flavors of your favorite burger on a bed of pasta instead of a bun.
I start with extra lean ground beef. This is at least 96% lean and at most 4% fat. We don't need a lot of fat to flavor the meat because of all the great tastes we will combine it with. So choose a healthier meat option when you can.
In addition to the ground meat, you will need:
Onion
Garlic
Ketchup
Dijon Mustard
Worcestershire
Tomatoes
Broth
Rotini pasta
Cheddar cheese
Skip the Ads and Get Right to the Recipes!
ZERO ADS on over 600 recipes!
Weekly Meal Plans, Grocery & Prep Lists
Bonus eBooks
How to make cheeseburger casserole
One of the greatest things about this cheeseburger casserole recipe is that it can all be made in one pot. Lots of flavors meld together this way. You end up with a dish that is just like a burger with all the toppings because they have cooked together.
Brown the ground beef with the onion
Add garlic, ketchup, Worcestershire sauce, mustard, salt and pepper
Add tomatoes, broth and pasta
Bring it to a boil, then reduce the heat and cover. Let the pasta cook completely. It will take 15-20 minutes
Prepare your toppings
Remove from heat and add the cheese, stirring well
Ingredient substitutions
This pasta dish is versatile and customizable. Let it reflect your own preferences and taste.
You can substitute any kind of ground meat. Try ground turkey, chicken or pork instead. If you want to eliminate red meat, also use chicken stock.
You can use other types of pasta – just be aware of cooking time. Thinner and smaller pasta will not take as long to cook while thick pasta will take a bit longer. Just check your casserole regularly. Most of the liquid should be absorbed. This dish should look like a casserole, not a soup.
Add any seasonings you like on your burgers to this cheeseburger casserole as well! That can include different kinds of cheese. Pepper jack will give it a bigger kick. Or you can choose a mild cheese like colby. If you're feeling really crazy, top it with some pickles!
Making it in the Instant Pot
This one pan meal can also be made in the Instant Pot.
Just like you do when making cheeseburger casserole on the stove top, you want to brown your meat first. The Instant Pot has a saute setting so you can still just use one pot.
After browning the meat and onion, put everything in the Instant Pot. Make sure that all of the noodles are submerged in the liquid. Set the Instant Pot to cook on high for five minutes. If you are using thinner or smaller pasta noodles, you will need to adjust the time down so they do not disintegrate.
For pasta you want to use a quick release. Pasta cooks quickly so you need to stop the process as soon as it's done. From there, you can remove the lid and stir in the cheese, then serve in bowls and add your toppings!
Making it in the slow cooker
You can also prepare this meal in the morning and put it in the slow cooker so it's ready to eat at dinner time. Totally hands off!
Brown the meat and onion first in a skillet
Add the meat and all the other ingredients to the slow cooker. Make sure the pasta is completely submerged.
Cook on high for three to four hours or low for five to six hours. The liquid should be absorbed without drying out the noodles
Stir in the cheese
Extra topping ideas
You can customize the toppings for this cheeseburger casserole to reflect your favorite burger. Or even set up a bar of toppings so everyone can choose their own. Some of my favorite toppings are:
Bacon
Jalapenos (or other chile peppers, depending on how hot you like it)
Tomato
Red onion
Drizzles of ketchup or mustard
Pickles or relish
Hot sauce
Parsley
Storing & reheating cheeseburger casserole
If you have leftovers, you can store them in the refrigerator for up to five days. That means you can also use it for meal prep. Just divide it into individual portions and eat it within five days for lunches or dinners.
To reheat a single serving, sprinkle some water overtop then put it in the microwave for a couple minutes and stir. Leave the toppings out until you are ready to eat it.
Freezing cheeseburger casserole
Cheeseburger casserole can be frozen for up to two months. Freeze individual portions in glass bowls with lids. You can reheat directly from frozen by sprinkling a little bit of water overtop, then microwaving for 6-7 minutes, stirring halfway through. If you freeze it in foil, you can reheat from frozen in a 375 F oven for 30 minutes or so, again stirring partway through the cooking time.
Wanna Learn How To Meal Prep?
My meal planning service, Dinner Prep Pro, removes the guesswork and helps you get dinner on the table in 15-20 minutes each night. My meal prep checklists only take 1 hour each week!
More one pot meals
Meal prep tools for this recipe
Bacon Jalapeño Cheeseburger Casserole
This Bacon Jalapeño Cheeseburger Casserole is cheesy, beefy comfort food with a spicy tomato sauce, made in one pot with burger toppings!
Print
Pin
Rate
Click Here to Remove Ads
Servings: 6
Calories: 446kcal
Ingredients
1 lb extra-lean ground beef
1 yellow onion diced
4 cloves garlic minced
2 tbsp ketchup
1 tbsp dijon mustard
1 tbsp Worcestershire sauce
1/2 tsp each salt & pepper
1 (796mL) can diced tomatoes
2 cups beef broth
2 cups dried rotini pasta
1 cup grated cheddar cheese
Optional toppings
4 slices turkey or pork bacon
1 fresh jalapeño pepper thinly sliced
1 tomato chopped
1 small red onion diced
Instructions
Heat a large saucepan over med-high heat. Add ground beef and onion, cooking for 3-4 minutes before stirring in garlic ketchup, Worcestershire sauce, mustard, and salt & pepper.

Add in diced tomatoes, beef broth and pasta. Bring to a boil before covering, reducing heat and simmering and stirring occasionally until pasta is cooked and has absorbed most of the liquid, about 15-20 minutes.

Meanwhile cook bacon (if serving) in a pan until crispy and prepare other toppings.

Remove pasta from heat and stir in cheese. Garnish with bacon, tomatoes, red onion and sliced jalapeño peppers, then serve and enjoy!
INSTANT POT INSTRUCTIONS
Turn Instant Pot to saute mode. Saute ground beef and onions for 4-5 minutes, or until beef is browned.

Add all remaining ingredients to the Instant Pot in order they are listed above, with the exception of cheese and toppings.

Cook on high pressure for 5 minutes, then do a quick release of the pressure.

Stir in cheese, then serve topped with toppings of choice. Enjoy!
Video
Nutrition
Calories: 446kcal (22%)Carbohydrates: 42g (14%)Protein: 31g (62%)Fat: 17g (26%)Saturated Fat: 8g (50%)Cholesterol: 76mg (25%)Sodium: 680mg (30%)Potassium: 816mg (23%)Fiber: 3g (13%)Sugar: 8g (9%)Vitamin A: 526IU (11%)Vitamin C: 18mg (22%)Calcium: 210mg (21%)Iron: 4mg (22%)
Join The Girl on Bloor Premium!
ZERO ADS!
Weekly Meal Prep Checklists
Bonus eBooks