This Skinny Chile Relleno recipe is a lighter version of the Mexican classic: poblano peppers stuffed with cheese topped with a spicy red sauce.  
What is in a chile relleno recipe?
An authentic chile relleno recipe typically includes these ingredients:
Poblano peppers
masa harina (corn flour)
eggs or egg whites
ground or minced meat (typically, beef)
a blend of asiago and Monterey Jack cheeses
By the way, masa harina is a traditional Mexican flour made from ground corn. Masa harina is not the same as cornmeal – one is ground maize corn while the other is ground sweet corn.
My chili relleno recipe is a more Americanized version of the traditional, skipping the corn flour coating and using Monterey jack cheese alongside a delicious tomato-based sauce to keep things simple, yet delicious!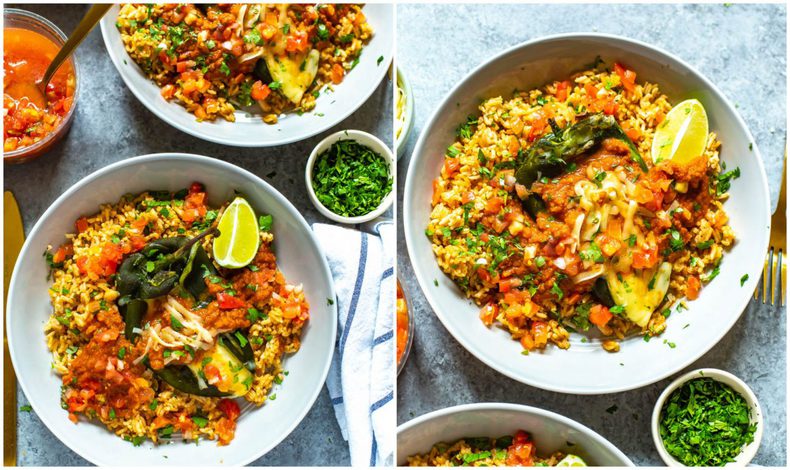 How to make chiles rellenos (step-by-step)
Making this chile relleno recipe is super easy! Here is the step by step process:
Bake the poblano peppers for 10 minutes, then flip and cook another 10 minutes
While the peppers are becoming tender in the oven, make the sauce – there are more pictures and details below to assist you with that process
Remove peppers from oven then slice down the middle – you can see how I do it with the video in the recipe card.
Gently scrape out the seeds and membranes, then fill the peppers with cheese.
Bake 10 minutes until the cheese is fully melted then serve with the sauce, Mexican rice and any other additional toppings
What peppers can I use instead of poblano?
The closest substitute to a poblano would be an Anaheim pepper. They are just slightly more spicy, but would work well in this recipe. They are similar in shape to a poblano, long and skinny, and are easy to stuff with cheese.
To turn off the heat, you could use bell peppers. However, they are sweet peppers. As a result, your chile relleno will not have the same south-of-the-border flavour.
To increase the heat for the adventure-seekers, before stuffing the poblano, combine diced jalapeno peppers into the shredded cheese mixture.
How to make the Chile Relleno sauce
While your poblanos are baking in the oven, you'll make a delicious, spicy sauce to pour overtop and enhance the flavour. Combine a can of diced tomatoes with green pepper, onion, garlic, chili powder, cumin, brown sugar and salt & pepper. Bring to a boil and simmer for 10 minutes, then blender everything up with an immersion blender.
This way you don't have to wait for your sauce to cool enough to transfer to a regular blender, and you won't have any extra dirty dishes either. You can grab an immersion blender for cheap here.
Peeling the poblano peppers
After you have baked your poblano peppers and have the sauce going, you'll want to peel the skin off the poblano peppers. to see the video, which will show you how to do this.
This is an extra optional step but it will result in a more authentic chile relleno recipe and will make the peppers much easier to cut.
After you peel the peppers, you will slice them down the middle and gently scrape out the seeds and membranes, then you'll stuff them with cheese.
What type of cheese should you use?
Traditional chili relleno recipes use a blend of Asiago cheese and Monterrey Jack cheese but to keep things simple, I just used Monterrey Jack. It's got the most flavour and often has a bit of a kick with some dried jalapeno peppers. If you're looking to cut down on the spice, I'd recommend using a milder cheese such as mozzarella or just the asiago.
How to make the Mexican rice
To add some extra fibre and protein, I've served these chiles rellenos with a Mexican-spiced rice. All you have to do to make it is add dry rice, water, butter and some spices to a rice cooker and set that to cook while you're cooking the poblano peppers and making the sauce. This way it's a hands-off process but you still get a yummy side dish!
Pick up a rice cooker here – they are also reasonably priced like the immersion blender and they are a great staple for your kitchen.
Toppings for this chile relleno recipe
You can also add some optional toppings to these stuffed poblano peppers. Here are some ideas:
Sliced avocado
Pico de gallo or salsa
Sour cream
Lime wedges
Fresh chopped cilantro
Crumbled feta cheese
What is chile relleno in English?
Chile relleno translates from Spanish as "stuffed chili." This traditional Mexican dish is a green pepper stuffed with meat and melted cheese. Poblano peppers are the most common choice. The entire pepper is covered in egg whites and mesa flour, then fried in hot oil.
As you can imagine, this flavourful dish also comes with a high amount of fat and calories.
My healthier chile relleno recipe has no meat, and is baked instead of fried. You will still get that authentic Mexican flavour while accommodating non-meat eaters with one of the best Mexican meals ever!.
Even better news is, this is a naturally gluten free recipe. The only grain in the meal is rice, and that's an optional side to serve with the chile relleno.
Is Mexican food healthy?
The Mexican dishes that many non-Mexicans are likely to think of first are tacos, chimichangas and other high fat and/or deep-fried foods.
The truth is, traditional Mexican cuisine is actually quite healthy! Many of the dishes are packed with fresh ingredients, whole grains and protein-packed beans.
What makes this Chiles Rellenos recipe skinny?
Because you're skipping the whole process of coating the poblano peppers in a flour-egg mixture and frying in a shallow pool of oil, you're saving a TON of calories and time in the kitchen.
Other Healthy Mexican Recipes
After you make the Skinny Chile Relleno recipe (and discover that you love making Mexican food at home rather than ordering out!), try some other healthier Mexican-style dishes:
I like to serve this dish with Mexican rice for an added serving of fiber. As a bonus, it will also leave you feeling full for a longer time after the meal.
Meal prep tools for this recipe
Chile Relleno Recipe
This Skinny Chile Relleno Recipe is a lighter version of the Mexican classic: poblano peppers stuffed with cheese topped with a spicy red sauce.
Print
Pin
Rate
Ingredients
4

poblano peppers

2

cups

shredded Monterrey jack cheese

Finely chopped cilantro, to serve (optional)

Sliced avocado, to serve (optional)

Lime wedges, to serve (optional)
Sauce
1

tbsp

olive oil

1

onion, diced

1

green pepper, diced

2

cloves

garlic, minced

1

(796mL) can

diced tomatoes

1

tbsp

chili powder

1

tbsp

brown sugar

1

tsp

cumin

1

tsp

paprika

1

tsp

each salt & pepper
Mexican rice (optional)
2

cups

water

1

cup

dry rice

1

tsp

butter

1

tbsp

taco seasoning
Instructions
Preheat oven to 450 F. Bake poblano peppers for 10 minutes, then flip and cook another 10 minutes.

Meanwhile, make the sauce. Add olive oil to a large pot, then add onions, green pepper and garlic, sauteeing for 2-3 minutes until softened. Add the rest of the ingredients, bringing to a boil then simmer for 10 minutes. Blend with an immersion blender then keep sauce warm on low until ready to serve.

Remove peppers from oven then slice down the middle as seen in the video below. Gently scrape out the seeds and membranes using a spoon, then fill with cheese. Bake another 10 minutes until cheese is melted.

Remove peppers from oven, then top with sauce and a little bit more cheese if desired. Garnish with cilantro, lime wedges and avocado slices (all optional but yummy!) Serve with Mexican rice or other choice of side if desired.
Optional Mexican rice
While peppers and sauce are cooking, add all Mexican rice ingredients to a rice cooker. Rice will cook automatically.
Video
Nutrition
Calories:
482
kcal
|
Carbohydrates:
52
g
|
Protein:
19
g
|
Fat:
23
g
|
Saturated Fat:
12
g
|
Cholesterol:
53
mg
|
Sodium:
414
mg
|
Potassium:
460
mg
|
Fiber:
5
g
|
Sugar:
8
g
|
Vitamin A:
1955
IU
|
Vitamin C:
121.9
mg
|
Calcium:
471
mg
|
Iron:
2.1
mg