Quick and Easy Homemade Pho
This Americanized take on Vietnamese pho soup combines ingredients you can find in your pantry at home for a delicious soup with rice noodles, beef and fresh herbs.   Jump to Recipe
Ingredients in homemade pho
Pho is one of my favourites! It's the ultimate comfort food after a long day, and the perfect cure for a cold or hangover. There's just something so comforting about a big bowl of soup! Here's what you need to make it:
onion
garlic
ginger
soy sauce
red curry paste
lime juice
sriracha
cinnamon
nutmeg
star anise
beef broth
striploin steak
rice noodles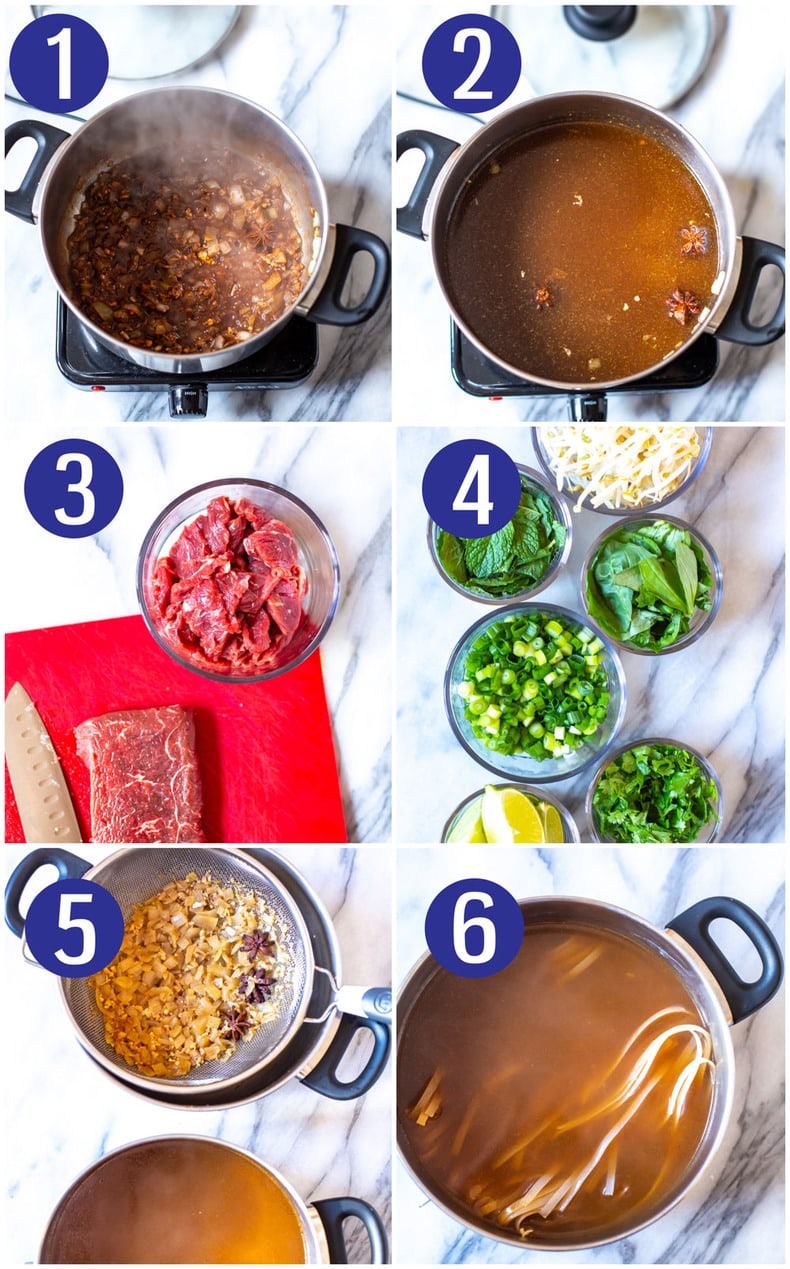 How to make homemade pho soup
This Homemade Pho is great for a cozy night in relaxing after a long day, and it's also a filling meal – I love this recipe primarily because it is so simple, easy and quick to make, and it is so versatile. Here's how you make it:
Heat olive oil in a large pot, then saute onion, garlic and ginger.
Add soy sauce, red curry paste, lime juice, sriracha, cinnamon, nutmeg and star anise, stirring to combine. Add broth, then bring to a boil. Simmer for 30 minutes with the lid on. During this time, prepare your garnishes.
After preparing garnishes, sear steak on the stove, then slice into thin strips. You can also serve the beef raw and thinly sliced.
Remove star anise from the broth, then add rice noodles, cooking for 1-2 minutes. Serve and enjoy!
Real pho vs quick pho
This broth has not been developed over a long period of time because of the convenience factor. Most traditional pho broths have you simmering beef bones for hours, along with onions, garlic, ginger and other spices. From there, you strain everything to have a clear beef broth left.
In this Americanized version, you'll use store bought beef broth as the major shortcut, and add a few extra spices and seasonings to get a quick version of pho soup. From there, you'll add in cooked or raw beef, your noodles and the toppings. I also like to keep the cooked onions, garlic and ginger in there instead of infusing and straining for the extra flavor. This pho is a good compromise over the traditional Vietnamese version!
Ingredient substitutions
Here are a few substitutions if you don't have everything you need on hand!
Spices – You can omit the star anise if you can't find it at your local grocery store. You can also omit the cinnamon, red curry paste and sriracha. Any spicy chili garlic sauce will do for some extra flavour!
Beef – You don't have to use beef for this recipe! The broth is vegetarian, so you can leave out the meat altogether or even cook and slice up chicken. Tofu is a great way to add vegetarian protein.
Noodles – You can use any noodles you'd like, or leave them out if desired. You can also use spiralized zucchini noodles. My fave alternatives are soba noodles or pre-cooked chow mein noodles.
Toppings – Feel free to use whatever toppings you'd like! I would recommend keeping the bean sprouts for some crunch though.
What is star anise?
Star anise is a dried seed pod from a fruit that has a mildly liquorice taste. Don't worry, it won't make your soup sweet! Much like the cinnamon and nutmeg, star anise lends itself well to savoury flavours and will really make your pho shine and give it that authentic restaurant taste.
It is one of the key flavours that you'll find in traditional Vietnamese pho. It may be hard to find at your local grocery store. If it is available, it will likely be at a larger grocery store in the spice aisle. You should also be able to find it at most international markets. And if all else fails, you can order some off Amazon!
What type of beef to use
The steak is best cooked rare to medium-rare since you will be essentially using it as a garnish on top of or in the hot soup, which will continue to cook the meat more. It all depends on personal preference how well done you like your meat, but I prefer a little pink in the centre.
You can also cut up the beef raw, then add it to your hot soup, which will cook it – just make sure you slice it very thinly! You can use any cut of steak for this recipe. Even a cheaper cut like fast fry beef is totally fine to use.
Toppings used in pho
I've tried to put forth one of the most basic variations of homemade pho with cilantro, bean sprouts and scallions as garnishes, but you could also use matchstick cut carrots, fresh spinach or kale, mushrooms, and many more fresh vegetables for added nutrition. I've also added a bit of lime to the broth to develop a deeper, richer flavour with a lot of kick! Thai basil or regular fresh basil are also great add-ins.
Storing and reheating this recipe
To store any leftovers, I highly recommend that you store the broth alone without any noodles, steak or toppings. This is to prevent the rice noodles from soaking up the broth, and so that you can easily reheat the soup without worrying about overcooking the veggies or beef.
You can store this pho soup as directed above up to 5 days in the fridge. Add the noodles and beef to the broth before microwaving, then reheat for 2-3 minutes until hot. Add garnishes fresh to the leftover soup.
Freezing the broth
Unfortunately you can't freeze the noodles, beef or veggies, but you CAN freeze the broth! Just freeze in individual serving sizes in glass bowls with lids. The broth will keep up to 3 months. When ready to serve, microwave the broth for 6-7 minutes, stirring halfway through. Add your beef, noodles and garnishes fresh and it's like a brand new meal!
More cozy soup recipes
Meal prep tools for this recipe
Meal prep challenge
If you'd like some more help with meal planning, then you'll love my free 5-day meal prep challenge! It's basically a free course that will teach you how to meal prep and cook healthy meals at home with some PDF bonus materials. Sign up for free below:
Print Recipe
Quick & Easy Homemade Pho
This Americanized take on Vietnamese pho soup combines ingredients you can find in your pantry at home for a delicious soup with rice noodles, beef and fresh herbs.
Ingredients
1

tbsp

olive oil

1

yellow onion

diced

2

cloves

garlic

minced

1

inch

piece of ginger

minced

2

tbsp

soy sauce

1

tbsp

lime juice

1

tbsp

sriracha

1/2

tsp

cinnamon

1/2

tsp

nutmeg

2

star anise (optional)

6

cups

beef broth

2

striploin steaks

375

g

rice noodles
Garnishes
fresh cilantro

chopped

fresh basil (or Thai basil)

fresh mint

bean sprouts

green onions, sliced

lime

cut into wedges
Instructions
Heat 1 tbsp olive oil in a large pot with fitted lid on med-high heat. Saute onion, garlic and ginger for 2-3 min, until fragrant and softened.

Add soy sauce, lime juice, sriracha, cinnamon, nutmeg and star anise stirring to combine. Add broth, bringing to a boil. Simmer for 30 minutes with the lid on. During this time, garnishes can be chopped and prepared.

After preparing garnishes, slice steak very thinly across the grain and set aside with other garnishes. Optionally, you can sear steak for 1-2 minutes per side if you don't want to add the beef to the broth when it's raw (it will cook in the hot broth if sliced thinly enough).

Drain broth into a large pot using a mesh strainer, then put pot with broth back on high heat, bringing to a boil. Add rice noodles, cooking for 1-2 minutes. If possible, remove noodles from the broth to prevent them from soaking up the broth. This is especially important if you want leftovers - store the broth and noodles separately in this case.

Serve pho in large bowls with noodles, broth, steak, and garnishes. Beef will cook as it sits in broth. Enjoy!
Nutrition
Calories:
572
kcal
|
Carbohydrates:
83
g
|
Protein:
20
g
|
Fat:
17
g
|
Saturated Fat:
5
g
|
Cholesterol:
34
mg
|
Sodium:
2130
mg
|
Potassium:
433
mg
|
Fiber:
2
g
|
Sugar:
2
g
|
Vitamin A:
591
IU
|
Vitamin C:
6
mg
|
Calcium:
60
mg
|
Iron:
3
mg