These Iced Coffee Recipes (iced vanilla latte, mocha & caramel machiatto) are AMAZING! Keep the homemade syrups in the fridge all summer!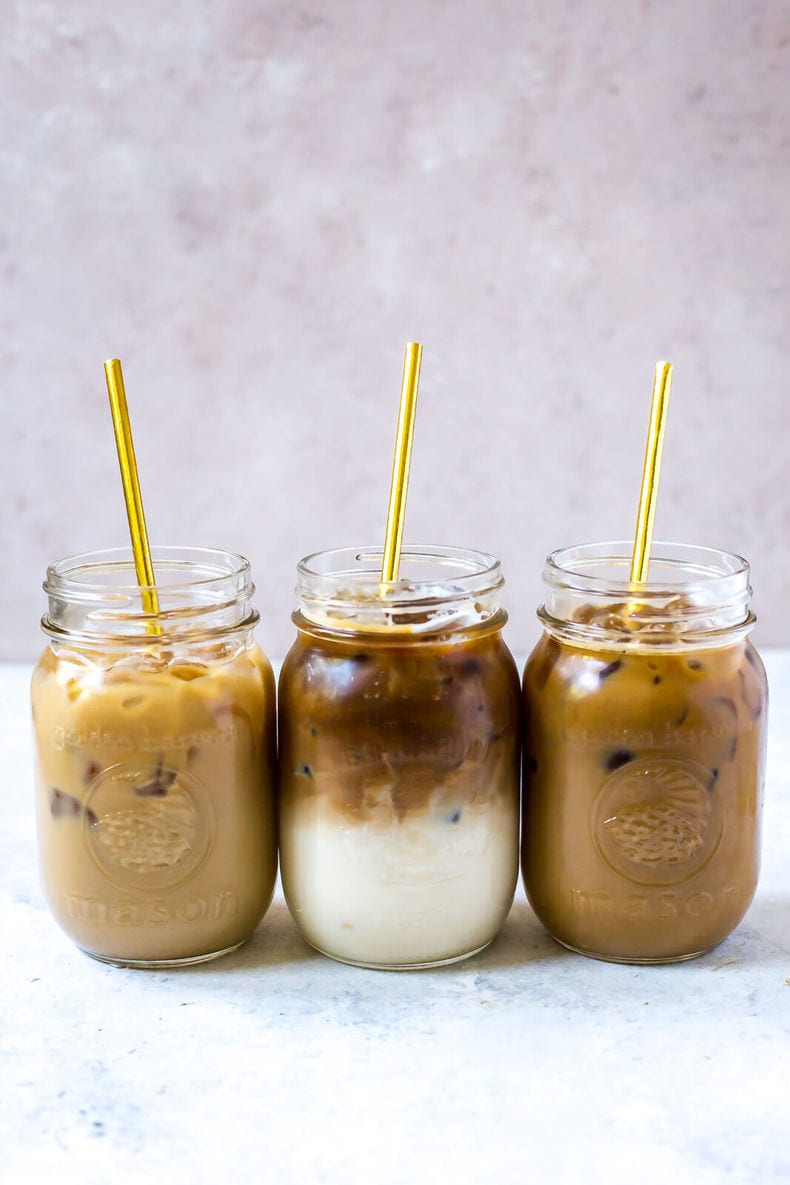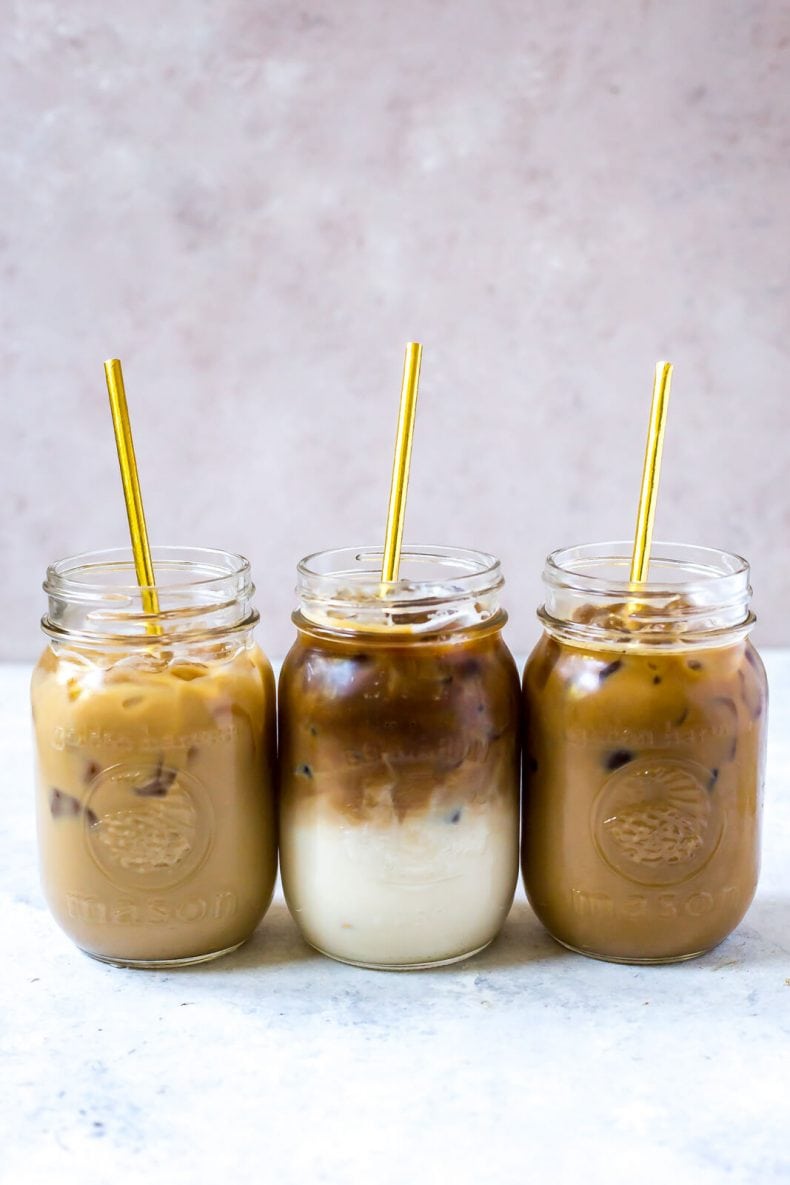 Ingredients and substitutions
Ice cubes – use crushed ice, medium-sized ice cubes or large blocks of ice.
Espresso shots – you can also used brewed coffee for a regular iced coffee.
Milk – use any dairy or non-dairy milk of your choice.
Simple syrup
Sugar – substitute for a cup-for-cup sugar substitute like stevia.
Vanilla latte syrup
Vanilla extract – pure vanilla extract, artificial vanilla extract or vanilla bean will all work.
Simple syrup – you can try just using sugar, but it won't dissolve as well.
Iced mocha syrup
Simple syrup – see substitution notes above.
Cocoa powder – chocolate syrup, chocolate syrup or Nutella would also be good variations, but will have a higher calorie count. Add some mint extract for an iced peppermint mocha!
Iced caramel macchiato syrup
Simple syrup – see substitution notes above.
Dulce de leche – if you don't have any dulce de leche at home, boil a can of sweetened condensed milk for 3 hours in a large pot of boiling water.
How to make iced coffee
Make the syrup.
Brew the coffee.
Pour everything over ice.
Serve and enjoy!
Espresso vs. brewed coffee
I don't know about you, but hot or cold, I like my coffee STRONG. To get a stronger coffee flavour, I like to pick a dark roast over a medium or blonde roast, but it all depends on your personal preference.
For these iced coffee recipes, you can use either espresso or brewed coffee. You will get that stronger coffee flavour with espresso shots, and honestly this is the way I prefer to make my iced coffee because the shots blend with the ice to create a cold liquid right away and then all you have to do is add your milk and sweetener.
Proper iced coffee using brewed coffee on the other hand takes an hour or two to chill, and who the hell wants to wait that long?! You can choose either method, but just be aware that you'll have your iced coffee in hand much quicker by using short espresso shots and pouring them over ice.
Frequently Asked Questions
Is iced coffee just cold coffee?
These iced coffee recipes aren't just regular coffee that's been left out on the counter to cool down! They're actually fresh coffee that's served over ice, so you're still drinking fresh coffee, just in a chilled form.
Is it good for you?
Iced coffee isn't necessarily healthy, but as long as you drink it in moderation and don't go overboard on the sweeteners, it's not bad for you. Just like everything else, make sure you consume it in moderation!
What should I put in my iced coffee?
What you put in your iced coffee depends on whatever you're in the mood for. I've listed three different iced coffee recipes below for you to try, but with all the different sweeteners and milks you can add, the flavour options are endless! You can also try adding in some mint extract, vanilla extract, coconut extract, coconut milk, almond milk, sweetened condensed milk, vanilla ice cream, coffee ice cubs, Nutella, chocolate milk, chocolate syrup, Kalua or Bailey's.
What type of ice is best?
Choosing the right ice for your iced coffee is key! Crushed ice is the most popular kind but you can also use medium-sized iced cubes, which is what a lot of people typically have on hand, or larger blocks of ice if you plan on drinking your coffee outside (since the ice takes longer to melt).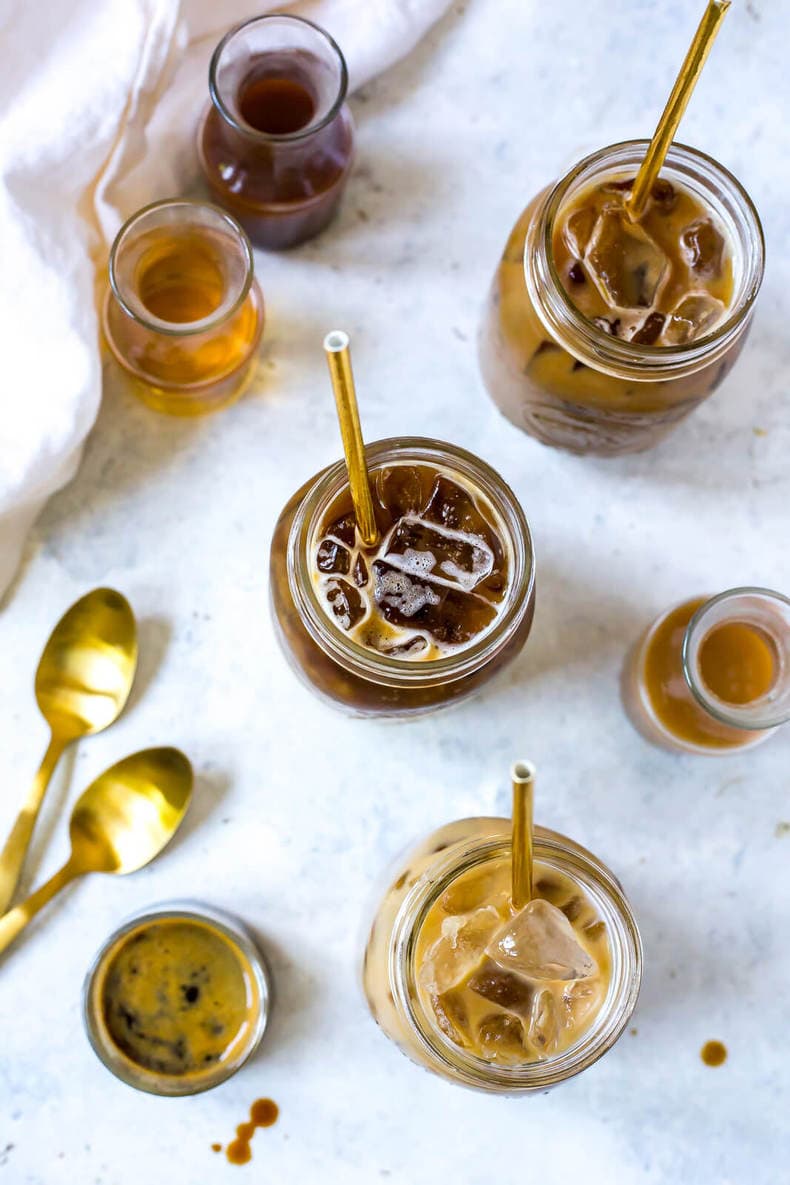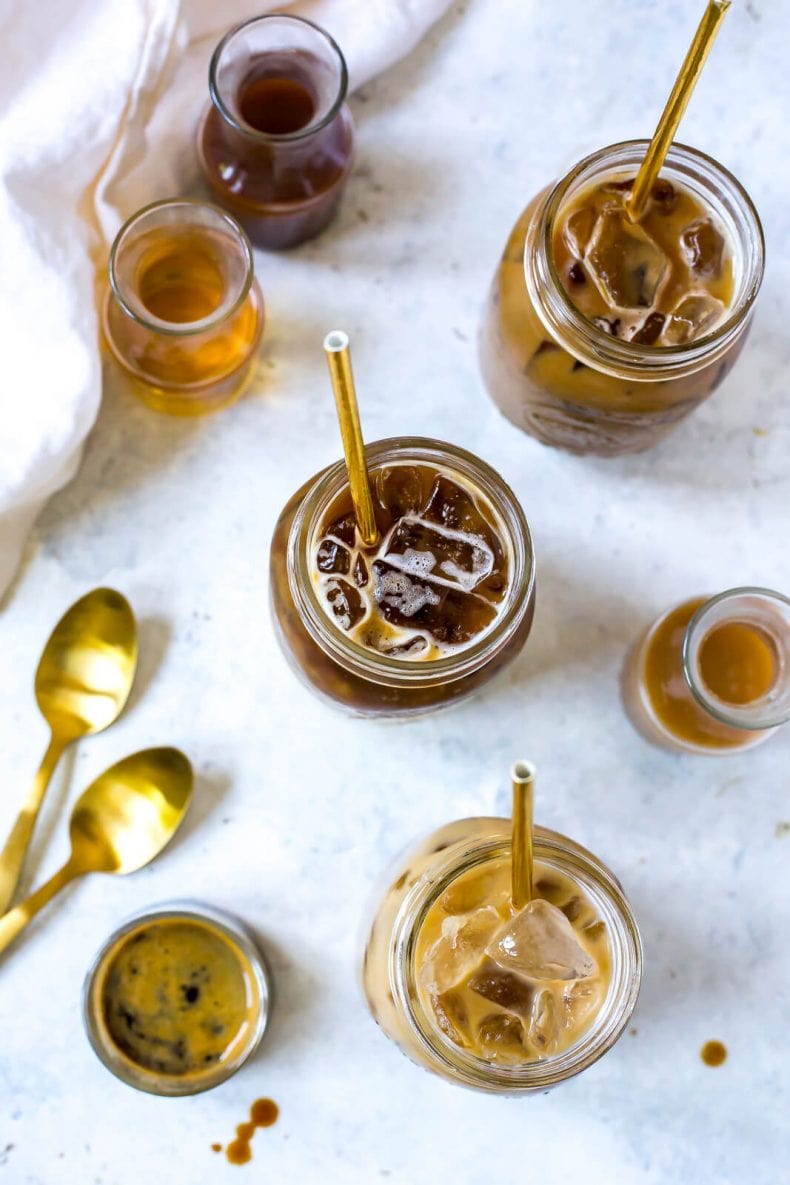 The Best Iced Coffee Recipes
These are three of my favourite iced coffee flavours. Of course, you can mix and match with different flavour options! Just stick to the basic formula of ice, coffee and flavoured syrup.
Making the Iced Caramel Macchiato

The trick to this Iced Caramel Machiatto recipe is making the rich dulce de leche caramel syrup and layering the espresso and milk; it's way easier than you think too!
Start with an empty cup full of ice, then add a couple tablespoons of the syrup. Brew your espresso, and pour it very delicately over the milk of your choice – I usually go with 2% but whole milk makes this drink extra creamy and over the top.
If you don't have dulce de leche at home (you can usually find it with the jams or in the ice cream isle of your local grocery store), simply boil a can of sweetened condensed milk for 3 hours in a large pot of gently boiling water.
Making the Iced Vanilla Latte
Vanilla lattes are so easy to make and you don't need to splurge on an expensive vanilla bean to get good flavour with this syrup. Like the rest of the syrups here, the formula is pretty straightforward. Make a plain simple syrup by mixing boiling water and sugar together, then add in your flavouring of choice.
For this vanilla latte, I used plain old artificial vanilla extract but you could use the more expensive pure extract or opt for the vanilla bean if you can find them. But really, the vanilla latte is the easiest of all to make. Like the machiatto, start with an empty cup full of ice. Brew two espresso shots and pour them over the ice, then stir in 1 cup of milk and add vanilla syrup to your taste. Yum!
Making the Iced Mocha
This chocolate iced mocha is made very similarly to the vanilla latte, and you probably already have the main ingredient at home: cocoa powder! Make the simple syrup from the Vanilla recipe above, mix in a tablespoon of cocoa, and you're good to go. Start with an empty cup full of ice, pour your espresso shots overtop, mix in some milk and some chocolate syrup. Super easy!
If you really want to take this iced mocha over the top, you could also use chocolate milk, or even add in a little mint extract to make it an iced peppermint mocha. Amazing combo right?! There are so many ways to get creative with iced coffee!
Can you store leftover iced coffee in the fridge?
Yes and no. This really depends on how much of a coffee snob you are to be honest. If you're used to a fresh brew, storing any leftovers in the fridge may not be a good idea. Cold brew typically lasts 2 to 3 days in the fridge if you've covered it properly – the flavours will last a bit longer because it's brewed cold.
However, drip coffee that has been chilled has a shorter shelf life before the robust coffee flavour starts to disappear and become stale. I wouldn't recommend keeping it for more than 24 hours. However, there will be nothing inherently wrong with the coffee other than the taste so feel free to go ahead and judge by your taste buds.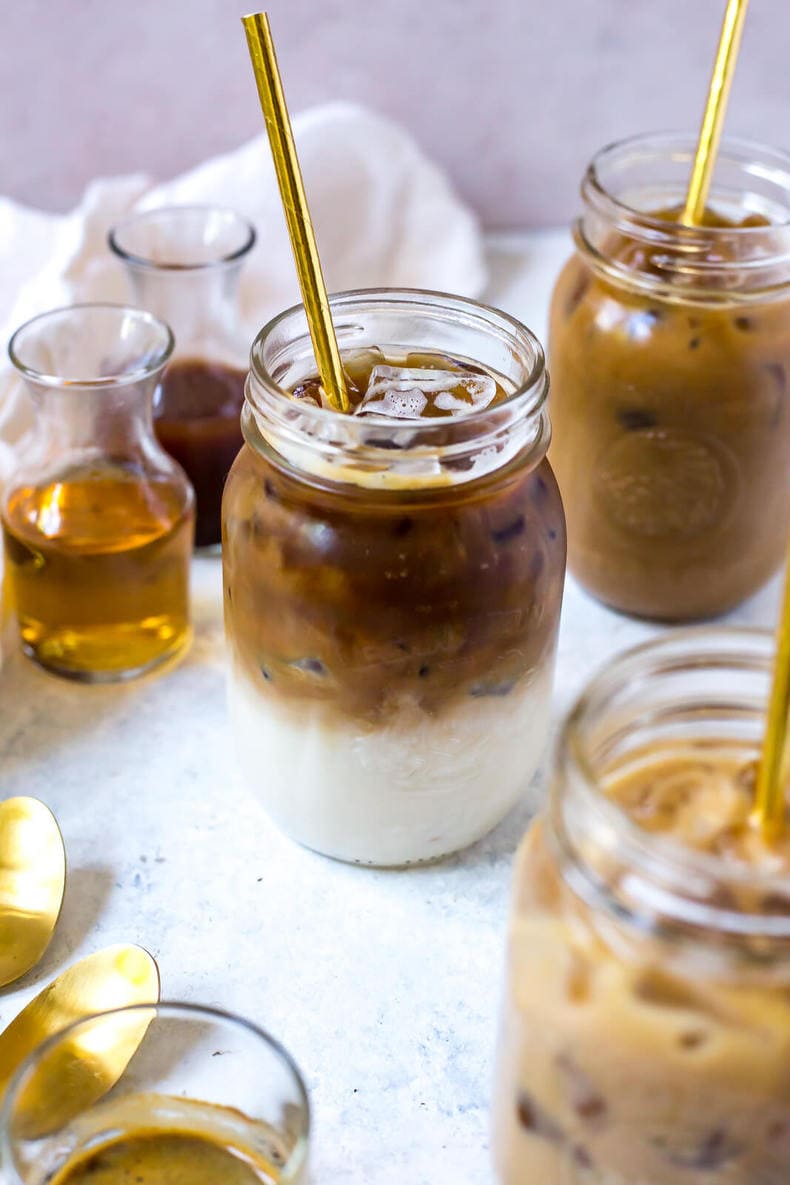 Wanna Learn How To Meal Prep?
My meal planning service, Dinner Prep Pro, removes the guesswork and helps you get dinner on the table in 15-20 minutes each night. My meal prep checklists only take 1 hour each week!
The Best Iced Coffee Recipes
These Iced Coffee Recipes (iced vanilla latte, mocha & caramel machiatto) are AMAZING! Keep the homemade syrups in the fridge all summer!
Print
Pin
Rate
IN A CYCLE OF EATING POORLY?We've got you covered with our free Routine Revamp mini course! You'll receive 8 lessons and free coaching with us! Register👇
Join Routine Revamp!
Servings: 1 drink
Calories: 91kcal
Ingredients
Iced Vanilla Latte syrup
1 cup simple syrup
1 tbsp vanilla extract
Iced Mocha syrup
1 cup simple syrup
1 tbsp cocoa powder
Iced Caramel Machiatto syrup
1 cup simple syrup
1/4 cup dulce de leche
FOR EACH DRINK
Handful of ice cubes
2 espresso shots
1/2 cup milk (I use 2% but you can use skim or whole as well!)
Instructions
For syrups
Prepare in advance: Bring 1 cup water and 1 cup sugar to a boil in a large pot on the stove. Boil for 1 minute, then divide 2 cups of the simple syrup among 2 heat-safe mason jars (1 cup of syrup in each jar).

Stir cocoa powder into 1 mason jar to make the chocolate syrup, then stir vanilla extract into another to make the vanilla syrup.

With the remaining simple syrup left in the pot on the stove, stir in the dulce de leche. You may want to turn the heat back on the stove and stir to ensure the dulce de leche gets dissolved. Pour this syrup into a third mason jar.

Let all 3 syrups cool for 30 minutes before using. Syrups can be kept in the fridge up to 4 weeks.
For drinks
Brew espresso shots using an espresso maker. Add ice to a large glass, then pour espresso shots and milk over top. Add in 1-2 tbsp syrup of your choice. Serve and enjoy!

To make the machiatto: add syrup to the bottom of a glass, top with ice, add milk and then slowly pour espresso shots over the top of a spoon to create that layered effect. Enjoy!
Notes
Try adding in different flavours like mint extract, chocolate syrup, Bailey's and more. Make your iced coffee with crushed ice, ice cubs or large ice blocks. If you're using brewed coffee, let it chill for an hour or two before pouring it over ice.
Nutrition
Calories: 91kcal (5%)Carbohydrates: 18g (6%)Protein: 2g (4%)Fat: 2g (3%)Saturated Fat: 1g (6%)Cholesterol: 6mg (2%)Sodium: 38mg (2%)Potassium: 81mg (2%)Sugar: 18g (20%)Vitamin A: 100IU (2%)Calcium: 69mg (7%)Iron: 0.7mg (4%)
Don't wait until January to eat healthy!Sign up for our free Routine Revamp mini course!
Join Routine Revamp!