These Salted Iced Coconut Milk Caramel Macchiatos are a delicious dairy-free version of your new fave Starbucks iced coffee recipe!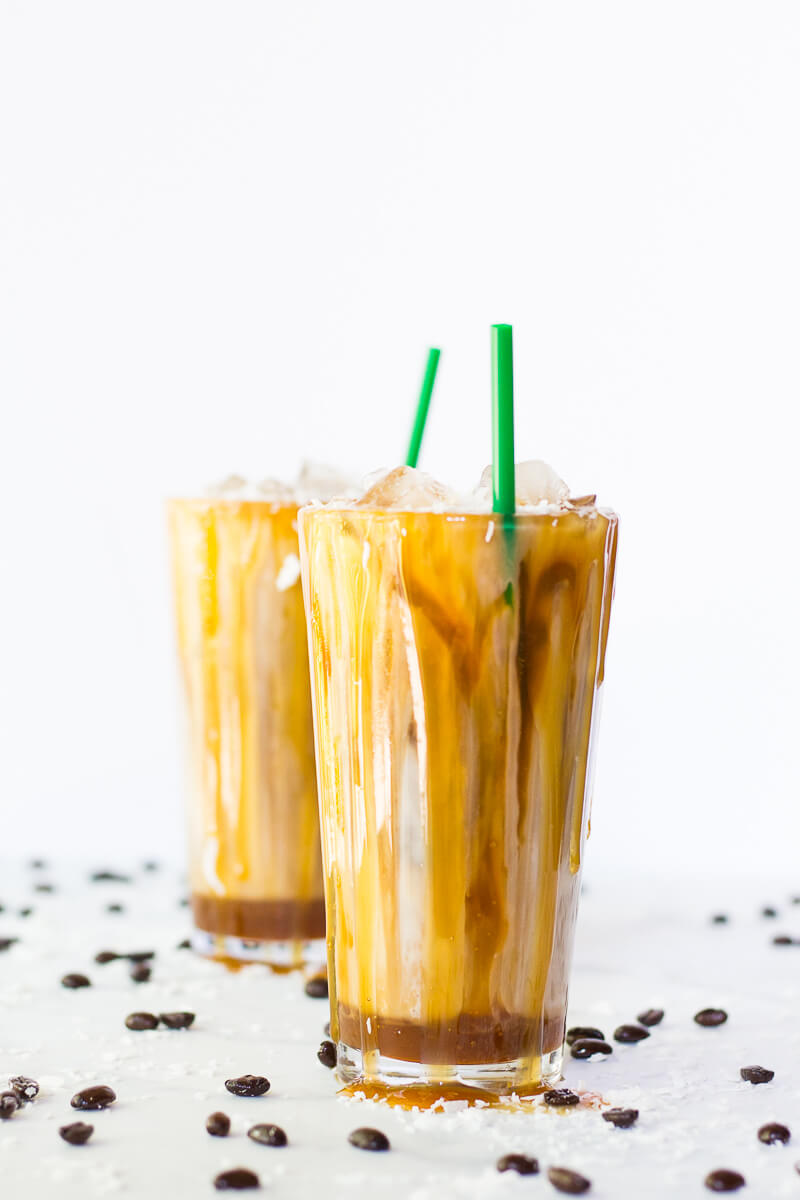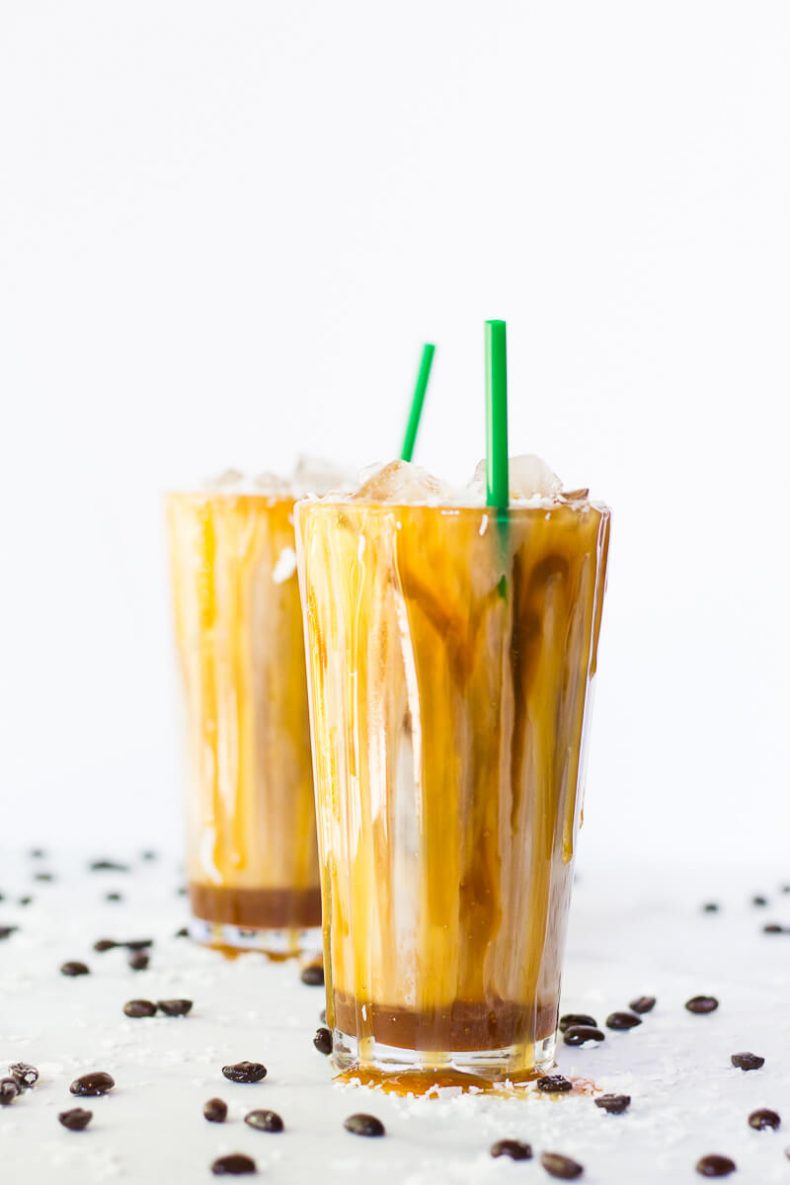 How to make iced coconut milk caramel macchiatos
Mix together the caramel syrup, divide mixture in two parts: for the bottom of the cup and for the drizzle overtop.
To your cups add caramel syrup, ice, coconut milk.
Pour espresso shot into each glass overtop of ice and coconut milk.
Drizzle with caramel syrup and sprinkle coconut flakes overtop (optional).
Serve immediately and enjoy!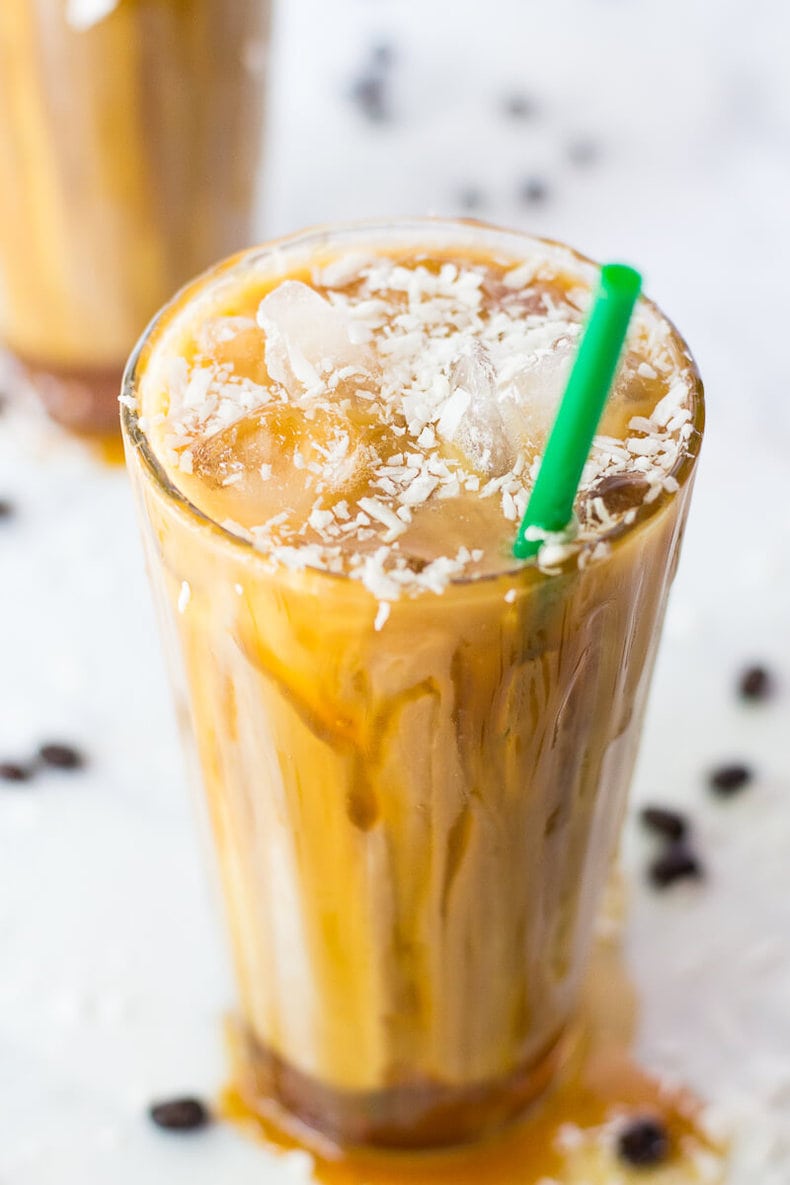 Skip the Ads and Get Right to the Recipes!
ZERO ADS on over 600 recipes!
Weekly Meal Plans, Grocery & Prep Lists
Bonus eBooks
Ingredients and substitutions
Ice cubes
Coconut milk – use coconut milk from a carton. This allows the drink to be an exact replica of the Starbucks version but feel free to use any dairy or non dairy milk of choice.
Espresso
Unsweetened coconut flakes (optional garnish)
Caramel syrup
Caramel sundae syrup – any thick caramel syrup will work for this recipe, store bought is easier.
Sugar – white sugar, brown sugar, honey or agave syrup will work. for this recipe.
Boiling water
What is in a Starbucks caramel macchiato?
Caramel macchiatos are a popular drink at Starbucks. They're listed as one of the top most purchased iced drinks and are also available as a hot beverage. Starbucks caramel macchiatos are an espresso-based coffee drink that combine espresso with milk, vanilla syrup, a creamy caramel sauce and ice (if you're getting it iced)!

What's the difference between a macchiato and a latte?
Though macchiatos and lattes are both espresso based drinks, they do have their own key distinctions that help differentiate the both of them.
Caramel macchiatos are made with a vanilla syrup, milk, espresso and a caramel drizzle. Lattes are made with espresso, milk and a caramel syrup, which is much thinner consistency than a creamy caramel drizzle.
Another key distinction between the two drinks is within how they're both prepared. A latte is made by pouring an espresso shot first which is then topped with milk. A macchiato is made by pouring milk first then topping it off with espresso.
Is this drink healthy?
With the Starbucks combination of caramel drizzle, caramel syrup and whole milk the caramel macchiato is definitely a sweeter beverage option.
My version of this drink uses a lighter caramel syrup and coconut milk to reduce both the calorie count and the sugar count. When comparing to Starbucks, a grande Caramel Macchiato with coconut milk is around 200 calories where mine is 160 calories. The grande version also has 29g of sugar where mine only has 9g of sugar. Overall, making your own is definitely a healthier option!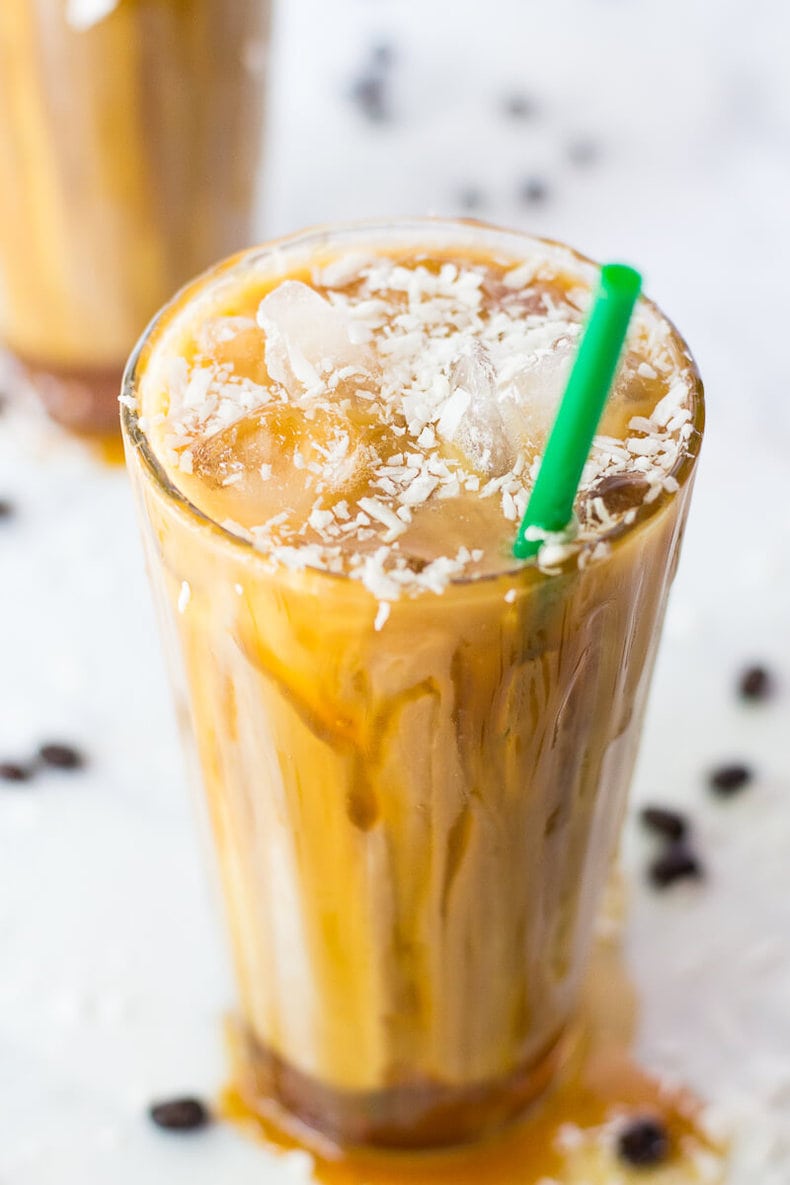 Wanna Learn How To Meal Prep?
My meal planning service, Dinner Prep Pro, removes the guesswork and helps you get dinner on the table in 15-20 minutes each night. My meal prep checklists only take 1 hour each week!
More Starbucks copycat recipes
Meal prep tools
Iced Coconut Milk Caramel Macchiatos
These Iced Coconut Milk Caramel Macchiatos are a delicious dairy-free version of your new favourite Starbucks-inspired iced coffee recipe!
Print
Pin
Rate
Click Here to Remove Ads
Servings: 2 servings
Calories: 160kcal
Ingredients
Ice cubes about 1 cup
1 1/2 cups coconut milk divided, from a carton
2 shots espresso divided
Unsweetened coconut flakes for garnishing optional
Caramel syrup
3 tbsp caramel sundae syrup
2 tsp sugar
4 tbsp boiling water
Instructions
Mix together caramel syrup, then divide mixture in half, adding each half to the bottom of two tall glasses.

Add ice, then pour about 3/4 cup coconut milk (more or less depending on your preference) to each glass.

Pour one shot espresso slowly into each glass overtop of ice and coconut milk. Drizzle with caramel syrup, then sprinkle coconut flakes overtop (if desired).

Serve immediately and enjoy!
Video
Nutrition
Calories: 160kcal (8%)Carbohydrates: 33g (11%)Protein: 1g (2%)Fat: 3g (5%)Saturated Fat: 3g (19%)Polyunsaturated Fat: 1gMonounsaturated Fat: 1gCholesterol: 1mgSodium: 107mg (5%)Potassium: 202mg (6%)Fiber: 1g (4%)Sugar: 9g (10%)Vitamin A: 27IU (1%)Vitamin C: 1mg (1%)Calcium: 97mg (10%)Iron: 1mg (6%)
Join The Girl on Bloor Premium!
ZERO ADS!
Weekly Meal Prep Checklists
Bonus eBooks