Healthy Shepherd's Pie with Carrot & Rutabaga Mash
It's time for a healthier spin on the traditional Shepherd's Pie recipe, made with ground  chicken & topped with a simple, yet hearty carrot and rutabaga mash!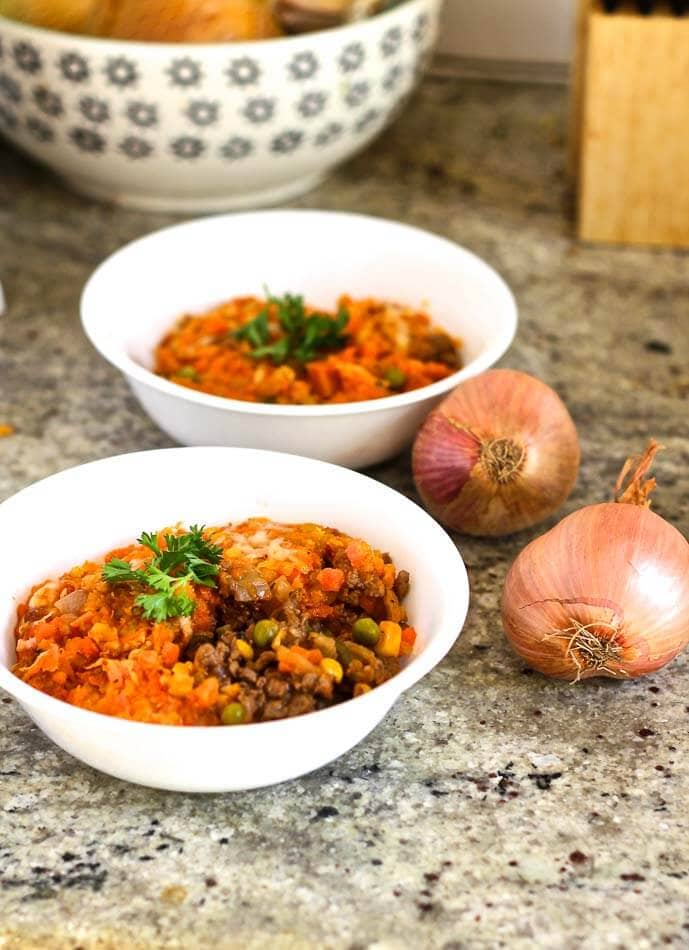 There's nothing better than curling up on the couch with a favourite classic meal from your childhood, right?
Every Christmas Eve, my mom used to make a Shepherd's Pie for us to enjoy in front of the fireplace as we were curled up in cozy blankets watching our fave movies like It's a Wonderful Life and Mickey's Christmas Carol.
With spring on the way, though, I thought it was time to put a healthier, lighter spin on the traditional Shepherd's Pie recipe and top with a simple, yet hearty carrot and rutabaga mash in place of those rich mashed potatoes.
The carrot and rutabaga mash is made much the same way as mashed potatoes are: by cutting up carrots and rutabaga, boiling for 15 minutes, and mashing with a bit of garlic and lemon juice. It is definitely a refreshing new addition to this Shepherd's Pie recipe, one I promise you will love!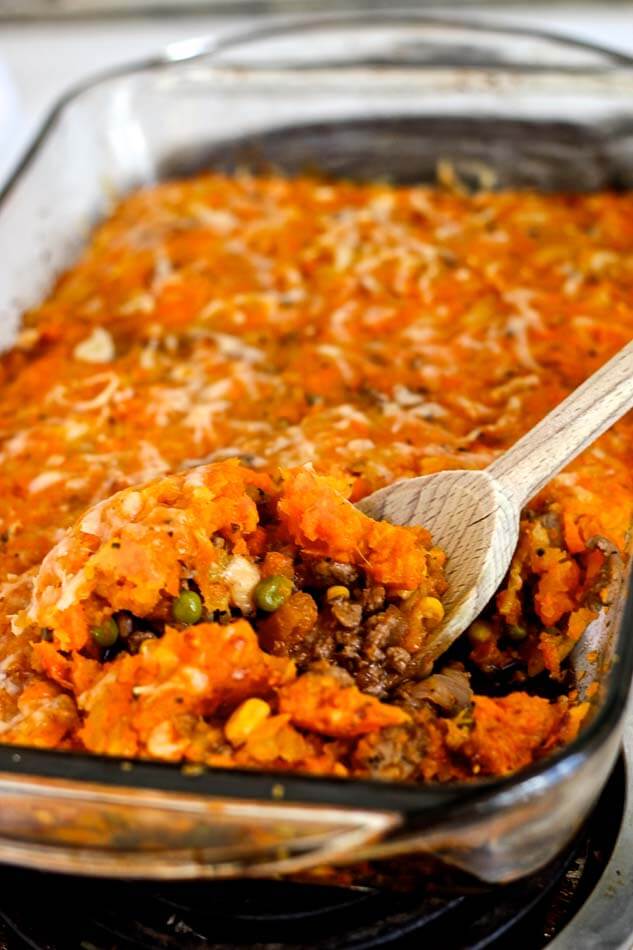 Not only is this Shepherd's Pie packed with more nutrients and vegetables than ever, but it is also gluten-free and free of red meat! I used ground chicken for this recipe, but if you're a fan of the traditional beef you can use that as well. It's really up to you! While all Shepherd's Pie recipes take a bit a time, I simplified this one by adding about half a package of Green Giant frozen vegetable mix to save a bit of time. This recipe is absolutely perfect for curling up with a glass of wine after a long day – I even use a bit of red wine in the meat mixture!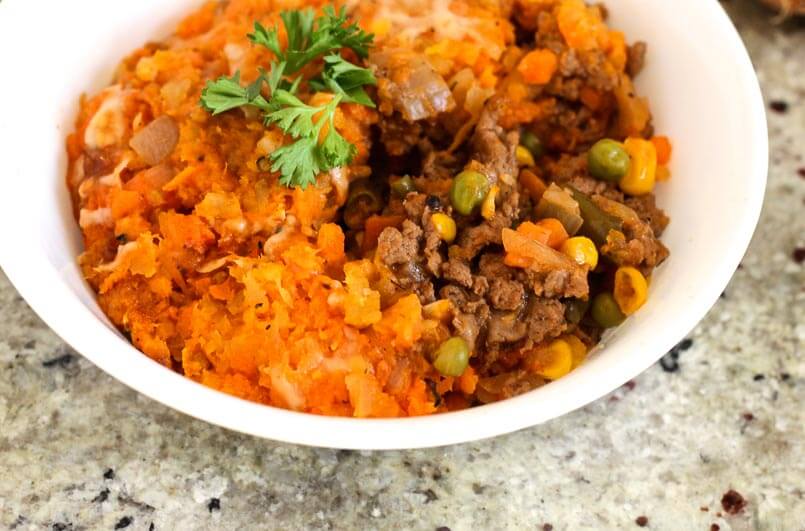 This Shepherd's Pie recipe also works great for dinner parties, pot lucks, and group dinners because it serves soooo many people, and is super tasty. I'm not trying to brag, but this ain't your grandmother's meat pie…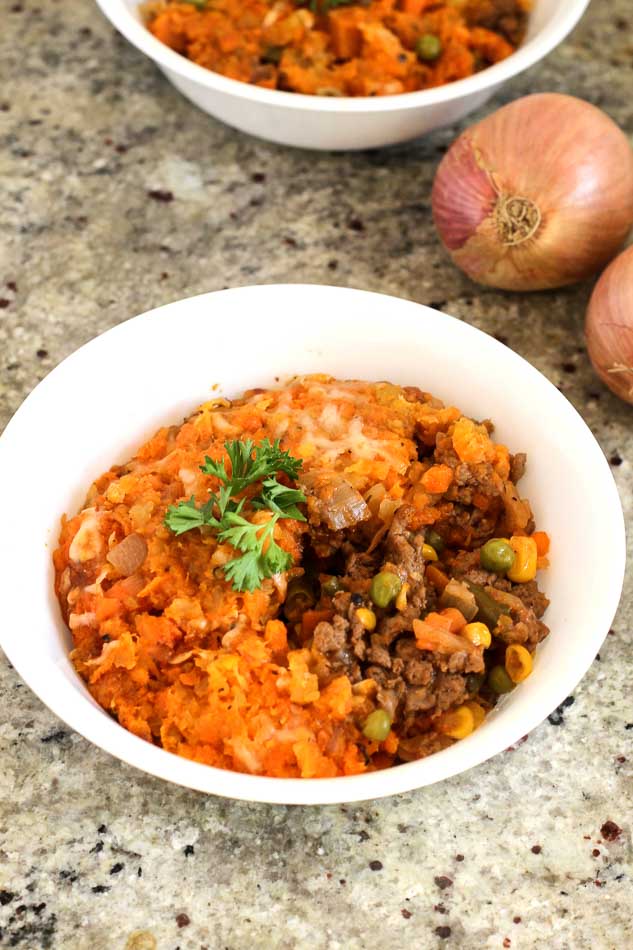 Print Recipe
Healthy Shepherd's Pie with Carrot Rutabaga Mash
This lightened up Shepherd's Pie recipe uses a carrot rutabaga mash in place of a mashed potato for added nutritional value and the same hearty taste!
Ingredients
1

pound

Ground chicken or turkey

2

cloves

garlic

chopped

2

medium-sized shallots

diced

1

tbsp

flour

1/3

cup

tomato sauce

1

tbsp

Worcestershire sauce

2

tbsp

red wine

1

tsp

Sriracha hot sauce

1/2

cup

beef/chicken/vegetable broth

1 1/2

cups

frozen vegetable mix

1 1/2

tsp

salt

1/2

tsp

pepper

Shredded cheese

optional
Carrot Rutabaga Mash
4

inch

Carrots

peeled and chopped into 1pieces

1

inch

whole rutabaga

peeled and chopped into 1pieces

1

tbsp

lemon juice

1

clove

smallgarlic

chopped

1

tsp

salt

1/2

tsp

pepper
Instructions
Preheat oven to 400 degrees. Cook carrots and rutabaga in water in medium-large saucepan, heated on high until boiling. Boil for 10-15 minutes, depending on how small you cut each piece. Check with a fork for doneness and drain.

While the vegetables are boiling, sauté garlic and shallots for 2 minutes until fragrant. Add ground chicken. salt & pepper, cooking until slightly brown but not all the way cooked. Add flour and cook for another minute. Add Worcestershire sauce, red wine, and Sriracha hot sauce, cooking for 2 minutes. Next add tomato sauce and broth of your choice, cooking until most of the liquid is absorbed and meat remains tender.

Halfway through the meat's cooking time, add the frozen vegetables, but make sure they are defrosted for the most part. Around this time, the carrots & rutabaga should be good for mashing once drained and placed back in pot. Mash vegetables with chopped garlic, lemon juice, salt and pepper.

Prepare large baking dish by adding meat mixture as the first layer, then topping with the vegetable mash. Bake for 15 minutes, adding cheese with 5 minutes left in the cooking time if desired.

Enjoy with a glass of wine and Netflix on a chilly night!
Will you be trying out this Carrot and Rutabaga mash on top of your next Shepherd's Pie? If you try any of my recipes be sure to let me know on Instagram, Twitter, Facebook or in the comments – I'd love to see what you cook up!