These Healthier Napa Cabbage Rolls are made with ground turkey, quinoa and homemade tomato sauce – they're the ultimate comfort food!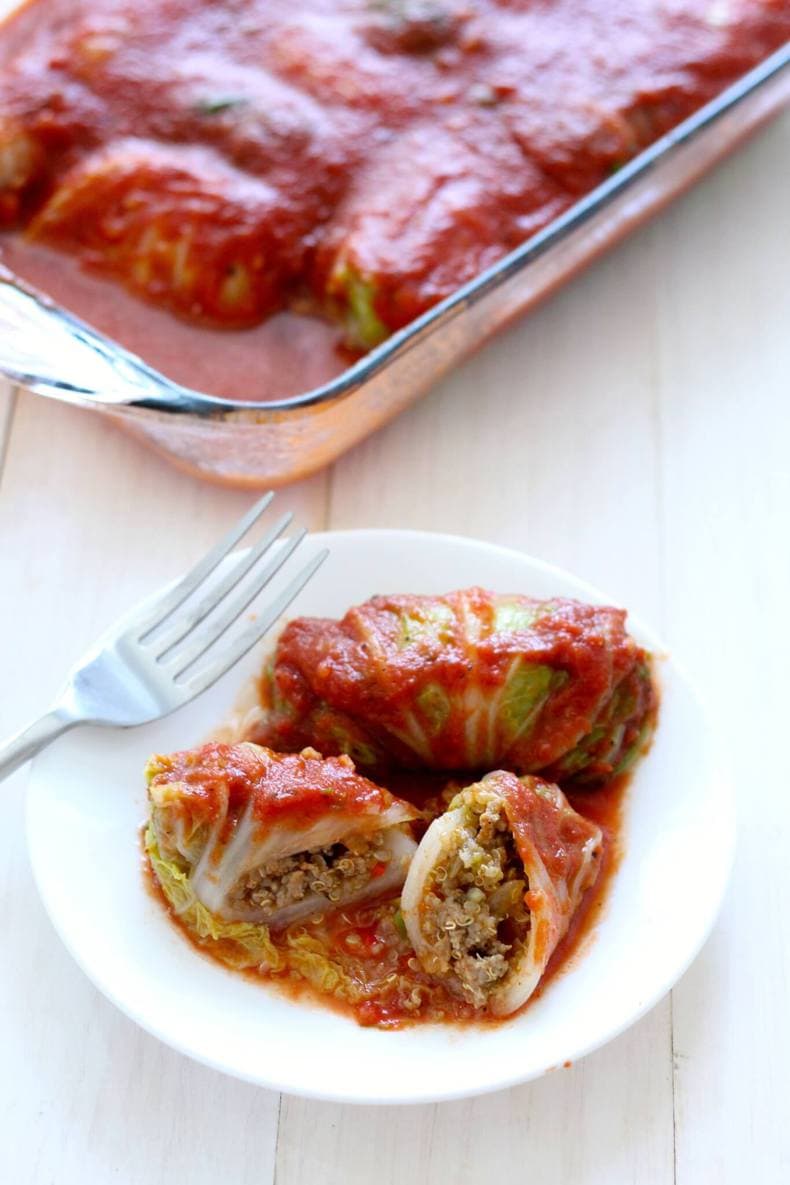 Ingredients and substitutions
Napa cabbage – red or green cabbage also work well for cabbage rolls.
Olive oil – or another neutral cooking oil such as avocado oil.
Ground turkey – ground chicken, beef or pork would be good in cabbage rolls.
Yellow onion – white onions or shallots can be used instead.
Garlic – I prefer freshly minced garlic but jarred minced garlic will work in a pinch.
Red pepper – use any colour bell pepper of your choice like yellow or orange pepper.
Dijon mustard – stone-ground mustard is the best substitute for Dijon.
Dried thyme – oregano would provide a similar flavour.
Salt & pepper – to taste.
Marinara sauce – use any store-bought tomato sauce of your choice or a homemade version.
Quinoa – make these cabbage rolls more traditional by using rice instead of quinoa.
How to make cabbage rolls
Cook the quinoa.
Sauté the meat mixture.
Soften the cabbage leaves.
Add the meat mixture to the cabbage leaves.
Roll and place into a casserole dish.
Pour the sauce over top and cook.
Serve and enjoy!
How do you roll up cabbage rolls?
I used Napa cabbage because I've heard it's easier to roll as it's more delicate. That being said, make sure you don't cook the cabbage for too long or the leaves will fall apart. Just a couple of seconds submerged in boiling water should do the trick! You can either boil some water in a kettle and leave it in a large bowl while you submerge each cabbage leaf, or you can have a pot of water boiling on the stove.
After boiling the leaves, lay the cabbage flat on a clean surface, then add 1-2 tbsp of the ground turkey and quinoa mixture. Roll from the bottom stem part, tucking in the sides gently, then place the roll in a large casserole dish. The rolls will hold up better once more are in there, so each roll will be secured.
Frequently Asked Questions
What is the best type of cabbage to use for cabbage rolls?
I used Napa cabbage for these cabbage rolls, but you can also try making them with red or green cabbage.
Can you eat Napa cabbage raw?
You can eat Napa cabbage raw, but for this recipe, you'll need to submerge the cabbage in boiling water then bake it in the oven once it's been stuffed with the meat mixture.
What should you serve on the side?
These cabbage rolls are plenty filling on their own, but if you're looking for side dish ideas, you can't go wrong with a nice salad or some steamed veggies!
Storing and reheating
The leftovers will last in the fridge for up to 5 days. To make sure your cabbage rolls taste fresh, I recommend reheating them in the oven for 15 minutes at 350° Fahrenheit. You can also reheat individual portions in the microwave for about 2 minutes or until heated through.
Can you freeze cabbage rolls?
Yes you can! The texture won't be quite the same, but this is a good freezer meal. Freeze in individual portions in glass or foil containers for up to 3 months. From there, you can reheat the cabbage rolls right from frozen.
If you're using glass containers, microwave for 6-7 minutes from frozen, gently stirring and checking on the dish halfway through the cooking time. If you're using foil containers, bake them from frozen in the oven for 30-40 minutes at 375° Fahrenheit. I find that reheating them in the oven is the best way to reduce sogginess.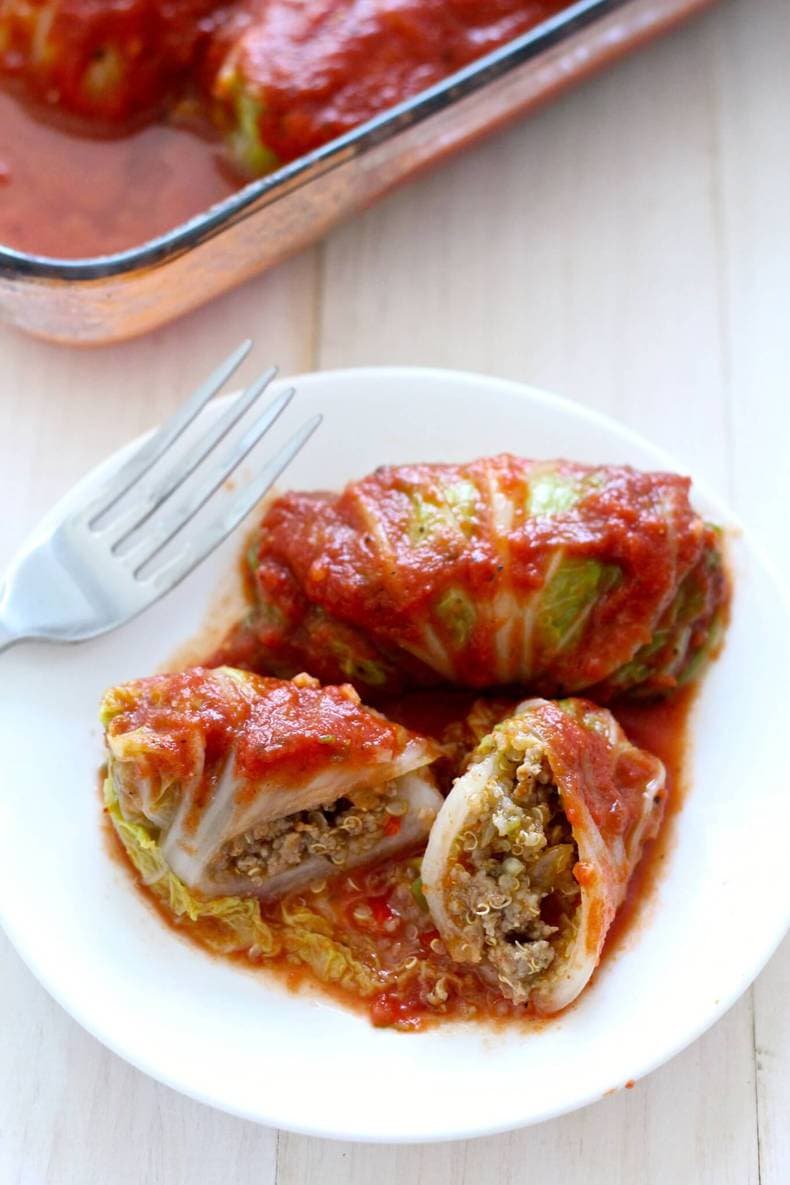 Wanna Learn How To Meal Prep?
My meal planning service, Dinner Prep Pro, removes the guesswork and helps you get dinner on the table in 15-20 minutes each night. My meal prep checklists only take 1 hour each week!
More healthy fall recipes
Meal prep tools for this recipe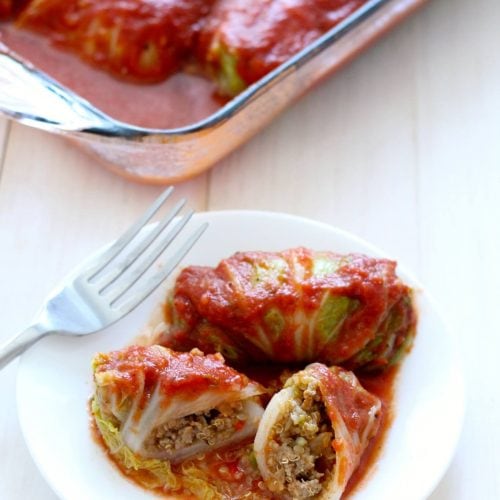 Healthier Napa Cabbage Rolls
These Healthier Napa Cabbage Rolls are made with ground turkey, quinoa and homemade tomato sauce – they're the ultimate comfort food!
Print
Pin
Rate
FEELING BURNED OUT?We've got you covered with a December self care plan! Sign up for weekly habit audits, 3 weeks of meal prep plans, weekly goal setting printables + live calls!👇
Join our December ✨Feel Good✨ Challenge!
Servings: 6 servings
Calories: 217kcal
Ingredients
Cabbage Rolls
1 head Napa cabbage
1 tbsp olive oil
1 lb ground turkey or ground chicken
1 yellow onion finely diced
2 cloves garlic minced
1 red pepper finely diced
1 tsp dijon mustard
1/4 tsp dried thyme
1 tsp salt
1/2 tsp pepper
1 (680mL) jar marinara sauce
Quinoa
1/2 cup quinoa
3/4 cup water
Instructions
Preheat oven to 375 degrees.

Combine ground turkey, garlic, onion, red pepper, mustard, thyme, salt and pepper in a large bowl. Meanwhile, cook quinoa according to package directions on the stove, or in a rice cooker.

Heat olive oil in frying pan on high, and cook meat mixture, breaking up with spoon. Saute for about 7-8 minutes until meat is fully cooked. Add cooked quinoa, remove from heat and set aside.

In a large pot of boiling water and using tongs, insert each individual cabbage leaf and submerge in water for a couple of seconds before quickly removing.

Add about 1-2 tbsp of meat mixture inside flattened out, softened cabbage leaf and roll up, placing in a large oven safe casserole dish. Repeat this until you fit about 18 cabbage rolls inside.

Pour marinara sauce over cabbage rolls, then cook for 15 minutes in the oven. Serve and enjoy!
Notes
If you can't find any Napa cabbage, try making these cabbage rolls with red or green cabbage. Store the leftovers in the fridge for up to 5 days. Reheat in the oven for 15 minutes at 350 degrees or in the microwave for 2 minutes. Freeze this recipe for up to 3 months then reheat from frozen in the oven for 30-40 minutes at 375 degrees.
Nutrition
Calories: 217kcal (11%)Carbohydrates: 22g (7%)Protein: 23g (46%)Fat: 5g (8%)Saturated Fat: 1g (6%)Cholesterol: 42mg (14%)Sodium: 881mg (38%)Potassium: 999mg (29%)Fiber: 5g (21%)Sugar: 7g (8%)Vitamin A: 1470IU (29%)Vitamin C: 73mg (88%)Calcium: 141mg (14%)Iron: 3mg (17%)