These Tuna Steak Poke Bowls are a delicious twist on the popular restaurant dish – this recipe includes fun and unusual toppings to switch it up!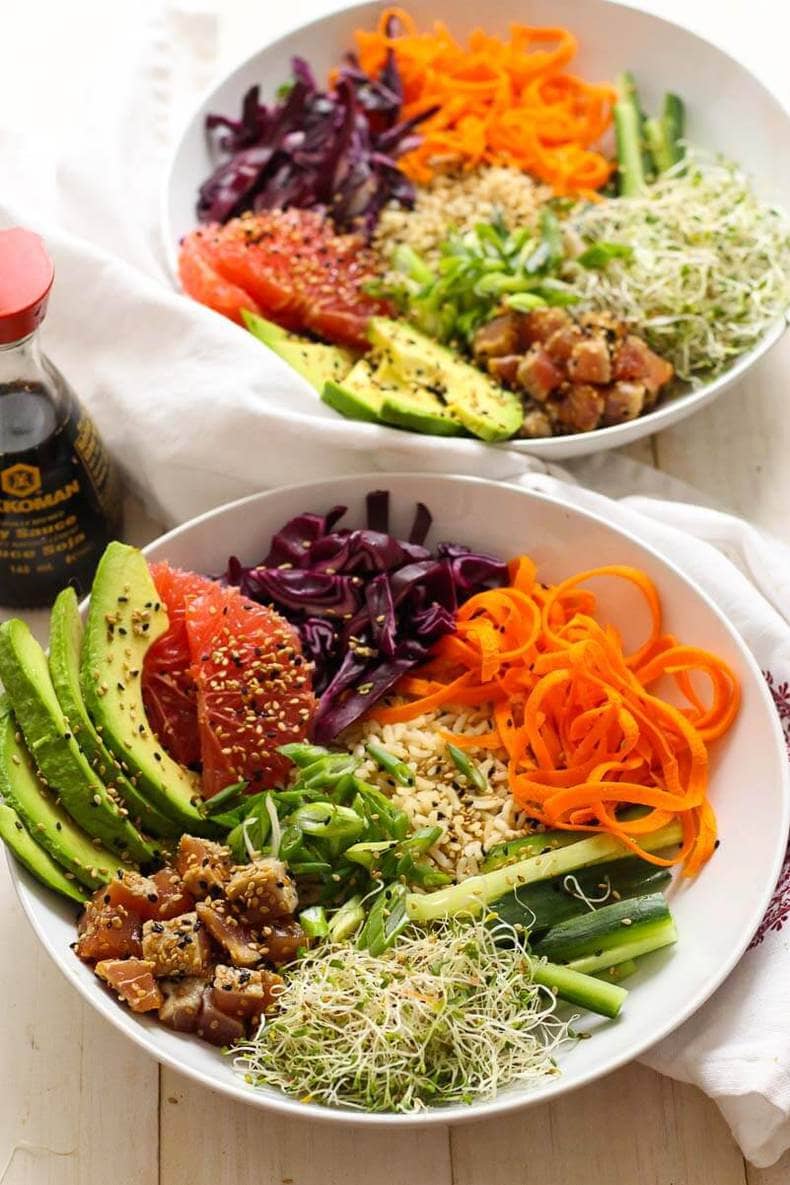 Ingredients and substitutions
Carrot – replace the carrot with another vegetable like zucchini spirals, broccoli florets or edamame.
Red cabbage – feel free to use broccoli slaw or Napa cabbage instead.
Grapefruit – mango or pineapple would also be good in these bowls. You could also just leave the fruit out altogether.
Avocado – swap out for another vegetable of your choice.
Cucumber – swap out for another vegetable of your choice.
Sprouts – swap out for another vegetable of your choice.
Green onions – use red onion or chives if you don't have any green onions.
Poke
Olive oil – any neutral oil will work in place of olive oil.
Tuna steak – sashimi grade salmon would also work for this recipe.
Salt & pepper – to taste.
Sesame seeds – both white or black sesame seeds would be a good garnish.
Soy sauce – tamari or coconut aminos are the best substitutes for soy sauce.
Habanero sauce – use the recipe below or if you're in a pinch, use a store-bought sauce. You can also replace the habanero sauce entirely with spicy mayo.
Habanero sauce
Habanero peppers – Scotch bonnet peppers can also be used.
Garlic – freshly minced garlic is best but jarred minced garlic will work in a pinch.
Vinegar – use apple cider vinegar or lemon or lime juice.
Salt – to taste.
Brown rice
Brown rice – brown rice is a healthier option but sushi rice or jasmine rice can also be used.
Butter – or another dairy-free butter substitute of your choice.
Salt – to taste.

How to make poke bowls
Cook the brown rice.
Make the habanero sauce.
Sear the tuna steaks.
Assemble your bowls and serve!

What is usually in poke bowls?
Poke bowls usually contain fish, rice, veggies and sauce. For this recipe, I used some unexpected ingredients like grapefruit and a spicy kick with the habanero sauce, but feel free to get creative with your poke bowl toppings.
Here are some more ideas of what to add to your poke bowl:
Mango
Pineapple
Broccoli slaw
Spiralized zucchini
Edamame
Wasabi mayo
Spicy mayo
Quinoa
Frequently Asked Questions
What is a poke bowl?
A poke bowl typically consists of raw or seared fish, rice and a variety of veggies. For this recipe, I used seared tuna steaks, brown rice, veggies, grapefruit and a spicy habanero sauce for added flavour.
Is this recipe healthy?
Yes! This recipe is super healthy since it consists of lean protein, lots of veggies that are full of nutrients and brown rice.
Is this dish Japanese or Hawaiian?
Poke is traditionally a Hawaiian dish, although it's inspired by sushi, which originated in Japan. It's a native Hawaiian dish that's super tasty and packed with flavour!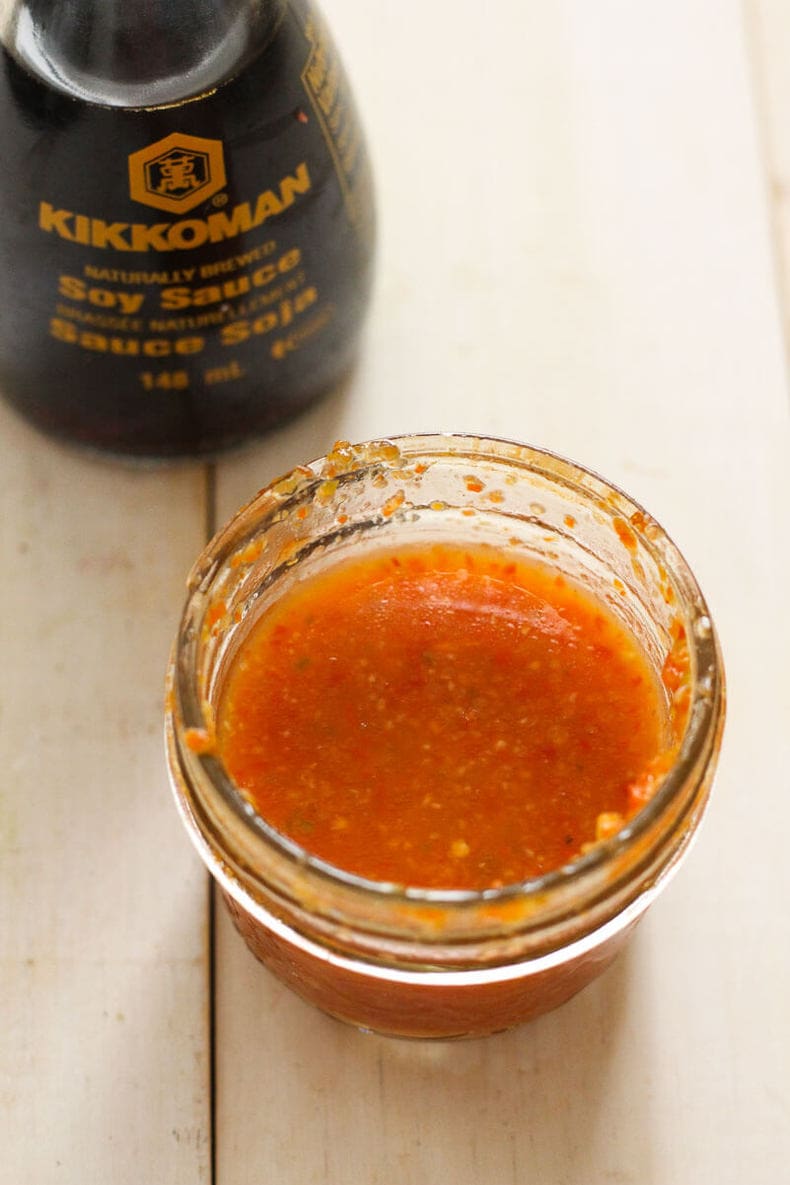 Storing and reheating
You can store this healthy poke bowl in the fridge for up to 3 days after you've made it. Store the bowls whole or separate the components and store them separately.
If you prefer to sear your tuna the next day (I only recommend this if the tuna is still very raw in the centre), then you will want to keep your tuna separately from the rest of the ingredients. Otherwise, this dish can be enjoyed cold or at room temperature.
Freezing the brown rice
Even though this isn't a freezer-friendly meal, you can freeze any leftover rice for future meals! Transfer the room temperature rice to Ziploc bags or airtight containers, then freeze for up to 1 month.
When you're ready to enjoy your rice, put it into a pan straight from frozen to make fried rice or sprinkle some water over top and microwave for 3 to 5 minutes until fully warmed through.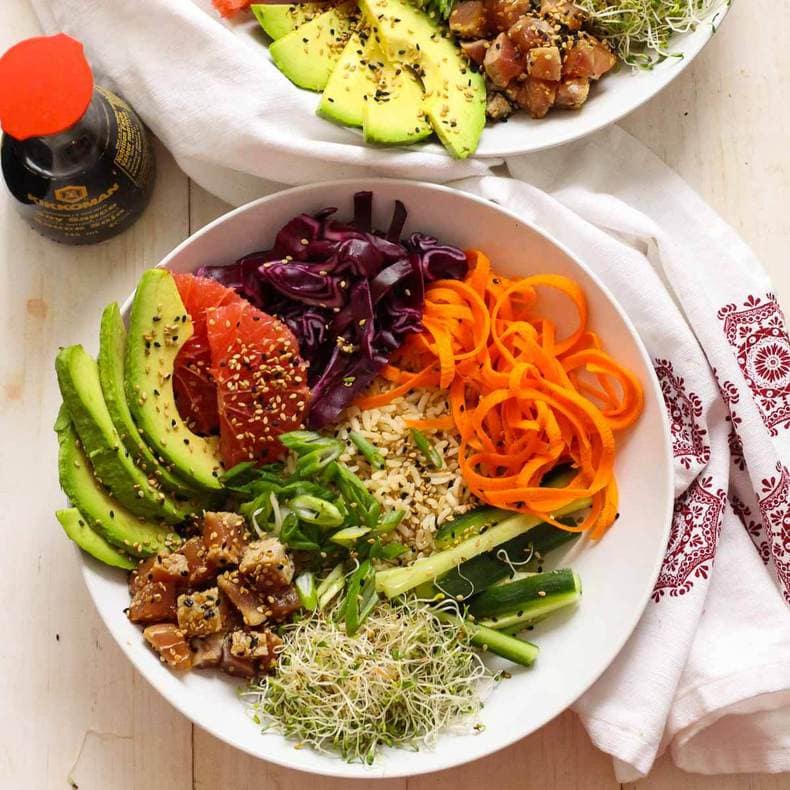 Wanna Learn How To Meal Prep?
My meal planning service, Dinner Prep Pro, removes the guesswork and helps you get dinner on the table in 15-20 minutes each night. My meal prep checklists only take 1 hour each week!
More healthy bowl ideas
Meal prep tools for this recipe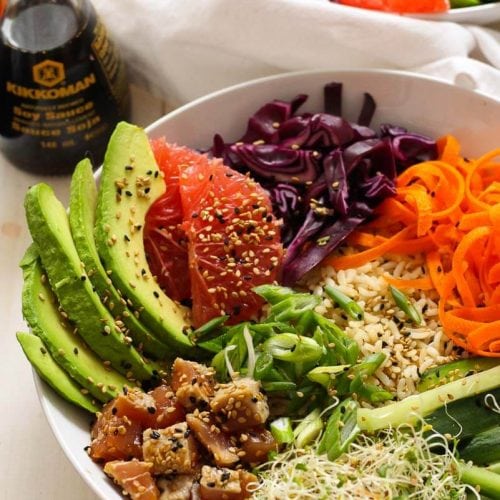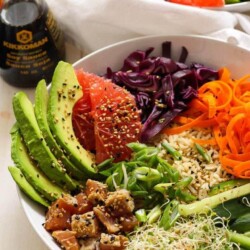 Easy Tuna Steak Poke Bowls
These Tuna Steak Poke Bowls are a delicious twist on the popular restaurant dish – this recipe includes fun and unusual toppings to switch it up!
Print
Pin
Rate
IN A CYCLE OF EATING POORLY?We've got you covered with our free Routine Revamp mini course! You'll receive 8 lessons and free coaching with us! Register👇
Join Routine Revamp!
Servings: 4 servings
Calories: 439kcal
Ingredients
1 carrot spiralized
1/2 cup red cabbage chopped
2 large slices grapefruit
1/2 avocado sliced
1/2 cup cucumber chopped
1/2 cup sprouts
4 green onions sliced
Poke
1 tbsp olive oil
16 oz tuna steak
Salt & pepper to taste
Sesame seeds for garnish
2 tbsp soy sauce
habanero sauce, to serve (recipe below)
Habanero sauce
5 habanero or scotch bonnet peppers de-seeded
1 clove garlic, minced
1 tbsp vinegar
1/2 tsp salt
Brown rice
2 1/2 cups water
1 cup brown rice
1 tsp butter
1 pinch salt
Instructions
Cook all the ingredients under the brown rice heading in a rice cooker or a pot on the stove until liquid has fully absorbed, about half an hour.

Meanwhile, season tuna steak with salt, pepper and sesame seeds, making sure tuna is coated. Make the habanero sauce by adding all ingredients under that heading to a small blender or food processor.

Divide vegetables into four large bowls. Divide cooked brown rice among each bowl, and set aside.

Heat 1 tbsp olive oil in medium frying pan over high heat. Once oil is close to smoking, add tuna, cooking for about 30-45 seconds per side.

Remove from heat and let sit for a couple of minutes before cubing and tossing with soy sauce and a pinch of habanero sauce. Divide tuna among bowls. Use additional soy sauce and habanero sauce for the rest of the bowl as well to taste, or add spicy mayo and enjoy!
Notes
Swap out the tuna steak for sashimi-grade salmon. Store these bowls in the fridge for up to 3 days. Freeze the brown rice for up to 1 month. Defrost in the fridge overnight then microwave for 3-5 minutes.
Nutrition
Calories: 439kcal (22%)Carbohydrates: 43g (14%)Protein: 32g (64%)Fat: 15g (23%)Saturated Fat: 3g (19%)Trans Fat: 1gCholesterol: 46mg (15%)Sodium: 884mg (38%)Potassium: 693mg (20%)Fiber: 5g (21%)Sugar: 2g (2%)Vitamin A: 5359IU (107%)Vitamin C: 13mg (16%)Calcium: 59mg (6%)Iron: 3mg (17%)
Don't wait until January to eat healthy!Sign up for our free Routine Revamp mini course!
Join Routine Revamp!