This Chicken Wonton Nacho Salad is a delicious, Asian-inspired spin on taco salad with a super simple, tasty sriracha-mayo dressing. The perfect lunch or dinner!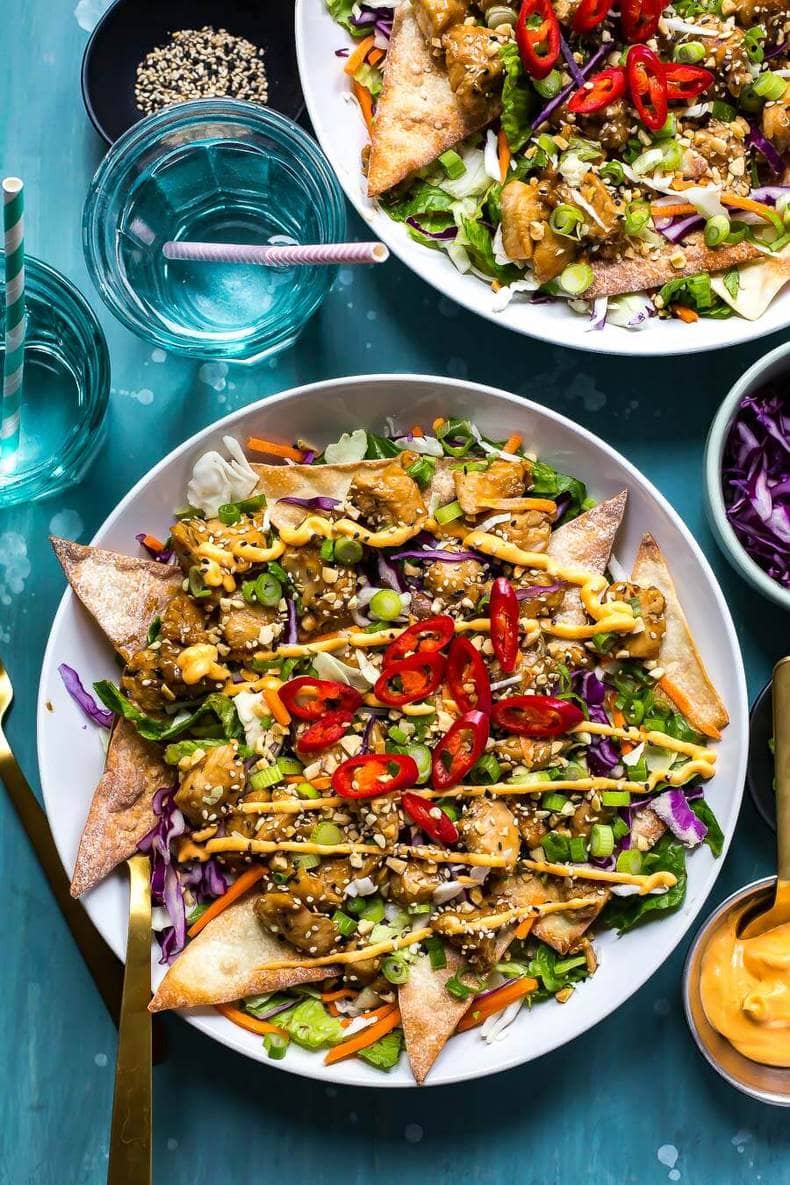 Today we're doing taco salad a little bit differently.
We're actually going to do a whole friggin twist on it entirely, and I promise you that it is beyond delicious. So delicious in fact, that I'm sure this will become your next go-to even if you're like me and are a huge fan of Mexican food.
So buckle up, and get ready for this Asian-Inspired Chicken Wonton Nacho Salad!??
This Asian-Inspired Chicken Wonton Nacho Salad is gonna make you re-think your classic nacho/taco combination and yes, it's healthy! I mean, you can count on it being at least a little bit healthier than your traditional ground beef taco salad with tortilla chips, that's for sure!
Lately I've been obsessed with Asian-inspired recipes (umm HELLO sesame steak noodle salad bowls!), especially as the warmer weather approaches. Give me delicious, savoury marinades with some fresh, crunchy veggies, lots of ginger and garlic and fresh herbs like cilantro. I'm livingggggg for this type of food right now. I just want something light and easy for dinner these days.
Maybe it's because we have such long days now that I feel I'm working even longer, and I just don't have time to cook for so long. I mean, none of us really have time to throw together a gourmet meal every single night when you really think about it. So, here's to fun, fast and easy summer dinners with fresh, wholesome ingredients.
I got you!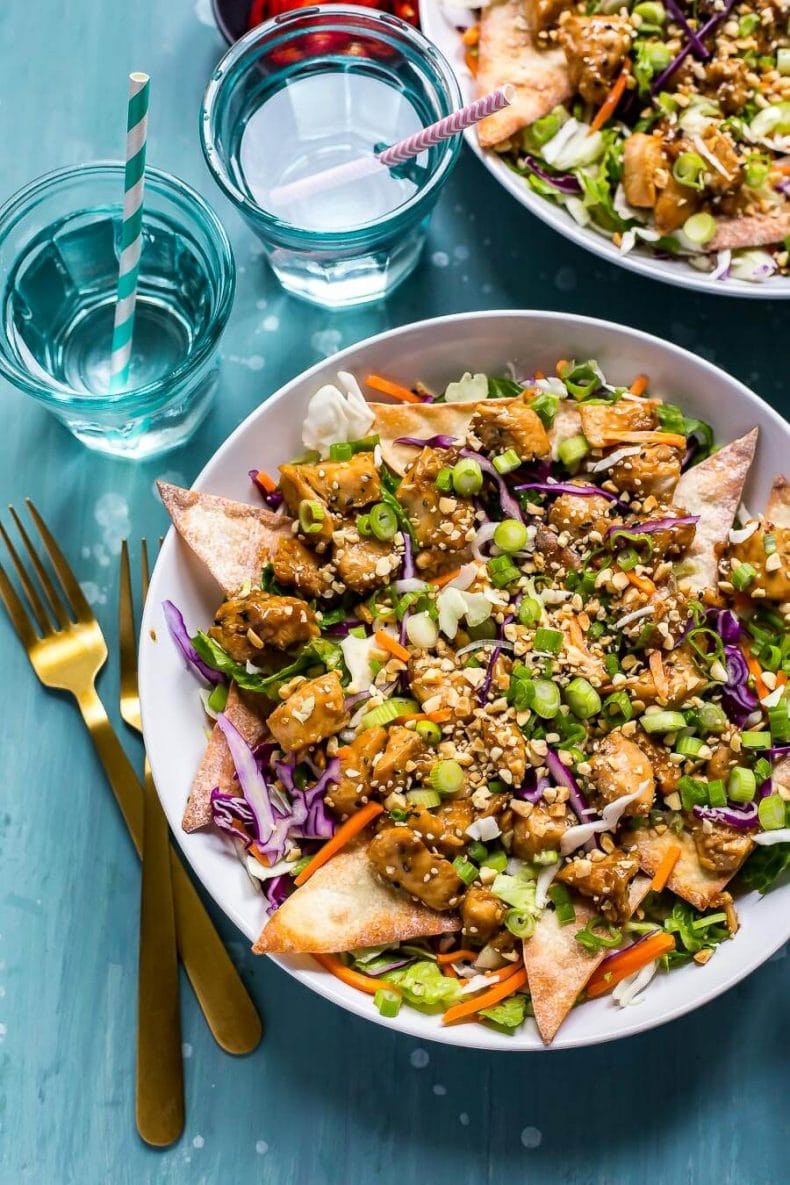 The marinade for this chicken is super simple. A little bit of sesame oil, some soy sauce, honey, ginger and garlic. Boom, done. I used boneless skinless chicken breasts here because I've always got some on hand in the freezer and diced them up, tossed them in sauce and pan-fried them, but chicken thighs would also work really great here.
Also, it's BBQ season. And this chicken would be AMAZING cooked on the grill. Seriously. Use breasts or thighs, BBQ for 15-20 minutes, then slice it all up and serve.
And before you get TOO fancy with too many veggies, I highly recommend you take as many shortcuts as possible with this Chicken Wonton Nacho Salad. Use bagged coleslaw, matchstick carrots and pre-washed romaine lettuce so the only thing you really have to do is bake the wonton triangles (takes only 1-2 minutes in the oven!) and mix up the marinade for the chicken. I'm all for making my life easier in any way I can!
The only dressing I could imagine that would be better than this sriracha mayo (made literally with two ingredients: sriracha hot sauce, and storebought mayo) one is one of my all-time favourites: carrot ginger dressing.
You know, like the kind you get at your favourite sushi joint?
OMG. So good. You know exactly what I'm talking about. And with dressings like that, you actually get a lot of fresh veggies in addition to the ones already in your salad. Less oil and processed ingredients, more fresh flavour that's better for you.
Will you be making this Chicken Wonton Nacho Salad? 
I can't deal with how much I love this recipe. Seriously, if you're looking for salads that use a ton of shortcuts but don't compromise on flavour/wholesomeness, this is the guy to whip up. No mess, no fuss, just you out on the patio with a glass of rose taking in the glorious summer weather.
Yes, I know it's still May. But I've decided it's officially summer okay?
If you try any of my recipes be sure to let me know on Instagram, Twitter, Facebook or in the comments – I'd love to see what you come up with!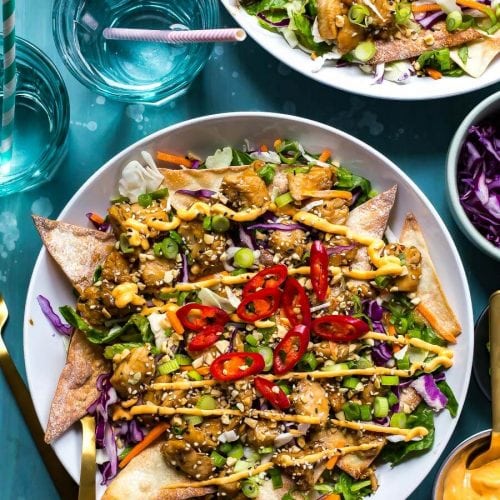 Chicken Wonton Nacho Salad
This Chicken Wonton Nacho Salad is a delicious, Asian-inspired spin on taco salad with a super simple, tasty sriracha-mayo dressing. The perfect lunch or dinner!
Print
Pin
Rate
Ingredients
2

chicken breasts (can also use 1lb thighs)

1

package

wonton wrappers

1

bag

coleslaw

1

cup

red cabbage (optional)

1

cup

matchstick carrots (optional)

1

head

romaine lettuce, chopped

4

scallions, sliced

1/3

cup

chopped peanuts

1/4

cup

sesame seeds
Chicken marinade
2

tbsp

sesame oil

1/4

cup

soy sauce

1/4

cup

honey

1

tbsp

minced fresh ginger

4

cloves

garlic, minced
Sriracha mayo dressing
1

cup

mayo

1

tbsp

sriracha
Instructions
Chop chicken into 1-inch pieces. Mix together marinade, then combine chicken and marinade in a large resealable bag. Marinate for 10-15 minutes.

Meanwhile, prepare veggies and arrange in large bowls. Mix together sriracha mayo dressing and set aside. Heat a large skillet over med-high heat and add chicken, using only half of marinade and disposing of the rest. Saute diced chicken for 10-15 minutes until fully cooked through.

Meanwhile, preheat oven to 400 F. Cut wonton wrappers in half diagonally to make triangles and spread evenly over a parchment-lined baking sheet. Bake for 30 seconds to 1 minute per side until just crispy.

Top each salad with crispy wonton chips and cooked chicken, then add scallions, chopped peanuts and sesame seeds. Drizzle with sriracha mayo dressing and serve!