This Chicken Wonton Nacho Salad is a delicious spin on taco salad with a super simple, tasty sriracha-mayo dressing. It's the perfect lunch!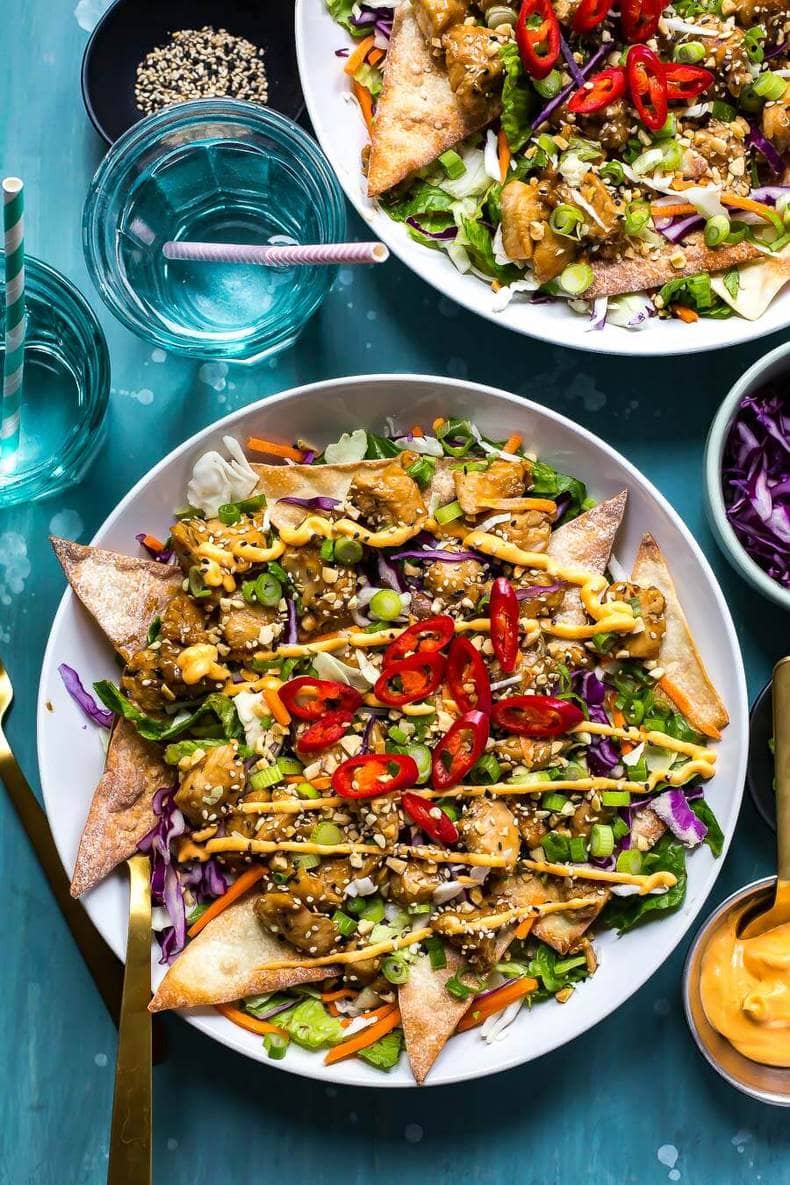 Ingredients and substitutions
Chicken breast – boneless skinless chicken thighs can be used in place of chicken breast
Wonton wrappers – egg roll wrappers can also be used in place of wonton wrappers but the texture will be different.
Coleslaw – use any coleslaw mix of your choice or your favourite greens as a base
Red cabbage – replace with any veggies of your choice.
Carrots – replace with any veggies of your choice.
Romaine lettuce – iceberg lettuce, mixed greens or another leafy green can also be used.
Scallions – green onions are a great substitute or you can leave out altogether.
Chopped peanuts – use any other nut such as almonds or cashews. You can also use any seed of choice if you have a nut allergy.
Sesame seeds – use white or black sesame seeds, or a combination of the two.
Chicken marinade
Sesame oil – or a neutral oil like peanut oil or olive oil.
Soy sauce – coconut aminos or tamari would be the best alternatives.
Honey – agave syrup, maple syrup or brown sugar can be used instead.
Ginger – fresh ginger is recommended but ginger powder will also work.
Garlic – fresh or jarred minced garlic is best but you can use garlic powder in a pinch.
Sriracha mayo dressing
Light mayo – sour cream and greek yogurt would also taste good.
Sriracha – sriracha is recommended but any chili sauce, like sambal oelek, will work great!

How to make this recipe
Chop up and marinade the chicken.
Make the dressing.
Sauté the chicken until cooked through.
Bake the wonton wrappers until crispy.
Assemble your salads and serve!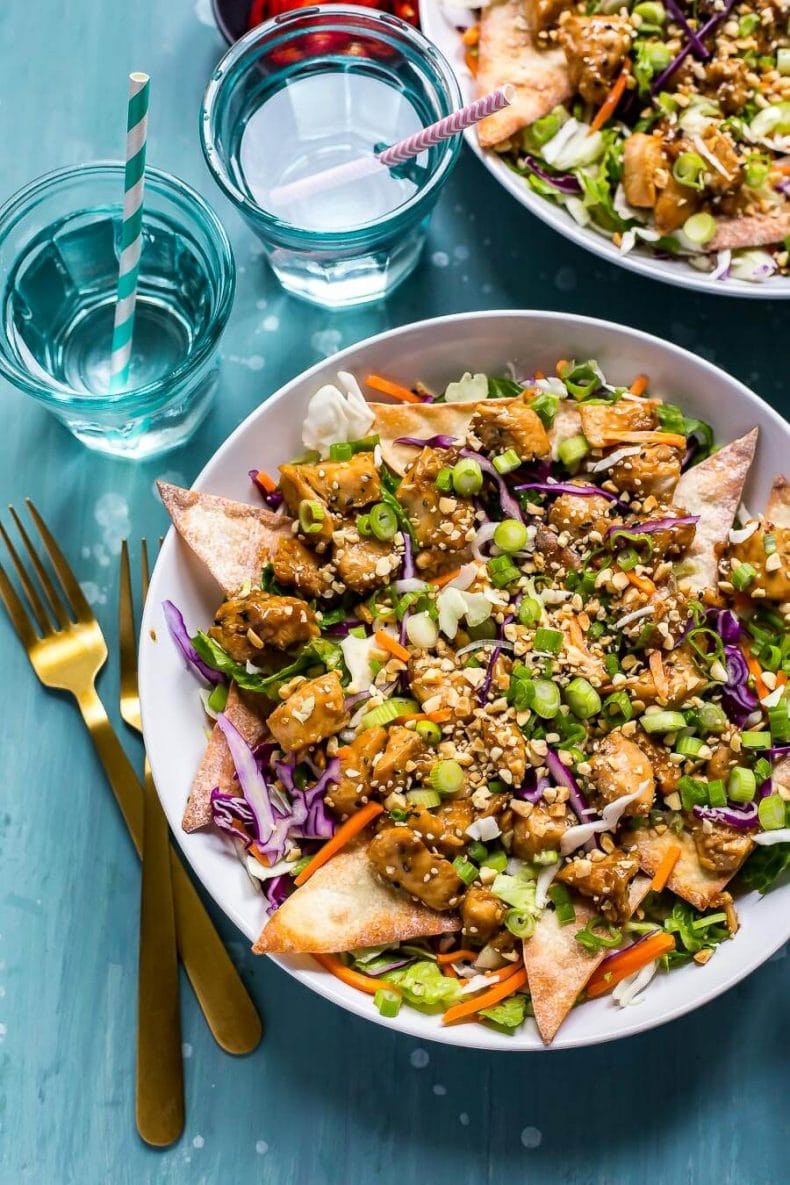 Where to buy wonton wrappers
You can find wonton wrappers in the frozen foods section of most grocery stores (normally near the dumplings). If you can't find wonton wrappers, you can also try using the packaged wonton strips or egg roll wrappers, but the texture won't be the same.
Frequently Asked Questions
What can I serve with chicken wonton nacho salad?
I like serving this salad on its own since its super filling and packed with protein. You can also leave out the chicken or cut the serving size in half and eat it as a side dish. It tastes delicious with my Chicken Stir Fry, Easy Yakisoba Noodles or even just a sandwich or wrap.
How many calories are in this recipe?
There are 444 calories per serving in this chicken wonton nacho salad. It's super filling and full of fresh veggies and protein.
Are wontons gluten-free?
Most wonton wrappers aren't gluten-free since they're made with flour, but you might be able to find gluten-free options.
Storing and reheating
Separate all the ingredients and only assemble the salad you're going to be eating fresh so that you can keep everything else separate and as fresh as possible. If you're hoping to reheat the chicken, make sure to store that separately from the greens. If you think you'll end up with leftovers, you may want to leave the baked wonton wrappers off of the salad and serve as you eat them, since they may get soggy if stored in the fridge. You can store all the ingredients separately in the fridge for up to 5 days.
When you're ready to eat, sprinkle some water over top of the chicken and reheat in the microwave for 2-3 minutes, then assemble your salads fresh.
Freezing leftover chicken
To prep this salad even faster, you can cook and freeze the chicken in advance for up to 3 months. Once you have cooked the chicken, just allow it to cool down, then store it in a freezer-safe Ziploc bag or an airtight meal prep container.
The day before you are ready to make the dish, place the container of frozen chicken in your refrigerator to thaw. It's perfectly safe to eat chicken cold when it is in a salad but I recommend warming it for a better taste.
To reheat the thawed chicken, heat your oven to 350 F and bake the chicken for 20-25 minutes, sauté it in a pan on the stove for a few minutes or microwave it for a couple of minutes. Regardless of the method you choose, make sure you sprinkle some water over the chicken first to prevent it from drying out.
Wanna Learn How To Meal Prep?
My meal planning service, Dinner Prep Pro, removes the guesswork and helps you get dinner on the table in 15-20 minutes each night. My meal prep checklists only take 1 hour each week!
More healthy salad recipes
Meal prep tools for this recipe
Grab some glass meal prep bowls if you plan on storing any leftovers.
I get all my free-range chicken from Butcher Box, conveniently delivered to me frozen.
Get a meat thermometer to make sure your chicken is cooked through.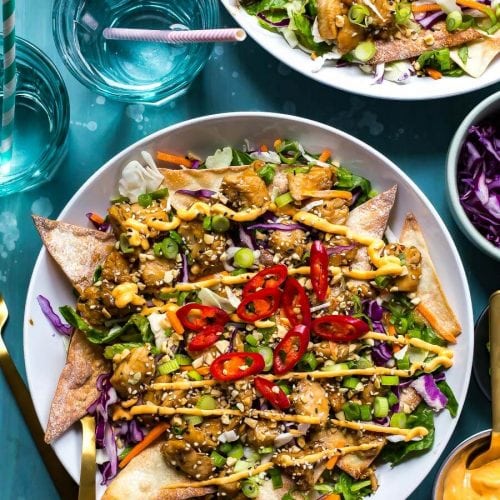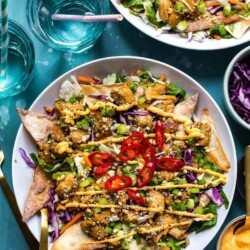 Chicken Wonton Nacho Salad
This Chicken Wonton Nacho Salad is a delicious spin on taco salad with a super simple, tasty sriracha-mayo dressing. It's the perfect lunch!
Print
Pin
Rate
IN A CYCLE OF EATING POORLY?We've got you covered with our free Routine Revamp mini course! You'll receive 8 lessons and free coaching with us! Register👇
Join Routine Revamp!
Servings: 6 servings
Calories: 444kcal
Ingredients
1 lb chicken breasts (can also use 1lb thighs)
1/2 package wonton wrappers
1 bag coleslaw
1 cup red cabbage (optional)
1 cup matchstick carrots (optional)
1 head romaine lettuce, chopped
4 scallions, sliced
1/3 cup chopped peanuts
1/4 cup sesame seeds
Chicken marinade
2 tbsp sesame oil
2 tbsp soy sauce
2 tbsp honey
1 tbsp minced fresh ginger
4 cloves garlic, minced
Sriracha mayo dressing
1/2 cup light mayo
1 tbsp sriracha
Instructions
Chop chicken into 1-inch pieces. Mix together marinade, then combine chicken and marinade in a large resealable bag. Marinate for 10-15 minutes.

Meanwhile, prepare veggies and arrange in large bowls. Mix together sriracha mayo dressing and set aside. Heat a large skillet over med-high heat and add chicken, using only half of marinade and disposing of the rest. Saute diced chicken for 10-15 minutes until fully cooked through.

Meanwhile, preheat oven to 400 F. Cut wonton wrappers in half diagonally to make triangles and spread evenly over a parchment-lined baking sheet. Bake for 30 seconds to 1 minute per side until just crispy.

Top each salad with crispy wonton chips and cooked chicken, then add scallions, chopped peanuts and sesame seeds. Drizzle with sriracha mayo dressing and serve!
Notes
Fold the wonton wrappers in half so they form a triangle before baking. Store all the ingredients separately in the fridge for up to 5 days then assemble your salads fresh. Marinate, cook and freeze the chicken beforehand to save time. Freeze any leftover chicken for up to 3 months in freezer-safe Ziploc bags or airtight glass containers. Reheat in the oven, one the stovetop or in the microwave.
Nutrition
Calories: 444kcal (22%)Carbohydrates: 44g (15%)Protein: 27g (54%)Fat: 19g (29%)Saturated Fat: 3g (19%)Polyunsaturated Fat: 8gMonounsaturated Fat: 6gTrans Fat: 1gCholesterol: 55mg (18%)Sodium: 879mg (38%)Potassium: 945mg (27%)Fiber: 7g (29%)Sugar: 12g (13%)Vitamin A: 13015IU (260%)Vitamin C: 46mg (56%)Calcium: 181mg (18%)Iron: 5mg (28%)
Don't wait until January to eat healthy!Sign up for our free Routine Revamp mini course!
Join Routine Revamp!