This Brown Butter Butternut Squash Gnocchi with Sage is a delicious twist on a classic, and is even tastier served with kale, mushrooms and caramelized onions. 
This post is sponsored by Vitamix – thanks for supporting the brands that help keep my blog up and running!
I have so many things to be grateful for this year.
I finished my Master's degree this summer, grew this blog into a full-time business, re-invested in my personal fitness with some outstanding results, and ultimately re-connected with friends and family in a very special way over the past few months.
Some ordinary life stages maybe, but ones I am SO appreciative of.
Around a year ago, I was unhappy and heartbroken after a couple of my closest relationships started to deteriorate and ultimately ended. I felt completely alone and uncertain of my future, and like I was just working to keep my head above water. I guess you could say that I felt really hopeless.
But now everything has changed.
I have a great support network, from the fantastic parents who have allowed me to move home while I grow my business, to the friends who never turned their backs on me despite a period of neglect.
Given my newfound happiness is due to the love and support of all the people in my life right now, this post's theme seems especially appropriate given that it's FRIENDSgiving!
This Brown Butter Butternut Squash Gnocchi with Sage recipe is just one of many recipes featured for the Friendsgiving giveaway I'm hosting with 6 of my favourite Canadian blogger friends and Vitamix – it's a simple and luxurious dish that is sure to become a crowd favourite!
If you haven't heard of it before, Friendsgiving is a great way to connect with the special people outside of your family who mean a lot to you. So many of us millennials are doing it to celebrate different relationships and eat double the tasty fall treats.
My friends and I are celebrating with a friendsgiving potluck a week before the holiday to get in some quality time together. If you haven't tried it for yourself yet, I HIGHLY recommend it. 😉
Sometimes the best possible way to get closer to others is to gather as a bunch and partake in the delicious harvest of the fall season. Imagine you and your besties in the kitchen sharing a decadent bottle of red, each cooking up a storm and tasting each other's creations.
I really can't think of anything better.
Food is the equivalent of love, after all.
I may be hosting this contest with some of my other favourite Canadian bloggers to celebrate the upcoming Thanksgiving holiday, but that's not the only reason you should check out our recipes. I mean, isn't this delicious inspiration enough? 😀
Anyway, it's with great pleasure that I cheers to our blogger Friendsgiving celebration! Check out the other recipes below:
To enter the giveaway, login to the Rafflecopter widget below using either your email or Facebook. Once you login, you'll be given 15 chances to enter the contest by liking or following each bloggers' Facebook and Instagram accounts.
To get your Facebook entry, click the button for the Facebook page you want to like, like the Facebook page, then click "I visited." Easy!
To get your Instagram entry, click the Instagram account you want to follow, follow the account, then type the name of the account into the box and click "Enter. "
So what are you waiting for?! Go ahead and enter!!!!! Good luck and have a Happy Friendsgiving, no matter who you're with this year!
Will you be making this Brown Butter Butternut Squash Gnocchi with Sage? If you try any of my recipes, or try any of the Friendsgiving recipes, be sure to let me and my blogger friends know on Instagram, Twitter or Facebook!
Ingredients
1

small butternut squash

sliced and diced

1

tbsp

olive oil

2

small yellow onions

thinly sliced

2

cups

chopped mixed mushrooms

2

cloves

garlic

minced

2

cups

packedchopped kale

1/3-1/2

cup

salted butter

depends on how saucy you like it...personally I find the 1/2a little greasy

3

tbsp

chopped sage
Gnocchi
1

cup

butternut squash puree

3/4

tsp

nutmeg

1

tsp

salt

1/2

tsp

pepper

2/3

cup

Parmesan cheese

1

egg

1 2/3

cups

flour
Instructions
Slice butternut squash in half, then peel off skin. Dice into 1-inch pieces, then cook for 12-15 min with a bit of water in a large pot (just enough to cover squash).

Meanwhile, slice onions, mushrooms and chop kale. Mince the garlic and sage. Set veggies aside for later.

Drain water from squash, then blend in the Vitamix. Reserve 1 cup puree, and save the rest for later - it freezes well!

Mix together squash puree, nutmeg, salt and pepper, parmesan cheese, egg and 1/3 of the flour. Keep adding flour in thirds, mixing together with your hands as necessary. It should feel like a soft dough.

Meanwhile, heat 1 tbsp olive oil in a large skillet. Add onions, then cook on med-low heat for 10-15 min until caramelized.

On a floured surface, break dough into four equal parts. Stretch and roll out each ball into 1-inch thick ropes of dough, breaking in half and continuing to roll and thin out as necessary.

Meanwhile, add mushrooms and garlic to the skillet of caramelized onions and cook for 5-7 min until all juices release.

Arrange all ropes of dough in a row then slice into 1-inch thick pieces of gnocchi using a pizza cutter. Cook gnocchi in a large pot of boiling salted water for 2-3 min. Gnocchi should be floating when finished cooking. Drain and set aside briefly.

Add kale and butter to skillet, cooking for 3-4 min. Stir in cooked gnocchi, then chopped sage.

Serve with grated parmesan cheese and enjoy! Gnocchi freezes well on its own up to three months and can be made ahead of time too!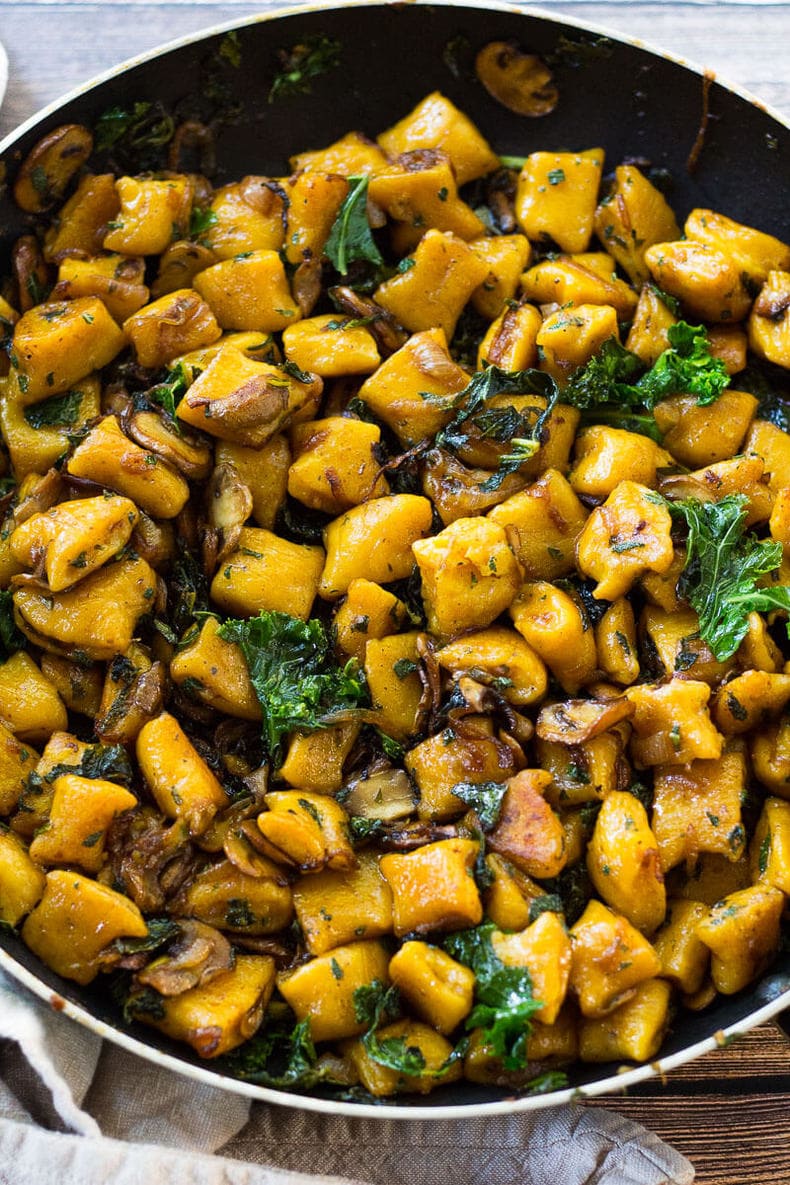 And of course, here's some more giveaway details:
The giveaway consists of one prize – A Vitamix Blender – The Total Nutrition Centre valued at $577.00
The giveaway is open to residents of all provinces, territories of Canada only. You must be 18 years of age and older to participate
The winner must answer this skill testing question. 162 plus 42 divided by 2
The contest closes at midnight, October 7th. The winner will be contacted October 8th
Relatives of participating bloggers are ineligible to participate
All seven bloggers participating in this giveaway have received a Vitamix blender as compensation