This Brown Butter Sage Butternut Squash Gnocchi is a delicious twist on a classic made with homemade gnocchi, kale and caramelized onions.
Ingredients and substitutions
Butternut squash – the butternut squash is the best part of this recipe. You can skip the fresh gnocchi and make this recipe using regular potato gnocchi, cauliflower gnocchi or sweet potato gnocchi.
Olive oil – a neutral oil like sunflower oil, canola oil or grapeseed oil will work well as a substitute.
Yellow onion – white onion, sweet onion or shallots can be used in place of yellow onion.
Mushrooms – use any mushroom variety of your choice or leave out altogether if you don't like mushrooms.
Garlic – use fresh or jarred minced garlic or garlic powder.
Kale – collard greens, spinach or arugula would also be good.
Butter – substitute with a butter alternative of choice.
Sage – marjoram or rosemary will provide a similar flavour.
Gnocchi
Butternut squash puree – see substitution notes above.
Nutmeg – mace, allspice or cinnamon would also work here.
Parmesan cheese – use freshly grated parmesan cheese for the best flavour. If you're looking for a dairy-free substitute, nutritional yeast is a great option.
Egg – try an egg substitute or eliminate the egg altogether.
Flour – any gluten-free flour or rice flour can be used in this recipe.
Salt & pepper – to taste.
Skip the Ads and Get Right to the Recipes!
ZERO ADS on over 600 recipes!
Weekly Meal Plans, Grocery & Prep Lists
Bonus eBooks
How to make butternut squash gnocchi
Boil and puree the squash.
Make the gnocchi dough.
Caramelize the onions.
Cut the dough into pieces.
Cook the gnocchi in salted water for 2-3 minutes.
Add the mushrooms, kale and butter to the skillet.
Mix in the gnocchi and sage.
Garnish with fresh parmesan and serve!
What to serve on the side
This dish is super filling and tastes amazing with some freshly grated parmesan cheese on top. If you're looking for more side dish options, here are some of my favourites: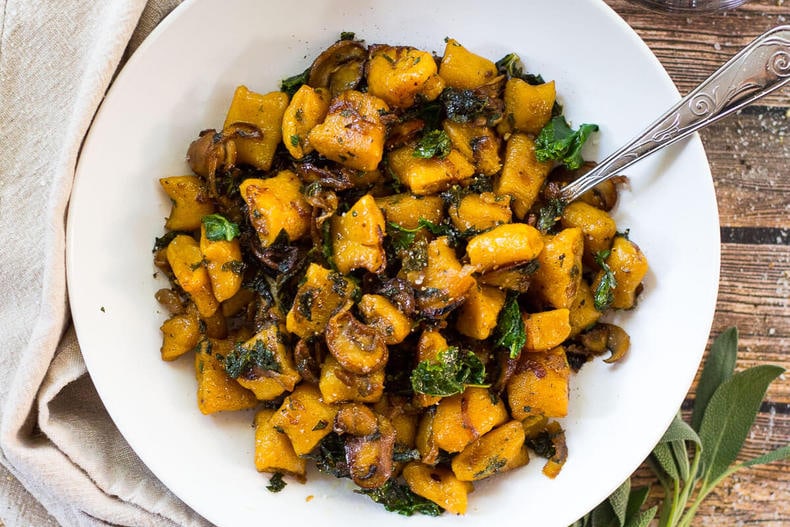 Frequently Asked Questions
What is butternut gnocchi made of?
Butternut squash gnocchi is made of pureed butternut squash, nutmeg, salt and pepper, parmesan cheese, egg and flour.
What flavours go well with butternut squash?
I love serving this butternut squash with a brown butter sage sauce – it has an amazing flavour combination and the sauce isn't too heavy. Sage butter sauce is one of the most popular sauces to serve with butternut squash gnocchi but you could try making it with whatever kind of sauce you like.
Do you have to boil gnocchi before pan-frying it?
Yes – you'll need to boil the gnocchi in salted water for about 2-3 minutes before pan-frying it. You'll know the gnocchi is done cooking when it floats in the water.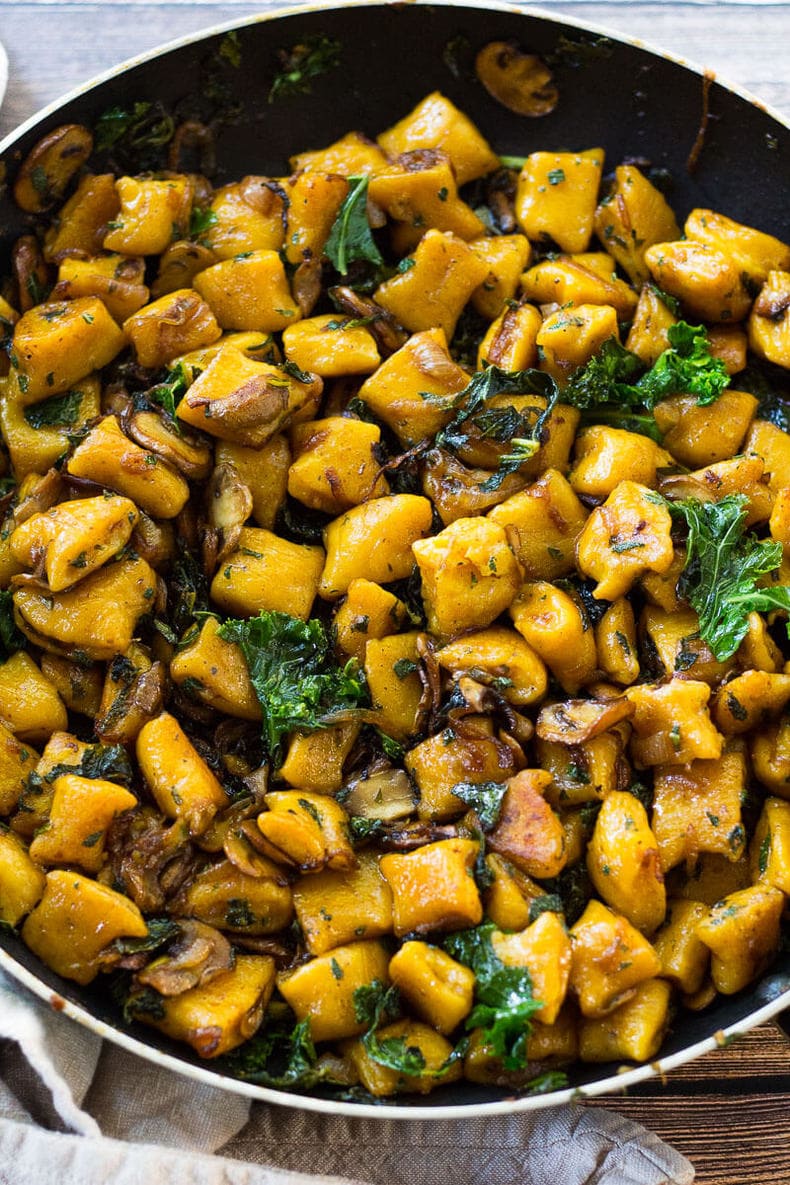 Storing and reheating
If you have leftover gnocchi, you can store it in the fridge for 2-3 days – any longer and it may become mushy. When you're ready to enjoy your leftovers, heat them up in a pan on the stovetop for a few minutes or microwave on high for 1-2 minutes. Top with some more fresh parmesan for the finishing touch!
Freezing the gnocchi
As you can tell from the instructions, making gnocchi is a lengthy process. It's definitely worth it, but if you're making homemade gnocchi, you might as well make extra and freeze it for later! Uncooked gnocchi freezes well on its own for up to 3 months. All you have to do is pop it out of the freezer and follow your recipe's cooking instructions.
Note: You should only freeze uncooked gnocchi because cooked gnocchi will lose its texture and turn mushy in the freezer.
Wanna Learn How To Meal Prep?
My meal planning service, Dinner Prep Pro, removes the guesswork and helps you get dinner on the table in 15-20 minutes each night. My meal prep checklists only take 1 hour each week!
More butternut squash recipes
Meal prep tools for this recipe
Brown Butter Sage Butternut Squash Gnocchi
This Brown Butter Sage Butternut Squash Gnocchi is a delicious twist on a classic made with homemade gnocchi, kale and caramelized onions.
Print
Pin
Rate
Click Here to Remove Ads
Servings: 6 servings
Calories: 349kcal
Ingredients
1 small butternut squash sliced and diced
1 tbsp olive oil
1 small yellow onion thinly sliced
2 cups chopped mixed mushrooms
2 cloves garlic minced
2 cups chopped kale
1/3 cup salted butter
3 tbsp chopped sage
Gnocchi
1 cup butternut squash puree
1 tsp salt
1/2 tsp pepper
1/2 tsp nutmeg
2/3 cup Parmesan cheese
1 egg
1 2/3 cups flour
Instructions
Slice butternut squash in half, then peel off skin. Dice into 1-inch pieces, then cook for 12-15 min with a bit of water in a large pot (just enough to cover squash).

Meanwhile, slice onions, mushrooms and chop kale. Mince the garlic and sage. Set veggies aside for later.

Drain water from squash, then blend in the Vitamix. Reserve 1 cup puree, and save the rest for later – it freezes well!

Mix together squash puree, nutmeg, salt and pepper, parmesan cheese, egg and 1/3 cup of the flour. Keep adding flour in third cup measurements, mixing together with your hands as necessary. It should feel like a soft dough.

Meanwhile, heat 1 tbsp olive oil in a large skillet. Add onions, then cook on med-low heat for 10-15 min until caramelized.

On a floured surface, break dough into four equal parts. Stretch and roll out each ball into 1-inch thick ropes of dough, breaking in half and continuing to roll and thin out as necessary.

Meanwhile, add mushrooms and garlic to the skillet of caramelized onions and cook for 5-7 min until all juices release.

Arrange all ropes of dough in a row then slice into 1-inch thick pieces of gnocchi using a pizza cutter. Cook gnocchi in a large pot of boiling salted water for 2-3 min. Gnocchi should be floating when finished cooking. Drain and set aside briefly.

Add kale and butter to skillet, cooking for 3-4 min. Stir in cooked gnocchi, then chopped sage.

Serve with grated parmesan cheese and enjoy! Gnocchi freezes well on its own up to three months and can be made ahead of time too!
Video
Notes
If you're dairy-free, use your favourite butter substitute instead of regular butter. Make a big batch of gnocchi and freeze half the uncooked gnocchi to use later. It'll freeze well for up to 3 months. Store any leftovers in the fridge for 2-3 days. Reheat in a pan on the stovetop or in the microwave on high for 1-2 minutes.
Nutrition
Calories: 349kcal (17%)Carbohydrates: 39g (13%)Protein: 12g (24%)Fat: 17g (26%)Saturated Fat: 9g (56%)Polyunsaturated Fat: 1gMonounsaturated Fat: 6gTrans Fat: 1gCholesterol: 62mg (21%)Sodium: 684mg (30%)Potassium: 515mg (15%)Fiber: 4g (17%)Sugar: 3g (3%)Vitamin A: 5155IU (103%)Vitamin C: 33mg (40%)Calcium: 197mg (20%)Iron: 3mg (17%)
Join The Girl on Bloor Premium!
ZERO ADS!
Weekly Meal Prep Checklists
Bonus eBooks