These BEST EVER Italian Stuffed Zucchini Boats are filled with bolognese sauce and mozzarella cheese – they're a healthy, low carb dish!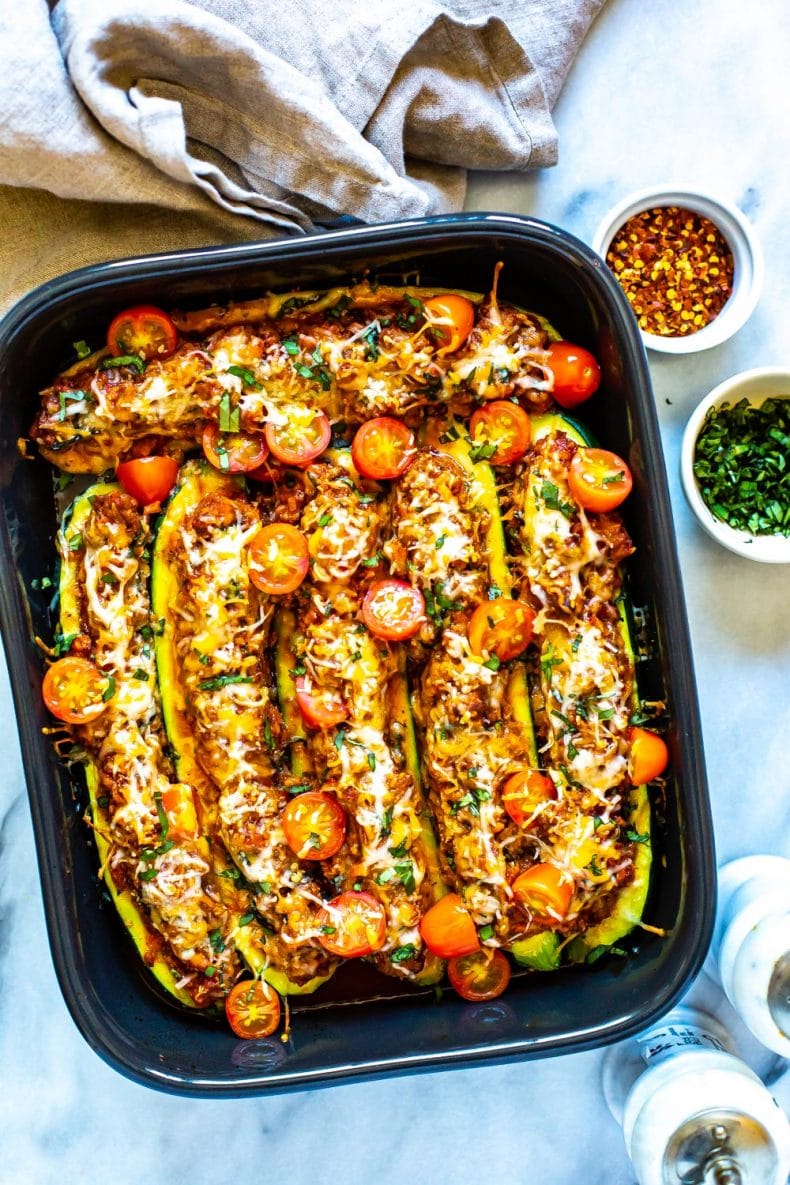 How to make this recipe
As mentioned above, you will basically want to cut the zucchini in half lengthwise (pictured below) and then scoop out the seeds. Be gentle as you do this because you don't want your zucchini to break. I like to remove just the seeds and not make the zucchini boats themselves too hollow because then they will wilt and get overcooked if they are too thin. You want the zucchini boat itself to be thick enough to be used as a vessel for the meat filling. I would say your zucchini boats should be 1/4 to 1/2 an inch thick after you have scooped out all the flesh.
Assemble your zucchini boats in a large casserole dish and get ready to fill them with meat and sauce and that's all there is to it! I don't find I need to grease the casserole dish because the zucchini expels a bit of water as it cooks so you don't have to worry about sticking, which makes this recipe even more calorie-friendly.
Why are they called zucchini boats?
When you slice a zucchini in half and scoop out the seeds, you can stuff the zucchini with just about anything your heart desires!  In this version of stuffed zucchini, we're going with an Italian version of a ground beef-based bolognese sauce and melted cheese. YUM!
Do I need to cook the zucchini ahead of time?
No! This recipe is super easy! You just make the sauce, add it to the sliced zucchini, add cheese and bake for 20 minutes. Zucchini cooks really quickly in the oven so unlike stuffed peppers, you don't need to bake the zucchini ahead of time while you're making the sauce.
Health benefits of Zucchini
Zucchini is a summer squash and a member of the gourd family. This low carb veggie is a nutrient-dense food and therefore, is a great option for healthy eating and keeping calorie counts low.
In addition to the fact that a zucchini has nearly no fat and very few calories, here are some other reasons why you should include more zucchini in your diet:
Improves digestion. Zucchini is high in water content and contains a significant amount of fiber, which helps in keeping your digestion healthy. This combination also helps you feel fuller longer after eating, which discourages overeating and in-between-meal snacks.
Heart health. Aside from aiding digestion, fiber may help in lowering your risk of heart disease. Zucchini also have pectin, a soluble fiber that studies have shown help to lower "bad" LDL cholesterol levels.
Rich in antioxidants. Antioxidants help protect your body from damage by free radicals.
High in nutrients. Zucchini contains significant amounts of vitamins B6, C and K, riboflavin, folate, potassium and manganese.
One cup of sliced zucchini provides:
calories: less than 20 calories
fat: less than 1 gram
protein: 1.4 grams
Fiber: 1.1 grams
Potassium: 295mg
Making the bolognese sauce
For this Italian stuffed zucchini, I opted for an easy bolognese sauce that goes right in the zucchini boats and then all you have to do is add cheese on top before you bake them!
Use extra-lean ground beef (or ground turkey!) and saute that with minced up carrots, celery, onions and garlic. Add some jarred spaghetti sauce of your choice and some Italian seasoning, and that's all there is to it. Super simple, yet you're adding some more veggies in there for extra nutrients.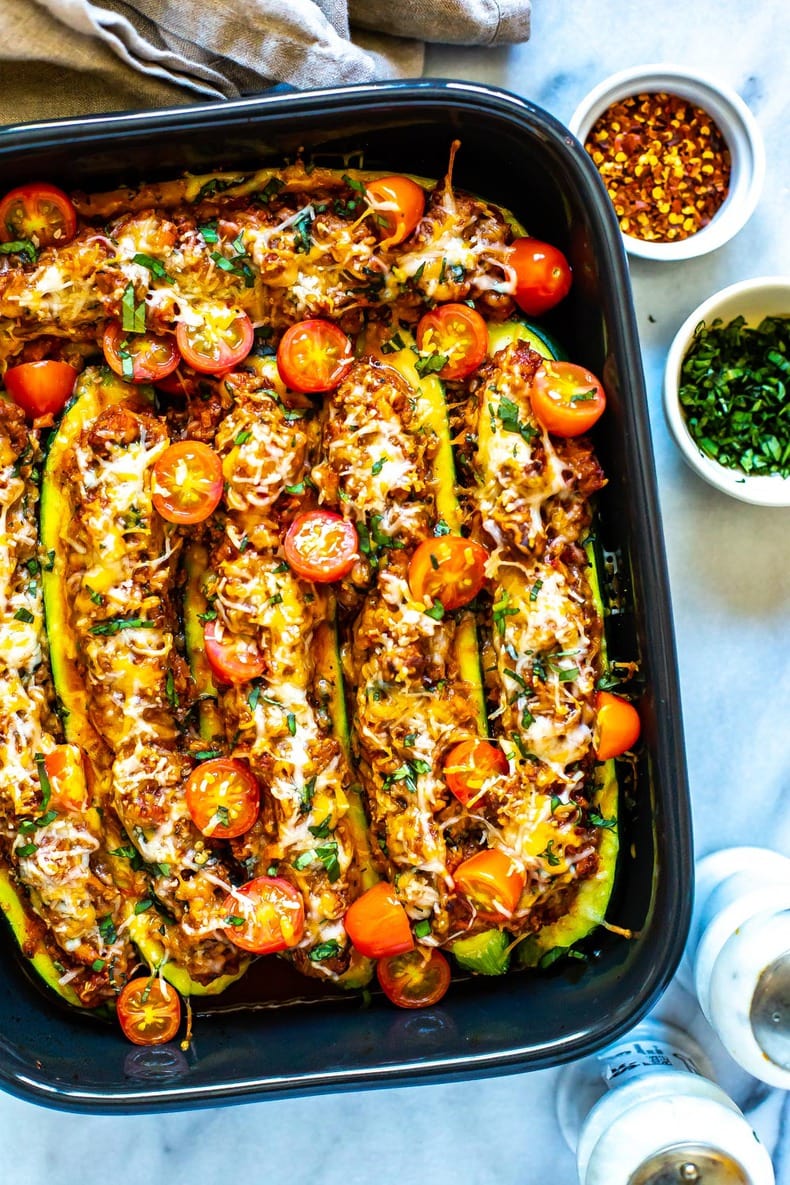 Meal prepping zucchini boats
This recipe is perfect for your weekly meal prep or just as a weeknight dinner! It's low carb so it's a great alternative to heavier pasta dishes but you still get all the same flavours with the easy sauce.
One thing I like to do to make this stuffed zucchini a little bit easier is to prep the bolognese sauce ahead of time. This allows me to get the zucchini into the oven earlier and get dinner on the table faster!
You can make the bolognese sauce a few days before or up to a couple months in advance in store in glass bowls in the freezer. When you're ready to make the stuffed zucchini, let the sauce thaw in the fridge overnight then add it to the zucchini. Top with cheese, bake and that's it!
Can you freeze stuffed zucchini boats?
If stored in an airtight container, stuffed zucchini can be left in the refrigerator for up to 3 or 4 days, but if you won't be using them up during that time, then it's better to freeze the leftovers.
Allow the baked stuffed zucchini to cool completely. Place the zucchini in a single layer on a baking sheet and place it in the coolest part of your freezer (to ensure they freeze quickly). Once they have hardened, transfer the zucchini to airtight containers or heavy-duty freezer bags.
The frozen zucchini can be kept in the freezer for up to five months, but may start to lose their texture quality after two months.
To thaw, place the stuffed zucchini boats in the refrigerator overnight. You can bake them again from there.
Other stuffed zucchini ideas
You can easily swap out some of the ingredients and customize this stuffed zucchini recipe to your family's liking or account for different dietary restrictions. I honestly LOVE stuffed vegetables for how versatile you can make them!
Here are some easy ideas below:
Replace the ground beef with ground chicken
Rather than mozzarella cheese, make them with other cheeses, such as cheddar, parmesan or monterey jack. When I'm in a pinch I just use a pre-shredded cheese mix
Make the recipe vegetarian and vegan-friendly by replacing the meat with crumbled tofu. You can also skip the filling replacements and just add extra cheese
Add more protein and fiber by using quinoa, couscous, chickpeas, or lentils. Lentils are actually a great sub in for the ground beef if you're looking for a similar texture of bolognese sauce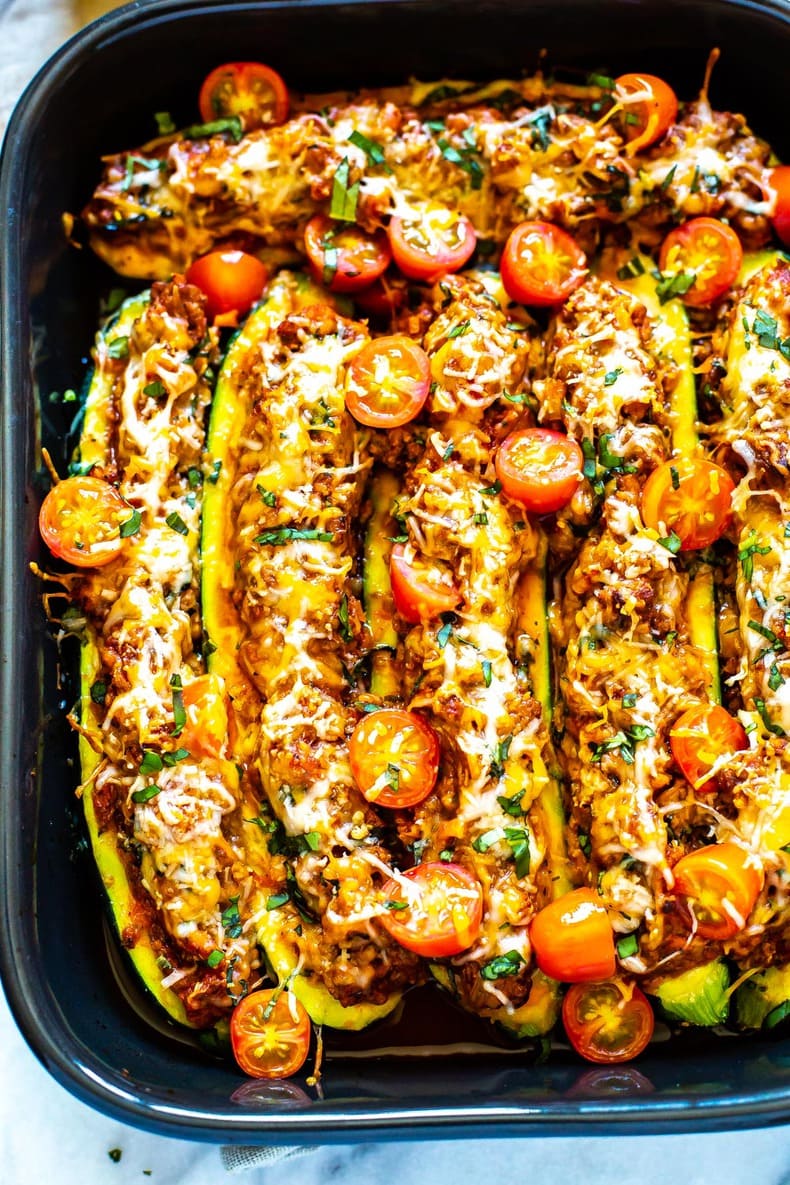 What can I serve with baked stuffed zucchini?
Tasty sides and appetizers to serve with stuffed zucchini include:
Garlic bread
Your favorite rice side dish
A healthy side salad
You don't even really need a side dish for this recipe though! It's super filling and I'm willing to bet you won't even notice that it's low carb!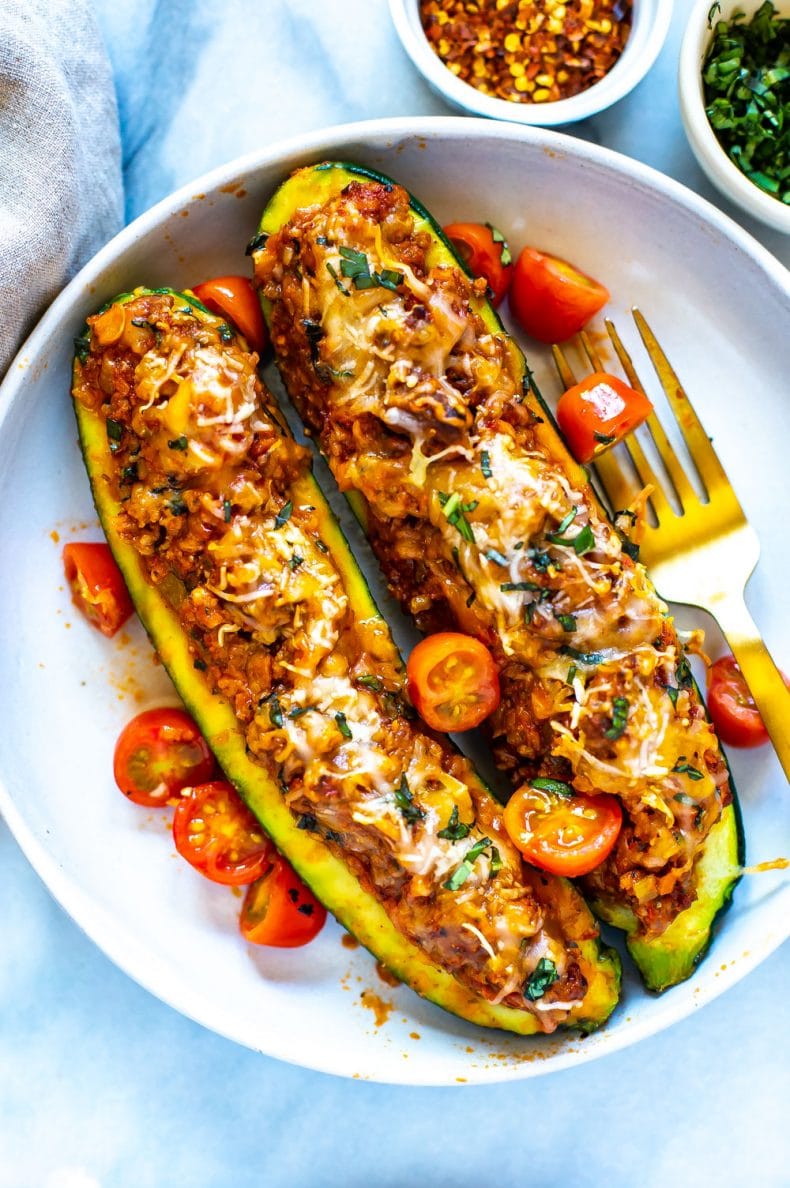 How else can I enjoy zucchini?
Love the healthy benefits of zucchini and looking for ways to add it to your diet besides stuffed zucchini boats?
Try some of these ideas below:
Add raw zucchini to your salads.
Steam or boil the zucchini, blend it, then make zucchini soup.
Make breaded and fried or baked zucchini chips
Make lasagna roll ups using zucchini instead of noodles
Add zucchini noodles to soups, salads and stir fries
Add it to baked goods such as muffins, cakes and brownies
Here are some more healthy zucchini recipes for you to check out!
More zucchini recipes
Meal prep tools for this recipe
The BEST EVER Italian Stuffed Zucchini Boats
These BEST EVER Italian Stuffed Zucchini Boats are filled with bolognese sauce and mozzarella cheese – they're a healthy, low carb dish!
Print
Pin
Rate
Ingredients
4

zucchini, sliced in half lengthwise

1

tsp

olive oil

1

onion, finely chopped

1

carrot, finely chopped

2

celery stalks, finely chopped

2

cloves

garlic, minced

1

tsp

Italian seasoning

1

tsp

salt

1/2

tsp

pepper

1

lb

extra-lean ground beef

2

cups

spaghetti sauce

1

cup

grated mozzarella cheese

2

tbsp

fresh chopped basil (optional garnish)

1/2

cup

cherry tomatoes, sliced (optional garnish)
Instructions
Preheat oven to 400 F. Slice zucchini in half lengthwise and scoop out seeds with a spoon. Add to a 9x13 baking dish and set aside.

Meanwhile, heat olive oil in a large skillet over med-high heat. Add onions, carrots and celery, sauteeing for 1-2 minutes. Add ground beef and cook for 4-5 minutes until lightly browned. Add in garlic, Italian seasoning, salt & pepper and spaghetti sauce. Bring to a boil then remove from heat.

Add meat mixture to zucchini boats and top with cheese. Bake for 20 minutes or until cheese is fully melted.

Remove from oven and garnish with basil and cherry tomatoes. Serve and enjoy!
Video
Nutrition
Calories:
337
kcal
|
Carbohydrates:
19
g
|
Protein:
35
g
|
Fat:
14
g
|
Saturated Fat:
6
g
|
Cholesterol:
92
mg
|
Sodium:
1519
mg
|
Potassium:
1512
mg
|
Fiber:
5
g
|
Sugar:
13
g
|
Vitamin A:
3840
IU
|
Vitamin C:
51.5
mg
|
Calcium:
225
mg
|
Iron:
5.2
mg