These Italian Stuffed Zucchini Boats are a healthy and low-carb dish, filled with a delicious Bolognese sauce and mozzarella cheese.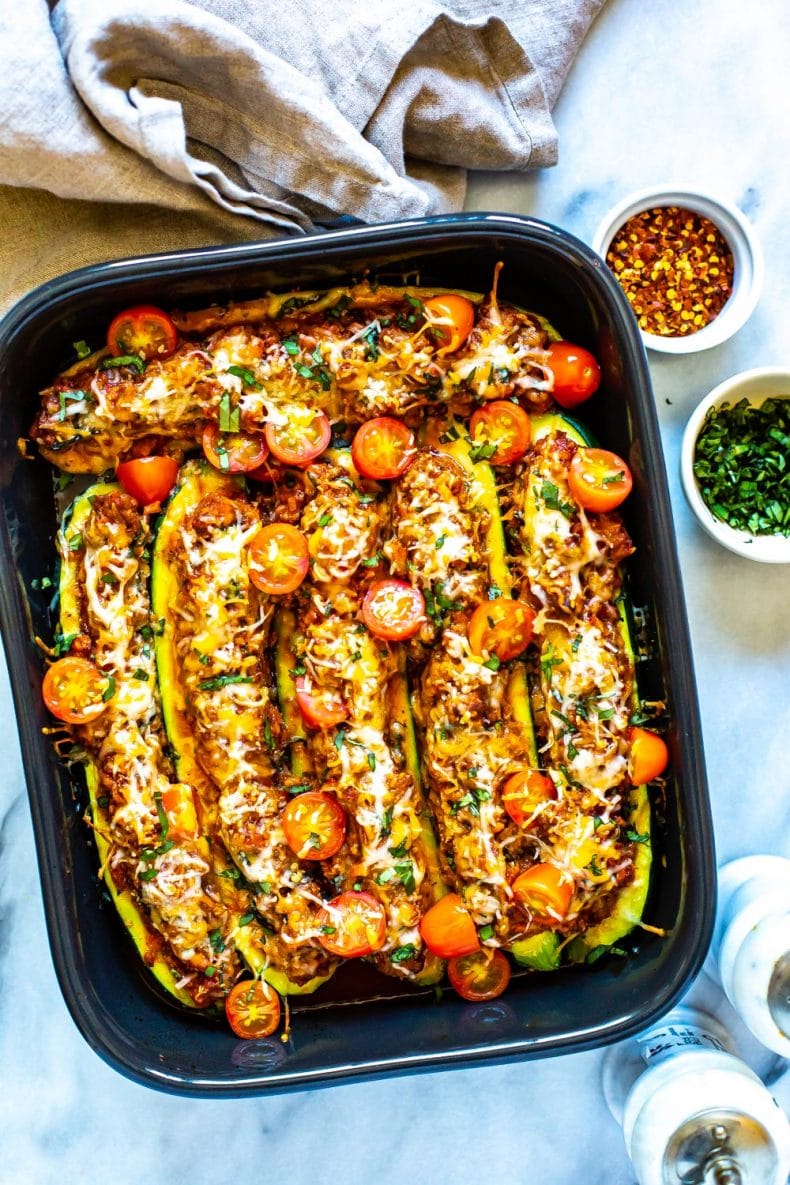 Ingredients and substitutions
Zucchini – squash is the best substitute when it comes to stuffed boats.
Olive oil – use another neutral cooking oil like avocado or canola oil.
Onion – you can use white, yellow or even red onion for this recipe.
Carrot – swap out for another veggie of your choice like red peppers or parsnips.
Celery stalks – substitute for another veggie or leave this out altogether.
Garlic – freshly minced garlic is best but jarred minced garlic will work in a pinch.
Italian seasoning – make your own using a blend of basil, oregano, rosemary, parsley and thyme.
Salt & pepper – to taste.
Extra-lean ground beef – you can also try making this recipe with ground turkey, chicken or pork.
Spaghetti sauce – swap out for your favourite kind of pasta sauce or even a homemade pasta sauce.
Mozzarella cheese – feel free to use another cheese like Swiss, provolone or cheddar.
Chopped basil – oregano will provide the same flavour profile.
Cherry tomatoes – substitute for another kind of tomato or leave this out altogether.
Skip the Ads and Get Right to the Recipes!
ZERO ADS on over 600 recipes!
Weekly Meal Plans, Grocery & Prep Lists
Bonus eBooks
How to make stuffed zucchini boats
Scoop out the zucchini.
Sauté the veggies.
Add in the ground beef.
Mix in the rest of the ingredients.
Scoop the mixture into the zucchini boats.
Top with cheese.
Bake for 20 minutes.
Garnish and serve!
Health benefits of zucchini
Zucchini is a summer squash and a member of the gourd family. This low-carb veggie is a nutrient-dense food and therefore, is a great option for healthy eating and keeping down your meal's calorie count.
In addition to the fact that zucchini has nearly no fat and very few calories, here are some other reasons why you should include more zucchini in your diet:
Improves digestion: Zucchini is high in water content and contains a significant amount of fibre, which helps with digestion. This combination also helps you feel fuller longer after eating, which discourages overeating and in-between-meal snacks.
Heart health: Aside from aiding digestion, fibre may help in lowering your risk of heart disease. Zucchini also contains pectin, a soluble fibre that studies have shown helps lower "bad" LDL cholesterol levels.
Rich in antioxidants: Zucchini is full of antioxidants, which help protect your body from damage by free radicals.
High in nutrients: Zucchini contains significant amounts of vitamins B6, C and K, riboflavin, folate, potassium and manganese.
One cup of zucchini contains:
Less than 20 calories
Less than 1 gram of fat
1.4 grams of protein
1.1 grams of fibre
295 milligrams of potassium
Frequently Asked Questions
Why are they called zucchini boats?
When you slice a zucchini in half and scoop out the seeds, you can stuff the zucchini with just about anything your heart desires!  In this version of stuffed zucchini, we're going with an Italian version of a ground beef-based Bolognese sauce and melted cheese. YUM!
Do I need to cook the zucchini ahead of time?
Nope! You just make the sauce, spoon it into the zucchini boats, add cheese and bake for 20 minutes. Zucchini cooks really quickly in the oven so unlike stuffed peppers, you don't need to bake the zucchini ahead of time while you're making the sauce.
What can you serve on the side?
Tasty sides and appetizers to serve with stuffed zucchini include garlic bread, your favourite rice side dish or a healthy side salad. You don't even really need a side dish for this recipe though! It's super filling and I'm willing to bet you won't even notice that it's low carb.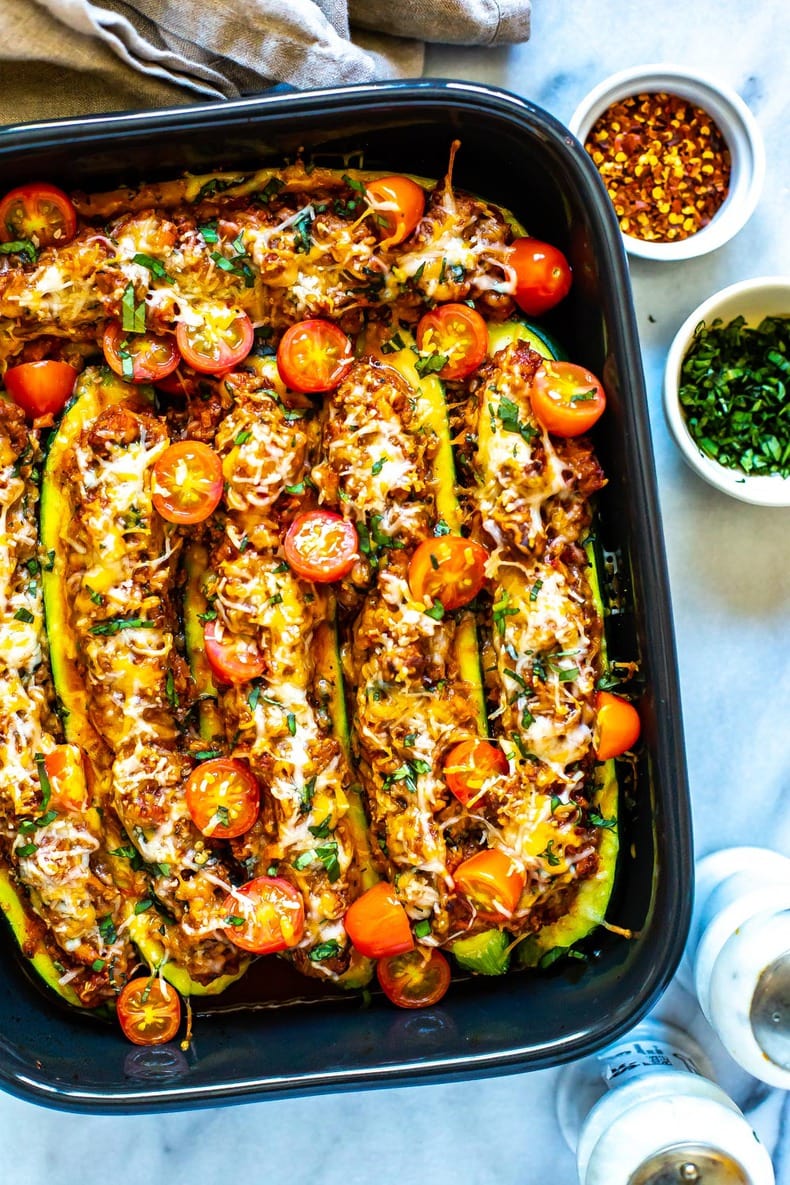 Storing and reheating
This recipe is perfect for your weekly meal prep or just as a weeknight dinner! It's low carb so it's a great alternative to heavier pasta dishes but you still get all the same flavours with the easy sauce. You can store any leftovers in the fridge for 3 to 4 days before the cheese starts to get slimy. To reheat, you can pop it in the oven for 10 minutes at 400° Fahrenheit or microwave it until warmed through.
Can you freeze stuffed zucchini boats?
Unfortunately, zucchini doesn't freeze very well – but you can freeze the Bolognese sauce! One thing I like to do to make this stuffed zucchini a little bit easier is to prep the Bolognese sauce ahead of time. This allows me to get the zucchini into the oven earlier and get dinner on the table faster! You can store the sauce in glass bowls in the freezer for up to 3 months.
When you're ready to make the stuffed zucchini, let the sauce thaw in the fridge overnight then add it to the zucchini boats, bake and voila.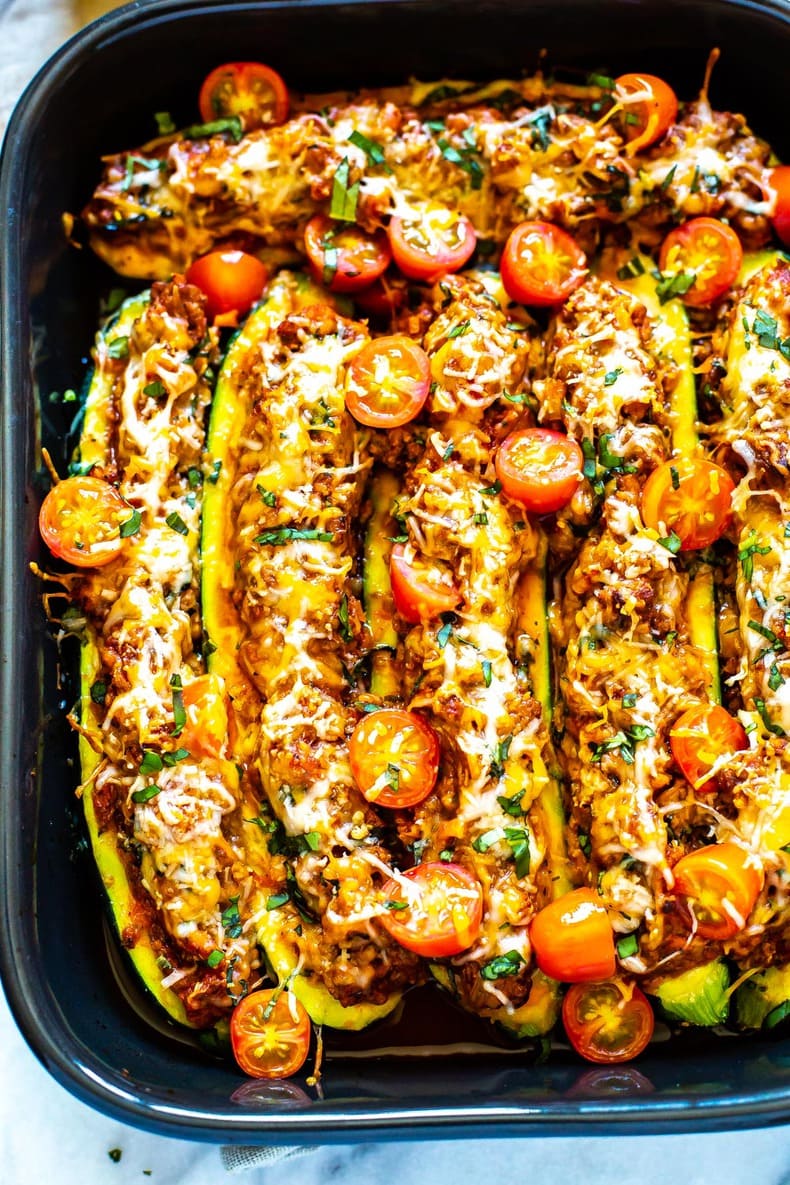 Wanna Learn How To Meal Prep?
My meal planning service, Dinner Prep Pro, removes the guesswork and helps you get dinner on the table in 15-20 minutes each night. My meal prep checklists only take 1 hour each week!
More zucchini recipes
Meal prep tools for this recipe
The Best Ever Italian Stuffed Zucchini Boats
These Italian Stuffed Zucchini Boats are a healthy and low-carb dish, filled with a delicious Bolognese sauce and mozzarella cheese.
Print
Pin
Rate
Click Here to Remove Ads
Servings: 4 servings
Calories: 337kcal
Ingredients
4 zucchini, sliced in half lengthwise
1 tsp olive oil
1 onion, finely chopped
1 carrot, finely chopped
2 celery stalks, finely chopped
2 cloves garlic, minced
1 tsp Italian seasoning
1 tsp salt
1/2 tsp pepper
1 lb extra-lean ground beef
2 cups spaghetti sauce
1 cup grated mozzarella cheese
2 tbsp fresh chopped basil (optional garnish)
1/2 cup cherry tomatoes, sliced (optional garnish)
Instructions
Preheat oven to 400 F. Slice zucchini in half lengthwise and scoop out seeds with a spoon. Add to a 9×13 baking dish and set aside.

Meanwhile, heat olive oil in a large skillet over med-high heat. Add onions, carrots and celery, sauteeing for 1-2 minutes. Add ground beef and cook for 4-5 minutes until lightly browned. Add in garlic, Italian seasoning, salt & pepper and spaghetti sauce. Bring to a boil then remove from heat.

Add meat mixture to zucchini boats and top with cheese. Bake for 20 minutes or until cheese is fully melted.

Remove from oven and garnish with basil and cherry tomatoes. Serve and enjoy!
Video
Notes
Make your own Italian seasoning using a blend of basil, oregano, rosemary, parsley and thyme and store it in your pantry. If you want your zucchini to be softer, cook it for 10 minutes before adding in the sauce mixture. Use ground turkey for a lower-calorie version. Store your leftovers in the fridge for 3-4 days. Reheat in the oven at 400° F or microwave. Freeze the Bolognese sauce for up to 3 months.
Nutrition
Calories: 337kcal (17%)Carbohydrates: 19g (6%)Protein: 35g (70%)Fat: 14g (22%)Saturated Fat: 6g (38%)Cholesterol: 92mg (31%)Sodium: 1519mg (66%)Potassium: 1512mg (43%)Fiber: 5g (21%)Sugar: 13g (14%)Vitamin A: 3840IU (77%)Vitamin C: 51.5mg (62%)Calcium: 225mg (23%)Iron: 5.2mg (29%)
Join The Girl on Bloor Premium!
ZERO ADS!
Weekly Meal Prep Checklists
Bonus eBooks