These 4-ingredient Banana Oatmeal Breakfast Cookies are packed with protein and fibre. Plus, they can be frozen for meal prep!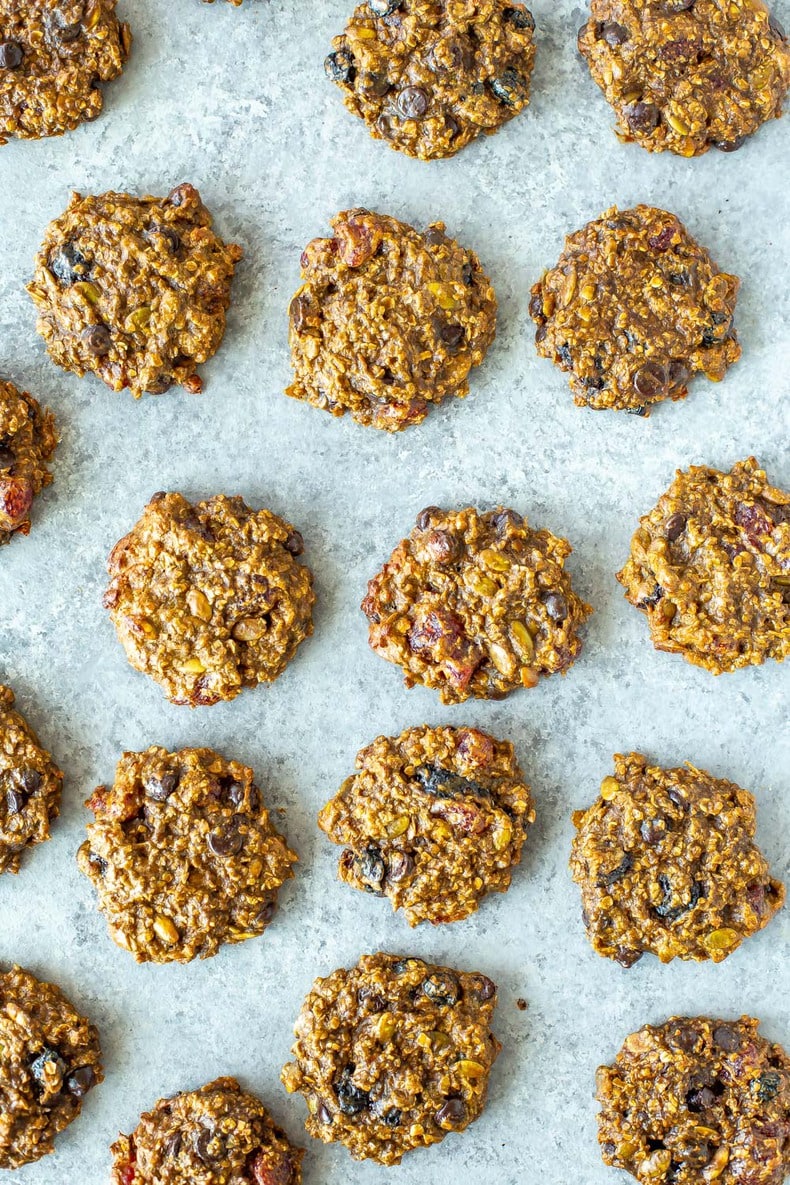 How to make breakfast cookies
It's super easy to make this recipe. Here's a basic overview:
Mash bananas in a large bowl.
Add in sunflower butter and eggs to mashed bananas.
Add in oatmeal. Combine all together.
Mix in add-ins of choice.
Add batter to a parchment-lined baking sheet, then bake for 18-20 minutes.
Let cookies cool for 5-10 minutes before enjoying.
Ingredients in this recipe
This breakfast cookie recipe uses the a very minimal amount of ingredients so they are not super time consuming or labor intensive to make. The base contains just four easy ingredients, and from there it's just a matter of whether or not you want to add in toppings.
Here's what you need: 
2 cups quick oats
1 cup sunflower butter or peanut or almond butter
3 bananas, mashed
2 eggs
Here are some ideas for add-ins:
chocolate chips
hemp hearts, chia seeds, pumpkin seeds or flax seeds
dried fruit
shredded coconut
Ingredient substitutions
Oats: I use quick cooking oats in this recipe, but rolled oats will work as well. Rolled oats will give a bit more structure to the cookies, but they won't be as soft and might be more chewy as well.
Nut butter: Feel free to use any type of nut butter. Good options are sunflower butter, cashew, peanut, or almond butter.
Bananas: See my notes below about good substitutes for bananas (hint, hint, applesauce)
Eggs: If you have an egg allergy or need a vegan substitute for eggs, you can use a flax egg.
How to make a flax egg
In a small bowl, combine one tablespoon of ground flax seeds (or flaxseed meal) with three tablespoons of water.
Mix to combine, then refrigerate it for 15 minutes so it sets up and thickens.
Using applesauce instead of bananas
Unsweetened applesauce is a great substitute in baking, especially when it replaces fat (such as butter or bananas) and/or refined sugar.
You can replace 1 banana with 1/2 cup of applesauce, but avoid using more than 1 cup total applesauce in a recipe.
Doing this will make your baked goods very dense and too wet. As a result, they may not set up during baking.
Another way that applesauce is used in baking is to add moisture.
To make this banana oatmeal cookie recipe vegan, you can replace one egg with 1/4 cup of applesauce.
But again, avoid using more than 1 cup of applesauce for the entire recipe, regardless of what you're using it as a replacement for.
TIP: If you do use 1 full cup of applesauce and you want to give the oatmeal cookies a lighter texture, add 1/2 teaspoon of baking powder to the recipe.
How to add more protein
There are several ingredients you can add to the recipe to boost the protein in the cookies.
Whey protein powder – unflavored, or vanilla protein powder would be delicious!
Pea protein or other plant-based protein powder
Collagen powder – There are two types of collagen powder. The one that works well and can be added without substitution for anything else is collagen peptides.
Chia seeds – Not only will chia seeds add protein to your cookies, but they're also a good source of Omega 3 fats, fibre, and antioxidants!
More add-in ideas
As much as I love add-ins, it's important not to go overboard with them. Using more than 1 cup of them will make the cookies too difficult to bake properly and add more calories.
Delicious options for cookie add-ins include:
Flavored chips – chocolate chips or any other flavor, such as butterscotch chips
Hemp hearts
Wheat germ
Seeds – chia, flax, pumpkin, sunflower, or even sesame seeds will work here
Dried fruit – raisins, cranberries, blueberries, cherries, or any other dried fruit of your choice
Candy – While it will make your cookies less healthy, you may want a little extra sweetness from M&M's or other candy of your choice.
Storing and freezing
These cookies are best when eaten fresh. However, if you store them in an airtight container or Ziploc bag, they will stay tasty for up to a week.
You can either store them at room temperature or in the refrigerator. Refrigeration is best, especially if you live in a warm climate.
Fortunately, they are also very freezer-friendly! This makes them perfect for easy meal prep. If they are kept in an airtight, freezer-safe container, you can keep them frozen for up to 4 months.
They thaw out pretty quickly at room temperature. You can take them out of the freezer and keep them in the container on your kitchen counter overnight. This way, they'll be ready to eat in the morning.
Breakfast cookies are perfect to grab on your way out the door!
More healthy breakfast recipes
Meal prep tools for this recipe
Banana Oatmeal Breakfast Cookies
These Banana Oatmeal Breakfast Cookies are packed with protein and fibre, and come together with just 4 ingredients. Plus, they can be frozen for meal prep!
Print
Pin
Rate
Ingredients
2

cups

quick oats

1

cup

sunflower butter

or peanut or almond butter

3

bananas, mashed

2

eggs
Add-in ideas (add no more than 1 cup total)
chocolate chips

hemp hearts

pumpkin seeds

dried fruit

shredded coconut
Instructions
Preheat oven to 350 F. Mash bananas in a large bowl, then mix with sunflower butter and eggs. Mix in oatmeal until well combined, then any add-ins of choice.

Add batter by a large spoonful to a parchment-lined baking sheet, then bake for 18-20 minutes until browned.

Let cookies cool for 5-10 minutes before enjoying. Cookies can be frozen up to 3 months. Enjoy!
Video
Notes
NOTE: Nutritional info is per cookie.
Nutrition
Calories:
142
kcal
|
Carbohydrates:
12
g
|
Protein:
6
g
|
Fat:
9
g
|
Saturated Fat:
1
g
|
Cholesterol:
14
mg
|
Sodium:
8
mg
|
Potassium:
103
mg
|
Fiber:
1
g
|
Sugar:
2
g
|
Vitamin A:
56
IU
|
Vitamin C:
2
mg
|
Calcium:
26
mg
|
Iron:
2
mg