This Wendy's Taco Salad recipe is an almost exact copycat of the fast food chain's famous salad. You'll learn how to make the Wendy's chili recipe too!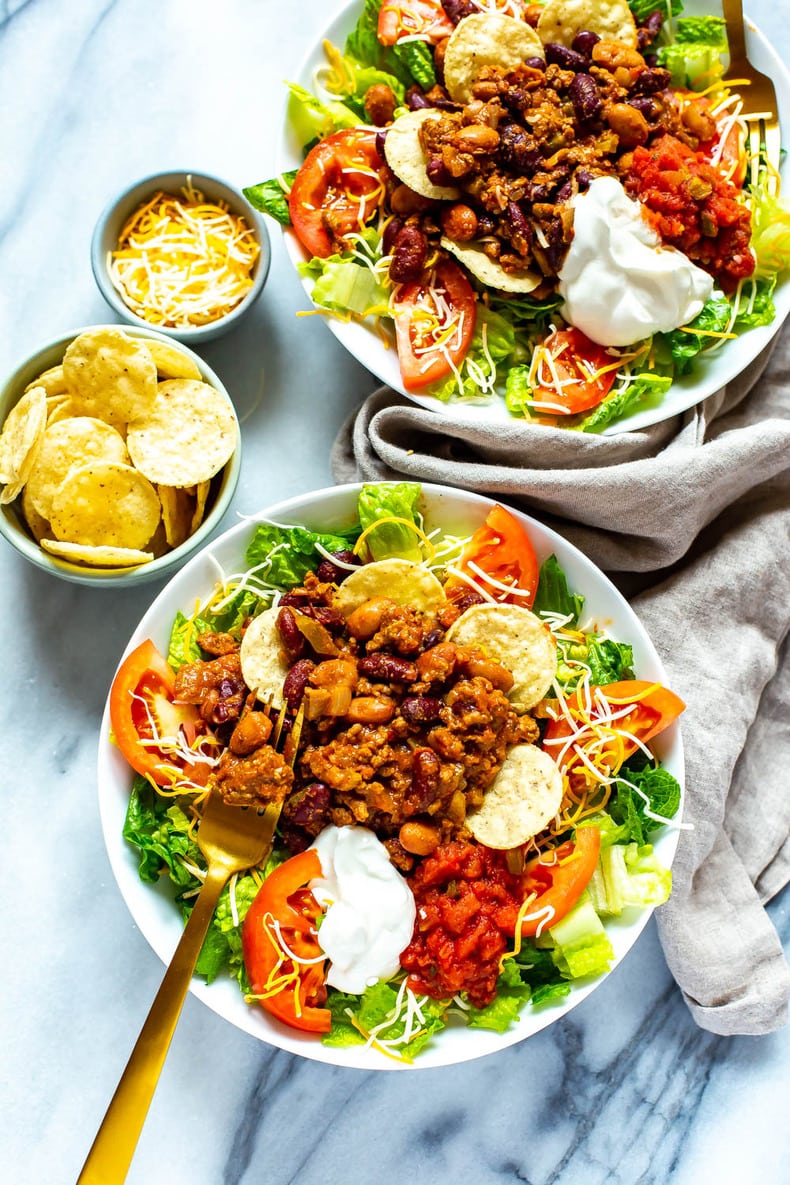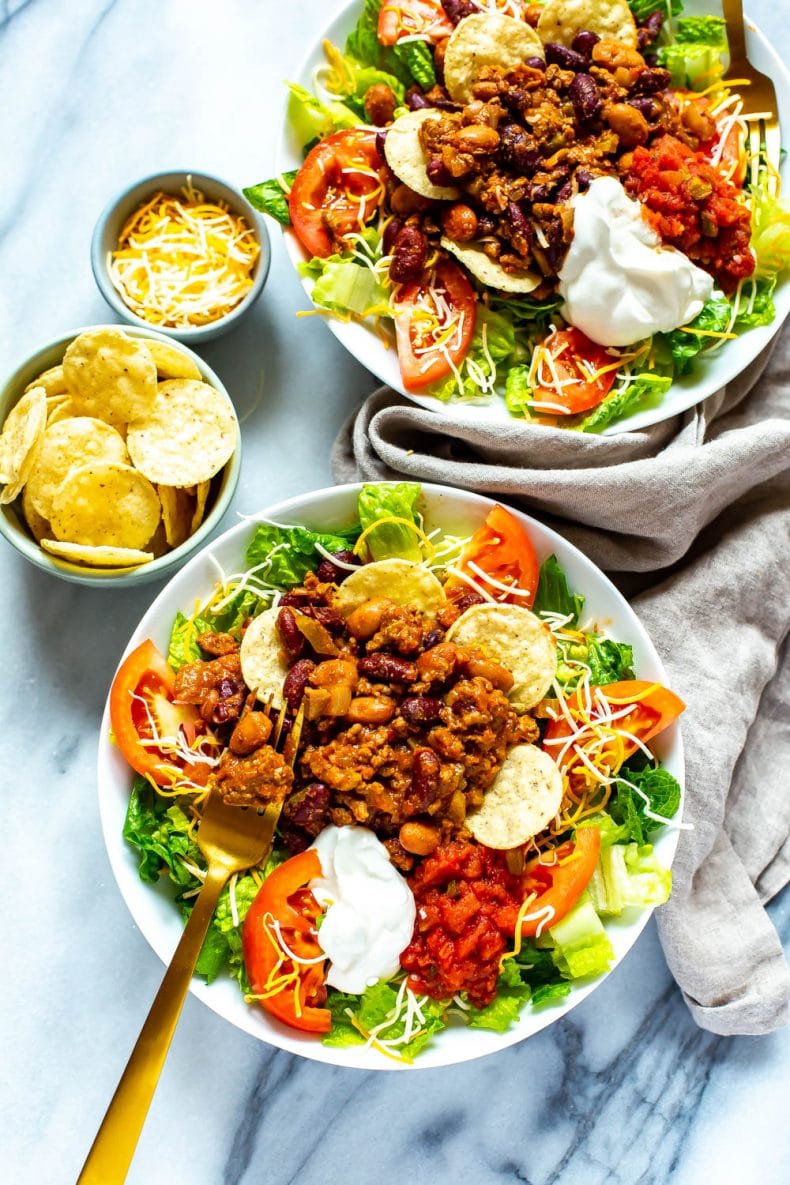 What is in a Wendy's Taco Salad?
Wendy's Taco Salad is a delicious dish on their regular menu item that features a salad made of:
iceberg and Romaine lettuce
diced tomatoes
shredded cheddar cheese, and
Wendy's signature chili
When you purchase this salad, there's tortilla chips, sour cream, and salsa included on the side. The Wendy's Taco Salad is available in full and half size servings and it's seriously one of the best salads out there. If you're looking to recreate it at home then you're in luck with this copycat recipe!
Meal prepping this taco salad
Here's my biggest meal prep hack for this recipe: Use mason jars!
Layer the chili into the bottom of the jars, then add the cheese, tomatoes, lettuce and pack the tortilla chips, sour cream and salsa on the side. This way the chili doesn't make the veggies soggy and you can enjoy this salad at work for up to 3 or 4 days!
Just make sure you use a large bowl to serve your mason jar salads in when the time comes to eat them.
There are also these super cool bento box meal prep containers so you can keep the chili and veggies separate so that is also an option when it comes to meal prepping this taco salad.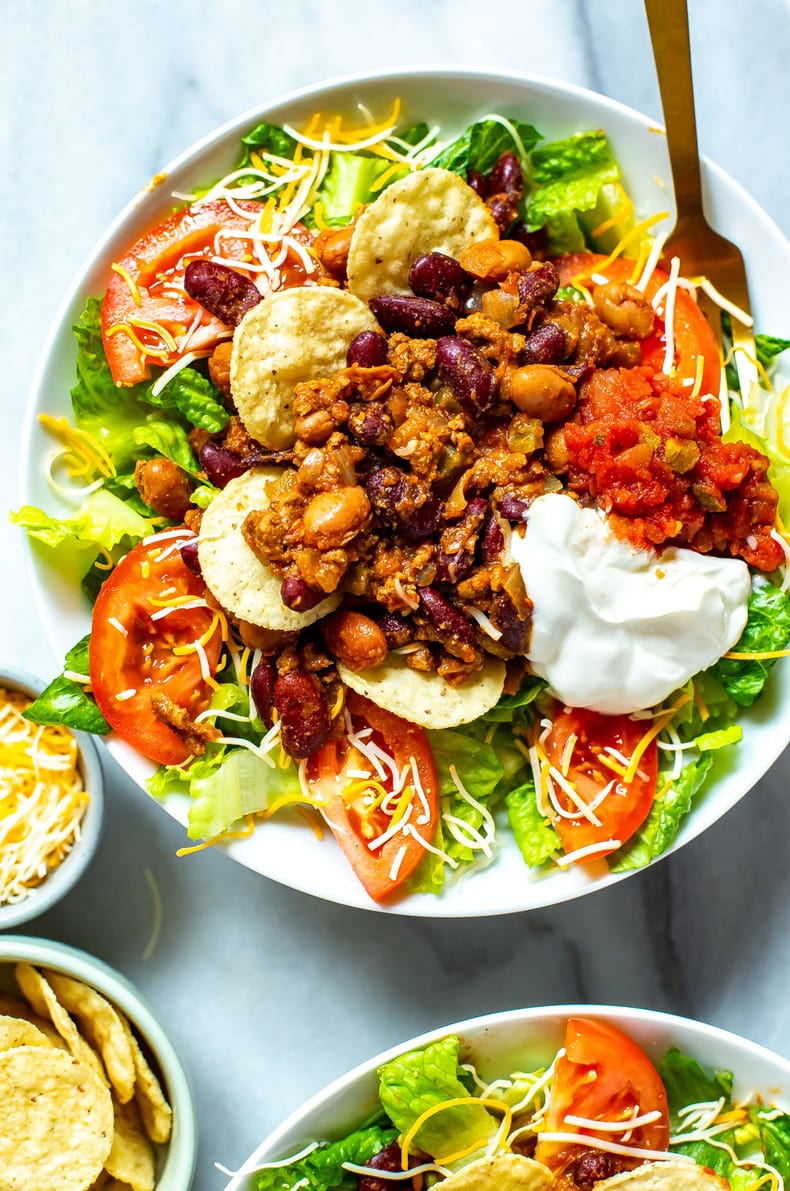 How many calories does a Wendy's Taco Salad have?
According to the Wendy's website, the Wendy's taco salad calories will vary, according to size and toppings.
A full-size Taco Salad has 620 calories, of which 260 of those calories are from fat. The salad provides:
29g of fat
28g of protein
16g of sugar
13g of fiber
1,820mg of sodium
A half-size Taco Salad has 470 calories, of which 200 of those calories are from fat. The salad provides:
23g of fat
17g of protein
11g of sugar
9g of fiber
1,310mg of sodium
Nutrition-wise, it's not the worst salad out there, especially in the land of fast food. But we could definitely make it a lot healthier by making it at home!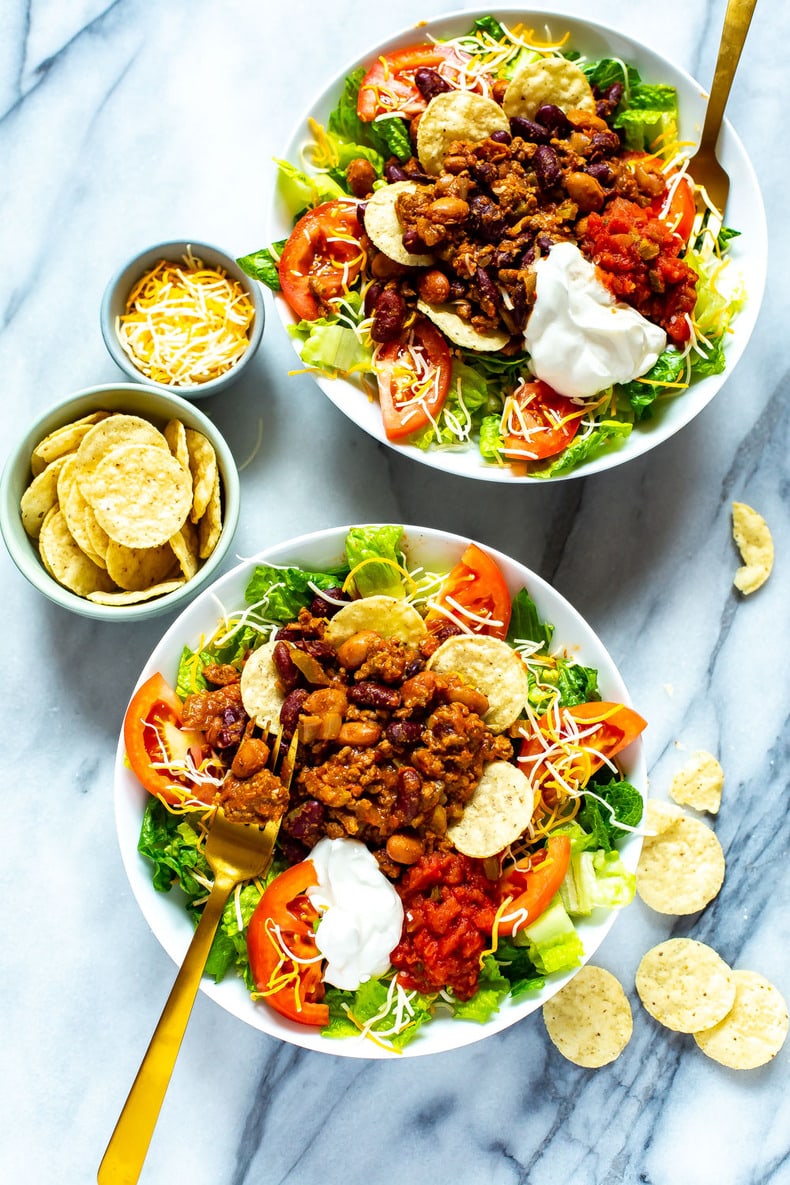 How can I make a Wendy's Taco Salad healthier?
If you focus on fresh, healthy ingredients, a homemade version of Wendy's Taco Salad can provide a good balance of protein, fats and carbohydrates and provide ample amounts of fiber, vitamin C, calcium and iron.
To prepare a healthier Wendy's Taco Salad recipe and/or the Wendy's chili recipe, incorporate some of the following tips:
Use non-fried corn tortilla chips instead of fried or flour tortilla chips.
Use low-sodium or low-fat versions of ingredients when possible, like low sodium beef broth, low-fat cheddar cheese and fat-free sour cream.
Make sure you drain and rinse canned beans. Rinsing beans after you've drained them can reduce the sodium content by as much as 41 percent.
You can substitute the extra-lean ground beef with a leaner protein, such as chicken or turkey.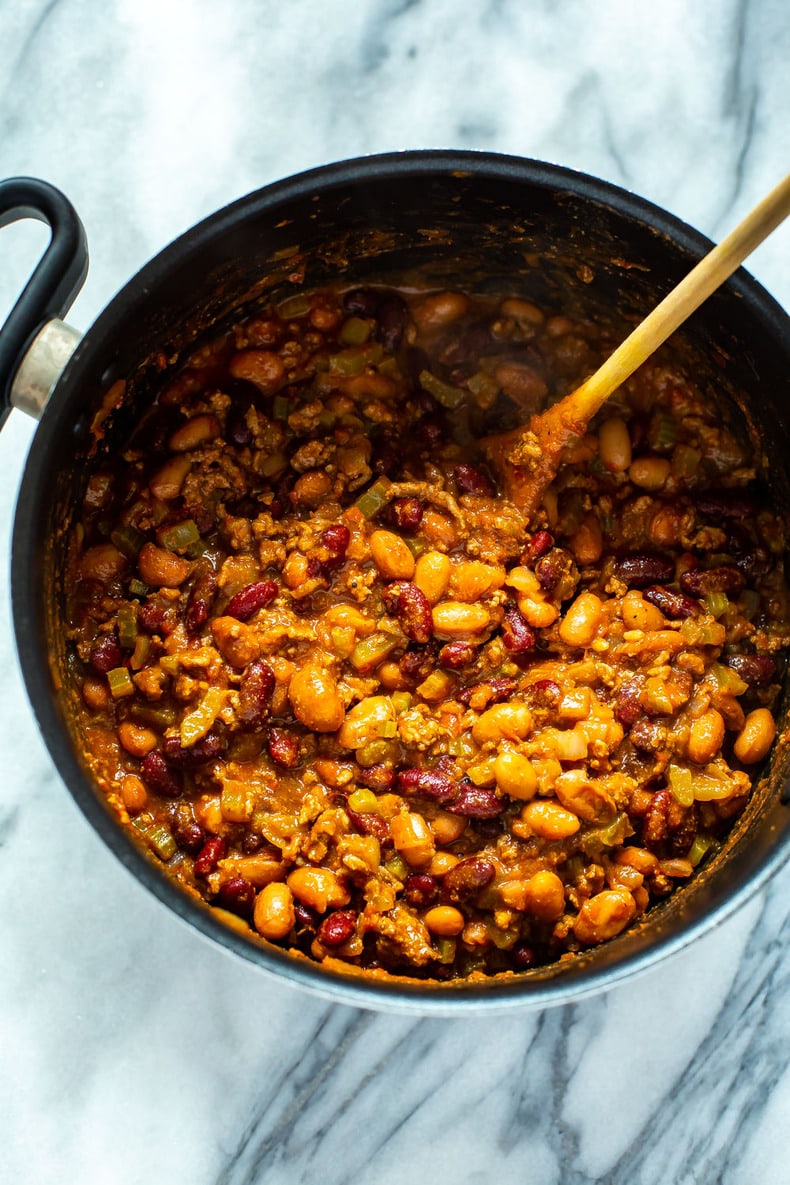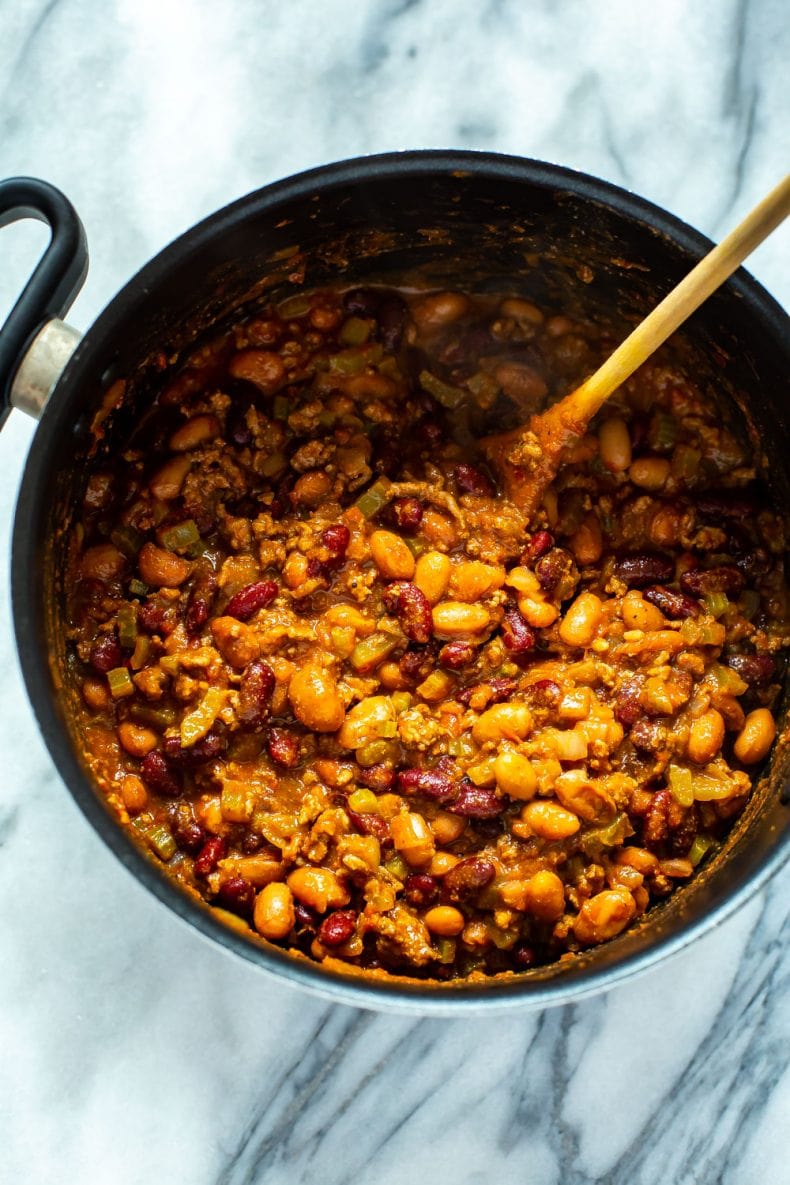 Can I make my own tortilla chips?
You can make homemade baked tortilla chips very easily, using corn tortillas, oil and salt.
Cut corn tortillas into triangles and lightly brush them with oil.
Place the chips in one even layer on a large baking sheet and sprinkle with salt.
Bake the chips in an oven at 350 degrees Fahrenheit for about 10-12 minutes. Watch the chips closely to make sure they don't burn or get too brown.
If you're watching your calories, you can also leave the tortilla chips out altogether – personally I didn't find that I needed them to enjoy this salad!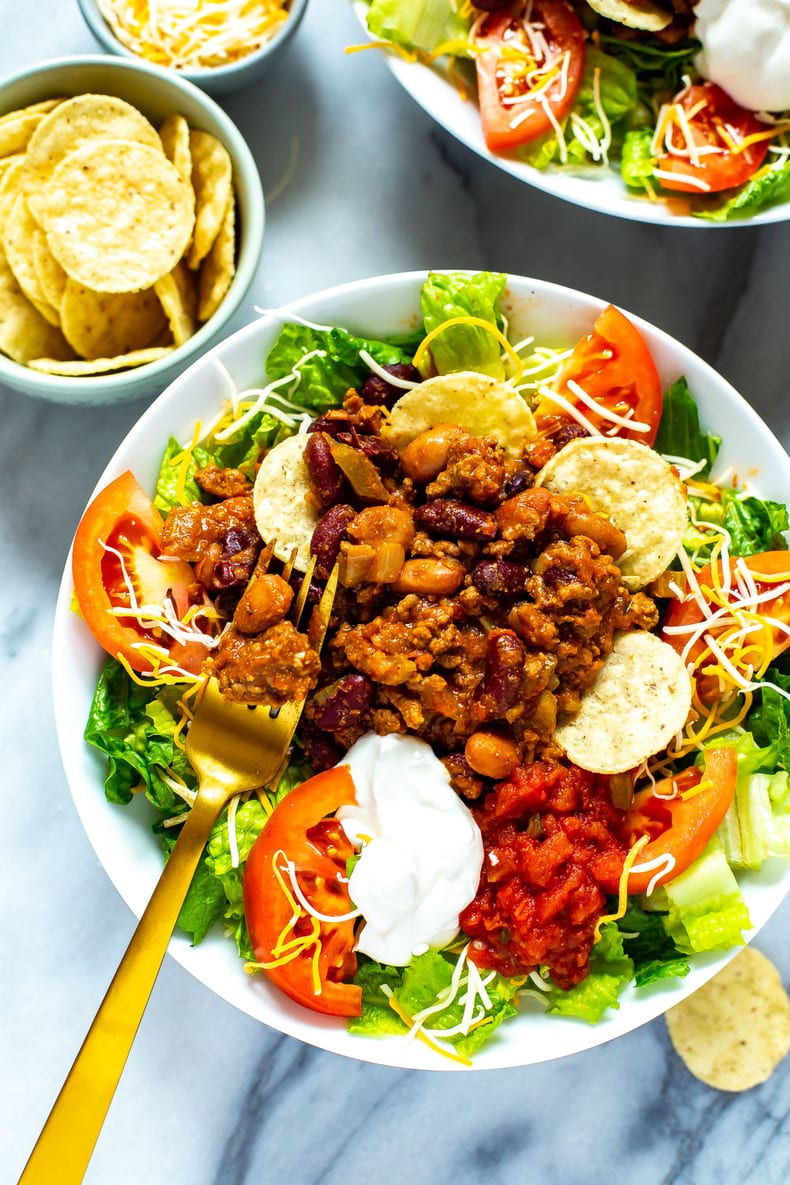 Can you freeze Wendy's chili?
My healthier version of Wendy's chili freezes very well. Place any leftover chili into airtight containers or meal prep containers (small glass bowls with lids work best) once cooled. It will also keep well for up to five days in the refrigerator.
This Wendy's chili recipe can be made ahead of time and then frozen, which is perfect for meal prep! You'll have a quick and convenient batch of chili ready for a busy weeknight.
It freezes best in single serving portions or family-sized servings. If stored properly, frozen chili can last from three to six months.
Other ways to use chili
Besides just enjoying a big bowl of chili topped with cheese and sour cream you can make a large batch of chili, freeze it and then use it in variety of future meals.
Some of my other recipes that you can incorporate this Wendy's chili recipe into include:
Or use the chili as topping in these recipes to give them a different twist!
Wanna Learn How To Meal Prep?
My meal planning service, Dinner Prep Pro, removes the guesswork and helps you get dinner on the table in 15-20 minutes each night. My meal prep checklists only take 1 hour each week!
Helpful meal prep tools for this recipe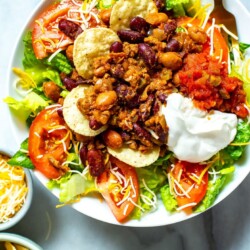 Wendy's Taco Salad
This Wendy's Taco Salad recipe is an almost exact copycat of the fast food chain's famous salad. You'll learn how to make the Wendy's chili recipe too! 
Print
Pin
Rate
Click Here to Remove Ads
Servings: 4 servings
Calories: 372kcal
Ingredients
Wendy's Chili recipe
1 tbsp olive oil
2 yellow onions, diced
3 stalks celery, finely chopped
1 lb extra-lean ground beef
2 cloves garlic, minced
1 tbsp chili powder
1 tsp cumin
1 tsp coriander
1 tsp salt
1/2 tsp pepper
1 can pinto beans, rinsed and drained
1 can kidney beans, rinsed and drained
1 (398mL) can crushed tomatoes (or 1/2 of a 796mL can)
1 cup beef broth
Salad
1 bunch romaine lettuce, chopped
1 beefsteak tomato, sliced
1/2 cup shredded cheddar cheese
Tortilla chips, to serve
Sour cream, for topping
Salsa, for topping
Instructions
Heat olive oil in a large pot over med-high heat. Add onions and celery, sauteeing for 2-3 minutes until veggies soften. Add ground beef and brown for another 2-3 minutes before adding garlic, chili powder, coriander, salt & pepper. Stir well and cook for 2-3 minutes until flavours develop.

Add kidney beans, pinto beans, tomatoes and beef broth, then bring to a boil. Lower heat to med-low then cover with a lid and let simmer for 20 minutes.

While chili is cooking, assemble salad. Top salad with chili and tortilla chips, then serve and enjoy!

If meal prepping as lunches: Add chili to the bottom of mason jars, then layer in cheese, tomatoes, lettuce and pack tortilla chips in a separate bag. This way veggies will stay fresh for the week (lasts in fridge 3-5 days).

If freezing chili: freeze in round glass containers with lids once cooled up to 3 months. Reheat in microwave for 6-7 minutes when ready to serve, stirring halfway through.
Video
Nutrition
Calories: 372kcal (19%)Carbohydrates: 20g (7%)Protein: 31g (62%)Fat: 18g (28%)Saturated Fat: 6g (38%)Cholesterol: 85mg (28%)Sodium: 1095mg (48%)Potassium: 878mg (25%)Fiber: 3g (13%)Sugar: 5g (6%)Vitamin A: 1600IU (32%)Vitamin C: 17.5mg (21%)Calcium: 186mg (19%)Iron: 4.4mg (24%)