This Chicken Enchiladas Verdes recipe is made with tomatillo-based salsa verde and comes together as an easy dinner casserole. It also works great for flavourful meal prep lunches!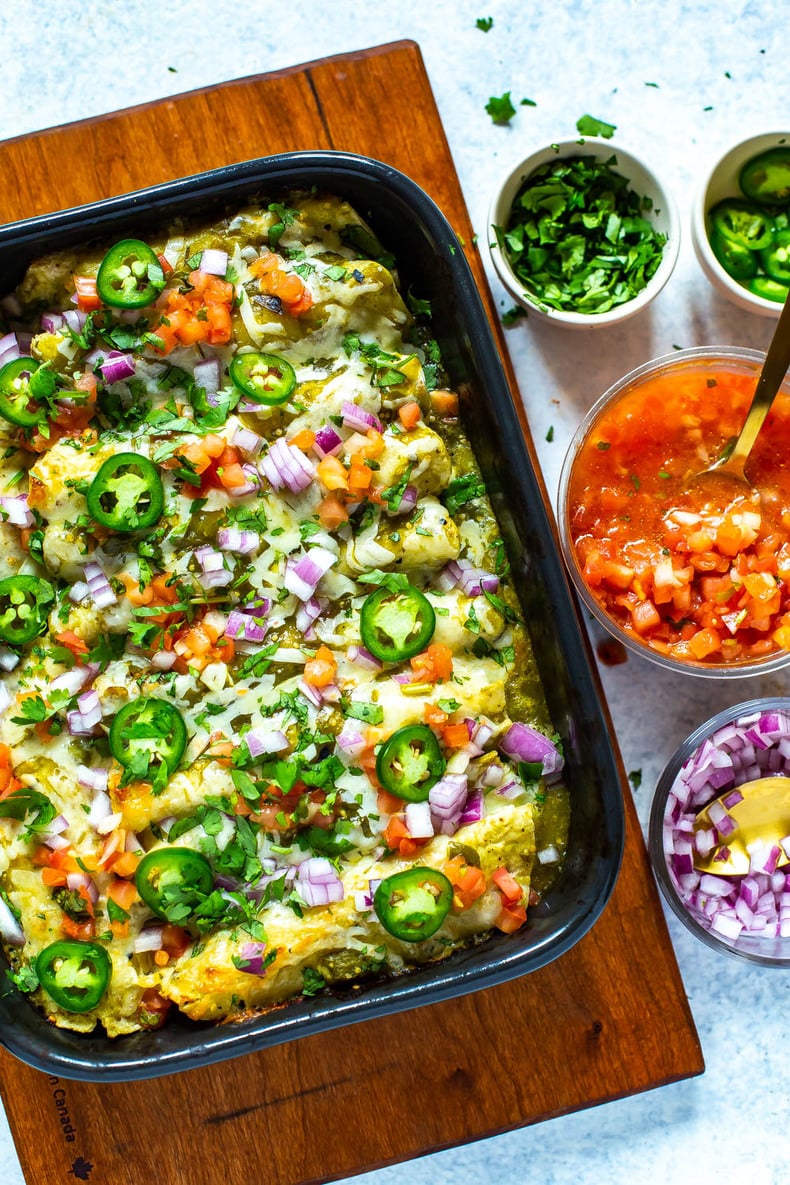 If you've never eaten enchiladas verdes before, just know that this may become your favorite enchilada recipe! It's just as easy as making enchiladas with red sauce, and I've got a few handy shortcuts in this post that will help you put this giant Mexican casserole together in no time!
Are green enchilada sauce and salsa verde the same thing?
While the two are related, they are not one and the same. The term salsa verde is Spanish for green salsa. In comparison, green enchilada sauce is made with, among other things, green salsa. However, you can actually just use green salsa as your green enchilada sauce to make things simple and easy. That's what I have done with this recipe!
This Mexican chicken casserole has a green chile and tomatillo salsa on top. It's a great recipe for dinner on busy weeknights, especially if you make it ahead!
I did in fact just use jarred green salsa to make things easier for this recipe and minimize a lot of prep time, but you can make your own green salsa at home using tomatillos and other ingredients. Here is a super easy salsa verde recipe you can make at home if you're interested in making all parts of this recipe from scratch.
Are green chicken enchiladas spicy?
Actually, salsa verde is milder than red salsa is. This is because green chiles aren't as spicy as the red chili peppers are. Chicken enchiladas verdes can be spiced up a little bit by adding jalapenos. I prefer to just add the jalapenos on top since we are using a jarred salsa verde as the sauce and you can also use a spicy fresh salsa overtop as a topping if you're looking to spice things up.
The chicken itself is not super spicy (just made using a bit of chili powder and cumin, among other seasonings) so if you are cooking for the kids and want a milder enchiladas recipe, enchiladas verdes are where it's at!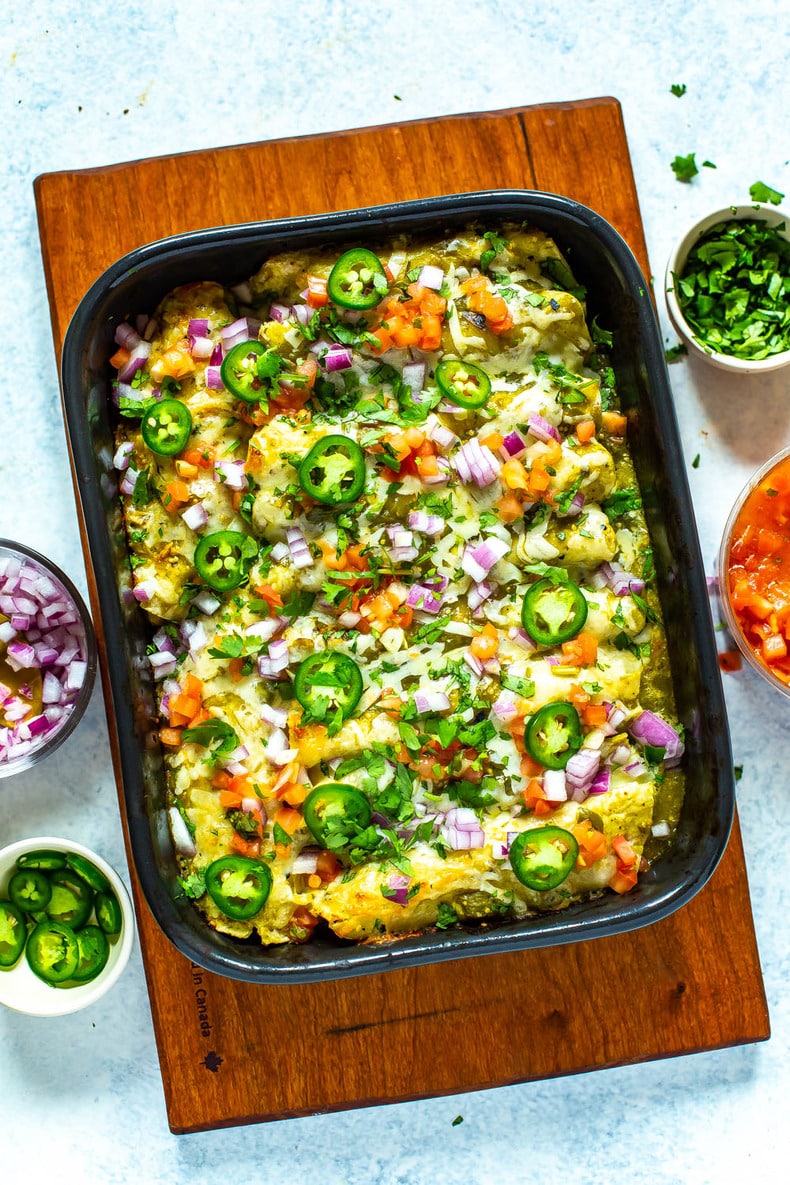 What kind of chicken is best for enchiladas verdes?
The chicken mixture for green chicken enchiladas verdes is incredibly easy to make.
For this recipe, I use boneless, skinless chicken breasts. If you're in a rush, store bought rotisserie chicken also works well. Or, to save time another way, you can use chicken breasts, but make them in a slow cooker. As a result, you won't have to spend as much time preparing dinner all at once. The slow cooked chicken will be ready to shred when you get home. Or, you can also cook and shred the chicken up to one or two days in advance and have it ready to go by the time you go to make this recipe. All of the above shortcuts are a great way to save prep time!
You can also use boneless skinless chicken thighs, or even skinless chicken tenders. Whatever type of chicken you use is fine; just be sure that's it cooked long enough that it shreds easily.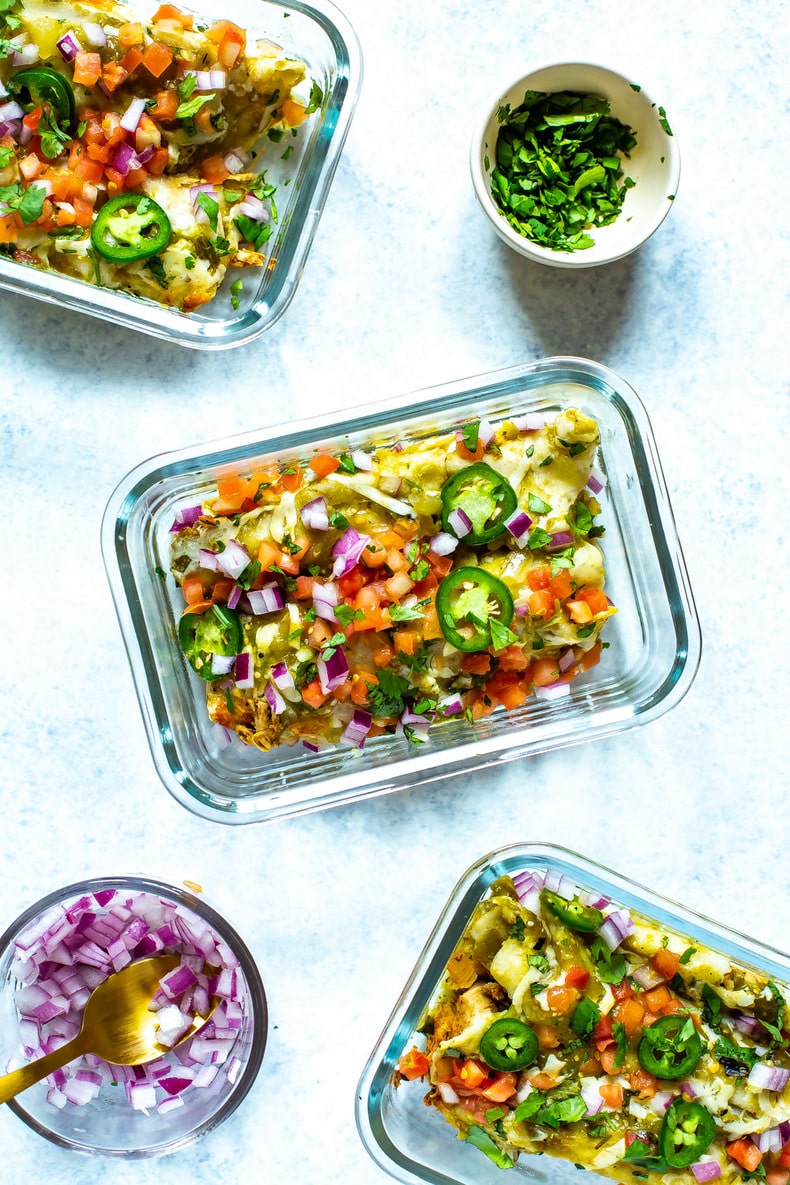 How to make the chicken filling
When making the chicken filling, you are basically just going to cook the chicken (I usually just boil in water), then shred the chicken and add back to a frying pan with other seasonings. The process is actually similar to my chicken burrito recipe. OMG can you believe the pictures on that burrito recipe though?!! It was one of my very first blog posts!
Honestly, I still have dreams about that pulled chicken though, it's just so flavourful and delicious and it was my inspiration when making the chicken for these enchiladas.
You'll basically add the chicken to a frying pan, season with onions, garlic, chili powder, cumin, lime juice and some other ingredients, then you're good to go. You can also add a little bit of salsa if you'd like some more flavour. Just trust me on this chicken being so simple but SO GOOD!
Toppings for enchiladas verdes
While the base of corn tortillas, chicken filling and green salsa are all the same, the toppings for these enchiladas verdes can vary and that's great news depending on what you already have on hand at home!
Here are some more topping ideas for this recipe:
frozen corn
sliced jalapenos
diced red onion
pico de gallo
salsa
sour cream
cilantro
guacamole
avocado
crumbled queso or feta cheese
Can you make enchiladas with flour tortillas?
Traditionally, enchiladas are made using corn tortillas, but making chicken enchiladas with flour tortillas works too. The only problem is that soft tortillas are more likely to become soggy as they bake. This also happens with corn tortillas but to a lesser extent.
With that said, if you're reluctant to use corn tortillas, thinking they are difficult to roll up, don't worry. I have a tip that will make rolling the chicken enchiladas verdes SO much easier!
To make corn tortillas more pliable and easier to roll up, warm them up first! I pop them into a microwave for a few seconds before I roll them. As a result, they roll up easier, and they hardly ever crack. You can watch the video below to see how much chicken filling I add and then I roll them and leave them lying face down on the seam. This helps them stay together and this is especially easy once you have filled the whole casserole dish.
How to meal prep enchiladas verdes
These enchiladas are so perfect for meal prep because you're batch cooking a ton of food at once and you should be able to pack the rolled filled tortillas separately in glass meal prep containers (the ones I use are linked below). If you do pack them right in the glass containers, all you have to do is take them out of the fridge and microwave them!
I prefer to pack the toppings separately to add once I have reheated my enchiladas, but you can totally just microwave them along with the rest of the recipe to make things easy. Just 1-2 minutes of reheating time will work.
Can you freeze enchiladas verdes?
Chicken enchiladas verdes freeze very well, and they'll stay good frozen for 3 months. The only tip I have to offer is to make sure they're at room temperature before you freeze them. Otherwise, they're likely to get stuck together.
While the tortillas, chicken, sauce and cheese all freeze well, the toppings do not so I would recommend freezing then buying the toppings fresh when you are ready to reheat and serve. The good news is that you may already have most toppings on hand already as condiments in your fridge so no need to run out and buy more items.
Again, glass containers work best here, and you're looking at 5-6 minutes of reheating time in the microwave. You can also freeze the cooked seasoned chicken filling separately in smaller glass containers so that you can make these enchiladas fresh in half the time!
If you'd like some more help with meal prep, then you'll love my 5-day meal prep challenge! It's basically a free course that will teach you how to meal prep and cook healthy meals at home with some PDF bonus materials. Sign up for free below!
What should I serve with chicken enchiladas?
Like most traditional Mexican dinners, there are a lot of side dishes that go well with green chicken enchiladas. Some great side dish ideas include:
Black beans with cilantro rice
Refried beans or pinto beans
Spanish or Mexican rice
Mexican corn on the cob
Tortilla chips with fresh salsa, bean dip, or queso dip
Meal prep tools for this recipe
Grab some glass meal prep bowls if you plan on turning this 30-Minute Ahi Poke Bowl into your weekly lunches
I get all my free-range chicken from Butcher Box, conveniently delivered to me frozen
Get a meat thermometer to make sure your chicken is cooked through
Use these Ziploc bag holders if you're marinating the chicken then freezing it
Freeze the chicken filling in glass microwave-safe bowls up to 3 months
More delicious Mexican meal prep recipes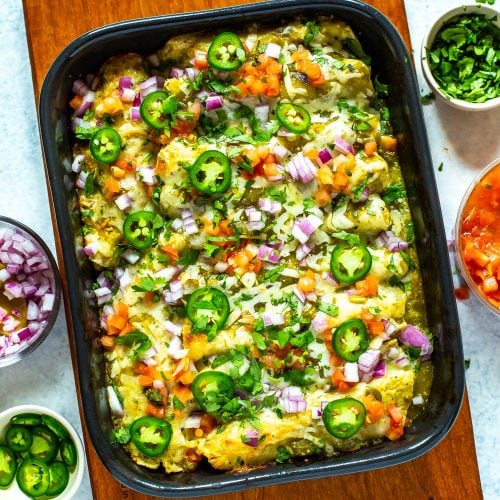 Chicken Enchiladas Verdes
This Chicken Enchiladas Verdes recipe is made with tomatillo-based salsa verde and comes together as an easy dinner casserole - it also works great as flavourful meal prep lunches!
Print
Pin
Rate
Ingredients
2

chicken breasts

1

tbsp

olive oil

1

yellow onion, diced

4

cloves

garlic, minced

1

tbsp

lime juice

1

tbsp

chili powder

1

tsp

cumin

1/2

tsp each

salt & pepper

2

tbsp

finely chopped cilantro

12

corn tortillas

1

jar

salsa verde

1

cup

white cheddar cheese, grated
Optional toppings
Sliced jalapenos

Diced avocado

Pico de gallo

Red onions, diced

Chopped cilantro
Instructions
Preheat oven to 450 F. Meanwhile, bring a large pot of water to a boil on the stove. Add chicken and cook for 15-18 minutes until cooked through. Drain pot, then shred chicken with a knife and fork.

In same pot (or new frying pan...I use the same pot to save on clean up), heat olive oil over med-high heat. Add onions and garlic, sauteeing for 2 minutes until onions are softened. Add cooked chicken, lime juice, chili powder, cumin, salt and pepper, cooking another 2 minutes. Stir in cilantro then remove from heat.

Grease a 9x11 casserole dish with cooking spray. Microwave corn tortillas for 20-30 seconds to make them pliable. Add about 2 tbsp of the chicken and then roll tortillas so that the seam is facing down on casserole dish. Repeat with remaining tortillas and chicken filling.

Add salsa verde to top of tortillas and top with cheese. Bake for 10-15 minutes until cheese is melted.

Remove from oven and garnish with toppings of choice. Serve immediately or pack into meal prep bowls. One serving is 2 enchiladas. Enjoy!
Video
Nutrition
Calories:
351
kcal
|
Carbohydrates:
26
g
|
Protein:
32
g
|
Fat:
13
g
|
Saturated Fat:
5
g
|
Cholesterol:
92
mg
|
Sodium:
295
mg
|
Potassium:
592
mg
|
Fiber:
4
g
|
Sugar:
1
g
|
Vitamin A:
620
IU
|
Vitamin C:
3.5
mg
|
Calcium:
195
mg
|
Iron:
1.7
mg