This Tortellini Minestrone Soup is a comforting and high-fibre vegetarian recipe that comes together in less than 30 minutes – perfect for busy weeknights!
Ingredients and substitutions
Olive oil – any neutral oil like sunflower oil, avocado oil or vegetable oil will work in place of olive oil.
Yellow onion – feel free to use white onions or shallots.
Garlic – you can use fresh garlic or jarred minced garlic in this recipe.
Celery – feel free to swap it out for another vegetable of your choice.
Carrots – use any fresh veggies you want here.
Green beans – any other vegetable of your choice would be good.
Oregano – Italian seasoning or additional basil would be a great replacement to oregano.
Basil – if you don't have basil on hand, you can replace it with tarragon, mint or marjoram.
Salt and pepper – to taste.
Finely chopped tomatoes – fresh or canned topped tomatoes will work.
Kidney beans – replace kidney beans with pinto beans, black beans or cannellini beans.
Chicken broth – beef or vegetable broth will also work.
Cheese tortellini – cheese tortellini is the star of the meal but you can use any tortellini (three cheese, meat, etc.)
Basil – to garnish.
Parmesan – to garnish.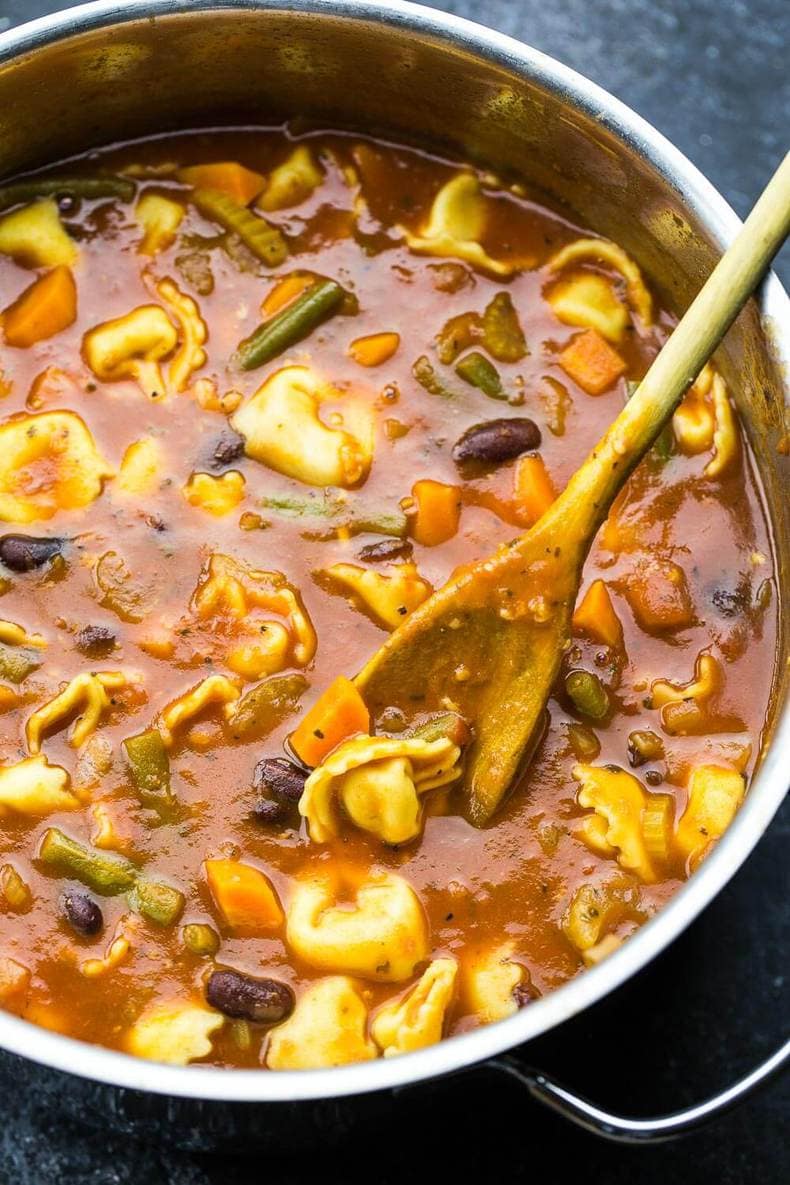 How to make minestrone soup with tortellini
Sauté the onions, garlic, celery and carrots.
Add all the ingredients except for the cheese tortellini.
Bring to a boil and simmer for 20 minutes.
Mix in the tortellini and cook for 5 minutes.
Serve in large bowls with fresh basil and parmesan.

What to serve with this recipe
This recipe is super filling on its own, but you can serve it with bruschetta, fresh bread or a side salad. If you want to serve this minestrone soup as a side dish instead of a main, cut the portion sizes in half.
Frequently Asked Questions
What's minestrone soup made of?
The ingredients in minestrone soup vary based on whatever vegetables are in season. Typically, minestrone includes lots of fresh veggies, beans, tomatoes, some kind of broth (like chicken or vegetable broth) and rice or pasta.
What are tortellini noodles?
If you've never had tortellini before, you're missing out! Tortellini is a kind of pasta noodle that's shaped like a ring and stuffed with meat and/or cheese.
Is this recipe healthy?
While this dish tastes super indulgent, it's still fairly healthy since it's made with fresh veggies and high in fibre.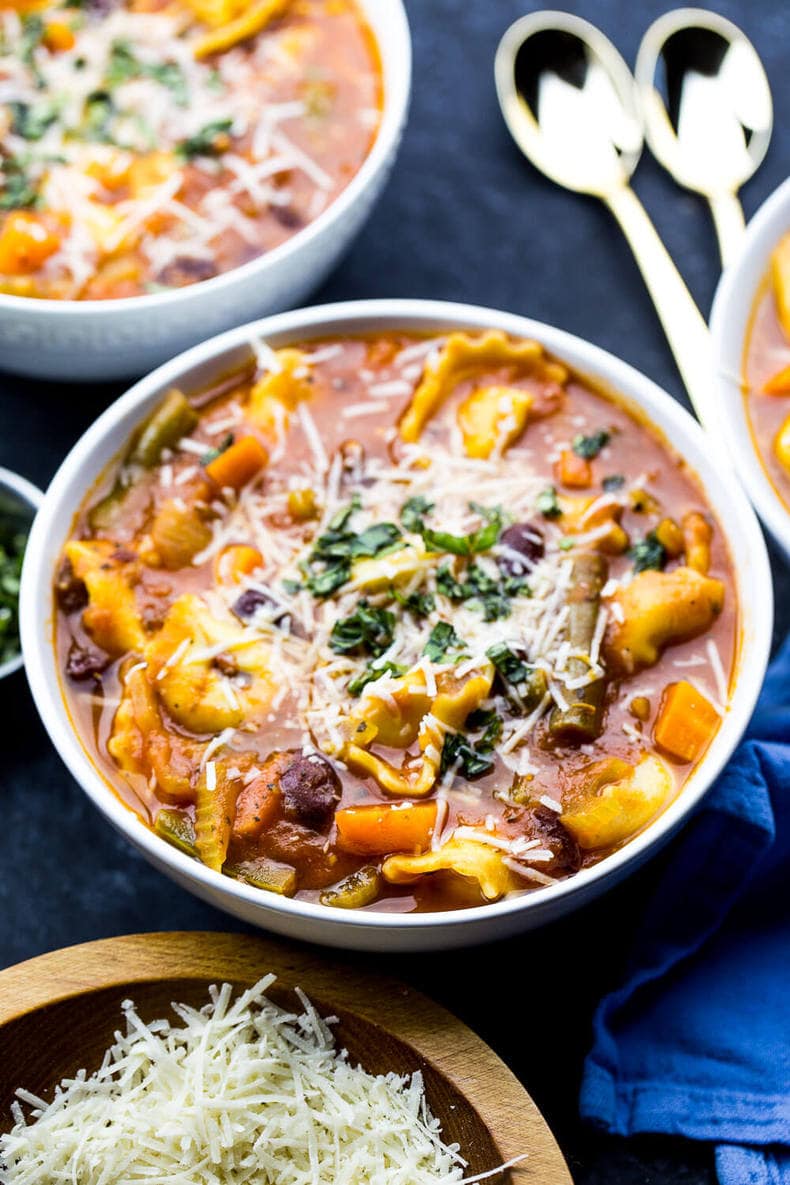 Storing and reheating
My favourite way to store soups like this is in mason jars! Mason jars are a great way of serving individual portions of soups to make for easy meals throughout the week. If you don't have any mason jars, feel free to use glass meal prep containers. Once stored, the soup will last for up to three days in the fridge.
When you're ready to enjoy the soup, pour the portion out into a pot or microwave for 1-2 minutes until warm.
Freezing this recipe
If you want to store this soup longer, it is freezer-friendly without the tortellini. This means that if you're looking to store the soup in the freezer, you will want to make it without the tortellini and then freeze the soup in airtight containers or in your mason jars. When you're ready to have your soup, let it defrost in the fridge then add in the tortellini while you're warming it up in a pot on the stove.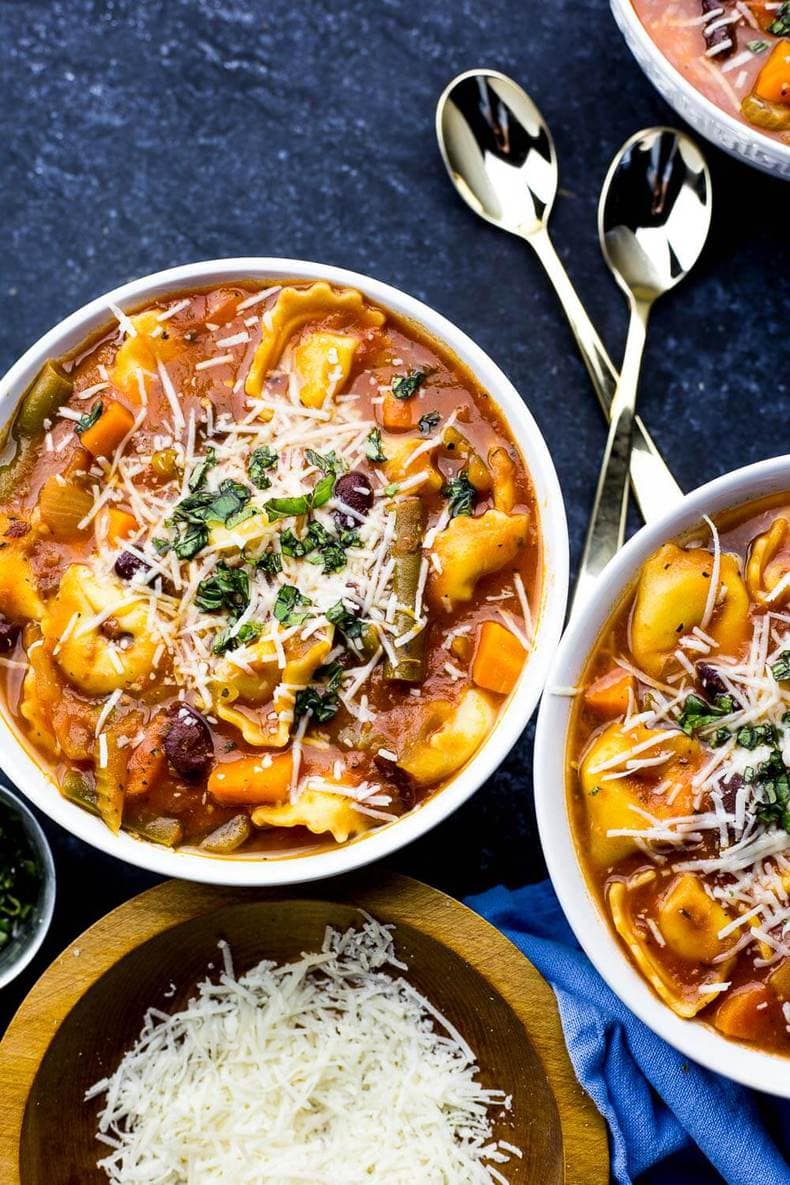 Wanna Learn How To Meal Prep?
My meal planning service, Dinner Prep Pro, removes the guesswork and helps you get dinner on the table in 15-20 minutes each night. My meal prep checklists only take 1 hour each week!
More easy soup recipes
Meal prep tools for this recipe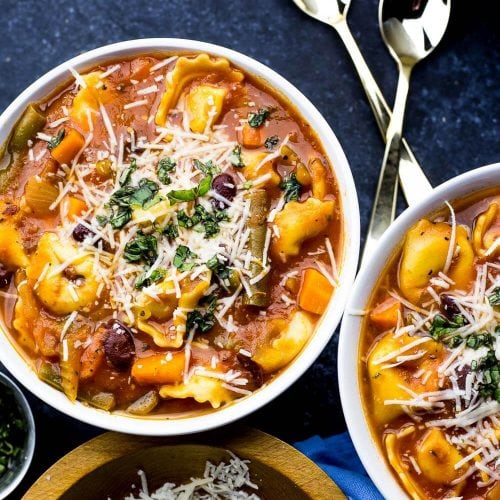 30-Minute Tortellini Minestrone Soup
This Tortellini Minestrone Soup is a comforting and high-fibre recipe that's ready in less than 30 minutes – perfect for busy weeknights!
Print
Pin
Rate
FEELING BURNED OUT?We've got you covered with a December self care plan! Sign up for weekly habit audits, 3 weeks of meal prep plans, weekly goal setting printables + live calls!👇
Join our December ✨Feel Good✨ Challenge!
Servings: 4 servings
Calories: 457kcal
Ingredients
1 tbsp olive oil
1 yellow onion, diced
4 cloves garlic minced
3 stalks celery, chopped
2 carrots, peeled and chopped
1 cup chopped green beans
1 tsp dried oregano
1 tsp dried basil
1 tsp salt
1/2 tsp pepper
2 14oz cans finely chopped tomatoes (or one 28oz can)
1 can kidney beans, drained
4 cups chicken or vegetable broth
1 350g package cheese tortellini
Fresh basil, for garnish
Fresh parmesan, for garnish
Instructions
In a large, deep pot, heat olive oil over med-high heat. Add onions and garlic, sauteeing for 30 seconds until fragrant. Add celery and carrots, cooking another 3-4 min.

Add the rest of the ingredients with the exception of the cheese tortellini. Bring to a boil and then simmer for 20 minutes. Add tortellini and cook another 5 min.

Serve in large bowls and top with fresh basil and freshly grated parmesan cheese. Enjoy!
Notes
Use whatever veggies are fresh or in season. You can substitute the vegetable broth for chicken or beef broth. Store individual portions in the fridge in mason jars. Reheat in a pot on the stovetop or in the microwave. If you're freezing this soup, leave out the tortellini, then add it in when you're reheating on the stovetop.
Nutrition
Calories: 457kcal (23%)Carbohydrates: 70g (23%)Protein: 23g (46%)Fat: 12g (18%)Saturated Fat: 3g (19%)Polyunsaturated Fat: 1gMonounsaturated Fat: 3gCholesterol: 33mg (11%)Sodium: 1672mg (73%)Potassium: 705mg (20%)Fiber: 7g (29%)Sugar: 8g (9%)Vitamin A: 9300IU (186%)Vitamin C: 112.2mg (136%)Calcium: 170mg (17%)Iron: 3.1mg (17%)