Instant Pot or Slow Cooker African-Inspired Peanut Stew
This Slow Cooker African-Inspired Peanut Stew is a hearty, savoury chickpea and sweet potato curry, served with basmati rice and topped with cilantro. It's also gluten-free and vegan!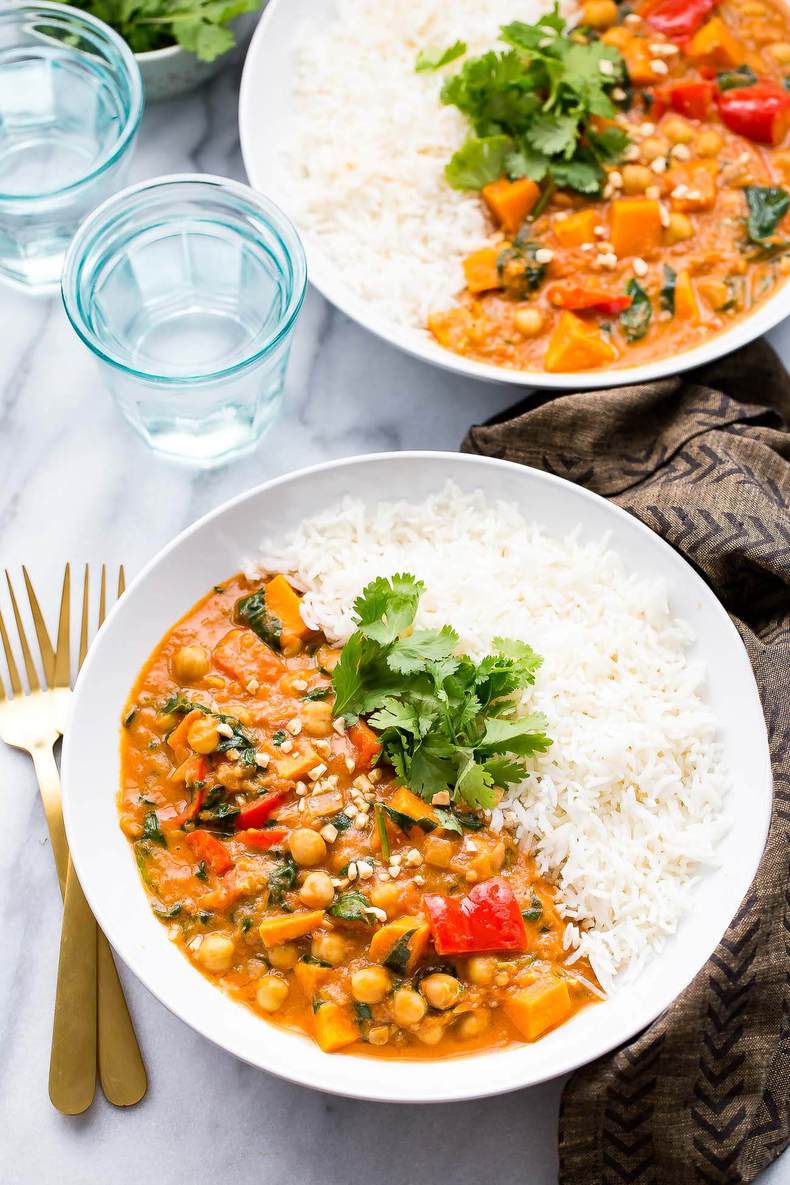 This post is sponsored by The Peanut Bureau of Canada.
Disclosure: This post may contain affiliate links which won't change your price if you purchase but will share some commission. This helps to keep my blog up and running – thank you for your support!
Let's say hello to my most favourite new dinner recipe – one that's perfect for the transition from winter to spring, and basically cooks all day while you're at work for one low-maintenance weeknight dinner!
This new obsession of mine? Slow Cooker African-Inspired Peanut Stew.
I don't know about you but stew gets a bad rap in my household.
Whenever my parents think of the word stew they automatically go to their parents' old school stew recipes with overcooked chunks of beef and little in the way of nutritional value save for some iron, and maybeeeee some vitamin A from the few carrots that were in there.
Okay, so my grandmas weren't good cooks. I'm glad the bad cooking gene stopped with them.
So even though this is technically a recipe for peanut stew, I guess stew is kind of bad word for it – it's mostly a curry.
You can mop it up with some delicious naan bread, or serve it alongside basmati rice for a hearty, super-filling vegan meal.
Or if you feel like you need a little bit of extra protein of course, you can always add in some diced chicken.
I've definitely done that before. In fact, in the three weeks since I initially made and photographed this recipe, I've already made it again for my weekly lunch prep last week. It really is that good.
It even got my mom's seal of approval after I convinced her that this was not in fact her interpretation of what stew is.
Aside from my own personal feelings about the flavours, this Slow Cooker African-Inspired Peanut Stew really is a one-pot wonder.
It's packed with veggies – sweet potato, onions, garlic, red pepper, spinach and cilantro – but what really makes it taste so unique is the curried, tomato sauce. Yes, it's got peanut butter!
Peanut butter is my new favourite for curries – and not just those of the coconut milk variety.
If you ever make a green curry from home, or even order one at a restaurant, you'll know that it's the spicest Thai curry on the menu. If you love the flavours but can't quite handle the spice, peanut butter is my secret weapon.
It undercuts the spice in a way that doesn't dull the flavour, and it blends so beautifully to turn any curry into a creamy, savoury sauce.
While I eat peanut butter almost everyday, it's usually in combination with some other kind of sweet thing, like on an English muffin or in a cookie, or with sliced apples.
Well, peanut butter is also fantastic in savoury, salty recipes too, and if you're not a big fan of it with sweet things, you likely will be with a recipe like this because the flavour is so different.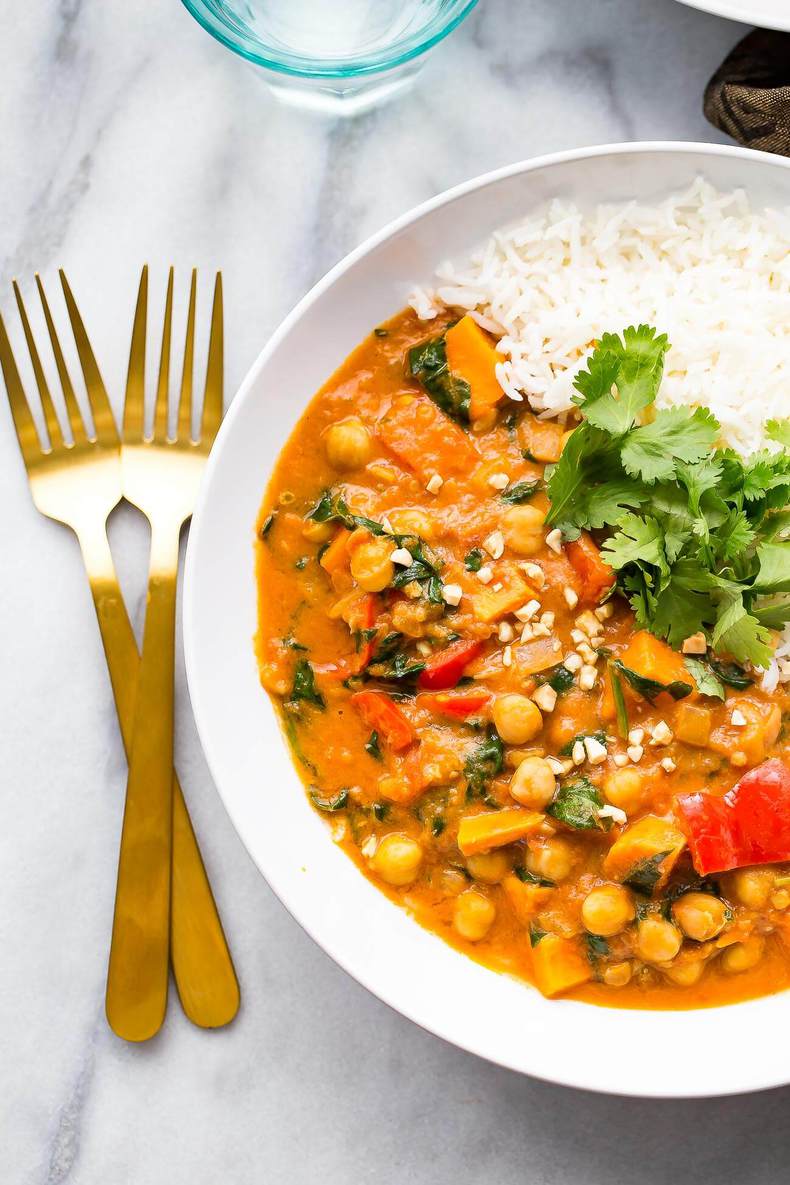 While traditional African-Inspired Peanut Stew recipes call for just sweet potatoes or a combo of sweet potato and chicken, I've added in some extra veggies like red peppers, spinach and cilantro to boost this recipe's nutritional value.
That way, you don't have to cook or create anything else on the side. Who's got time for salad or side vegetables? My mantra for quick and easy weeknight meals? Just add in some extra veggies – whatever you've got on hand really will work.
The key though is to stir the red peppers and spinach in near the end of the cooking time.
So let's say you go to work and leave this cooking for the day. I would recommend adding the red pepper in maybe 20 minutes before you're about to serve it and then stir in the spinach and cilantro immediately before eating to ensure the veggies don't break down too much.
Top these bowls with a little extra cilantro and some chopped peanuts for a crunchy garnish and voila, your next weeknight win.
Or weekday lunch prep while you're out running Sunday errands or, you know, while you're out and about having fun on a weekend.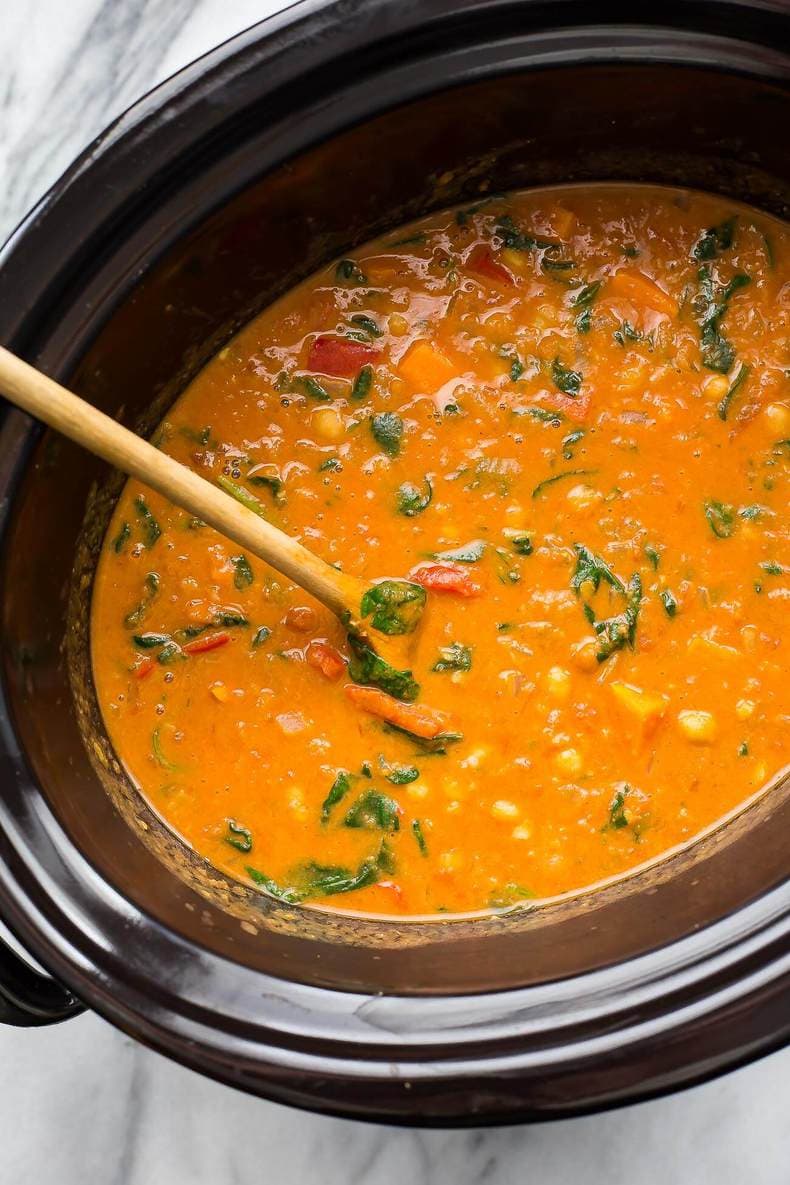 Will you be making this Slow Cooker African-Inspired Peanut Stew? 
I am seriously in love with this internationally-inspired recipe. You really can't go wrong with a cheap and easy weeknight dinner that cooks all day in the crock pot while you're at work.
You don't have any excuse for why dinner isn't ready on time from now on!
And as usual, if you try any of my recipes be sure to let me know on Instagram, Twitter, Facebook or in the comments – I'd love to see what you come up with!???
If you're looking for more slow cooker or one pot meals, I highly recommend you check out these other favourite slow cooker recipes of mine below!
ONE POT/SLOW COOKER BUTTERNUT SQUASH CURRY
SLOW COOKER SWEET POTATO LENTIL CHILI
SLOW COOKER BUTTERNUT SQUASH LENTIL DAL
UPDATE: As of December 2017, this recipe has also been tested using the Instant Pot and on the stovetop. Both methods also work really well if you don't feel like using the slow cooker. Read on for Instant Pot directions below!
Meal prep tools
Meal prep challenge
If you'd like some more help with meal planning, then you'll love my free 5-day meal prep challenge! Sign up for free below: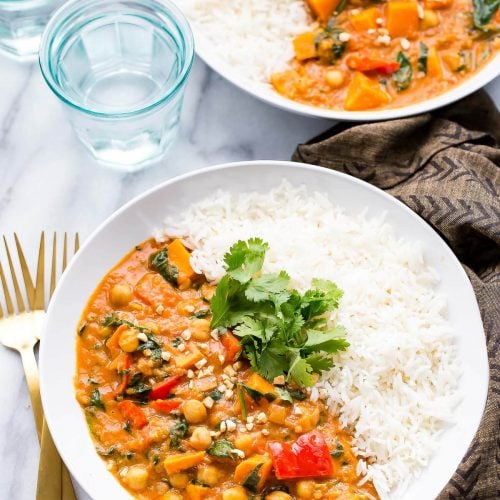 Print Recipe
Slow Cooker African Peanut Curry
This Slow Cooker African-Inspired Peanut Stew is a hearty, savoury chickpea and sweet potato curry, served with basmati rice and topped with cilantro. It's also gluten-free and vegan!
Ingredients
1

tbsp

coconut or olive oil

4

cloves

garlic minced

2

small yellow onions, diced

2

sweet potatoes, cubed

1

tbsp

curry powder

1

tsp

cumin

1

tsp

chili powder

1

tsp

salt

2

cups

vegetable broth

1/3

cup

peanut butter

1

796mL

can crushed tomatoes

1

can

chickpeas, drained and rinsed

1

red pepper, chopped

2

cups

spinach, chopped

1/2

cup

chopped cilantro (plus more for garnish)

1/4

cup

chopped peanuts

3

cups

cooked basmati rice (optional side)
Instructions
Add all ingredients to slow cooker except for chickpeas, red pepper, spinach, cilantro, peanuts and rice. Cook on high for 6 hours, or low for 8 hours.

Within the last half hour of cooking time, add chickpeas and red pepper. When ready to serve, stir in spinach and cilantro, reserving a bit of cilantro or serving more for garnish. Top each bowl with peanuts and serve with basmati rice.

INSTANT POT INSTRUCTIONS: Dump everything into the Instant Pot in order that it appears listed above except for red pepper, spinach, cilantro, peanuts and rice. Cook on high pressure for 2 minutes and then do a quick release of the pressure. Remove lid, then stir in red pepper and spinach. Top each bowl with peanuts and serve with basmati rice.
Nutrition
Calories:
432
kcal
|
Carbohydrates:
59
g
|
Protein:
15
g
|
Fat:
17
g
|
Saturated Fat:
2
g
|
Polyunsaturated Fat:
3
g
|
Monounsaturated Fat:
6
g
|
Sodium:
747
mg
|
Potassium:
561
mg
|
Fiber:
8
g
|
Sugar:
7
g
|
Vitamin A:
2750
IU
|
Vitamin C:
71
mg
|
Calcium:
70
mg
|
Iron:
4.7
mg