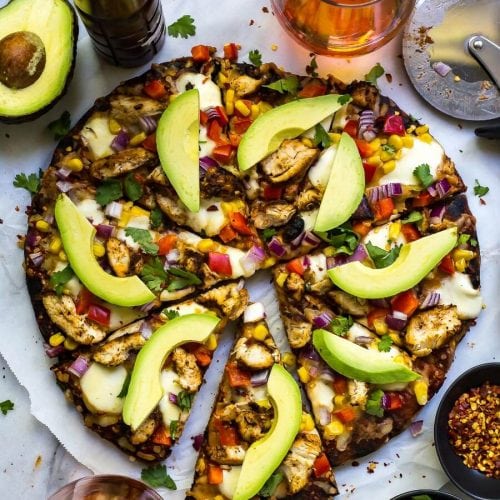 Print Recipe
Avocado Corn Pizza
This Southwest Chipotle Avocado Corn Pizza is a delicious dinner that's full of summer veggies and a smokey, spicey BBQ-chipotle sauce - you'll be craving this pizza all year!
1

chicken breast

2

tsp

taco seasoning or chili powder

Pinch

salt

1

tbsp

olive oil

1

premade pizza crust

1

can

chipotles in adobo sauce

1

small can

Pizza Sauce

1

cup

shredded cheddar cheese

3/4

cup

mini bocconcini balls, sliced

1/2

red pepper, diced

1

small

red onion, diced

1/2

cup

Corn

1/3

cup

cilantro, chopped

1/2

avocado, sliced

Red chili flakes, for garnish
Preheat BBQ to high heat (500 F). Cut raw chicken breats in half, then coat each piece in taco seasoning, olive oil and a bit of salt, rubbing all over chicken well. Grill for 10-15 min, flipping once. Remove from heat once cooked and slice up once cooled. Turn BBQ to med-low heat (400 F).

Meanwhile, prepare pizza toppings. Mix 1 tbsp adobo sauce with pizza sauce and spread over pizza crust. Top with cheddar cheese and spread red pepper, red onion and corn all over pizza. Add a bit of salt to season, and then add chicken and top with bocconcini cheese slices.

Place pizza on the grill (making sure heat is much lower) and cook for 10 minutes, or until cheese is melted. Remove from heat and top with cilantro and red chili flakes. Cut using a pizza cutter, top with avocado slices and serve with your favourite summer wine! Enjoy!