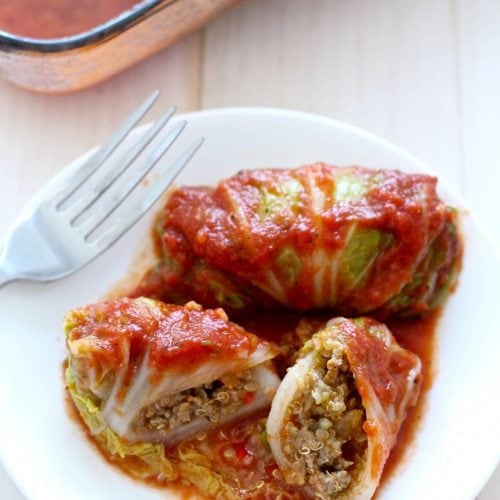 Print Recipe
Healthier Napa Cabbage Rolls with Quinoa
These Healthier Napa Cabbage Rolls are baked in the oven with a simple, homemade tomato sauce, and are a rich, satisfying meal perfect for family gatherings.
Tomato Sauce
2

tbsp

olive oil

1

jar crushed tomatoes

2

cloves

garlic

minced

1

tsp

brown sugar

1

tsp

salt

1/2

tsp

pepper
Preheat oven to 375 degrees.

Combine ground chicken, garlic, onion, peppers, mustard, bouillon cube, salt and pepper as a giant mix. Set aside.

Heat olive oil in frying pan on high, and cook meat mixture, breaking up with spoon. Once browned, add about 1/4 cup of water and continue cooking. Meanwhile, cook quinoa according to package directions. When finished, combine quinoa and meat mixture and set aside.

In large pot on boiling water and using tongs, insert individual cabbage leaves and submerge in water for a couple of seconds then place in ice water.

Once finished, put about 1-2 tbsp of meat mixture inside flattened out, softened cabbage leaf and roll up, placing in large oven safe casserole dish. Repeat this until you fit about 16 cabbage rolls inside.

Cook the tomato sauce by heating olive oil, and cooking crushed tomatoes with garlic, sugar, salt and pepper. Pour over cabbage rolls.

Cook for 15 minutes in the oven, remove and serve immediately!