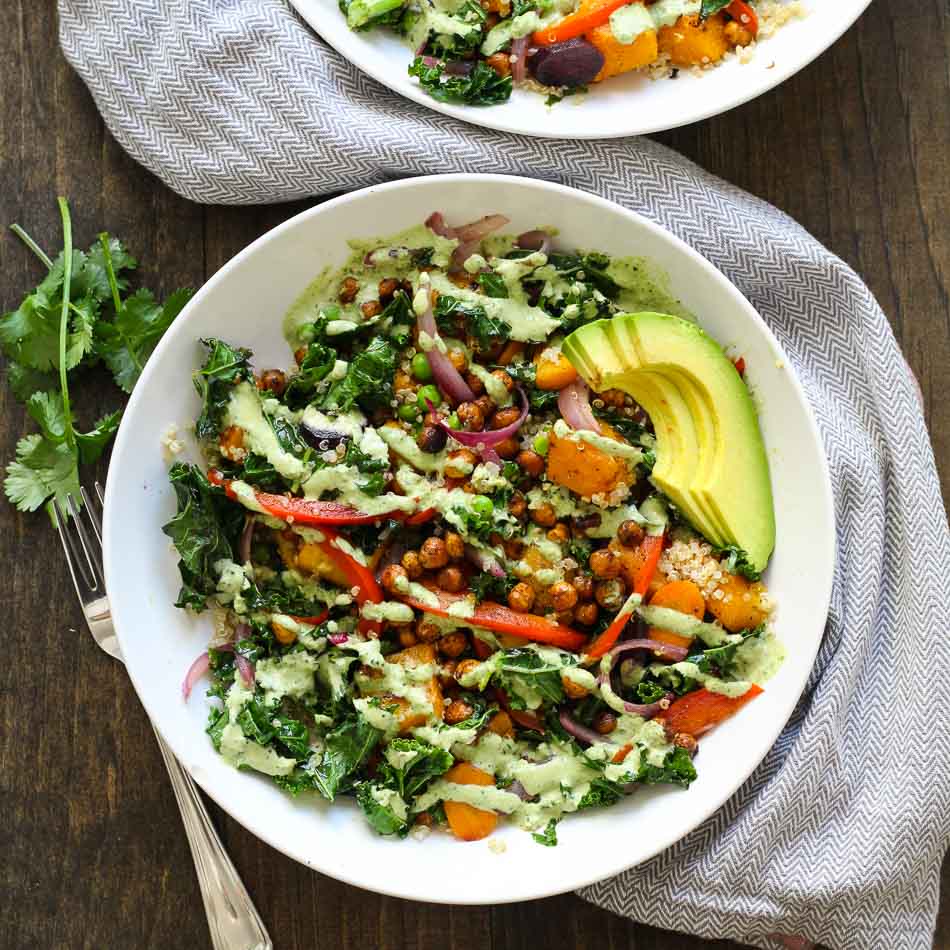 Print Recipe
Kale and Quinoa Bowl + Roasted Chickpeas
This Kale and Quinoa Bowl has all the fixings, from roasted chickpeas to red pepper, avocado, peas and carrots.
Veggies
1

cup

curly kale

1

tbsp

olive oil

1

clove

garlic

minced

1

cup

butternut squash

cubed (about 1/2 squash)

1/2

cup

frozen green peas

defrosted

1/2

red pepper

sliced

1/2

red onion

sliced

Salt & pepper to taste

1

cup

parsley or cilantro

chopped

1/2

avocado

sliced
Preheat oven to 450 degrees.

Prepare chickpeas, then cook on parchment-lined baking sheet in oven for about 35-40 min.

Place butternut squash on a separate baking sheet and cook for about 20 min.

Cook quinoa according to package directions (about 10 min).

Wash, chop and dry kale. Slice and prepare other desired veggies, then mix with kale, olive oil, garlic and salt and pepper. Spread out on a baking sheet, and cook in the oven until veggies are warmed and roasted, about 7-8 min.

In the meantime, make tahini dressing, and line two shallow pasta bowls with quinoa. Top with butternut squash, and additional tray of mixed veggies. Sprinkle fresh herbs overtop, and sliced avocado.

Take chickpeas out of the oven, and top each bowl with about 1/2 cup of them. Finish by drizzling tahini dressing overtop of bowls and serve immediately.