If you're looking for healthy, easy meal prep ideas that don't compromise on taste or flavour, then you're in the right little corner of the internet. Welcome, fellow healthy foodies!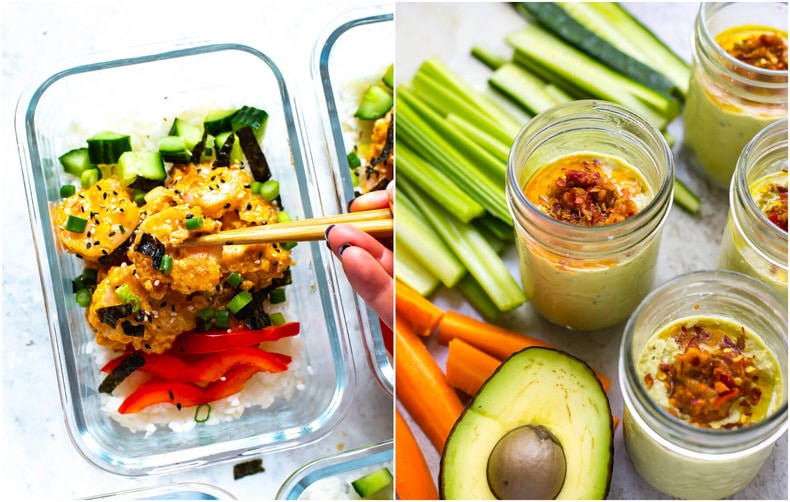 Welcome to my blog!
My name is Taylor Stinson and I'm The Girl on Bloor! I create healthy, easy meal prep recipes that are perfect for busy people. LEARN MORE ABOUT ME HERE.
My blog aims to help other super busy people like me eat more wholesome, homemade foods on-the-go, and a large part of that is meal prepping! I've lost 25lbs thanks to meal prep and it's this lifestyle that I credit with helping me to stay fit and healthy.
Whether you're cooking for just yourself, or you're cooking for your family, this Start Here page will help you navigate the blog and how you can best use all the info and articles to help with your fitness and diet goals.
I've got everything from recipes to meal prep resources to help you eat healthier and plan ahead so you can reduce stress, save time and money, and just be more efficient in the kitchen in general.
If you'd like to contact me, hit up my contact page!
How do I use your website?
You should use my website to learn more about:
Meal prep
Eating healthy on a budget
Meal planning
How to cook in general
The "Meal Prep Resources" tab at the top of my website in the menu is a great place to start if you're new to meal prepping and want to learn more. Under the "Resource Guides" page, you will find helpful resource articles and recipe round ups that will get you on the fast track to meal prepping quickly and efficiently while saving money doing it!
What is meal prep?
Whenever you prepare a meal or ingredients for a meal or snack in advance, you are meal prepping!
I love meal prep because:
it saves you time
it saves you money
it reduces stress
helps you get organized
keeps you on your toes and trying new recipes
Now I know what you're thinking: "But Taylor, I don't want to eat the same thing every week!"
Well you don't have to!
Meal prep is all about making your life EASIER. Whether that's cooking up some baked chicken breast at the beginning of the week to use for fresh salads, tacos and pita pizzas, or you're making a full-blown casserole to pack up for the week, meal prep is all about changing things up and cutting back on the time you spend in the kitchen.
How to get started with meal prep
This is probably one of the toughest questions, and all I can say is that you have to get honest with yourself about WHY you even want to meal prep!
My 5-Day Meal Prep Challenge helps to address this more in full, but you could start just by asking yourself which meal you struggle with most.
Whatever the case may be, get clear about why you want to meal prep and then start with making just a couple of recipes per week until you get in the habit of it.
Why should I meal plan?
In my opinion, the key to eating right and getting everything on your lengthy to-do list done is definitely all in how you shape your menu for the week.
That's where meal planning comes in (peep my meal planning routine here)
You'll want to outline what you're going to eat for breakfast, lunch and dinner each week, preferably at the start of the week before you do your groceries. Once you identify your social gatherings and other activities, you can fill in what you're going to make and eat and when. 
Let's say you've got a super busy week. Well, you can make one or two recipes for work week lunches, whip up a batch of egg bites for your morning breakfast, and then make dinner on the nights you aren't busy while relying on the dinner leftovers for other nights during the week. That's just an example of meal planning.
If you want to learn more about meal planning I walk you through my step-by-step process in my free 5-Day Meal Prep Challenge. You'll receive 5 days of helpful meal prep emails filled with my process and free printable work sheets to put it all together. Plus, you'll get access to my meal prep Facebook group as well!
What types of recipes do you have?
Whether you're new to cooking or know your way around the kitchen, you'll likely find a whole bunch of recipes you like! I try to use ingredients that are familiar and can be purchased from your local grocery store,
You'll find a lot of the following types of recipes on my blog:
One pot meals
Low-calorie snacks
Mason jar salads
Freezer-friendly food
Meal prep bowls
 Grab-and-go breakfasts
30-minute dinners
All of my recipes (from 2017 onward, though I'm updating EVERYTHING in the archives bit by bit!) include full nutritional information and videos so that you can see step-by-step how I make the recipes. Hopefully they'll help you out if you feel overwhelmed!
Do you have recipes that are gluten-free, low carb, etc.?
You can navigate the menu at the top of my website to see all the delicious options, and you can organize all recipes according to type (slow cooker, gluten-free, etc) or by course (breakfast, lunch, dinner, etc).
This way you have the option to sort through my existing recipes to see the options that are a good fit with your diet!
Do I need to be on a diet to meal prep?
Not at all! Even though I found I lost weight as a result of eating healthy and working out more, I never felt as though I had to restrict what I was eating.
I just had to plan a little bit better!
Hopefully between the resource articles I have on the site along with the healthy recipes, you'll be on your way to meal prepping and eating better in no time.