Healthy Slow Cooker Recipes
This page contains all of the slow cooker recipes on my website! You'll find everything from soups and stews to rice dishes, curries, chicken and vegetarian options. Most of the recipes are dump and go meals so the cooking process is hands off, and some also come with Instant Pot and stovetop directions. Keep reading to discover some of the best Crockpot recipes on the internet!
Access my free meal prep challenge!
Access my free meal prep challenge & bonus resources.
Over five printable PDF downloads to help you stay on track with your health & fitness goals like a weekly meal planner, printable shopping list, and more will be sent during the challenge!
Where to start with using your slow cooker
Cooking with the slow cooker is easy! Usually it's just a matter of dumping in the ingredients and pressing start. You'll select a cook time (high or low) and then choose the amount of time. As a general rule of thumb, cooking on low takes twice as much time as cooking on high. Place oil/butter on the bottom, followed by your meat, hardy veggies, grains (if applicable), then liquid. That's really all there is to it!
Because everything cooks for a long time in the slow cooker, it's the perfect appliance for juicy pulled chicken, moist meatballs and cooking delectably flavourful soups and stews. You can cook hardier veggies such as carrots and mushrooms in the slow cooker, but you should be careful with tender veggies such as broccoli, zucchini and greens. Adding them in within the last hour half of cook time usually does the trick without overcooking them.
If you'd like to make a soup or pasta dish in the Crockpot, you'll want to add the noodles in during the last half hour of cook time to keep the pasta from disintegrating or soaking up too much liquid. You can also cook other grains such as rice and quinoa in the slow cooker but you'll add those in at the beginning and typically reduce the cook time to 4 hours or less. Be sure to follow whatever reason you've chosen very closely if in doubt!
The ultimate Slow cooker recipe round up
If you're looking for healthy recipes that are are big on flavour, I've got you covered with the ultimate slow cooker guide! These recipes all cook on low during the day while you're at work so you can come home to a hot meal after a busy day. Just dump and go! This is the best place to start if you're looking for easy ways to start cooking with your Crockpot.
Tools to help with crockpot dinners
My most popular Slow Cooker Recipes
This Crockpot Chicken Tortilla Soup is so flavourful – just dump in all the ingredients and push start, then top with avocado, tortilla strips, jalapeno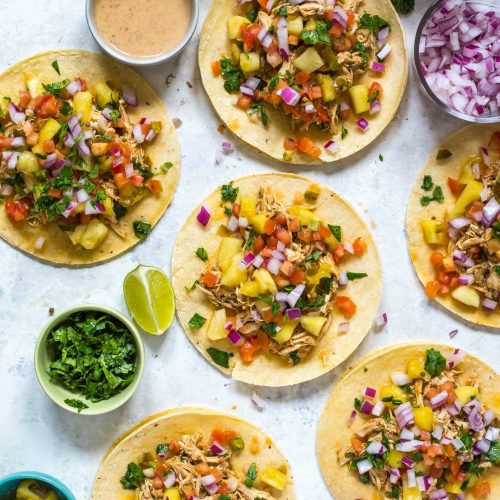 These Crockpot Chicken Tacos with Pineapple Salsa are so fun – use the chicken for tacos, burrito bowls, salads and more! Ingredients and substitutions Pineapple salsa
These Crockpot Swedish Meatballs are made lighter using half the heavy cream and extra-lean ground beef meatballs made from scratch. Ingredients and substitutions Butter – swap
These are the BEST Crock Pot Baked Potatoes. They're super easy to make – load them up with your favourite toppings for a full meal!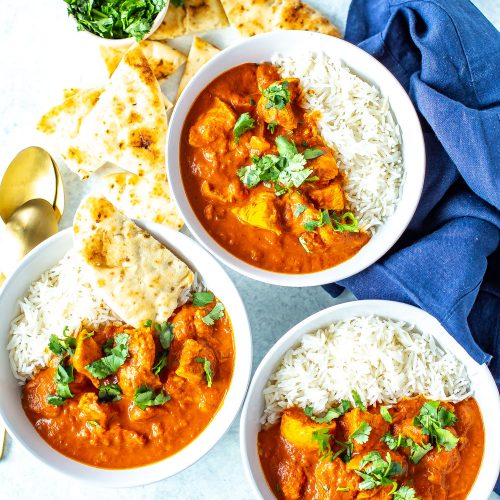 This Slow Cooker Butter Chicken is a restaurant-quality dish with tender slow-cooked pieces of chicken. The sauce is packed with flavor! Ingredients in this recipe Here's
This Creamy Crockpot Sausage Tortellini Soup is an easy comforting meal. It's so delicious with turkey sausage, spinach and more! Ingredients and substitutions Olive oil
These Easy Crockpot Soup Recipes are the best! They're perfect for when you're looking for a healthy, cozy weeknight dinner. Crockpot Soup Recipes Warm up
These Slow Cooker Honey Garlic Chicken Thighs are amazing! Cook hands-off in the crockpot and serve with broccoli and rice for a full meal. Ingredients
These 15+ Healthy Slow Cooker Recipes are the best way to get ready for the work week – just dump everything in the crockpot and
This Slow Cooker Beef Stew is super flavourful with fall-apart tender meat. It's the ultimate comfort food for fall and winter! Ingredients and substitutions Beef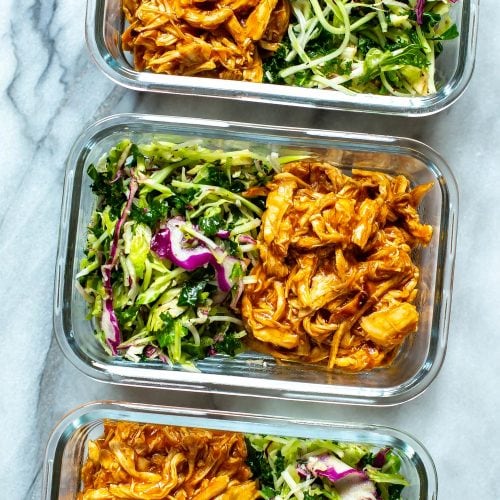 This 2-Ingredient Crockpot BBQ Chicken is the easiest dump dinner with a side of kale slaw – all you need is chicken and BBQ sauce!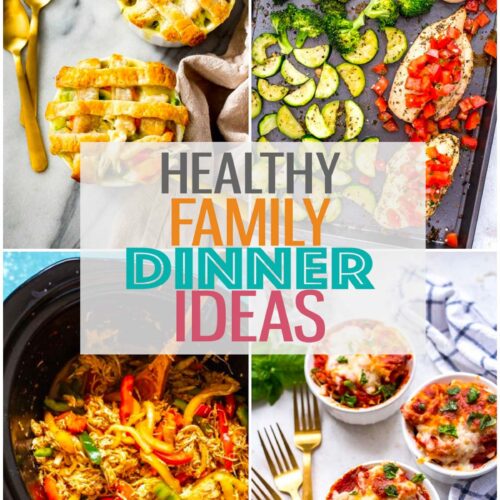 Stumped with what to make for dinner? These Healthy Family Dinner Ideas are perfect for busy weeknights and they're kid-approved, too! Family Dinner Ideas Leave