This Seared Scallops with Butternut Squash Risotto recipe is an indulgent dinner with roasted squash, creamy risotto and yummy scallops.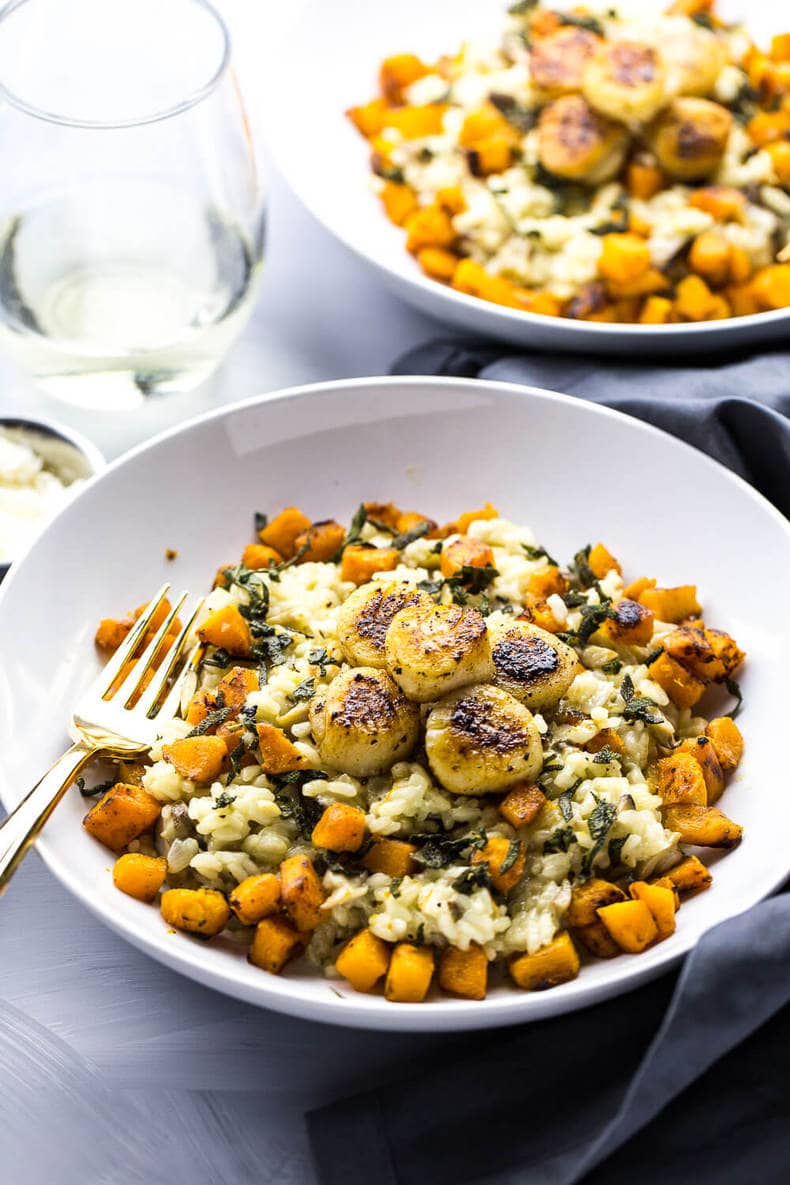 Ingredients and substitutions
Olive oil – any neutral oil can work, such as avocado oil or canola oil.
Butternut squash – acorn squash or buttercup squash are both good substitutes. You can also use sweet potato, pumpkin or yam.
Butter – either salted or unsalted butter will work or you can swap out for a butter substitute of your choice like margarine.
Wild mushroom mix – use a variety of mushrooms like shittake, cremini, oyster, maitake, etc.
Dry white wine – you can use white wine vinegar or white wine juice instead if you want to avoid alcohol.
Chicken stock – vegetable broth is the best substitute here.
Shallots – swap out for diced yellow onions, leeks, chives or scallions.
Garlic cloves – freshly minced garlic is best but jarred minced garlic will work in a pinch.
Arborio rice – if you don't have any arborio on hand, use pearl barley or basmati rice for a similar texture. Other grains, like brown rice, quinoa, sushi rice, or couscous can be used, but won't have that same risotto texture.
Sage – rosemary, thyme, oregano, bay leaf or marjoram can work well too.
Parmesan cheese – use piave or grana padano. For a vegan option, try using nutritional yeast.
Sea scallops – bay scallops or patagonian scallops may be used. Small baked potatoes or tofu are a good vegan substitute.
Salt & pepper – to taste.
How to make this recipe
Roast the squash.
Sauté the veggies.
Make the risotto.
Sear the scallops.
Top the risotto with the scallops and enjoy!
Searing the scallops
Searing scallops might sound complicated if you've never done it before, but it's actually so easy! Just follow these simple steps:
Heat 1 tbsp olive oil in a small frying pan over high heat. Make sure the pan is nice and hot! Cast iron skillets are great for searing scallops and retain heat nicely.
When the oil starts smoking, add the scallops to the pan. Give them enough space so they're not crowding or steaming each other (cook in a few batches if necessary).
Sear the scallops for about 1 minute per side until they have a nice sear.
Remove from the pan and serve right away.
That's really all there is to it. You'll have yummy scallops in no time!
Frequently Asked Questions
How long does it take scallops to sear?
Seared scallops are ready super fast and they only need to sear for about 1 minute per side. They're one of my favourite protein options when I need something quick and delicious.
What goes well with butternut squash risotto?
I love serving butternut squash risotto with some seared scallops, but this risotto would also be good with small baked potatoes or tofu if you're looking for a vegan option. You can also just make the risotto by itself and serve it with some fresh parmesan and a side salad.
What components can you prep ahead?
To prep ahead, you can chop up your ingredients, such as the butternut squash, or prepare your herbs and cheese by grating your parmesan, mincing your shallots and garlic, etc. You can also make your risotto ahead of time, then store it in the refrigerator once cooled. This can also be done with your butternut squash by baking them prior to cooking your other components.
Storing and reheating
If you have leftovers, make sure you store all the components of this dish desperately so it stays as fresh as possible. The scallops and risotto can be kept separately in the fridge for up to 2 to 3 days, and the butternut squash will last for 3 to 4 days.
When you're ready to enjoy, follow the below instructions to reheat each component of this dish:
Scallops: Bring them to room temperature on the counter then heat them in a pan on the stovetop over medium-low heat with some butter and a splash of water. You'll need to reheat them for 5-7 minutes per side.
Risotto: Sprinkle some water or broth over top of the risotto then reheat for 3-4 minutes in the microwave until hot, stirring halfway through.
Butternut squash: Roast the squash in the oven for 10-15 minutes at 350° Fahrenheit. You can reheat the squash in the microwave, but the skin won't be as crispy.
Freezing the risotto
To freeze your risotto, allow it to cool completely then store it in airtight freezer-safe containers or Ziploc bags. It will last in the freezer for up to 3 months.
When you're ready to enjoy, defrost the risotto in the fridge overnight. Add a splash of water and a small tab of butter over top then reheat in the microwave for 3-4 minutes, stirring halfway through.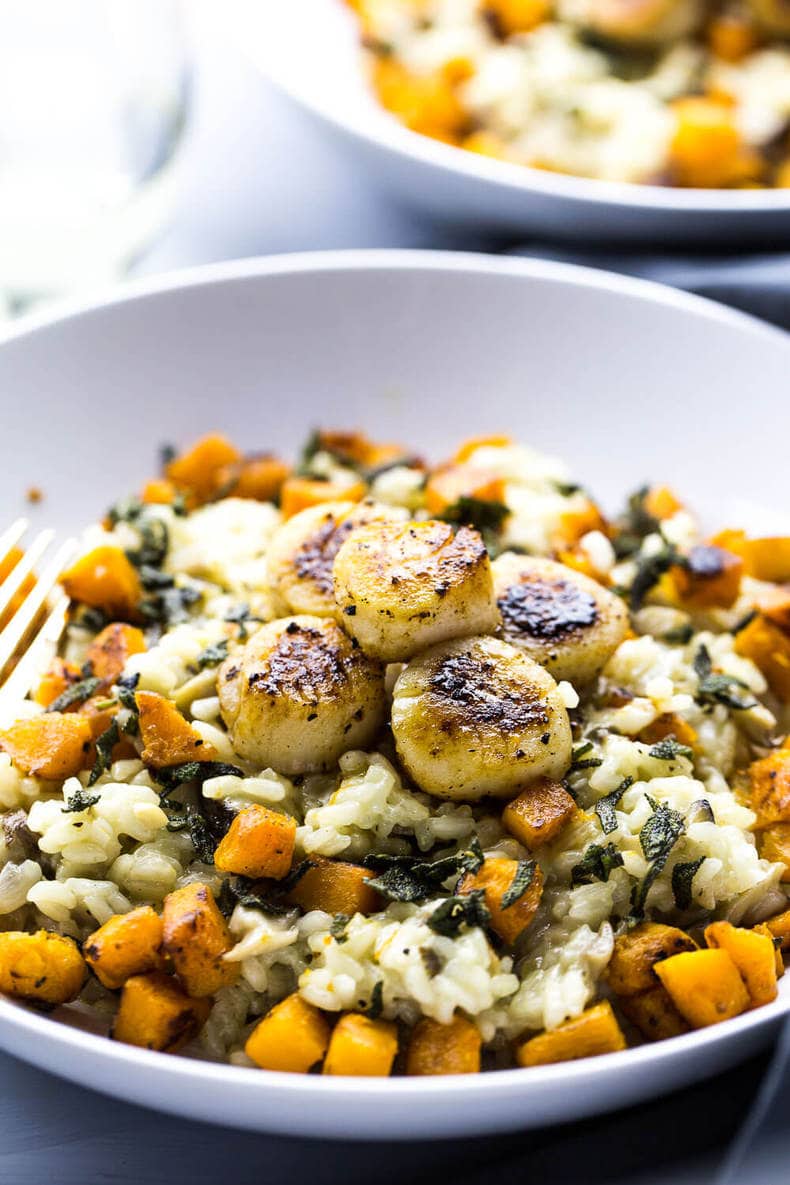 Wanna Learn How To Meal Prep?
My meal planning service, Dinner Prep Pro, removes the guesswork and helps you get dinner on the table in 15-20 minutes each night. My meal prep checklists only take 1 hour each week!
More seafood recipes
Meal prep tools for this recipe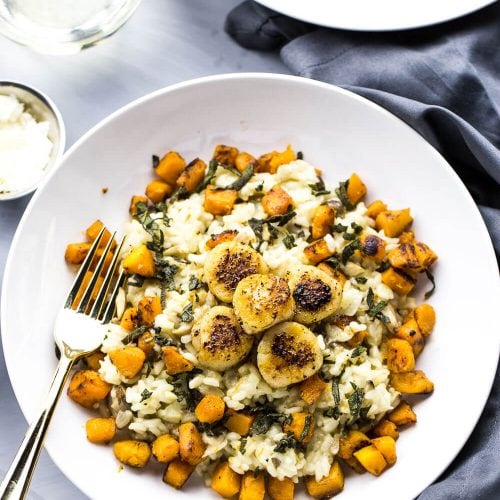 Seared Scallops with Butternut Squash Risotto
This Seared Scallops with Butternut Squash Risotto recipe is an indulgent dinner with roasted squash, creamy risotto and yummy scallops.
Print
Pin
Rate
IN A CYCLE OF EATING POORLY?We've got you covered with our free Routine Revamp mini course! You'll receive 8 lessons and free coaching with us! Register👇
Join Routine Revamp!
Servings: 4 servings
Calories: 532kcal
Ingredients
1 tbsp olive oil
1 1/2 cups finely chopped butternut squash
2 tbsp butter, divided
1 cup wild mushrooms mix (cremini, shittake, oyster, etc)
1/2 cup dry white wine
3 cups chicken stock
2 shallots, minced
2 cloves garlic minced
3/4 cup dry arborio rice
2 tbsp crispy sage
1/4 cup grated parmesan cheese
10 sea scallops
1/2 tsp each Salt and pepper
Instructions
Preheat oven to 450 F. Prepare squash and toss in olive oil. Season with a bit of salt and pepper. Roast in the oven for 30 min, stirring a couple times.

Meanwhile, melt 1 tbsp butter in a medium-sized saucepan over medium-high heat. Add mushrooms, shallots and garlic, sauteeing for 4-5 min. Add dry rice and stir.

Add wine and bring to a boil, then simmer for 4-5 min until wine reduces a bit. Add stock, about a 1/2 cup at a time, stirring enough to keep the rice from sticking to the edges of the pan. Don't ever stop stirring the rice, it will start to turn creamy as stock absorbs. When the stock is almost completely absorbed, add the next 1/2 cup until finished. The rice should be al dente. Remove from heat and stir in parmesan cheese. Add salt and pepper and keep warm on low heat.

In a small frying pan, heat olive oil over high heat. When oil starts smoking, add scallops to the pan, searing for about 1 min each side. They should develop a good sear on either side. Remove scallops from pan, and wipe pan clean. Lower heat to medium. Add the other 1 tbsp butter and once melted, add chopped sage. Saute for about 30 seconds to a minute until crispy. Remove from pan.

Serve risotto in pasta bowls. Top with roasted squash, crispy sage and seared scallops. Enjoy!
Notes
Swap out the butternut squash for acorn squash, sweet potato, pumpkin or yam. Make sure the oil is smoking before you add in the scallops or they won't sear properly. Store all the scallops and risotto separately for 2-3 days. Reheat the scallops in a pan on the stovetop and the risotto in the microwave. Freeze the risotto for up to 3 months. Defrost in the fridge overnight then reheat as normal.
Nutrition
Calories: 532kcal (27%)Carbohydrates: 77g (26%)Protein: 18g (36%)Fat: 14g (22%)Saturated Fat: 6g (38%)Polyunsaturated Fat: 1gMonounsaturated Fat: 6gTrans Fat: 1gCholesterol: 35mg (12%)Sodium: 796mg (35%)Potassium: 663mg (19%)Fiber: 4g (17%)Sugar: 6g (7%)Vitamin A: 5817IU (116%)Vitamin C: 13mg (16%)Calcium: 117mg (12%)Iron: 5mg (28%)
Don't wait until January to eat healthy!Sign up for our free Routine Revamp mini course!
Join Routine Revamp!