These Homemade Nutella Lattes are lower-calorie with almond milk and coconut whip for a hazelnut-flavoured dessert! 
Hi! Hello!
How was everyone's holiday break? Filled with lots of mocha lattes?
I know I've been a bit MIA lately, and that's because I really needed a digital detox.
I've spent a glorious two weeks leaving my phone carelessly in other rooms, ignoring emails, checking out of work and the day-to-day analytics and logistics of social media engagement, measuring blog traffic, making out invoices and keeping track of accounting, etc.
I've just been feeling sooooooooo over the work thang. Anybody with me?
But very, very soon (next week in fact…eeek!), I will be checking back into the rat race of my day-to-day work life and while I'm welcoming the return of routine, I'm not sure that I'm quite so ready to go back to work.
I'm still feeling burned out.???
And I'm afraid that I'm going to continue to feel that way.?
There's something about the phone and the computer that just stresses me out lately. The fact we feel obligated to be constantly connected and respond to everything and everyone at every second of every day…I can't always handle it.
But don't get me wrong, there's a lot of good in this job, and I am really grateful.
I get to drink endless, copious amounts of these Nutella Mocha Lattes, for instance.?
In the name of recipe development, of course. I'm nothing if not a professional. 😉
The beginning of 2017 has been a bit blah so far (yes, I know, we're only five days in), but I'm looking forward to getting a new camera soon and getting back to the aspect of the job that I love and that is recipe development!!!
Get ready for a whole lot more healthy comfort food from me coming your way! I'm excited to experiment more this year and push myself out of my comfort zone in the kitchen.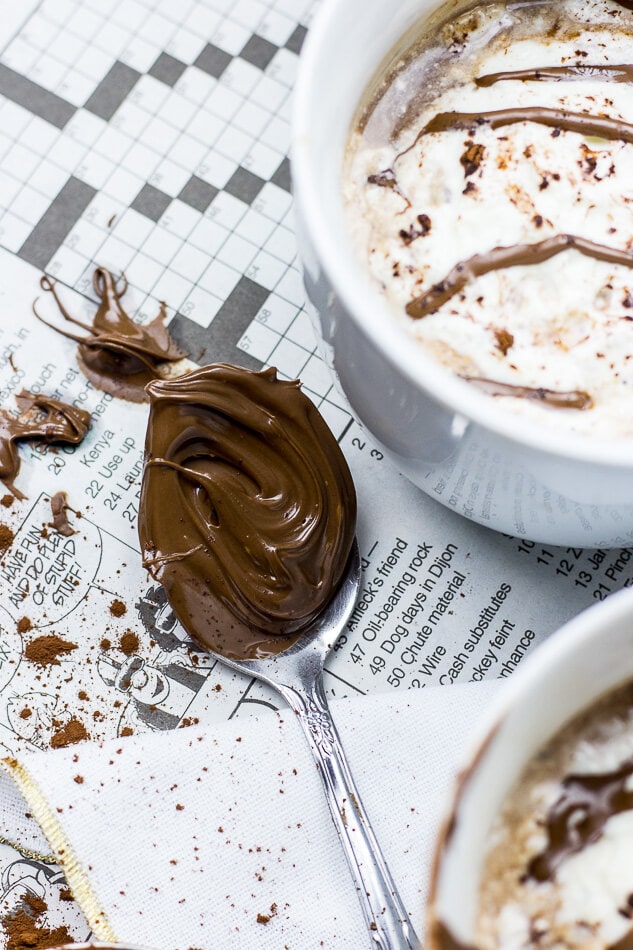 I mean, can we just talk for a second about the genius-ness that is Nutella?
I was never a big hazelnut fan as a kid, but as my tastes have matured into adulthood I am loving this rich, chocolatey spread (and no, this ain't a sponsored post for Nutella…you could technically use any hazelnut spread in this recipe FYI).
But I can't get enough of these lattes, for real.???
Here are the many, many reasons you should be jumping the Nutella Mocha Lattes bandwagon:
They're *almost* vegan if you use coconut whip and almond milk (UPDATE: some lovely readers have pointed out that Nutella has skim milk powder in it which the foodie in me shown have known – D'OH?)
They're the ultimate, chocolatey dessert
They're practically perfect for cozy, winter Saturday mornings (if you're like me, you'll be sipping these on the couch looking at the snow outside and finding all sorts of excuses for not going outside…)
They're topped with whipped cream – what else could you possibly ask for?! YES, I'm giving you an excuse to go out and buy whipped cream. Put that ish on everythinggggggggg??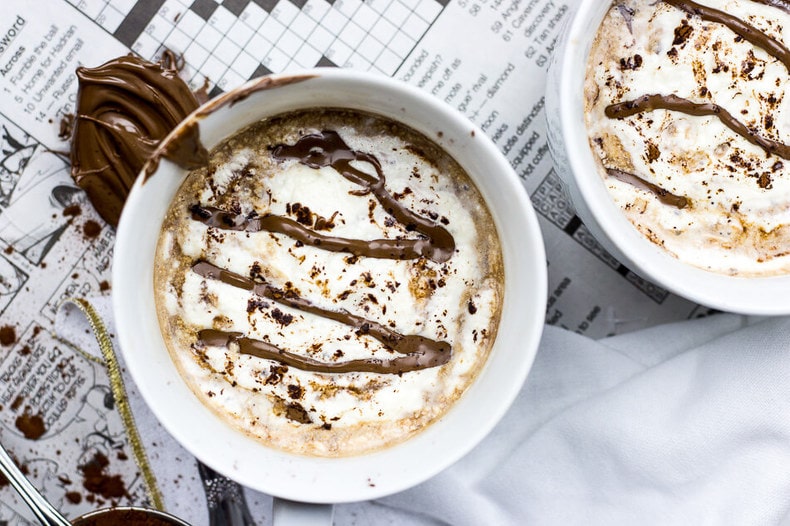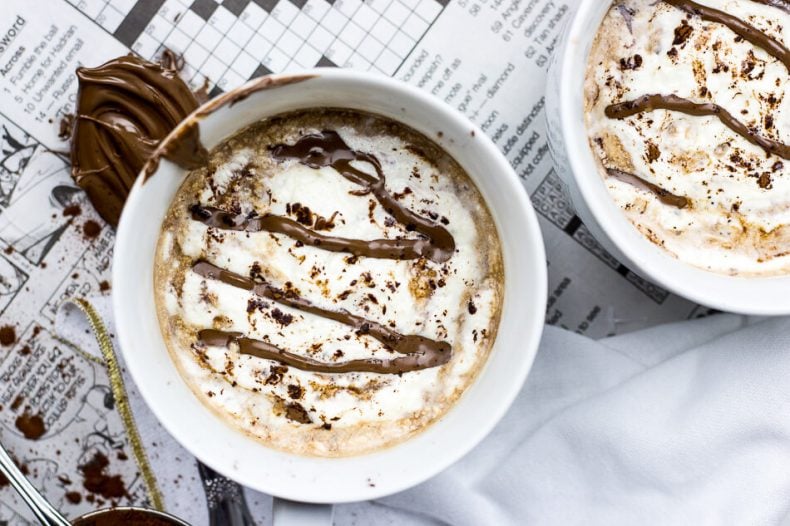 Okay, so maybe you should go outside and enjoy this time of year.?
Don't listen to the lazy side of me that you wants to stay inside all day watching movies and drinking Nutella Mocha Lattes. I mean, sometimes you need a day or two all bundled up inside. But you can definitely still enjoy this time of year.
There's also something so cozy and miraculous about spending a chilly afternoon outside all bundled up (bring back memories of childhood for anyone?) and then heading back inside for a luxurious hot chocolate. Is there seriously anything better in life???
Homemade Nutella Mocha Lattes
These Homemade Nutella Mocha Lattes are easily made lower-calorie with almond milk and coconut whip for the most over-the-top, hazelnut-flavoured dessert!
Print
Pin
Rate
Ingredients
4

tbsp

Nutella

2

cups

almond milk

(can also use regular 2% milk)

4

espresso shots

1

tbsp

cocoa powder

Coconut whipped cream

(can also use regular)

Extra Nutella for drizzling

Extra cocoa for sprinkling
Instructions
In a large bowl, mix together almond milk, Nutella (use more if you want a richer-tasting latte!), espresso shots and cocoa powder. Microwave for 3 minutes.

Remove from microwave, stir, then pour latte mixture evenly into two large mugs.

Top each mug with coconut whipped cream (or regular!) and drizzle with Nutella piped from a plastic bag that has one of its corners cut. Sprinkle with cocoa powder and serve!
Video
Nutrition
Calories:
241
kcal
|
Carbohydrates:
25
g
|
Protein:
4
g
|
Fat:
14
g
|
Saturated Fat:
11
g
|
Polyunsaturated Fat:
2
g
|
Monounsaturated Fat:
2
g
|
Sodium:
341
mg
|
Potassium:
191
mg
|
Fiber:
4
g
|
Sugar:
20
g
|
Vitamin A:
1
IU
|
Vitamin C:
1
mg
|
Calcium:
343
mg
|
Iron:
2
mg