This Homemade Nutella Mocha Latte is made healthier with almond milk and coconut whip for a yummy hazelnut-flavoured drink.
Ingredients and substitutions
Nutella – any other hazelnut chocolate spread will do, including vegan-friendly brands! You could also try chocolate syrup or melted baking chocolate.
Almond milk –you can also use nut milk, oat milk or soy milk. Regular 2% or whole milk can be used but will increase the calorie count.
Espresso shot – this can be replaced with extra-strength coffee. The ratio for espresso powder to instant coffee powder is 1 tbsp espresso to 3 tbsp coffee. This can also be omitted or can be replaced with decaf coffee, chocolate milk or additional milk, if desired.
Cocoa powder – substitutes like Dutch-process cocoa powder, hot chocolate mix or carob powder will work best.
Coconut whipped cream – both homemade and store-bought will work. You can also use regular whipping cream, almond milk ready whip cream, or frothed milk.
How to make a mocha latte
Mix everything together.
Microwave for 3 minutes.
Stir and pour into mugs.
Top with whipped cream and Nutella.
Serve and enjoy!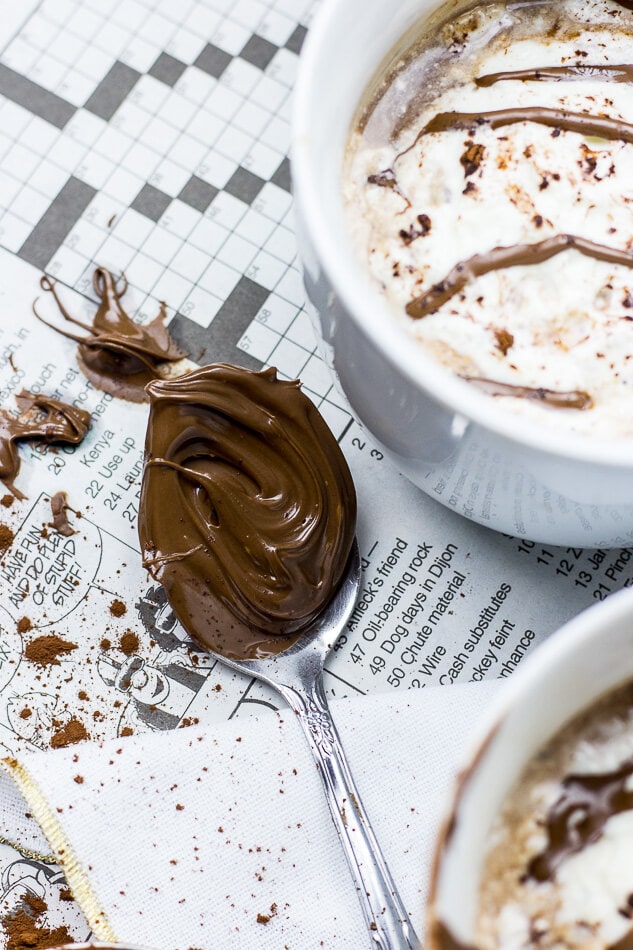 What components you can prep ahead
To prep ahead, start by making your whipped cream (if you're planning to use homemade whipped cream). No matter which type of cream you choose to use, this can be stored in a container and kept in the refrigerator until you're ready to add it to your drink.
You can also make your espresso or instant coffee beforehand and keep it in a thermos or sealed cup. To make these lattes your own, prep some of your favourite toppings to add on top! Grate some chocolate, roast some marshmallows or get out some cookie stir sticks.
Frequently Asked Questions
What is a mocha latte?
A mocha latte is pretty much exactly what it sounds like – coffee made with mocha/chocolate! For this recipe, I used Nutella in addition to cocoa powder for a delicious hazelnut-flavoured drink.
Is Nutella good in coffee?
Yes! The sweet hazelnut flavour of Nutella tastes amazing with coffee, whether you're making this latte with the traditional espresso or your favourite extra-strength brewed coffee.
How many calories are in this drink?
Since this Nutella latte is made with almond milk and coconut milk, it's fairly low calories with only 241 calories per drink. Keep in mind that if you use regular milk or whipped cream, the calorie count will go up.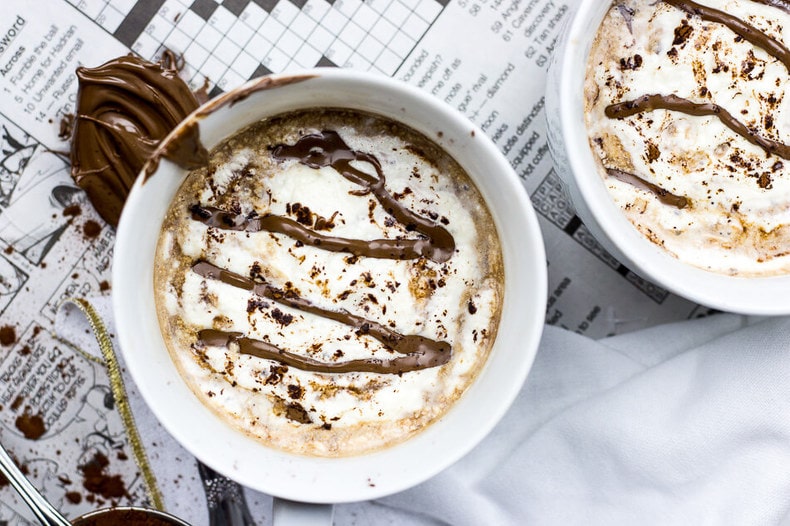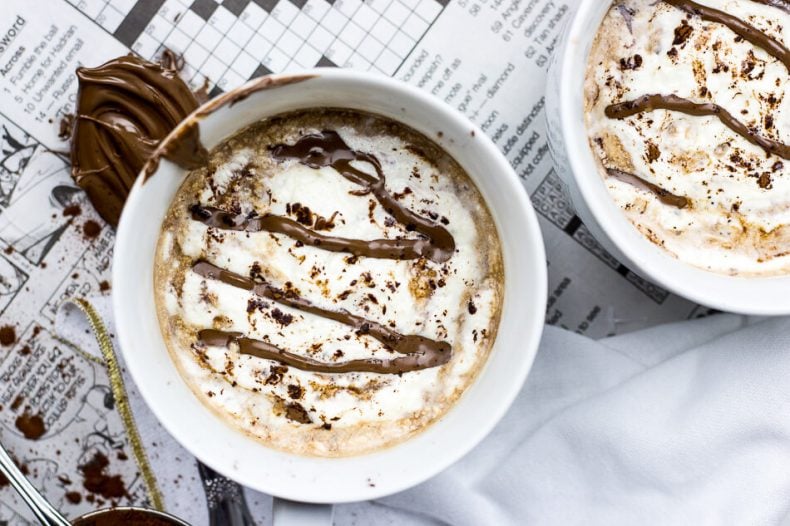 Storing and reheating
To store your latte, place it in a thermos or a travel mug. If you're planning to drink your latte immediately, you can make and store your latte with your toppings added. If you're wanting to reheat your latte a bit later, store the toppings separately so that the drink can be reheated alone, then add on your toppings fresh.
Since this drink is made with milk, it cannot be left out for too long, as bacteria and spoilage can start to happen quickly, sometimes in as little as 2 hours. To reheat your latte, place it in the microwave in 35-second intervals, checking each time until it is at your preferred temperature. It can also be reheated on the stovetop over medium-low heat until warm.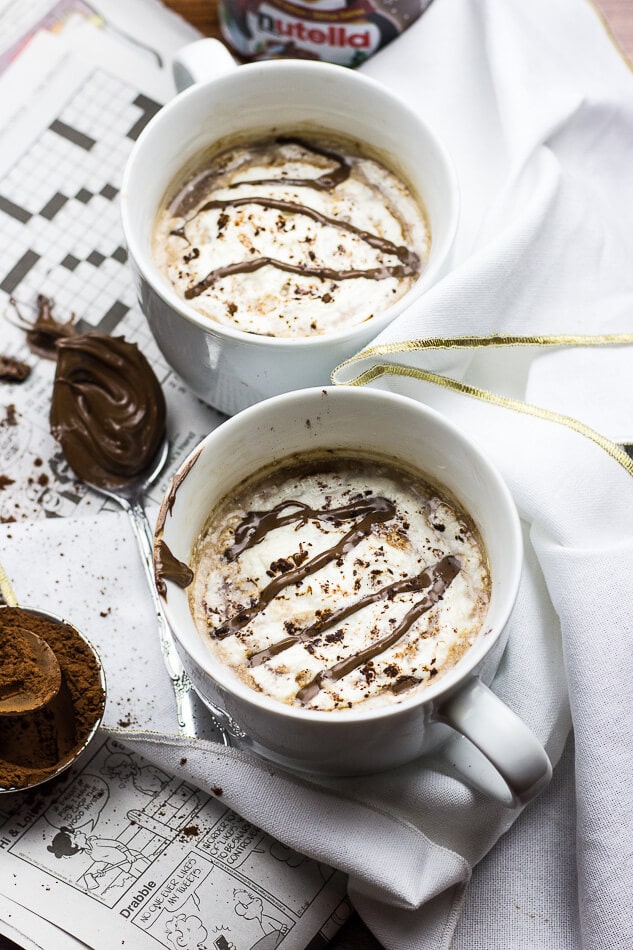 Wanna Learn How To Meal Prep?
My meal planning service, Dinner Prep Pro, removes the guesswork and helps you get dinner on the table in 15-20 minutes each night. My meal prep checklists only take 1 hour each week!
Meal prep tools for this recipe
These mason jars are great for storing your whipped cream.
Homemade Nutella Mocha Latte
This Homemade Nutella Mocha Latte is made healthier with almond milk and coconut whip for a yummy hazelnut-flavoured drink.
Print
Pin
Rate
FEELING BURNED OUT?We've got you covered with a December self care plan! Sign up for weekly habit audits, 3 weeks of meal prep plans, weekly goal setting printables + live calls!👇
Join our December ✨Feel Good✨ Challenge!
Servings: 2 lattes
Calories: 241kcal
Ingredients
4 tbsp Nutella
2 cups almond milk (can also use regular 2% milk)
4 espresso shots
1 tbsp cocoa powder
Coconut whipped cream (can also use regular)
Extra Nutella for drizzling
Extra cocoa for sprinkling
Instructions
In a large bowl, mix together almond milk, Nutella (use more if you want a richer-tasting latte!), espresso shots and cocoa powder. Microwave for 3 minutes.

Remove from microwave, stir, then pour latte mixture evenly into two large mugs.

Top each mug with coconut whipped cream (or regular!) and drizzle with Nutella piped from a plastic bag that has one of its corners cut. Sprinkle with cocoa powder and serve!
Video
Notes
If you're not a fan of espresso, make this latte using your favourite extra-strength coffee. Prep the whipped cream ahead of time if you're using homemade whipped cream. If you're using regular milk instead of almond milk, keep in mind that the calorie count will increase.
Nutrition
Calories: 241kcal (12%)Carbohydrates: 25g (8%)Protein: 4g (8%)Fat: 14g (22%)Saturated Fat: 11g (69%)Polyunsaturated Fat: 2gMonounsaturated Fat: 2gSodium: 341mg (15%)Potassium: 191mg (5%)Fiber: 4g (17%)Sugar: 20g (22%)Vitamin A: 1IUVitamin C: 1mg (1%)Calcium: 343mg (34%)Iron: 2mg (11%)