Mediterranean Chickpea Salad Jars (Video!)
These Mediterranean Chickpea Salad Jars with artichokes and sundried tomatoes are the perfect packable lunch – they're also high protein, vegetarian and gluten-free!
I was always somewhat of a rebellious kid.
Not in the way that I ever did a ton of terrible things. I never snuck out of my house in the middle of the night, for instance, and I never did hard drugs, and I'm not sure that I ever even went to a party without my parents' permission unless you count that one time my friends and I threw a "bush party" that lasted until 10pm on a Friday night, a glorious two hours worth of getting drunk drinking stolen alcohol from water bottles. Really, it was my first time getting drunk and I think I had consumed maybe 4oz of alcohol?
I mean, technically I was supposed to be home by 9 that night to babysit my little brother, who was just on the cusp of being old enough to stay home alone for several hours. So I did disappoint my parents there and I remember this being a really big deal. And getting home at 10pm when I was 15, weekend or not, was superrrrrrrr late. It's funny how things change ehh??
Well really, the point I'm trying to make here is that compared to what many kids are capable of putting their parents through, I don't think I'm that bad.
However, from day one out of the womb I have always declared my preference for doing everything differently. My way. As a kindergartener, I once decided I was going to wear pajamas to school because I liked them so much and I once bit a kid in my class out of rage because I was forced to wear a shirt with buttons on it. My rebellious nature had to do with my fierce independence. My need to make my own choices in life, from what I wore to what I ate.
Where exactly am I going with all of this?
Well, these Mediterranean Chickpea Salad Jars remind me of my fight for better school lunches.?
Let me explain.
My mom was typically a great cook. She still is. I get my sense of adventure and willingness to try new things in the kitchen from her, and she made me fall in love with collecting recipes. Nine times out of ten she always had a great menu lined up for us for the week, from chili mac and cheese to sausage and penne with peppers to this amazing, creamy mushroom rice. She made sure we ate well, and alot of what she made was delicious.
She didn't quite put as much effort into lunch prep, though. I remember getting alot of salami and mustard sandwiches in my lunch, along with these canned salmon pita pockets that made me gag (apparently someone wasn't listening when I said I hated fish, especially the canned variety??). My mom was a pro at getting dinner on the table but lunch left a little something to be desired.
By the time I was 7 or 8 and I was old enough to properly voice my concerns over my lunch options, my mom gave me the choice of making my lunch myself, and I jumped at the opportunity. I'm sure she also loved the fact that she took advantage of my obsession with making my own choices to get one last chore off her plate. Can't say that I blame her!
Now that I was given the choice of making my own lunch everyday, I knew the sandwiches had to go. A little too proud to ask my mom for help, I turned to the OG lunch maker: grandma. ??
Now, if you know anything at all about my grandma, you'll know that unlike my mom, she's a terrible cook. Her idea of spaghetti sauce is tomato soup, she burns the shit out of every piece of meat she gets her hands on, and somehow she even manages to ruin roasted potatoes, making them tough, dry and overcooked.
My grandpa was well-known for making Sunday dinner in their house because he claimed that my grandma deserved at least one day off a week. I think he just needed at least one decent meal a week, but that's just me.
So how do we end up with lunch inspiration through her? Well, the one thing she can make really well is salad. She is the salad queen.? Potato salad (when she doesn't have to roast them, she's okay), chopped salad, broccoli salad, macaroni salad and of course, her famous bean salad.
My mom was always harping on what I was going to have for protein and of course all I ever ended up making myself to take for lunch from there on out was a bunch of veggies, some fruit and some bean salad. It was easy, you could make it in bulk all at once, and it tasted great.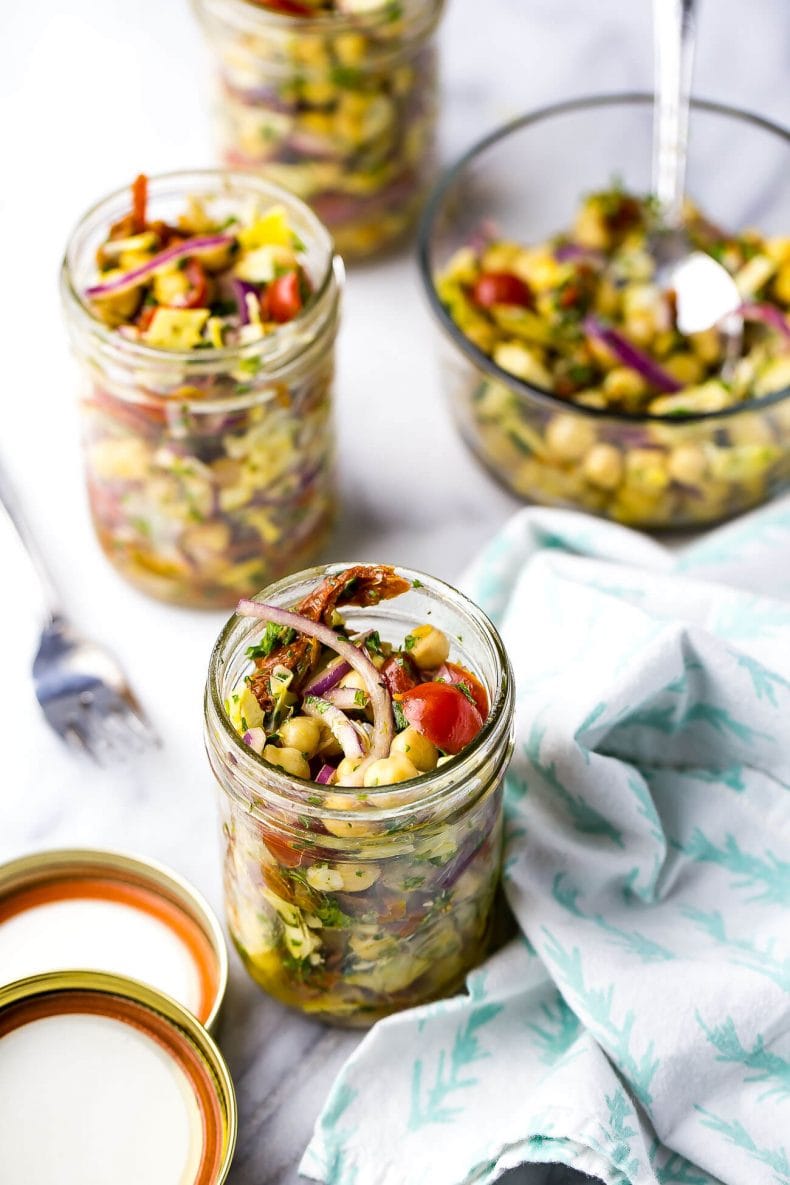 So without further ado, now you know my complete history with lunch and legumes. Fascinating stuff, I know. And let me just say that these these Mediterranean Chickpea Salad Jars are a delicious spin on one of my fave childhood lunches, and I'd like to think this stuff is even better than the salads I used to make as a kid.
Nowadays lunch is still super important to me: it's that one meal of the day that really satiates you and stays with you, and it's important to me that my mid-day meal is top-notch. I'm talkin' Chipotle Sweet Potato Quinoa Bowls and Fiesta Chicken Rice Bowls. Lots of bowls. Now, only the occasional salad. And when I do have salad, it's probably my own version of bean salad.
I could also probably rant and rave on and on about how great this Mediterranean Chickpea Salad is because it's high in protein and fibre, it's vegetarian, there's a ton of veggies thrown in, and it's low-carb. It's literally every way I want to be eating right now. ?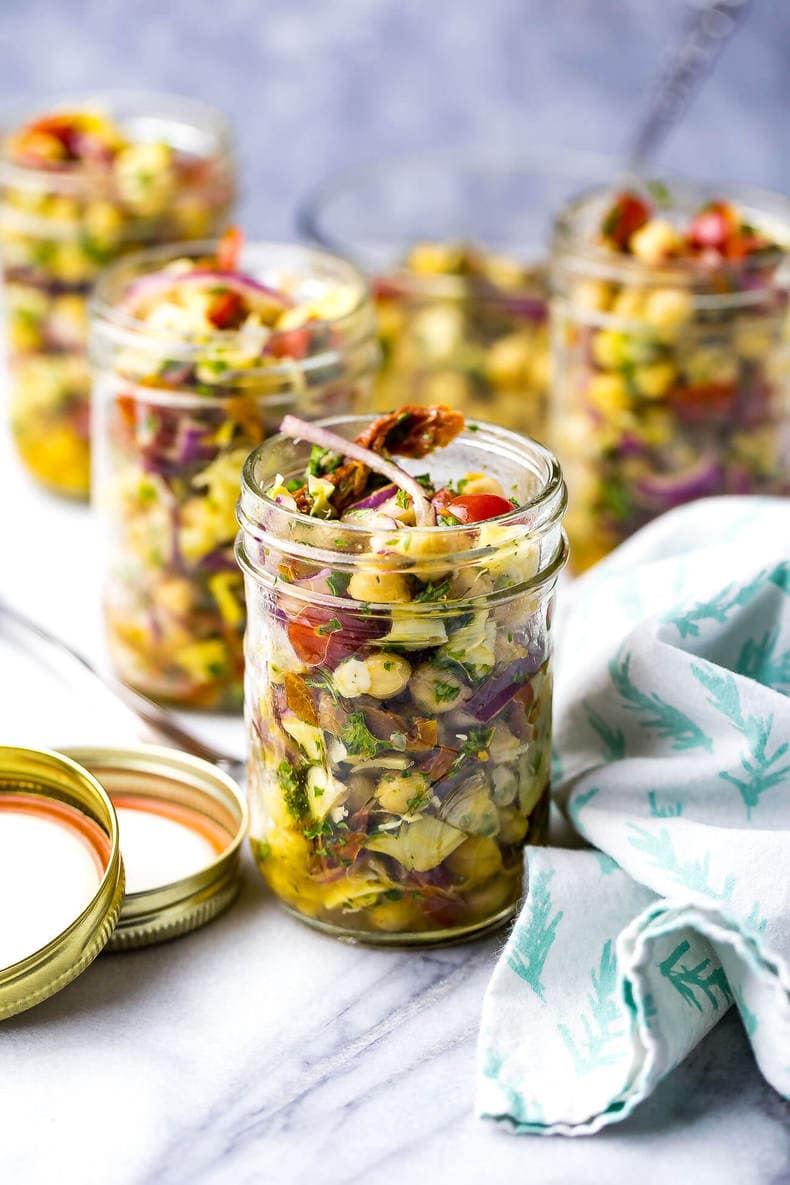 The fact that these Mediterranean Chickpea Salad Jars take only about 15 minutes or so to throw together for the week also works for me, along with the overall low cost of the actual ingredients themselves. I just can't deal with how much I love these cute little jars.
If this recipe looks familiar, it's because I kinda stole the idea from the Loblaws salad bar. Trust me, if you've ever tried their chickpea salad you know it's good. And it's just SO simple to make at home. So really, you need to reassess your lunch strategy and get on board with delicious, easy, cheap and nutritious. I promise it's much, much easier than a crappy sandwich. Or those god awful salmon pita pockets (sorry Mom!)
Will you be making these Mediterranean Chickpea Salad Jars?
If you're running short on time to make lunch for the week, these babies are so handy to have on hand. Worst case scenario you use them as a high-protein after work/school snack. You won't regret throwing this together, trust me.
If you try any of my recipes be sure to let me know on Instagram, Twitter, Facebook or in the comments – I'd love to see what you come up with!???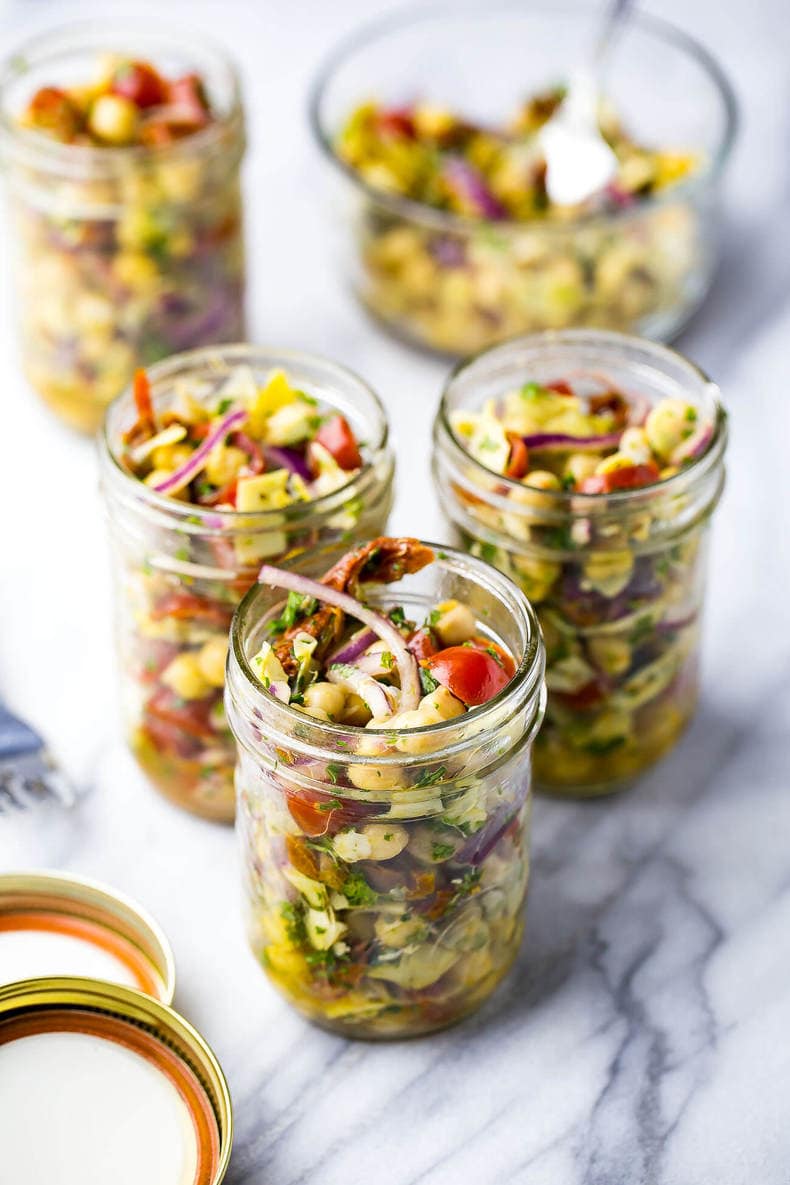 These are the size jars I use for this salad!
Print Recipe
Mediterranean Chickpea Salad Jars
These Mediterranean Chickpea Salad Jars with artichokes and sundried tomatoes are the perfect packable lunch - they're also high protein, vegetarian and gluten-free!
Servings:
5
smaller mason jars (2-3 large ones)
Ingredients
2

tbsp

olive oil

1/4

cup

lemon juice

2

cans

chickpeas, drained and rinsed

1/4

cup

julienned sundried tomatoes, packed in oil and rinsed

1

small

red onion, sliced

1/3

cup

cherry tomatoes, sliced

1

can

artichoke hearts, rinsed and chopped

1/3

cup

parsley, finely chopped

1

tsp

dried thyme

1

tsp

salt

1/2

tsp

pepper (optional)
Instructions
Mix all ingredients together in a large bowl. Divide evenly among 5 small mason jars (the ones I use are for jams - for a larger portion size, double the recipe and keep in large mason jars!). Keep refrigerated up to 5 days.
Nutrition
Calories:
224
kcal
|
Carbohydrates:
32
g
|
Protein:
8
g
|
Fat:
10
g
|
Saturated Fat:
1
g
|
Polyunsaturated Fat:
1
g
|
Monounsaturated Fat:
6
g
|
Sodium:
453
mg
|
Potassium:
168
mg
|
Fiber:
11
g
|
Sugar:
7
g
|
Vitamin A:
200
IU
|
Vitamin C:
9.1
mg
|
Calcium:
70
mg
|
Iron:
5.2
mg