Do you struggle with meal prepping every week? Make it a long-term, sustainable routine with these healthy habits.
Good habits for meal preppers
There are so many benefits to meal prepping. You can save time, money, and stress with a great meal prep routine. However, it can be hard to stick to it when life inevitably gets in the way.
Meal prepping can quickly become overwhelming. There's a LOT to juggle, like creating meal plans, shopping for groceries, cooking, and cleanup. Make it easier by adopting these healthy habits! They all work together to make meal prep a sustainable part of your lifestyle.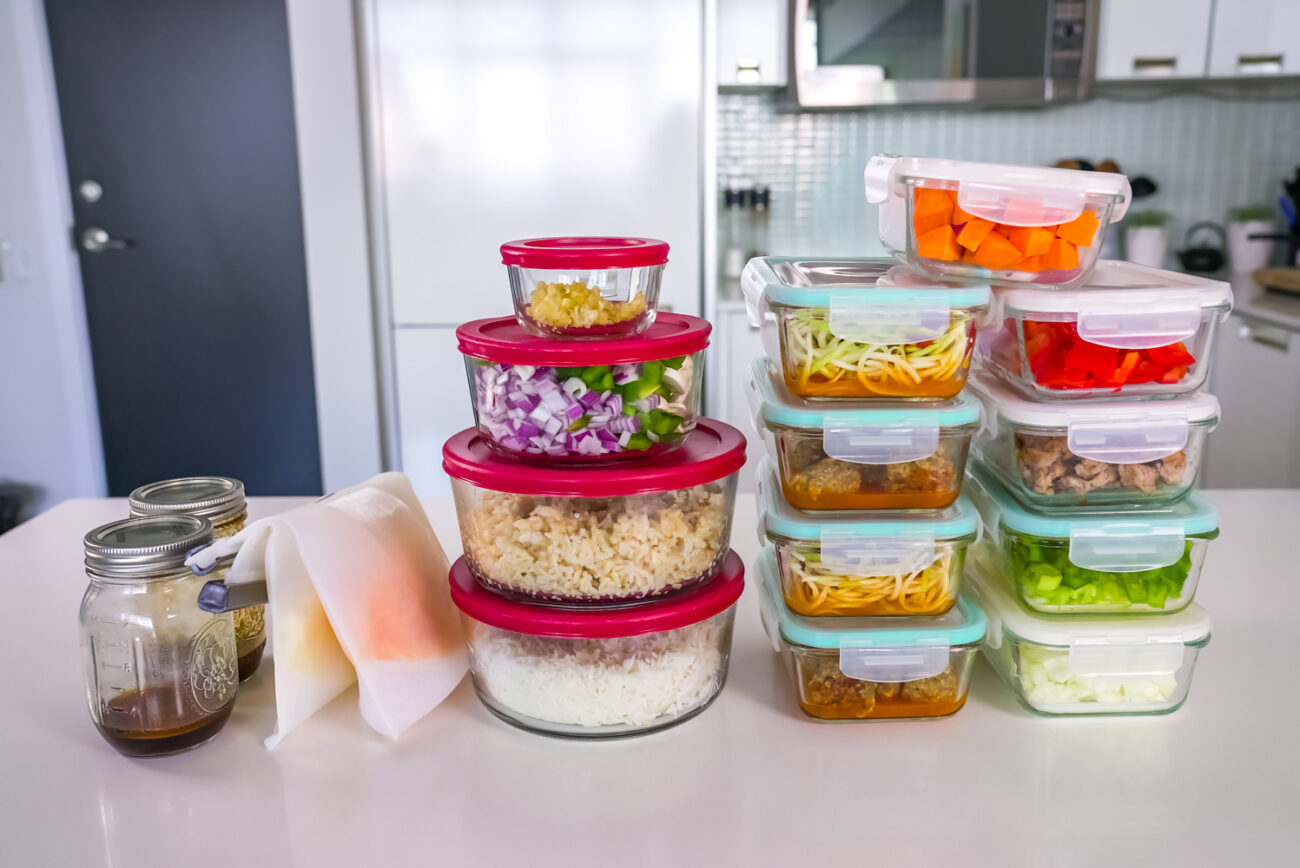 Skip the Ads and Get Right to the Recipes!
ZERO ADS on over 600 recipes!
Weekly Meal Plans, Grocery & Prep Lists
Bonus eBooks
Creating a meal plan you'll stick to
Before you begin meal prepping, you have to start with meal planning. What is meal planning, exactly? It's the process of deciding what recipes you're making each week.
Decision fatigue can really take hold when you first start making meal plans for yourself. The options for healthy meals are truly endless!
Using an app
There are a lot of apps on the market to help you meal plan. My meal planning service, Dinner Prep Pro, is great for anyone who has trouble deciding what to make each week. You'll get new meal plans sent to your inbox each week that you can customize according to your needs.
Developing a master list of recipes
Creating a master list of recipes is my meal planning secret weapon. Compile a list of recipes you love to make and recipes you've been meaning to try. Use this list to plug meals into your plan. Try to update your master list of recipes once a month, so you'll keep things fresh and exciting.
Don't over plan
When I meal plan, I like to make sure my meal plans aren't too full. You can do this by keeping in mind any plans you have during the week when you're building your meal plan. Hanging out with friends on Friday? Leave a spot open for that! Want to treat yourself to some sushi on Saturday? Account for that, too! Typically, a family of four can benefit from five different dinner recipes, one lunch, and one breakfast recipe each week, but you might need more or fewer meals depending on what you're up to.
Keeping your pantry, fridge, and freezer stocked
Having a fully-stocked pantry, fridge and freezer will help immensely when it comes to sticking to meal prepping. By having all the ingredients you need, you won't have to run to the store multiple times a week. Trust me, nobody has time for that!
It can be helpful to first do a cleanup of your pantry, fridge, and freezer. Here's a guide for how to clean and organize your pantry that you can adapt for your fridge and freezer, too.
Once everything's been organized, take note of any essentials you may be missing. Maybe you're running low on specific spices or you find yourself always running out of chicken breasts. Add those items to your grocery list.
Then, you'll want to identify anything that needs to be used up. Fresh produce is one example that can easily be added to any pasta or stir fry dish without any real considerations. For things like expiring sauces, you may need to find recipes that require them and slot them into your meal plan.
When you make a meal plan using up what you have first, you'll reduce food waste and save money. Talk about a win/win!
Prepping ingredients
Even those with the best intentions can struggle when it comes to executing their meal plans. Most people think meal prepping is batch-cooking a bunch of recipes that you can reheat throughout the week.
While you can do that, I find it often takes too much time. Not to mention, I don't really love the idea of eating leftovers every night.
I recommend you spend some time prepping ingredients instead. This will save you so much time and it'll set you up for success for the week. Cooking a fresh dinner each night in 20 minutes or less is AMAZING!
In Dinner Prep Pro, you'll find prep ahead checklists that list everything you can prep ahead of time. However, you can download my free Dinner Prep Cheatsheet to get general guidelines on how long certain ingredients.
Pencil in time on the weekend (you'll only need around an hour) to do some food prep. By the end of it, you'll have everything prepped to make weeknight cooking a breeze. Not to mention, you'll only have a couple of dishes to clean, too!
Making meal prep enjoyable
In order to stick to any healthy habit, you need to make it enjoyable!
Start by making a meal plan with recipes you're excited to cook. Really lean into your favourite foods and whatever else you're craving. When I'm feeling a bit uninspired by my meal plans, I'll add a restaurant copycat recipe! Believe it or not, making healthier versions of restaurant favourites at home is how I got started meal prepping!
You can also make meal prepping fun by turning on a podcast or watching your favourite show while doing your prep. This is a great way to reward yourself for getting through the less-fun parts of meal prep.
Meal prepping around the holidays and vacations
Consistency is key to forming any habit. However, holidays and vacations can really get in the way of meal prepping.
When it comes to the holidays, I find myself eating out more often since I'm seeing friends and family. To accommodate that, I still do a meal prep session each week but I adjust it based on my plans. Sometimes, I won't prep ingredients for dinners and instead make one or two breakfasts. Other times, I'll make a freezer meal to pull out for days I feel too tired to cook.
I do something similar when I have a vacation coming up. I'll stock up my freezer with some easy meals, marinated meats and/or snacks that can easily be cooked or reheated once I'm home.
By keeping your meal prep sessions consistent, you'll be able to make meal prep a part of your healthy lifestyle!
Wanna Learn How To Meal Prep?
My meal planning service, Dinner Prep Pro, removes the guesswork and helps you get dinner on the table in 15-20 minutes each night. My meal prep checklists only take 1 hour each week!