Welcome to the ultimate lunch guide! On this page you'll find a variety of healthy lunch ideas ranging from chicken meal prep bowls to delicious soups and salads, plus wraps, sandwiches and tacos. You'll learn what makes up a delicious, healthy lunch you'll want to eat all week long as well as how to prep ahead so you can stay organized during the week and ensure that you're eating healthy. Find all the best lunch ideas below!
Access my free meal prep challenge!
Access my free meal prep challenge & bonus resources.
Over five printable PDF downloads to help you stay on track with your health & fitness goals like a weekly meal planner, printable shopping list, and more will be sent during the challenge!
Tips for making the best lunches
Meal planning is the best way I stay on track with lunch ideas. I will usually fill in what I plan to make for lunch in a meal planner and then make one or two lunch recipes for the week in advance. To incorporate even more variety, I plan to eat leftovers from dinner a couple times a week too!
The best way to stick to lunch meal prep is to not overdo it. Choose a recipe that's easy to make & comes together in less than an hour from start to finish. The last thing you want to do is waste a whole day in your kitchen; it will feel like a huge burden and will be unsustainable in the long run.
As with picking an easy idea for your weekly lunches, choose recipes that will also save you time and mess in the kitchen. I usually whip up a one pot or sheet pan recipe because they cook in/on one dish, which minimizes clean up. The less dishes you have to do, the more motivated you'll be!
The best healthy lunch ideas for work
Meal prep saves you time, money and stress, and it's a great way to get organized and live a healthy lifestyle for the long term! If you're looking for more creative fun lunches then you need to check out these Healthy Meal Prep Lunch Ideas for Work. They are the perfect way to stay on track with your weekly meal planning – this post is filled with meal prep bowls, salads, soups and more that are creative, delicious ways to stay organized during busy work weeks.
My Favorite Lunch Prep Tools
My most popular lunch recipes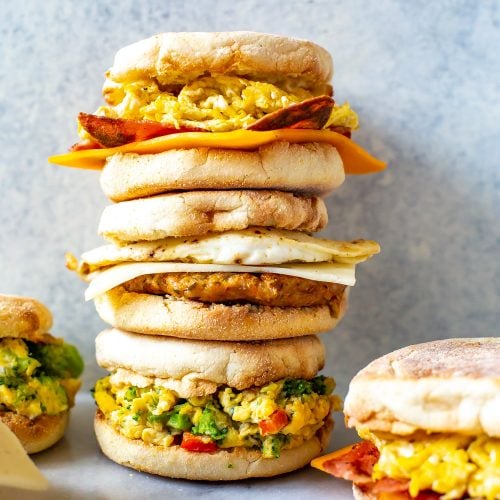 These Easy Breakfast Sandwich Recipes are perfect for meal prep and freezer-friendly. Try Sausage & Swiss, Bacon & Cheddar or Veggie! Ingredients and substitutions English