These Korean Inspired Chicken Meal Prep Bowls are a healthy make ahead lunch idea made up of chicken thighs, sesame coleslaw and jasmine rice!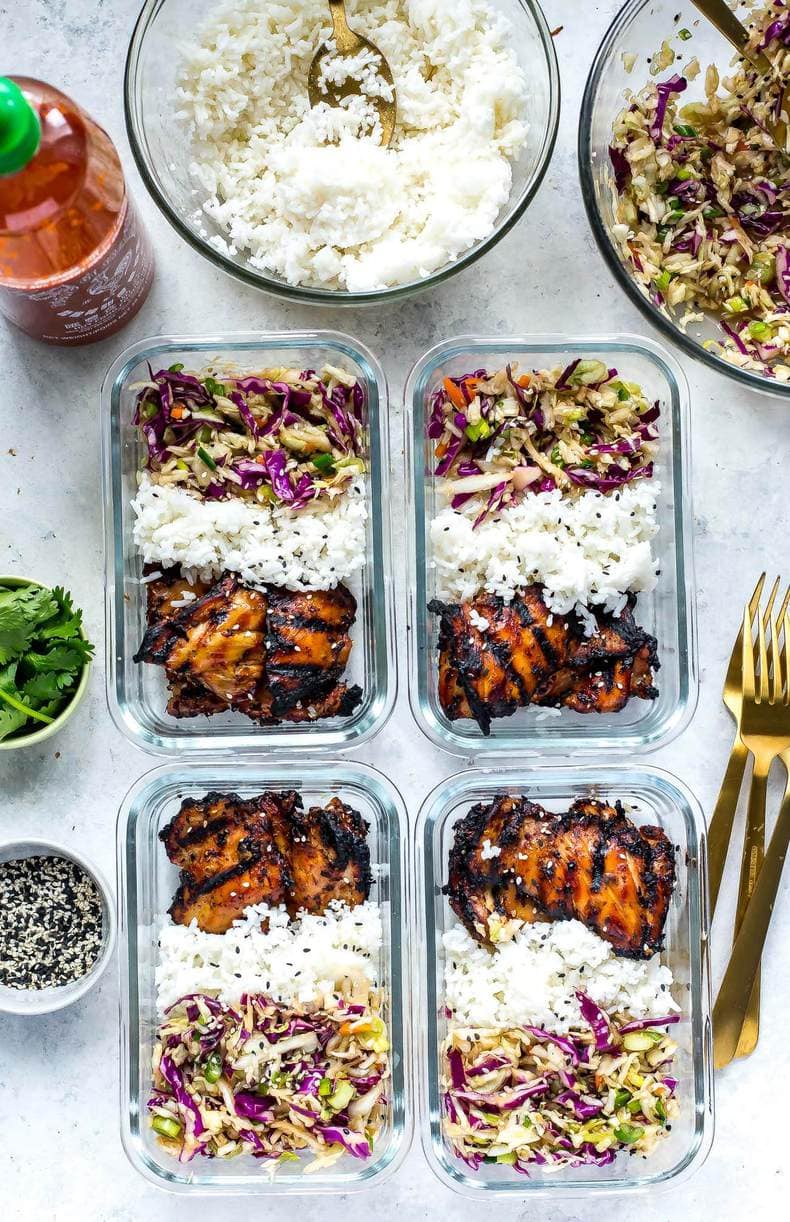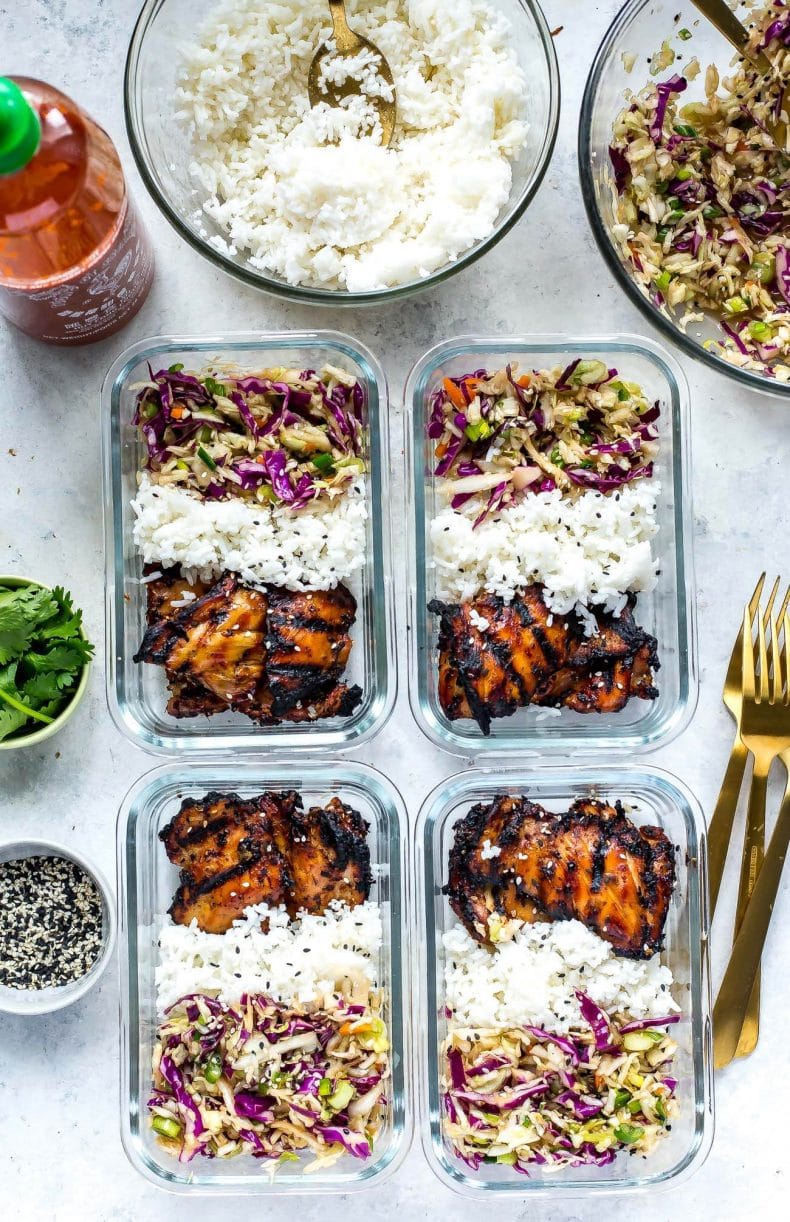 How to make this recipe
Here's exactly how to make this Korean inspired chicken recipe – it's fairly straightforward and requires very little marinating time!
Preheat the oven or grill. In a large bowl, mix the chicken marinade ingredients together, then add your chicken and marinate 10-15 minutes.
While the chicken is marinating, cook the rice and mix together the slaw dressing and toss the slaw.
Add the chicken to your grill or a baking sheet, then cook on grill for 20 minutes, flipping once midway through cooking time.
Add all ingredients to your meal prep bowls and you're good to go!
The key to making this Korean inspird chicken recipe super quickly is to start making the sides when the chicken is marinating – that way you cut down on the overall cooking time. You can also make the sides ahead of time.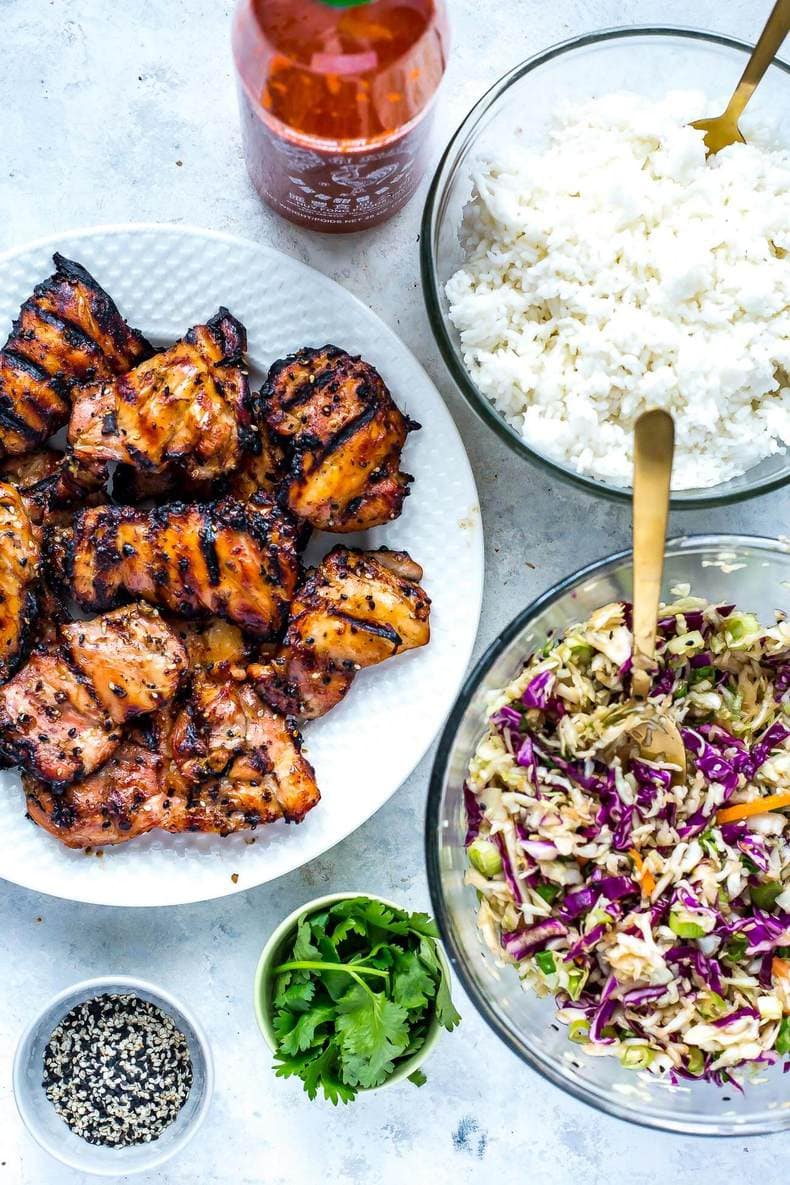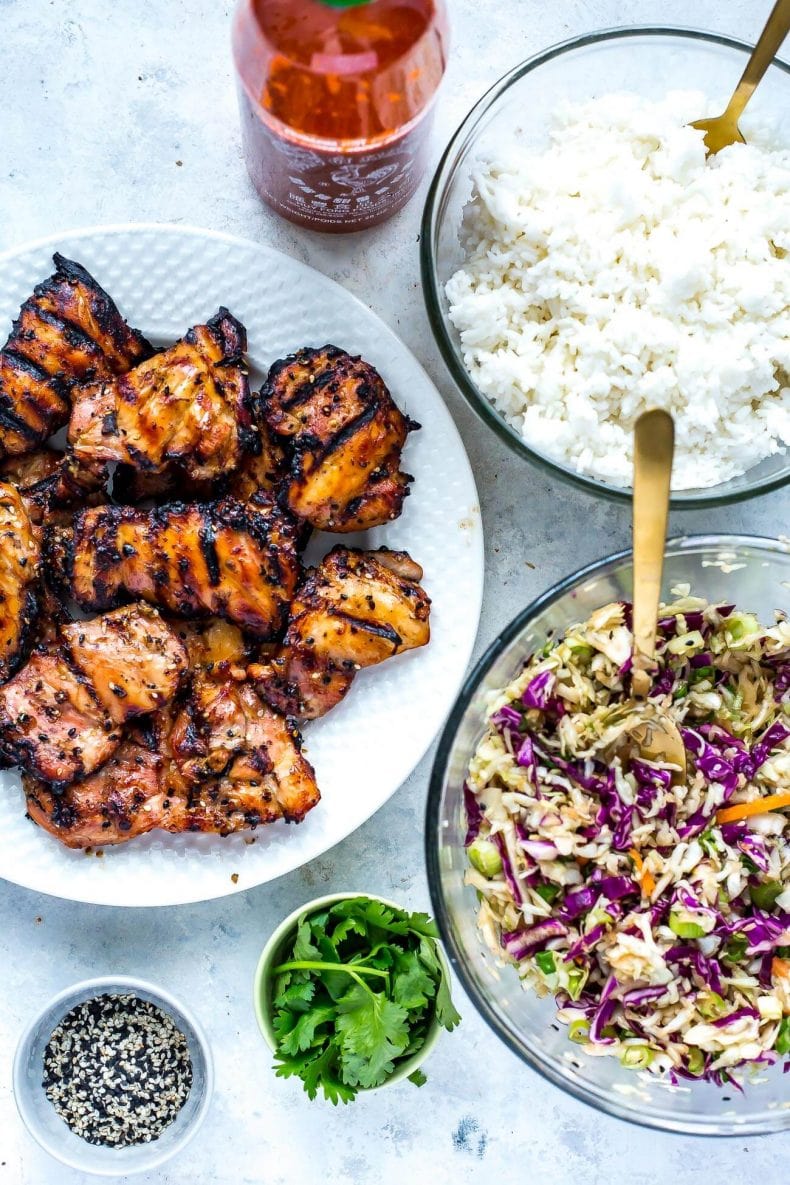 Korean inspired chicken sauce
This recipe is SO simple – you most likely already have everything on hand in your pantry.
Here's what's in the sauce:
Soy sauce
Honey
Sesame oil
Garlic
Ginger
So easy right?! Just mix up your sauce ahead of time in a large bowl, then marinate the chicken for 10-15 minutes. You don't need a lot of time for the flavours to adhere to the chicken, especially since sesame oil brings a strong flavour on its own. The honey balances out the soy sauce, while the garlic and ginger add that special zing to the chicken.
How to thicken the sauce
If you'd like a thicker, sticker sauce you can always add some cornstarch to the marinade. Stir in 1 tbsp cornstarch when mixing together the marinade, then add your chicken and grill or bake as usual.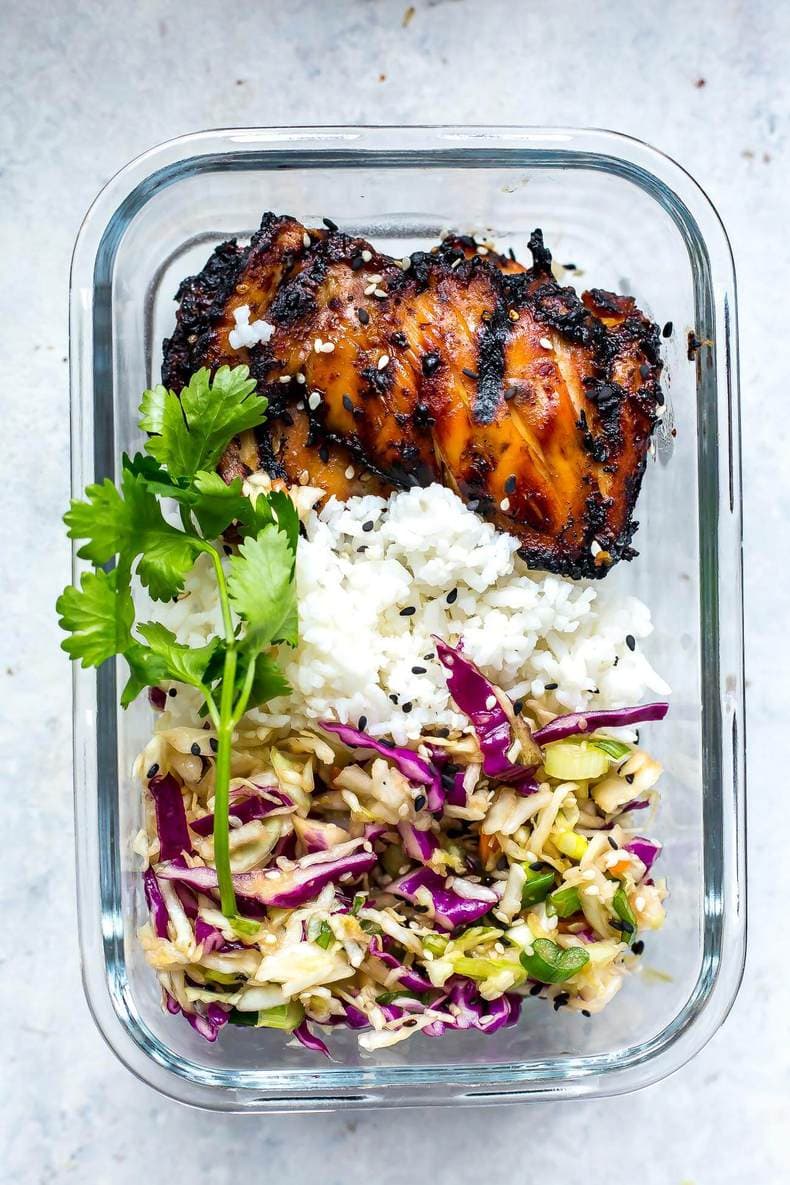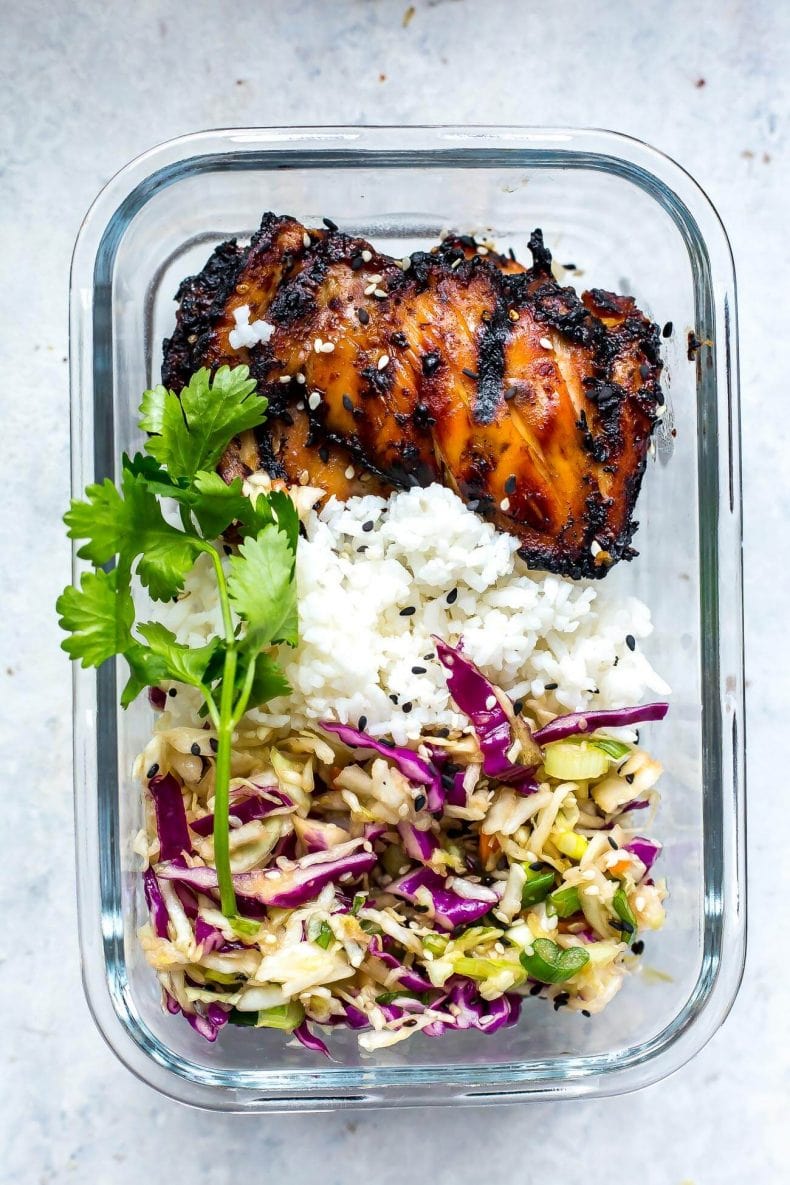 Ingredient substitutions
If you want to keep these bowls low carb, you can swap out the rice for some steamed broccoli or cauliflower rice.
Here is the full list of substitutions you can make:
Use cauliflower rice instead of white rice
Sub in tamari or coconut aminos for the soy sauce to make the marinade gluten-free
Sub in brown sugar, coconut sugar or maple syrup for the honey
While you will lose the sesame flavour if you cut the sesame oil, you can use olive oil instead should you not have any sesame oil in your pantry
Powdered ginger will work in place of minced fresh ginger for the chicken marinade – just use 1 tsp powdered instead of 1 tbsp fresh
Can you use other cuts of chicken?
Yes of course! Feel free to use chicken drumsticks or chicken breasts – cooking times will change as listed below:
Drumsticks: Bake at 425 F for 40 minutes, turning once halfway through cooking time
Chicken breasts: Bake at 425 F for 25 minutes
Chicken cutlets: Bake at 425 F for 15 minutes, flipping once halfway through cooking time
Bone-in thighs: Bake at 425 F for 25 minutes with the skin facing down the whole time. Flip over and broil for 1-2 minutes to get crispy skin
Grilling vs baking
If it were up to me though, I would BBQ all year round. I swear it makes any cut of meat absolutely delicious. If you have the choice, I would highly recommend grilling these chicken thighs as you will get more of a smokey flavour that complements the soy sauce and sesame well.
You may find that stirring in the cornstarch will help the marinade adhere to the chicken better and this may be the better choice for baking your chicken.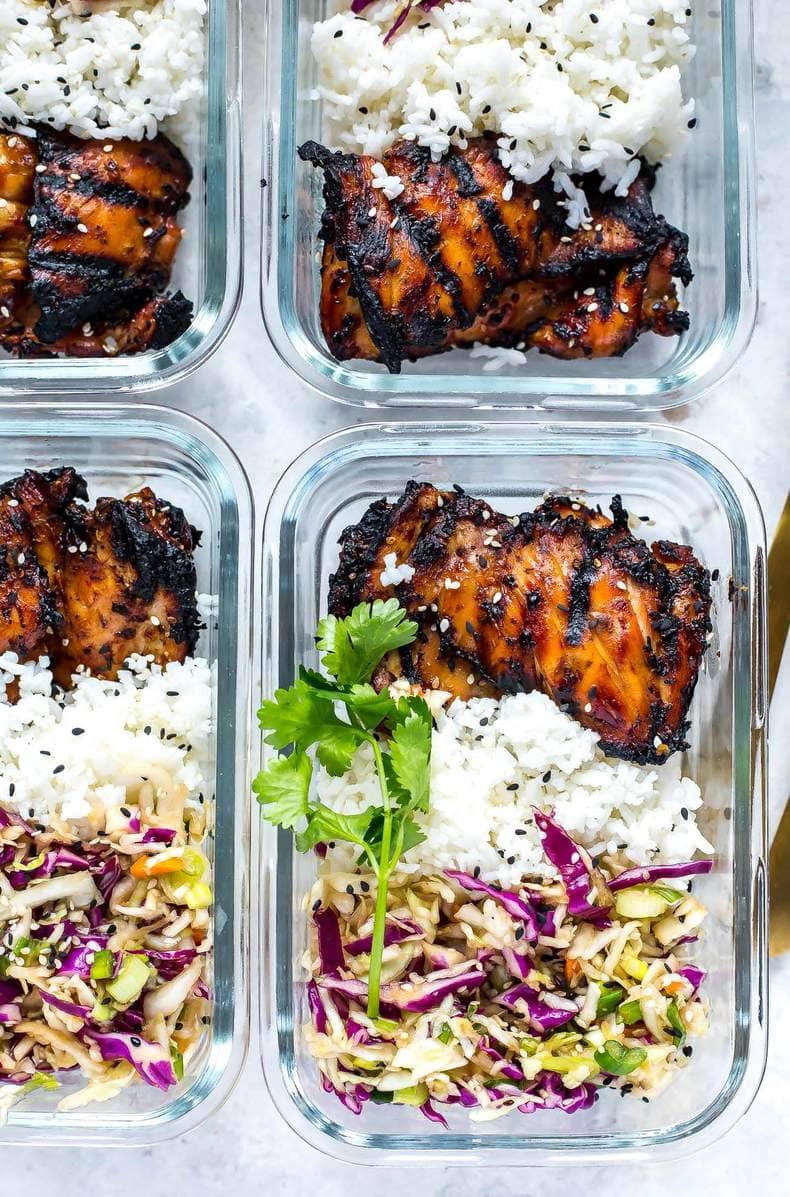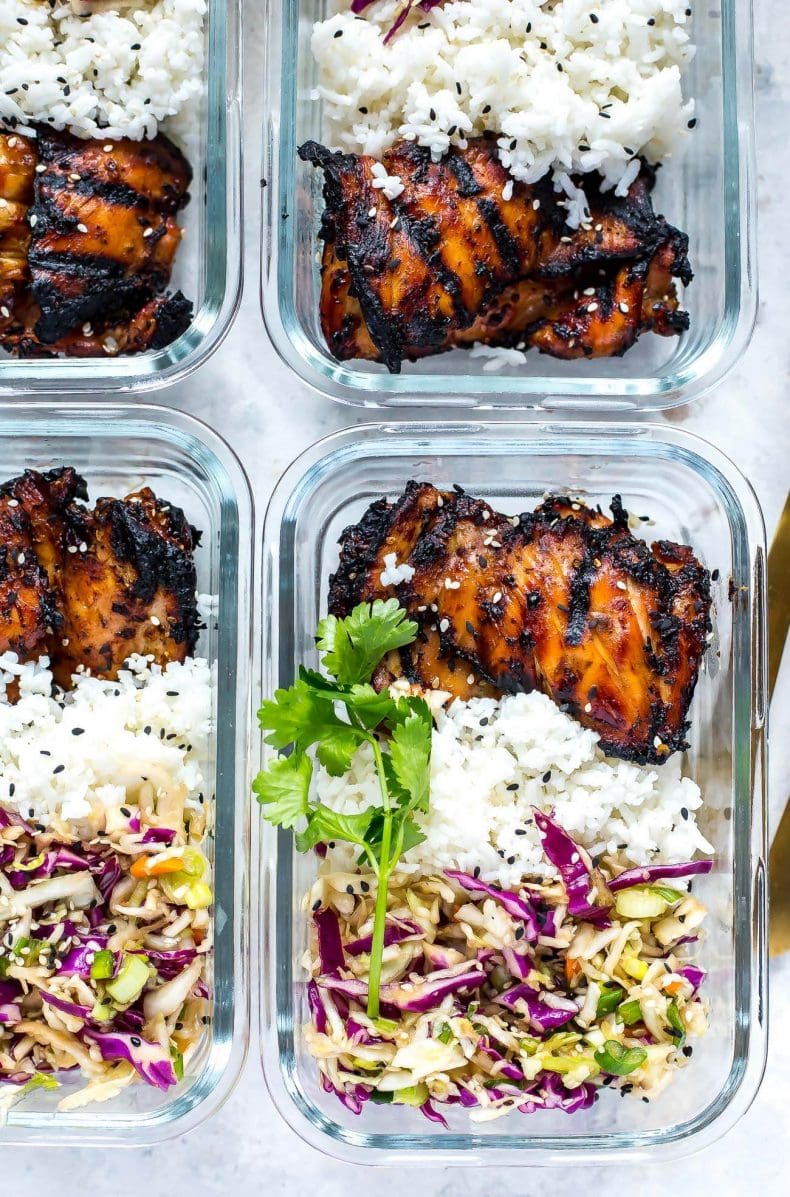 Making the sesame slaw
If you're prepping these Chicken Meal Prep Bowls for the work week I would recommend holding off on adding the dressing for the coleslaw until the time you're going to eat it – pack a bit of the dressing in small separate bowls and drizzle it on at lunchtime.
Alternatively, you can use a store-bought sesame dressing if you're lazy or already have some on hand. I LOVE Renee's Asian sesame dressing and that's what we usually use when we pair our own chicken with a salad so don't be afraid to look for a dressing with clean ingredients to save time.
Making the rice
I highly recommend you get a rice cooker to cook the rice – this way it's a hands-off process so you can make the marinade and the sesame slaw then have your rice cooking in the background. I've included the ratios for water and rice below. Jasmine rice also adds the most flavour to this recipe but you can use white rice. Water to rice ratios may be different for other types of rice though so keep that in mind and Google the ratios if you choose to use different rice.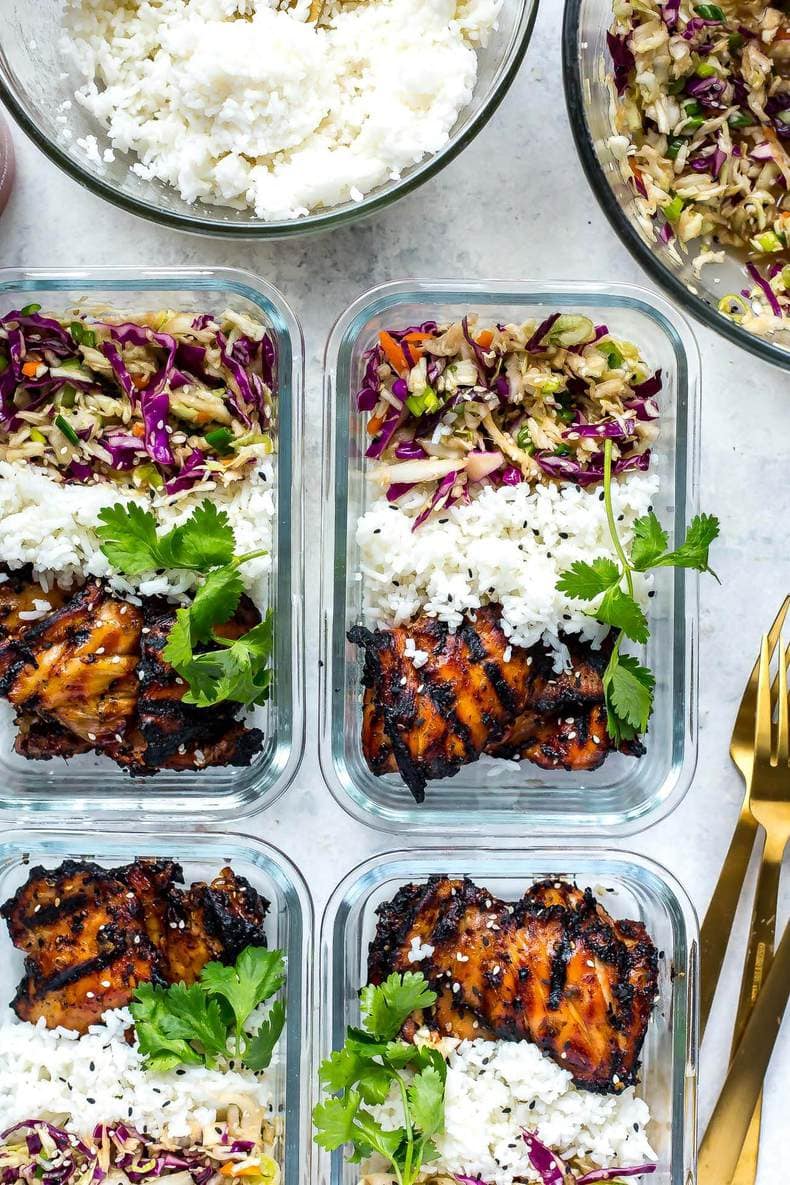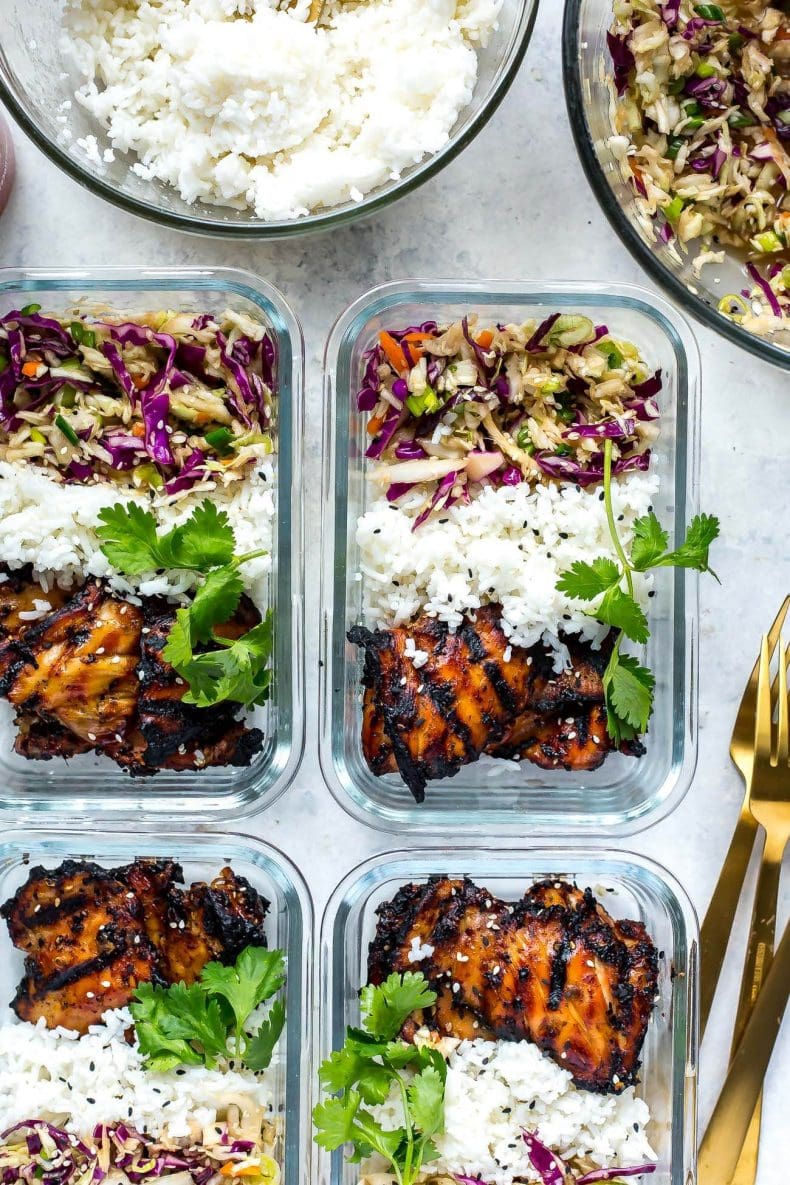 How to make the chicken spicy
You can add in a little bit of sriracha or chili flakes to amp up the spice level of the chicken, and if you're really looking for a more authentic Korean flavour you can also use gochugang, a Korean pepper paste.
What else can you serve with this recipe?
This chicken will go with just about ANY side dish, it's so versatile! I love it paired with rice and slaw, but it goes just as good with broccoli, cauliflower rice, rice noodles, soba noodles, stir fried veggies…you name it, it tastes amazing! I sometimes like to serve this dish over pre-cooked Chinese noodles and I slice the chicken up and add in some sauteed vegetables.
You can also make this chicken and pair it with cucumber salad, as I've served with these Korean inspired chicken wings.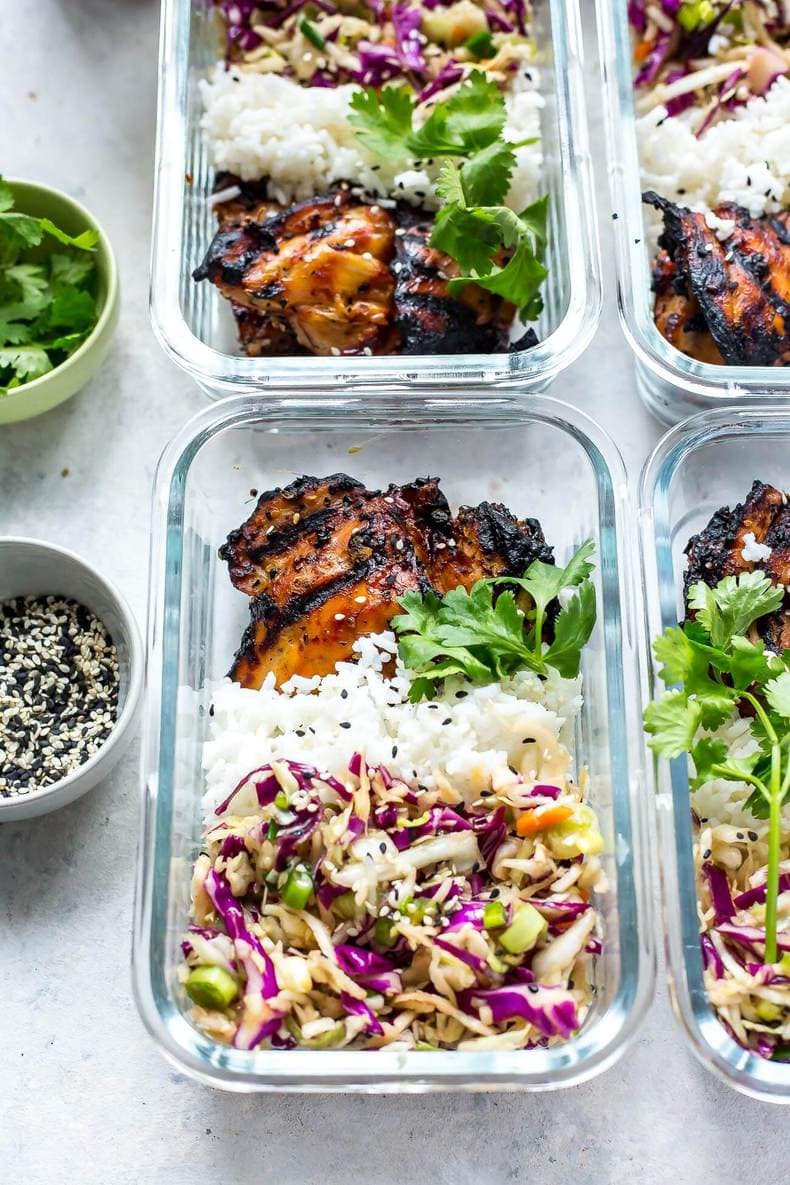 Wanna Learn How To Meal Prep?
My meal planning service, Dinner Prep Pro, removes the guesswork and helps you get dinner on the table in 15-20 minutes each night. My meal prep checklists only take 1 hour each week!
How to store these meal prep bowls
Store these bowls in the fridge up to 5 days – I typically eat them cold but you can always pack the coleslaw separately so you can microwave the chicken and rice. If reheating, sprinkle some water or soy sauce over the chicken and rice to avoid it all from drying out, then microwave for 2 minutes.
I wouldn't recommend freezing this recipe unless you are freezing the raw chicken in the marinade in Ziploc freezer bags. The cooked chicken will also likely freeze well for up to 2 months.
More healthy Asian-inspired recipes
Meal prep tools
Korean Chicken Meal Prep Bowls
These Korean inspired Chicken Meal Prep Bowls are a healthy make ahead lunch idea made up of chicken thighs, Asian coleslaw and jasmine rice! Recipe adapted from Canadian Living.
Print
Pin
Rate
Click Here to Remove Ads
Servings: 4 bowls
Calories: 520kcal
Ingredients
Chicken marinade
8 boneless skinless chicken thighs
1/4 cup low-sodium soy sauce or tamari
2 tbsp honey
1 tbsp sesame oil
4 cloves garlic
1 tbsp fresh ginger
1 tbsp sesame seeds
Sesame slaw
1 bag coleslaw mix
2 tbsp low sodium soy sauce
2 tbsp rice vinegar
1 tbsp honey
1 tbsp sesame oil
1 tsp powdered ginger
Rice
1 cup jasmine rice
1 1/4 cups water
1 tsp butter
1 pinch salt
Instructions
Preheat grill to high heat, or preheat oven to 425 F. In a large bowl, mix chicken marinade ingredients together. Add chicken thighs and marinate 10-15 minutes.

Meanwhile, cook jasmine rice according to package directions. Mix together ingredients for Asian slaw dressing, then set aside.

Add chicken to grill or frying pan. Cook on grill for 7 minutes, then flip and cook another 5 minutes depending on how large the thighs are. If using the oven method, bake on a parchment-lined baking sheet for 20 minutes or until chicken reaches 165 F in thickest part of thigh.

Add two chicken thighs to each meal prep bowl. Toss coleslaw with dressing then add slaw and rice to each bowl. Serve and enjoy – leftovers stay good in the fridge up to 4-5 days.
Video
Nutrition
Calories: 520kcal (26%)Carbohydrates: 49g (16%)Protein: 49g (98%)Fat: 13g (20%)Saturated Fat: 3g (19%)Cholesterol: 215mg (72%)Sodium: 491mg (21%)Potassium: 813mg (23%)Fiber: 4g (17%)Sugar: 8g (9%)Vitamin A: 164IU (3%)Vitamin C: 41mg (50%)Calcium: 78mg (8%)Iron: 3mg (17%)